Bassin' and Beachin'
The lake offers an escape for everyone, while nature and wilderness become the great equalizer. For a father and his autistic son, it's a chance to bond and connect with the landscape and each other.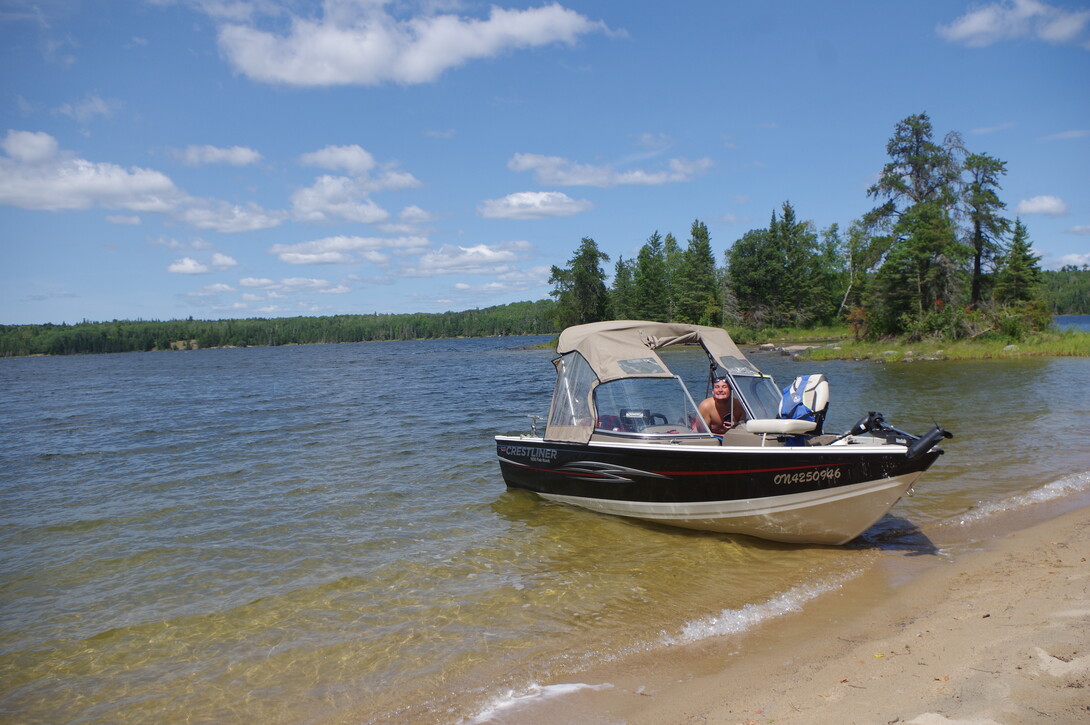 As the Executive Director of Ontario's Sunset Country Travel Association, I'm fortunate in the sense I get to access, at virtually any time, what most of you travel hundreds, even thousands of miles to enjoy, the beautiful Canadian Shield lakes in our region. Needless to say, I take an extended camping vacation each summer, and I do it on Lake of the Woods with my now 21-year-old son, who also happens to have autism. Like me—and a lot of other people—Matthew loves the outdoors and the lakes, and is a self-taught master at the art of swimming. From a week after ice out to mid-October, Matthew heads to the lakes to swim. It certainly is his calling.
Each summer we head out for a month-long stay on Lake of the Woods at Laughing Water Trailer Park in Sioux Narrows, Ontario. The nice thing about going to this location is its proximity to our house in Kenora, and the fact that it's a very well-run trailer park, clean with friendly hosts and great facilities. Its location on Long Bay provides easy access to just about anywhere on the central part of this huge lake, and the fishing is, well, over-the-top good! 
Beachcombing on the Lake
We've developed a routine where we wake up and relax in the camper for the morning, then we eat an early lunch and head out on the lake for the day. Weather is usually a secondary consideration, and the only thing that keeps us off the lake is lightning or super high winds. Once we are underway, Matthew—who has already let me know which of the 11 total beaches we've previously discovered we'll be going to that day—puts on his lifejacket and sits in the front of the boat. He calls it the navigator position. It's always swimming first and fishing second, and that's okay with me!
At 85 miles North to South and 56 miles East to West, Lake of the Woods is massive. With over 14,000 islands and 65,000 miles of combined shoreline, finding wilderness beaches is pretty easy, and the lake certainly doesn't disappoint. Matthew has made it a tradition to name every beach we've found, and each year in our five consecutive years so far, the beach we have to go to first is "Matthew's Beach"—named after himself because he is the one who saw it from the boat. He's titled other beaches after our dogs both past and present, his mother, and he's also named a couple based on the sequence that we have found them: First Beach, Third Beach and so on. Some beaches are named after where they are located, such as Whitefish Bay Beach. All in all, kind of odd, but it makes perfect sense to Matthew.
Matthew goes swimming every time—and myself, well, I go only when it's hot. Matthew gets the most pleasure from splashing me when I don't want to swim, so it doesn't matter if I go swimming, I get wet one way or the other. While he's swimming, I often look for photo opportunities in the vicinity. Landscapes, big white pines, rocky shores, birds, and often the clarity of the water at some of these beaches is truly amazing! 
Smallmouth Bass Fishing on Lake of the Woods
After swimming, it's on to our next task––catching smallmouth bass. The areas we fish are usually close to the beaches we swam at, and I have found some reliable spots over the past five years on the lake. Smallmouth bass are plentiful in Lake of the Woods and as fish go, they are relatively easy to catch. I'd say only northern pike are easier. There are many great places to catch bass in Ontario's Sunset Country, and it's easy to plan a fishing trip to our area.
Since Matthew doesn't actually fish himself, and the fact is he likes to remain in the front of the boat where the trolling motor is, I often troll, drift, or cast shorelines. If I am feeling serious about catching some big fish, I will kick him out of the front of the boat, drop the trolling motor, and work shoreline after shoreline after shoreline. Saying that, I appreciate that it's a stretch to call casting for bass "work," but it sure sounds good in an article. 
As most bass anglers have experienced, northern pike tend to "get in the way" sometimes, and often I'm busy catching and releasing pike. Northern pike are Matthew's favourite fish to hold, and we've nicknamed him the "pike whisperer" due to his uncanny ability to calm these toothy critters when he holds them. Rarely does a pike flip or flop on him. As you can see from the image below, he has a somewhat unconventional way of holding them. 
My objective is to catch the large bass, those in the 3-pound range or better, but some days, any fish is a good fish. The fishing phase of our day is longer than the swimming phase, usually two or more hours of fishing before it's time to look for another beach to swim at. This routine goes on virtually every day for a month straight, and it sure is a lot of fun. I'm especially happy when I catch a fat bass. 
Over the month at the campground, I'd say we spend over 120 total hours out on the lake itself, swimming at the beaches we find and fishing for big bass. Some days are better than others, hot and sunny, while others are cool or rainy, and so on. In the end, the weather doesn't matter, and neither does the fishing success. What does matter is the quality time I get to spend with my son.
Out on the lake, Matthew is in his element, and his love of nature and the outdoors is a great legacy that I am proud to say I've passed down to him. Sure it's about having fun, but ultimately, it's about a lot more than that. For us, the time we spend on the lake together is something we'll both cherish forever!
Trip Planning Resources
Hopefully, our experiences have convinced you to consider a trip to Ontario's Sunset Country. Here are links to some good trip planning resources:
You can also call the Sunset Country Office toll-free at 1-800-665-7567. Maybe we'll see each other out on the lake!