Playing Hook-y with Jeff Gustafson
One of the perks of working in Sunset Country is that fishing is always an option.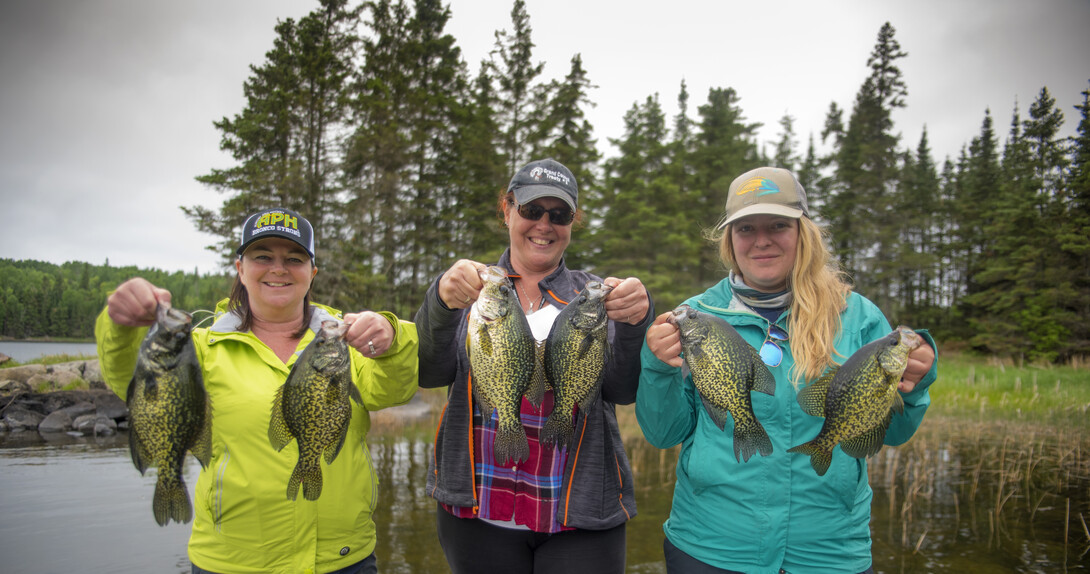 Here in Sunset Country, lakes are our backyards, and during the summer you're liable to find people who spend more time on the water than on dry land. Sure, we have commitments and deadlines just like the rest of the world, but we know if we get our work done in a timely, effective manner, there's that much more time for fishing. 
With our days stretching near midnight, we can spend just as many hours in a day on the lake as we do in the office. Yeah, we're definitely bragging.
When the words "do you want to go fishing?" are uttered in the Sunset Country office, you'd best say them quietly, else the whole place will vacate. Which is just what happened one day in May. For an entire day, the ladies at Ontario's Sunset Country traded the office attire for wind gear and hit the lake with Jeff Gustafson. Leaving our poor Executive Director, Gerry, in the office on his own. 
Thankfully, if you're visiting Sunset Country as a tourist, you don't need to worry about deadlines and responsibilities and can devote 100% of your time here to relaxing and enjoying our incredible fisheries. Here are some species we caught while out with Jeff and a few hot tips from the man himself on what works in "these parts" of Ontario! 
Walleye 
The go-to fish for most visiting Sunset Country. And for good reason. They are feisty on light tackle, tasty, and will hit just about anything you put in front of them at the right time. 
While out with Jeff, he rigged up rods with weighted jigs slid on some soft plastics in grey and white with paddle tails, and instructed us to cast towards the shore. All of my previous experience with walleye has been jigging or trolling, which could be why I haven't enjoyed walleye fishing thoroughly until I moved up here. 
Casting to them in 1-20 feet is a whole new ball game, and now I'll never go back to trolling or jigging! 
Large and Smallmouth Bass 
Sunset Country is unique in the way we have an unlikely but healthy population of largemouth bass you wouldn't think you'd find in northern Ontario. But they are here, let me tell ya. 
We were successful in catching both smallmouth and largemouth bass. Given it was early in the season, we had the opportunity to observe bass on their beds during the tail-end of their spawning season, but we let them be and targeted roaming bass along rock piles and channels instead. 
If you situated yourself just so, you could catch bass off one side of the boat and walleye on the other. It was a truly exciting experience casting to both in shallow waters. The ticket for bass that day, as they were feeding heavily on crawfish was a green tube jig, and also a white soft plastic with a paddle tail, like the walleye tips above. (Check out the video above to see just why these were so effective!) 
Crappie 
Here's a species I now know I don't target enough! Crappie are super, super fun when you get into a big school of them. The trick is finding them, which is much easier in the early spring. Look for pencil reeds in as little of 6" of water to about 4 feet. 
Jeff showed us how to use bobbers when targeting them, which was a riot and hilarious to watch all three of us full-grown women turn back into kids again. We used an ultra-small white tube jig designed for crappie. When tossed with the bobber, the jig would be suspended just off the bottom, perfectly placing it in front of the crappie's line of sight. 
Once we got the underhand casting down pat, and we were getting the baits in front of them, they were taking them! 
Northern Pike 
Notorious for biting just about anything that moves, Sunset Country pike are that much more ferocious. You can catch pike on just about anything, but if you're targeting them I'd suggest throwing some wire leader on so you aren't losing crankbaits all day long! One thing that may narrow down your search for them is where you're casting. 
Reeds, weed beds, and weed lines are some of the most productive waters for pike in the spring. But if you'd like to catch one a bit bigger a bit later in the year, you can continue to cast weed lines that have a deep drop-off nearby, deep troughs in channels with shallow shorelines, and places with current are bound to hold larger pike. 
These are just a sample of the species to be had in Sunset Country. You can also catch lake trout, muskie, jumbo yellow perch, whitefish, and even burbot/ling. The opportunities and tactics to catch them are endless here!