Find out what winter in sunset country is all about
Enjoy a variety of winter activities in Sunset Country.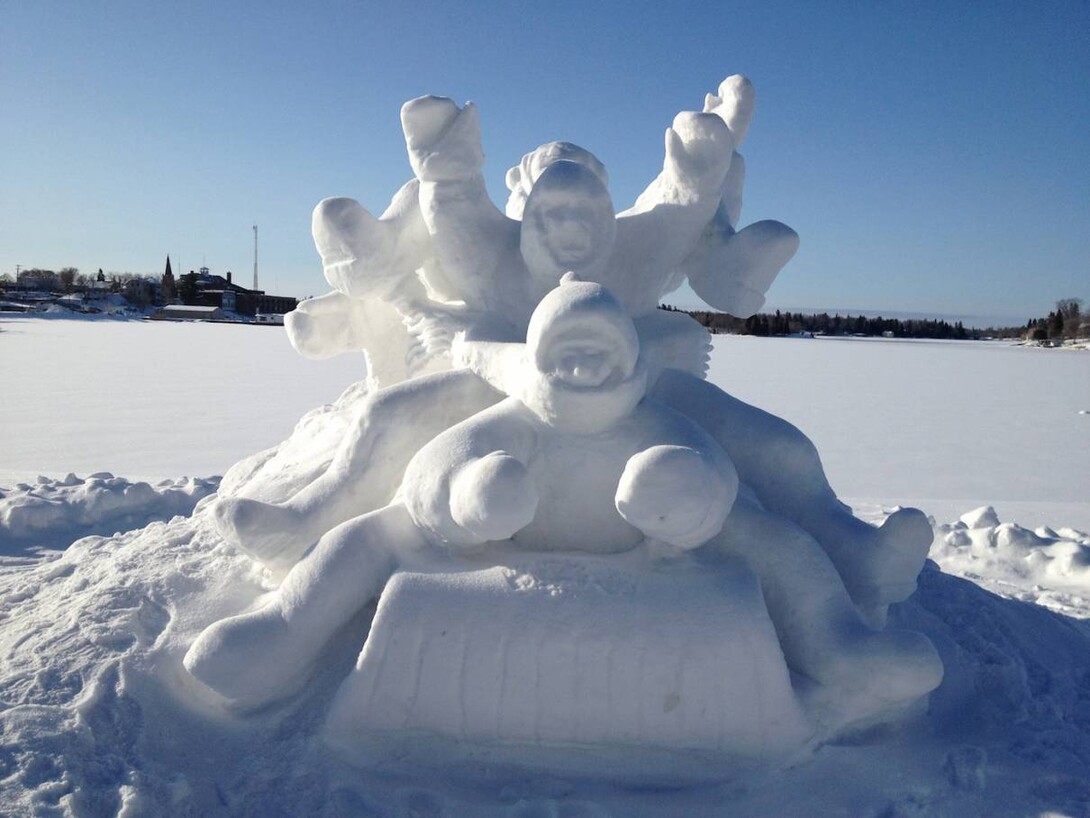 Come for a weekend visit - yes, in the winter!
No, we're not kidding! Winter is a great time of year for a short getaway to Ontario. The cities and towns in the region have some great accommodations and there are many fun activities that you can do. Winter is one of the best times of year to play outside and your getaway weekend can include a bundle of different activities. Why not consider:
A Ski/Shop Combo - try our ski trails and enjoy some great shopping and dining!
Snowmobile Touring - visit a couple of communities over a weekend on your sled!
Ice fishing and New Year's Celebration - party at night, catch fish during the day!
Second Honeymoon - rent a honeymoon suite and reconnect!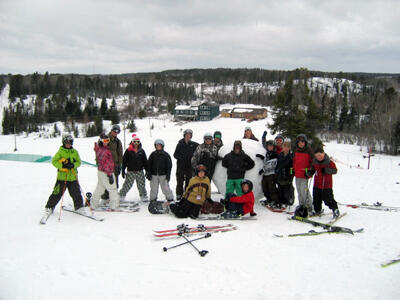 Ski/Shop Combo:
Choose from downhill skiing, snowboarding, or cross-country skiing. Most communities have cross-country skiing and Dryden and Kenora have downhill skiing/snowboarding as well. The Dryden Ski Club offers both cross-country and alpine skiing as well as snowboarding. The Club is located 15 km north of Dryden and is fully equipped with all the gear you will need to Snowboard, downhill, and cross-country ski. Nestled at the bottom of the hill is the Chalet where you can grab that cup of hot chocolate, enjoy a snack and take a break while watching the winter enthusiasts. For more information on the hours and fees contact 807-937-4265.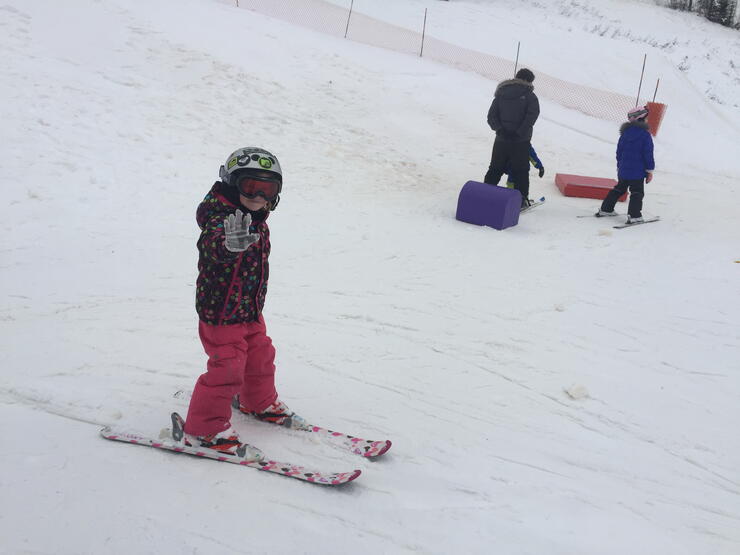 Take a break from skiing and head into town to do a little shopping, whether it is for clothes, souvenirs or something special. For a small city, Dryden has quite a few good shops to choose from. The Mount Evergreen Ski Club in Kenora also has a lot to offer. Operating since 1946, the Club is well run and the hills are well-groomed. It has many runs including 5 black diamond runs, a Terrain Park, and even a Magic Carpet lift for the little ones or beginners. There is over 20 km of beautiful cross-country ski trails that offer both classic and skate skiers the chance to experience the magnificent Canadian Boreal Forest. All trails are groomed for classic skiing and almost 7 km of trails also accommodate skate skiing.
Kenora has many year-round shops that are filled with goodies. From the many clothing stores to souvenir shops to that one-of-a-kind store, you can find what you are looking for in Kenora. A little retail therapy after a long day at the ski hill is just what everyone needs in the winter.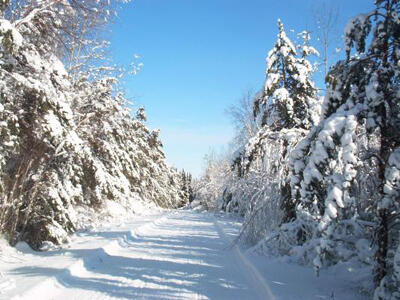 Snowmobile Touring:
Who says you have to stay in the same community? Tour Northwest Ontario by sled and you'll see some of the best scenery around. Cross many frozen lakes and cut through trails in the boreal forest. These aren't crowded trails either, enjoy the remote trails in peace. NWOSTA (Northwestern Ontario Snowmobile Trail Association) maintains over 770km of A (top) trail and over 1600km of club trails. That's a lot of wilderness to explore!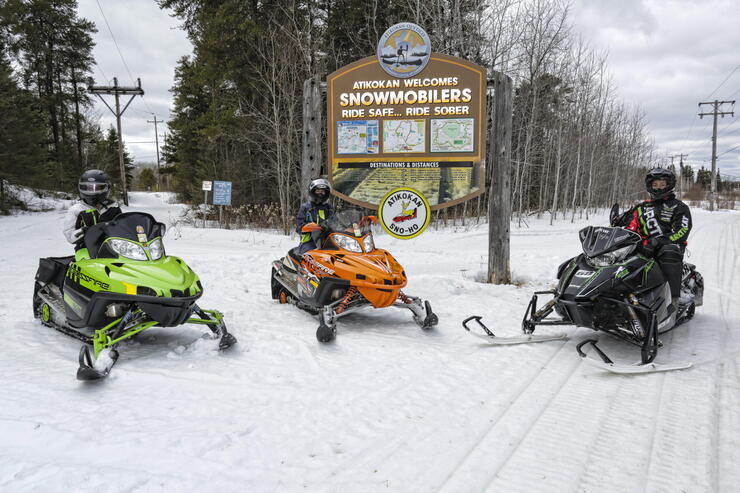 NWOSTA covers a large geographical area: From Kashabowie in the east then west to Atikokan; Mine Center; Fort Frances; Emo and Rainy River; Atikokan south to the USA and north to Ignace, Sioux Lookout, Dryden, and Vermilion Bay. You can go further north to Ear Falls and Red Lake or west to Kenora to connect to Manitoba. The trail circles south through Sioux Narrows and Nester Falls to Rainy River or Emo and another link to the USA. There are many winter tour operators willing to accommodate you on your tour around Sunset Country.
Ice fishing and Special Occasion Celebration:
Catch plenty of fish during the day and party during the evening. Whether it is New Year's Eve, Valentine's Day, or Mardi Gras, who doesn't like an evening out after a day of ice fishing? Make it a weekend. Ice fishing is very popular with the locals, so join them out on the lake and find out why they like ice fishing so much. Fish for walleye, lake trout, northern pike, and crappie.
Second Honeymoon:
Rent a secluded cabin and enjoy a second (or first!) honeymoon. Spend the day doing outdoor activities like cross-country skiing, snowmobiling, snowshoeing, or ice fishing, or just hole up inside the cozy cabin. Light a fire and cuddle up by the fireplace. A nice quiet weekend at the lake is just what every couple needs once in a while.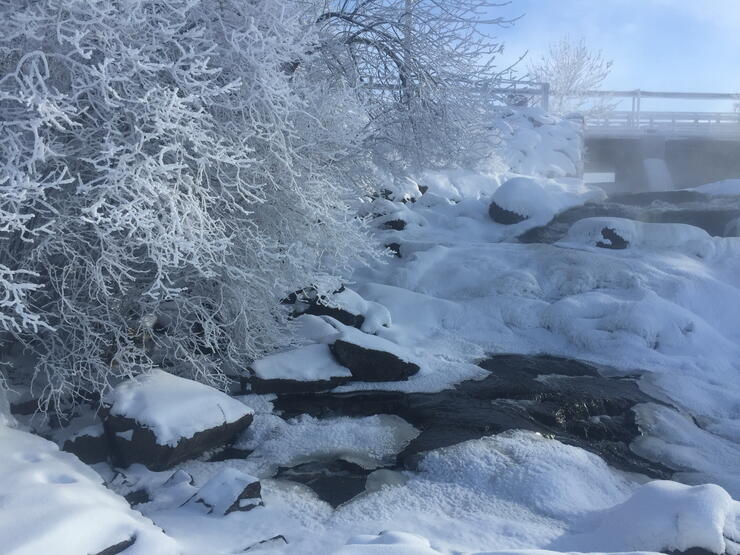 These are just a few ideas of what you can do on a two or three-day hiatus (winter vacation) in Sunset Country. In addition to hotel and motel accommodations, some resorts are open during the winter and you can rent a cabin in the woods! Local travel information centres have detailed information on activities and attractions in their community.