Real Fresh Beer!
Try Lake of the Woods Brewing Co. for great beer and food.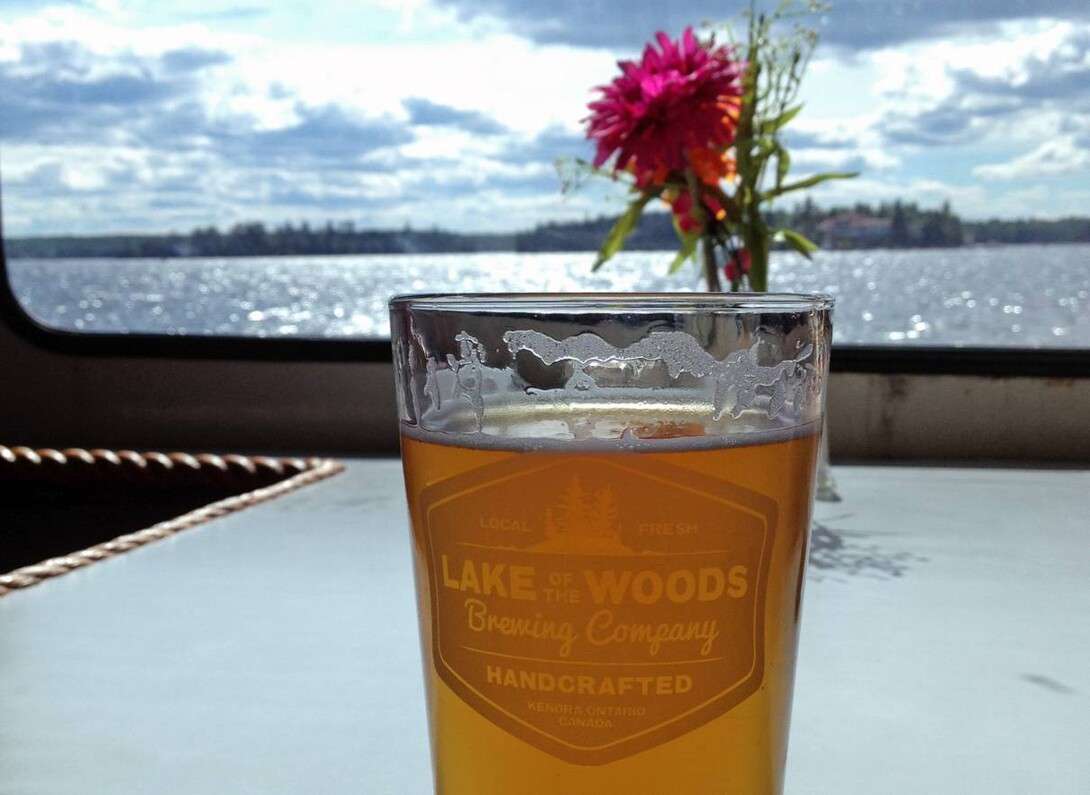 "Lake Life in a Bottle".
Lake of the Woods Brewing Company beer is "like lake life in a bottle," says owner Taras Manzie. The lake country brewery, which opened in 2013 in a transformed 102-year-old fire hall in Kenora, Ontario follows traditional beer-making techniques applied on a cottage-sized scale.
The setting itself is worth the visit. The designated Ontario heritage building has the fire hall's original white tile walls, spectacular original tin ceiling, firefighters' masks hanging on hooks, a firemen's pole, and a 67-foot red brick tower with the original bell. Manzie's favourite features are the big fire-truck doors. They let in a lot of natural light and in summer open to a large street-side patio, "bringing the outside inside," he says.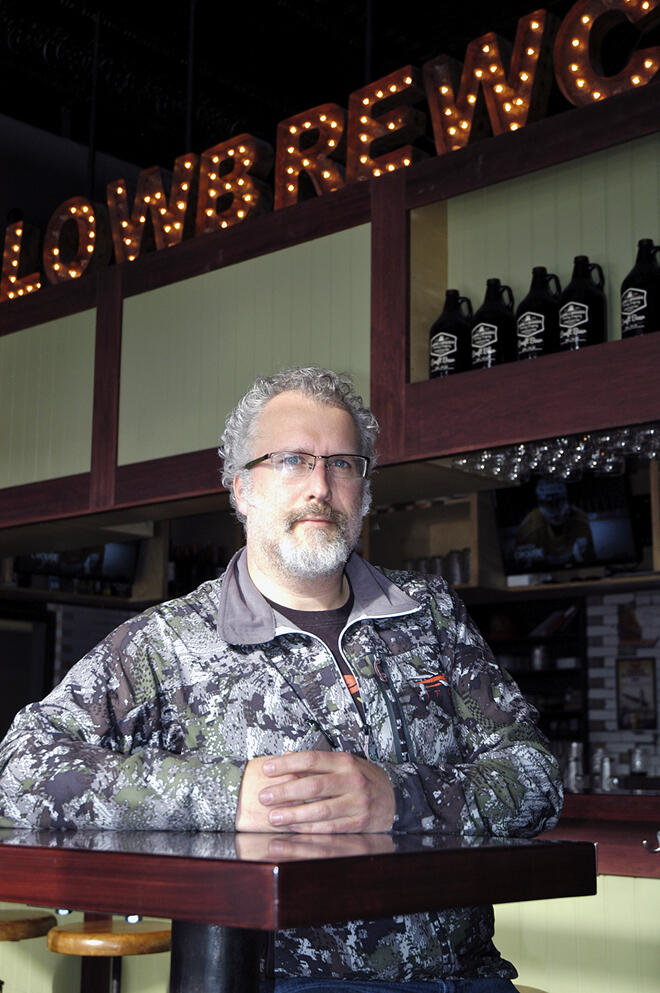 Taras Manzie in the transformed fire hall, now the LOWBREWCO Tap Room
But while the building is impressive, it's really all about the beer, of course. Sultana Gold, the flagship beer named for a Lake of the Woods gold mine, accounts for about half of the brewery's sales. The aptly named Firehouse Amber Ale is also always on tap. Seasonal brews include Forgotten Lake Wild Blueberry Ale flavoured with local wild blueberries, Sasquatch black lager, and Bizzi Bee Honey Brown ale flavoured with Manitoba honey.
The 10-hectolitre brewery is located in the fire hall's old ambulance bay. Through a series of large windows, brewpub guests can see the large copper brewing tanks at work. Tours are available on request.
While sampling a beer or two, try a lunch, dinner or snack option from the pub menu. Shorelunch BLT is an excellent choice, with Sultana Gold-battered walleye on garlic toast with bacon, lettuce, and tomato. Not your mother's Mac N' Cheese has four kinds of cheese, including tangy goat cheese, finished with kale and tomato and topped with breadcrumbs and herbs. Nachos with buffalo chicken and blue cheese, or fire hall fries with jalapenos and lime aioli, are delicious evening snacks.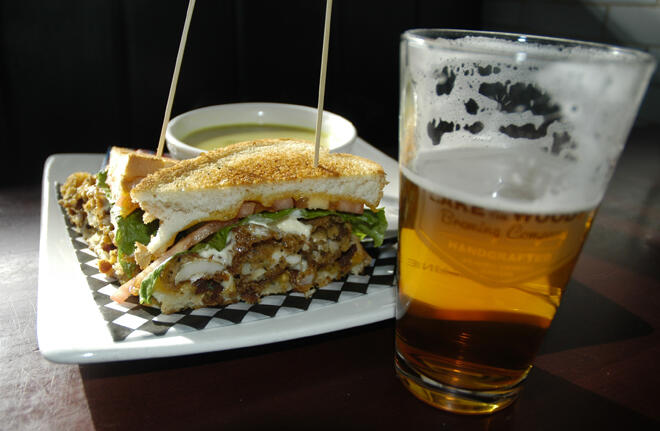 The delicious Shorelunch BLT goes well with a pint of beer
Manzie says they're working on a few more beer-themed items to add to the menu, including beer nuts, beer-glazed caramel corn, beer ice cream, and Sasquatch Black Lager Chocolate Cake. "The Sasquatch cake with beer ice cream paired with an amber ale to drink make an excellent dessert," he says.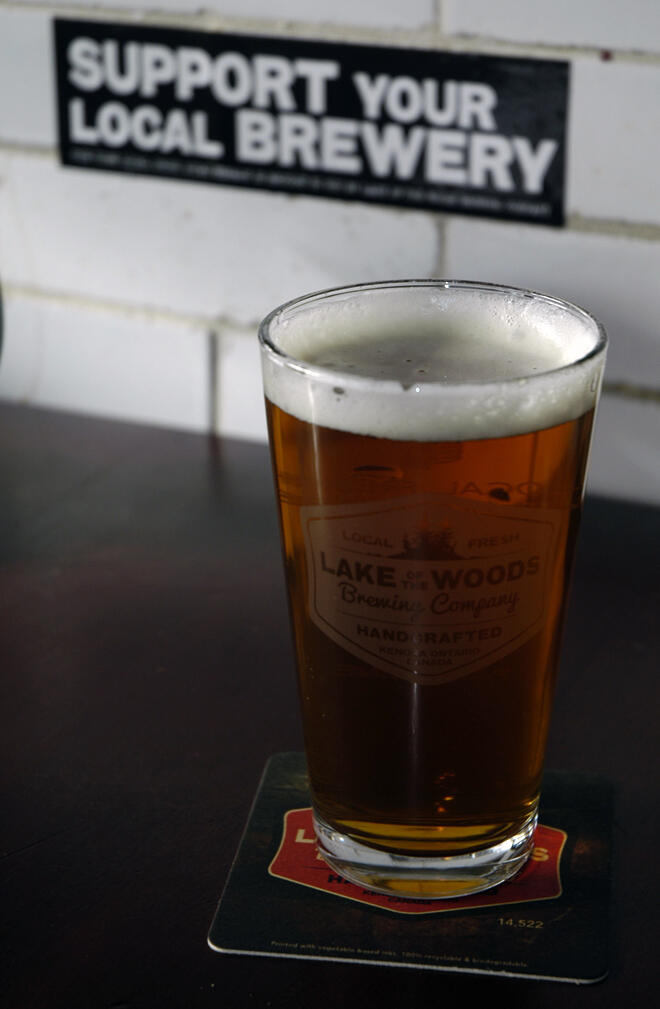 If visitors want to take a brew back home or to the cottage, Lake of the Woods Brewing Company sells 1.89-litre "growlers" through an on-site store and also through retailers from Toronto, Ontario to Brandon, Manitoba. A canning line will open for summer 2015. "Cans are a much more portable vessel, and they don't let in light or air, which means our unpasteurized beer will last longer," Manzie says.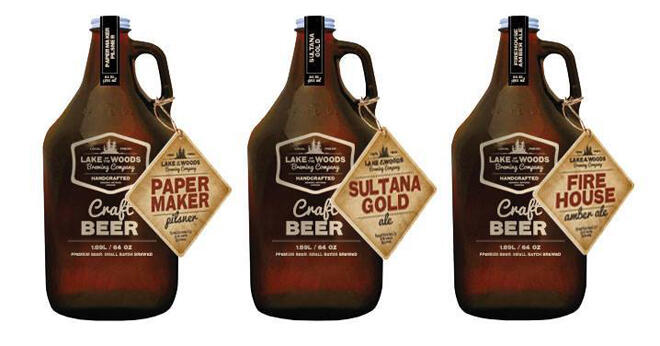 Lake of the Woods Brewing Company opened in 2013, reviving a company name familiar to many Kenora old timers are long-time cottagers. In the past two years, the company has expanded its brewing capacity twice to keep up with demand. It's time to come try the beer for yourself. Order a Sultana Gold and a Shorelunch BLT, then sit back, take your time, and soak in the lake life vibe.
Location: 350 Second St. South, Kenora
Phone: 807-468-BEER
Website: lowbrewco.com
Facebook: facebook.com/lowbrewco