A Not-So-Hidden Gem in the Heart of Sioux Narrows
The Northern Ontario Sportfishing Centre in Sioux Narrows, Ontario is housed in a magnificent building right along Highway 71.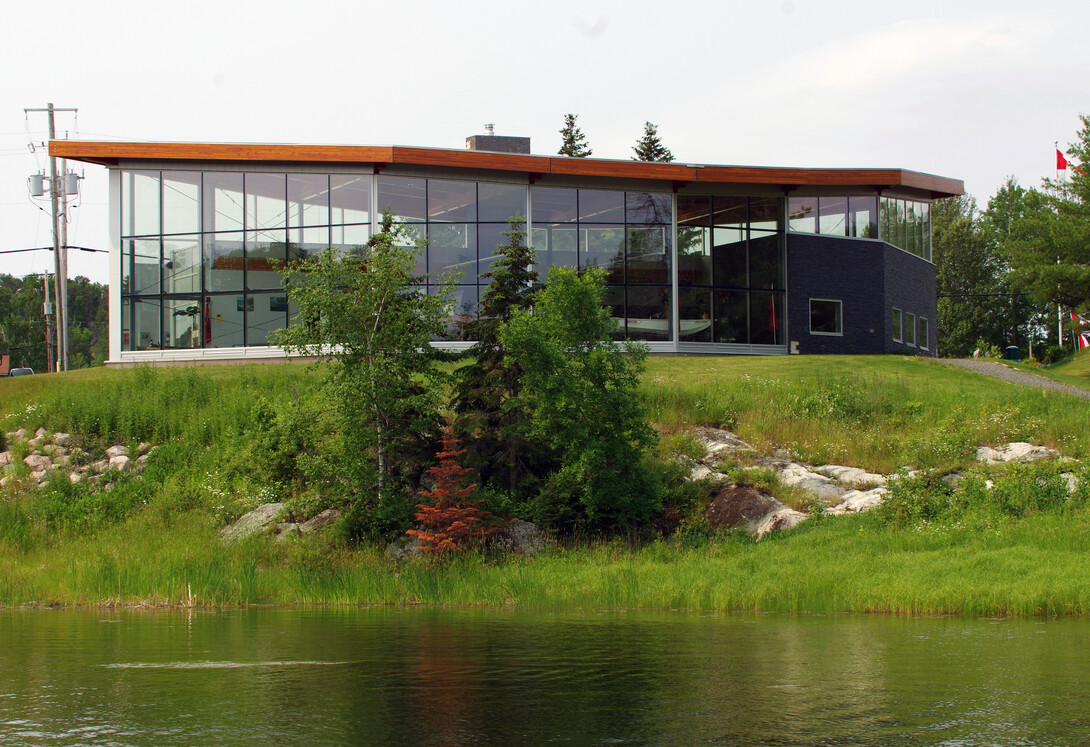 For such a small community, Sioux Narrows is lucky to have such an attraction that stands out and shines in its home between Lake of the Woods and Highway 71.
The Northern Ontario Sportsfishing Centre first opened its doors to the public in 2012. If you're coming by car, you'll park along the front of the building, or you can come by boat and park at the docks right down from the Centre. As you walk up from the docks, you'll see a small playground and a picnic table where you can have lunch after your visit to the NOSFC.
As you go to enter the building you can't help but notice the water fountain – it's a giant muskie! Go ahead and have a drink; where else can you say you stuck your head in the mouth of a muskie and came out OK?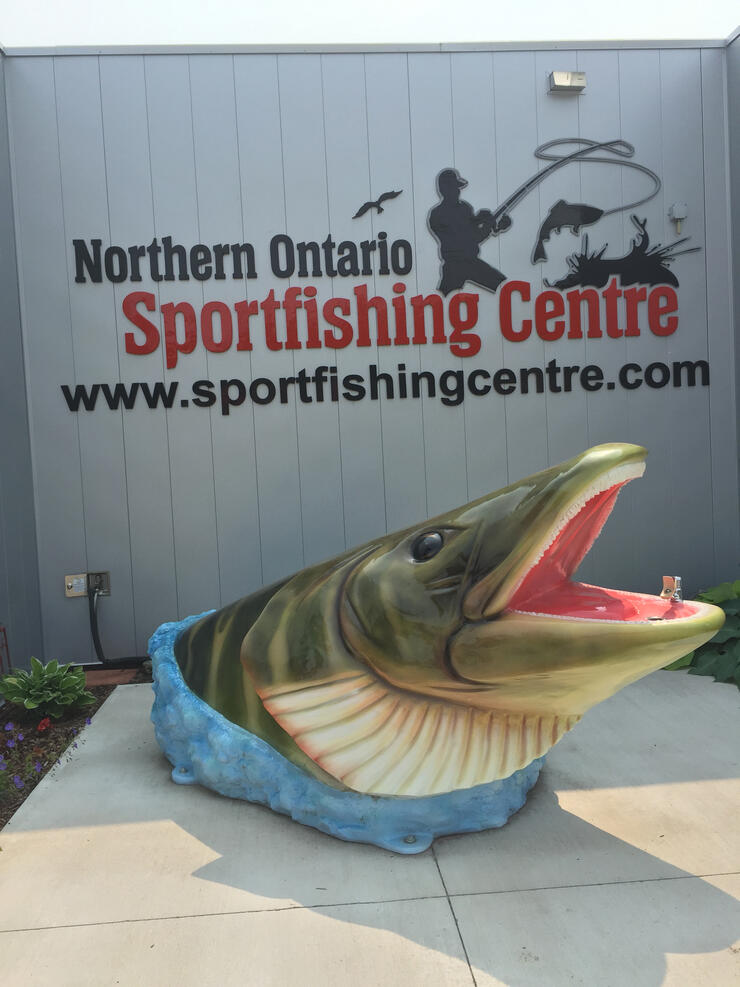 When you enter, you'll be able to pick up some tourist brochures and a few souvenirs. Local residents Jake and Eli Blosser of Timber Signs Work Shop have carved out three stunning totem poles which are located near the entrance. Continue on and you'll walk into the main building with floor-to-ceiling windows overlooking Lake of the Woods. You'll see a sitting area in the middle where you can relax and check your phone on the Wi-Fi if you've been without service. The comfy couches are a nice touch.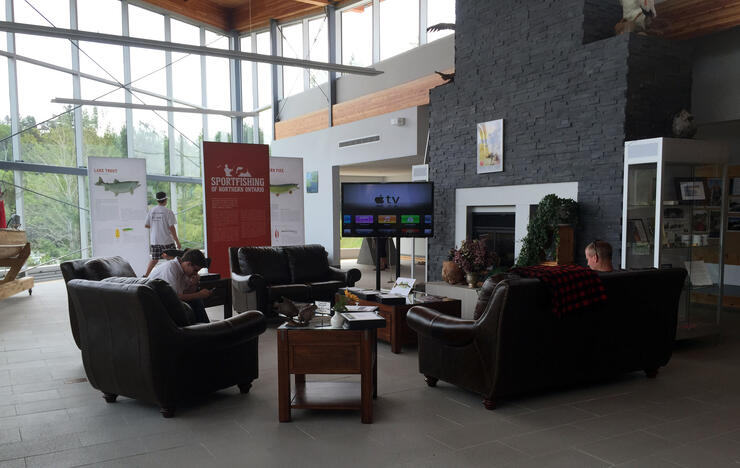 Surrounding this area you'll see all kinds of exhibits. I'm not sure how often they change, but the last time I was there, there were a few boats including the Hass Boat, a kayak from 1928, some antique motors, and a display of antique muskie lures on loan from Dan Luce.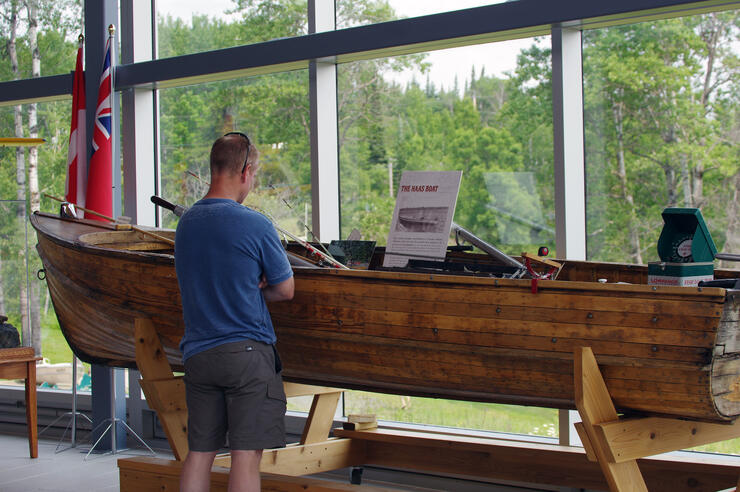 The duck hunting kayak was built by Parkers Prairie Boat Works. It was found on Miracle Island in Whitefish Bay by Ralph and Sue Hillman. The kayak features over 100 holes running over the edge of the cockpit that hunters put cattails in so they were camouflaged in the swampy terrain.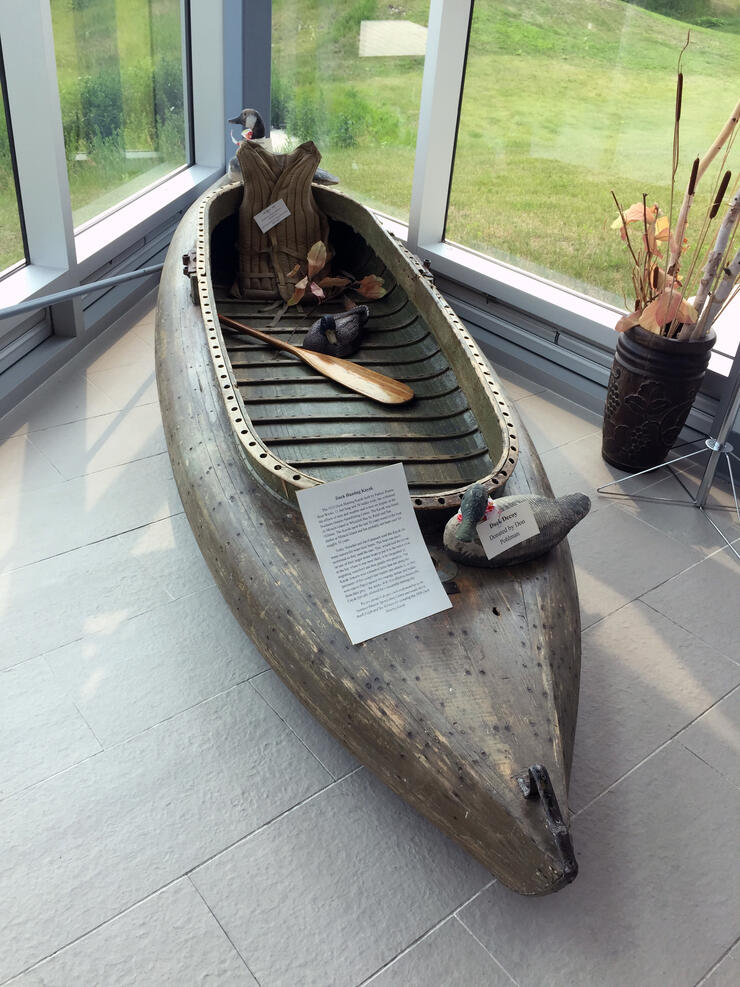 One of the main attractions is a replica (scaled-down obviously) of the famed Sioux Narrows single-span wooden bridge that had to be dismantled to its age and deterioration. Located on the wall you'll find some stats on the original wooden bridge.
2 Reinforced Concrete Piers
223,688 FBM Timber (Foot Board Measure)
210' Timber Howe Truss Span
28' Concrete Pier Height
24' Road Width
20 Ton Load Capacity
32' High Water Clearance
The Northern Ontario Sportsfishing Centre is open from mid-May to mid-September. During the summer they have guest speakers, including Pro Angler Jeff Gustafson who gives seminars on fishing at Lake of the Woods. Artists are most welcomed here and there is often art displayed in the Centre.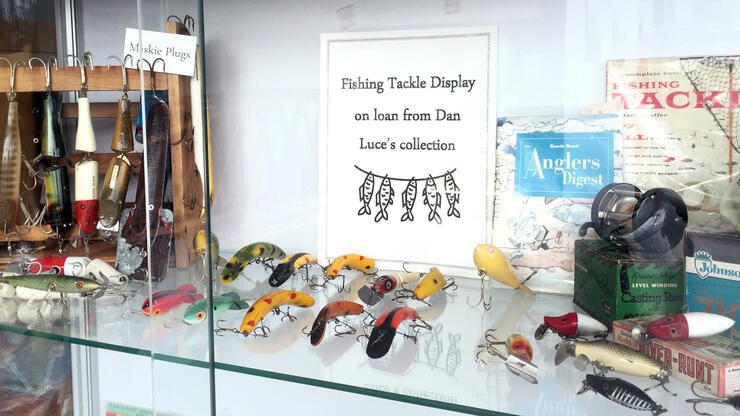 I highly recommend you spend an hour or two and visit the Northern Ontario Sportfishing Centre. We came by boat and toured the NOSFC, visited some of the fabulous gift shops, then bought lunch across the street and brought it to the picnic table closer to the lake. It was a great afternoon.