So You Want to Go Camping...
From full-service campgrounds to wilderness camping to small RV parks, these private campgrounds all have one thing in common: a remote, beautiful setting in Sunset Country.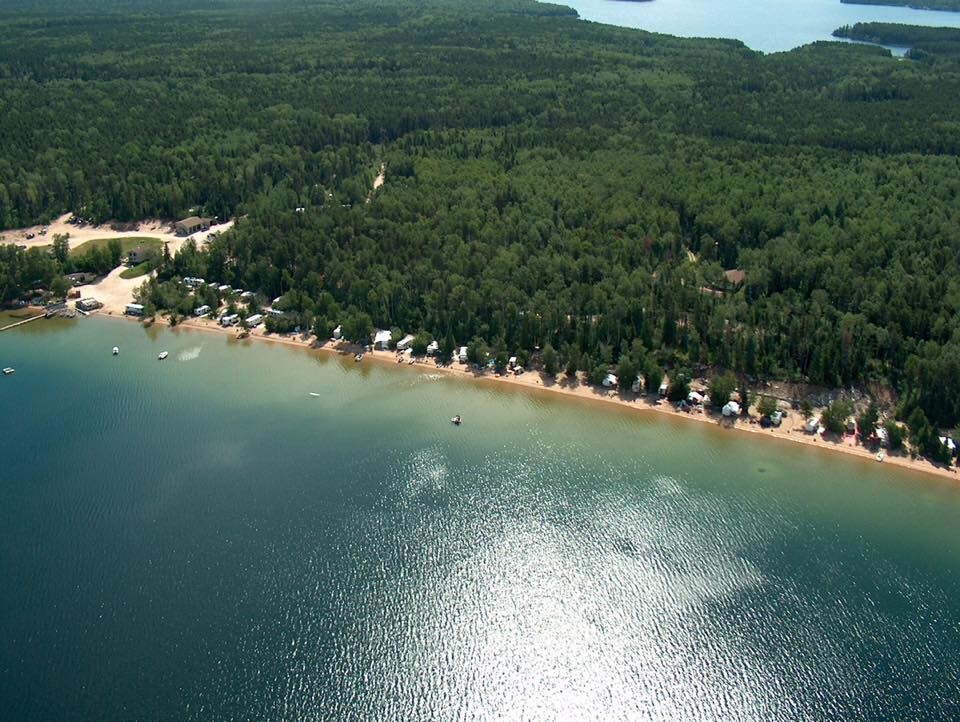 Over the past two years, many people have been buying RVs, travel trailers, and tents. The amount people that have been asking about campgrounds at the Sunset Country Travel Association office is off the charts! Luckily, we have many campgrounds in the area to explore. 
Many of the Ontario Provincial Parks are already booked up, so why not try a private campground in the area?
Almost all of our campgrounds in the area are adjacent to a lodge in the area. There are a few where camping is all they do, such as Laughing Water Trailer Park, but for the most part, they are on the same property as a lodge or resort.
Stand-alone Private Campgrounds
Laughing Water Trailer Park
Laughing Water Trailer Park is located in a sheltered bay at the northeast end of Long Bay on Lake of the Woods near Sioux Narrows. Most of the RV sites are located on the shore and the other sites are within a short walk. View a map of campsites here. Every site in this natural setting has an amazing view of Lake of the Woods. Hot showers, flush toilets, bait, ice, fishing licenses, a small convenience store, play area, horseshoes, and docking for your boat are available. Sites are available with water and 30 amp electric or with water, 30 amp, and sewer.  1-800-341-1048
Large RV Parks with all the Amenities
Do you like to have it all? Water, sewer, and electrical right at your campsite? Lots of activities and friendly people to hang out with? Try a full-service RV park. The following are campgrounds that also offer cabin rentals. The best thing about this is they have so many amenities for you to enjoy! You can swim at their beach, rent a boat if need be, or dock your own. Many have volleyball nets, playgrounds, fish cleaning houses, and much more. Try one of these campgrounds and RV parks below to enjoy camping this summer.
Tomahawk Resort RV Park
Located on the shores of Lake of the Woods in Sioux Narrows, Tomahawk Resort has been welcoming campers for over 70 years! There are 30 pull-through or back-in full-service sites with electricity (30 or 50 amp), treated drinking water, and sewer. Big rig friendly! Each site has a picnic table and fire pit. Souvenirs, clothing, fishing licenses, firewood, ice, and RV supplies are available. View the map of the campsites here. 1-800-465-1091 or 807-226-5622
Browns' Clearwater West Lodge Campground   
Browns' Clearwater West Lodge Campground on Clearwater West Lake near Atikokan has fabulous beachfront campsites as well as some wooded sites behind the beachfront sites. Each site includes 20 amp electricity, picnic table & campfire ring. A shower house, potable drinking water outlets & a dump station are also available. Their "Caribbean Beach of the North" is absolutely fantastic!  1-800-900-4240
Abram Lake Park     
Abram Lake Park is located among white birch, red pine, and spruce trees on the shore of beautiful Abram Lake in Sioux Lookout. Whether you pitch your tent or park your trailer, Abram Lake Park provides a variety of camping accommodations. You can choose RV pull-through sites to tent sites nestled in the woods. Overlooking Abram Lake is a large pull-through RV court with 37 individual electric and water hook-ups, 16 of which have full hook-ups and 30 amp service. Many of these are along the shoreline and all camp and R.V. sites have a picnic table and a fire ring.  807-737-1247 or 807-737-3299
Gullrock Lake Lodge      
Gullrock Lake Lodge offers fully serviced RV/camper lots that can accommodate any size RV unit. All sites include 50 or 30 amp electric, sewer, and water hook-up and decking with a picnic table. There are also multiple fire pits overlooking the lake, free WIFI, a shower/washroom house, laundry facilities, a games room, a beautiful sand beach, a fish-cleaning building, large open areas, and a playground. The campground is located on the Gullrock Lake Chain in Red Lake. You can see a campsite map here.  807-728-2445
Quaint, Smaller campgrounds next to a lodge
There are many resorts and lodges in the area that offer smaller campgrounds next to the lodge or cabins ranging from a few sites to a dozen. 
Birch Dale Lodge Campground
Birch Dale Lodge Campground is situated on a peninsula in Meyers Bay at the north end of Eagle Lake. Their campground has big lots for campers, 5th wheels, large motorhomes, trailers, or tents. They have 5 pull-through sites, 5 sites for campers, and 2 tent camping sites. All have picnic tables and fire pits. Several of the lots have sewer, water, and 30 amp electric hookup. A dumping station, shower house, and coin laundry are available. Have a great meal or drink at the on-site Bull Pit Steak House & Lounge. A map of the campsites can be seen here.
Procyk's Anglers Paradise Lodge Tent & Trailer Park
Procyk's Anglers Paradise Lodge Tent & Trailer Park is located approximately 200 yards from Two Island Lake which is part of the Gullrock Chain of Lakes. This 10-site campground is located just south of Red Lake, Ontario. Sites have 30-amp and 50-amp electric, and full water and sewer hook-up. Use the central shower house and restroom and the fish cleaning house.  1-866-267-2121 or 807-727-2670
Timber Edge Camp RV/Campground
Timber Edge Camps has 9 RV campsites that have full hookups, water, and 30 amp service, whether you pitch your tent or park your RV. All sites are nestled in the woods, situated among the trees with a picnic table and a fire ring. A central shower house and washrooms with flushing toilets are also provided for your convenience. The campground is located on Butterfly Lake which is connected to the famous bays of Minnitaki Lake near Sioux Lookout.  807-737-2099
More options include Press Lake Camp, Caribou Falls Landing, Lakeview Lodge, Donnelly's Minnitaki Lodge & RV Park, Pine Sunset Lodge, Labelle's Birch Point Lodge, Lecuyer's Lodge, Rugby Lake Lodge, Goose Bay Camp, Cozy Camp, Nutt's Country Cabins, and Lac Seul Wilderness Resort has a campsite with a trailer on site to rent.
Spend the Summer at a Seasonal RV Campground
While many of the campgrounds in northwest Ontario offer some seasonal campsites, here are some that focus mostly on seasonal with a few non-seasonal campsites. Seasonal RV camping can be the most enjoyable way to spend economical family time and take pleasure in the great outdoors. 
Dog Lake Resort Campground
Dog Lake Resort Campground is less than an hour from Thunder Bay. They have over 100 seasonal serviced campsites that have a 15-amp power supply, and water hook-ups, and are close to showers in two locations. Laundry facilities and a sewage dumpsite are available. The campground also has sites available for those that want to stay for a night, week, or month. Choose between open, shaded, and treed sites that are semi-private, with your own picnic table and fire pit. Pets are welcome.  1-800-466-0918 or 807-767-1809 
Amberlite Wilderness Resort Seasonal Campground
The Amberlite Seasonal Campground is located just two hours west of Thunder Bay on Weikwabinonaw Lake. Your seasonal rates include site fee, the convenience of only 15 amp power, and water where available, refuse and recycling service, porta-potty service, RV septic dump station, use of resort amenities including beach, waterslides, boat launch, and marina dock, as well as most Amberlite Wilderness Resort family events. View a map of the campground here.  807-699-7182
Harris Hill Resort on Lake of the Woods
Harris Hill Resort offers 11 seasonal RV sites on the south end of Lake of the Woods plus 1 transient site. All have sewer, 30 amp electric, and water. RV sites are all treed for privacy yet close enough for you to visit each other. They are close to the boat docks and boat launch as well. Fire pits and picnic tables are provided for each site.  855-488-1116
Find more RV parks that offer seasonal RV campsites here.
Campgrounds Available During Hunting Season
Many campgrounds stay open during hunting season in the fall. One of the best things about this time of the year is no bugs! There are not many visitors either. Check out some of these campgrounds that are open during hunting season.
Separation Lake Campground
Located 47 miles north of Kenora, Separation Lake Campground is in a prime hunting area. The campsites are available for tent, motor home, truck, or 5th wheel campers.  217-357-3069
True Wilderness Remote Camping
How does tenting camping in the remote wilds of Sunset Country sound to you? If it sounds like heaven, try one of the following outfitters. They will fly you to a remote lake and you can set up a tent and really enjoy the peace and quiet. They have boats and motors on these lakes so you can head out and enjoy some fantastic fishing.
Northwest Flying Inc.   
If you prefer the remoteness fishing trip without the work of portaging and costs of an outpost then try a fly-in camping trip with Northwest Flying. They have several lakes already set up with boats and motors, no overcrowded campsites here. You will be the only ones occupying your very own private lake.  1-800-461-2126 or 807-484-2126
There are so many options in Sunset Country, I'm sure you'll find something to suit what you're looking for. You can also visit the campgrounds in Sunset Country website where you can search for a campsite by town, by the lake, by amenity such as pets allowed, or by type of campsite like seasonal or pull-through.