Canadian Shore Lunch
Few things in life bring the simple pleasure that enjoying freshly caught fish on the shores of a clear Canadian lake will do for you.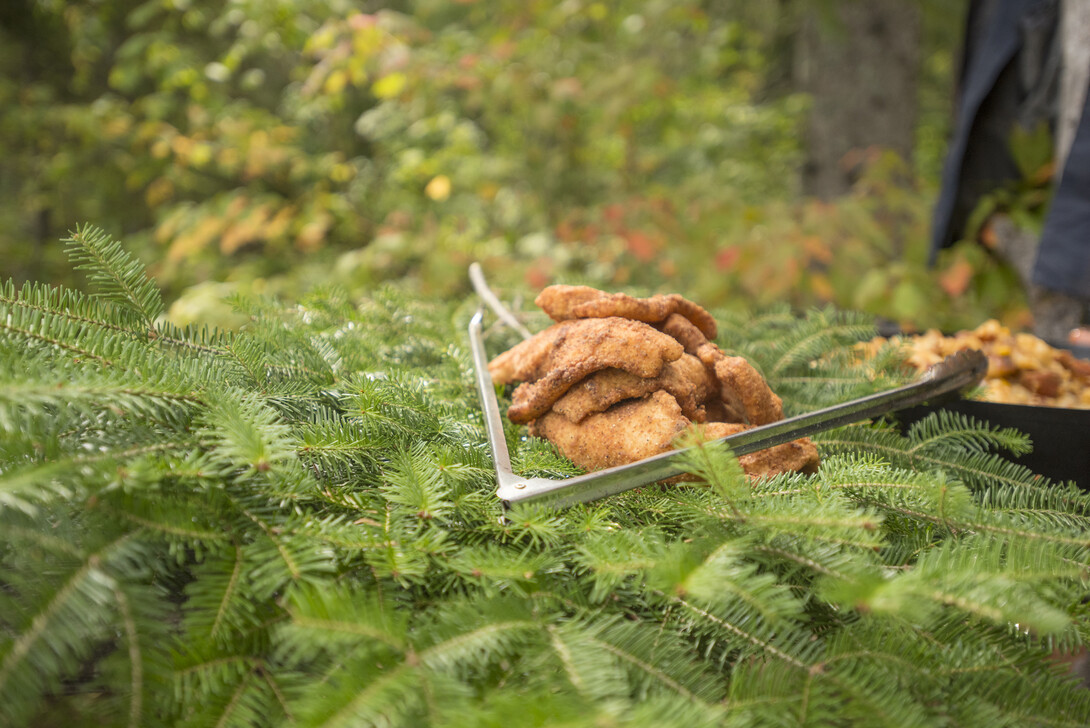 The majority of visitors to northwestern Ontario's Sunset Country come here to enjoy the great fishing we have to offer. There are literally thousands of lakes and hundreds of resorts and lodges you can choose from. After a successful morning of fishing, enjoy one of the tastiest delicacies found anywhere, fresh walleye for shore lunch. Ask anyone who's been up here fishing, nothing can beat heading out on one of our beautiful lakes, catching some nice walleyes, and frying them up with some potatoes and beans.
A few years ago I was lucky enough to be invited to a shore lunch with a couple of groups of fishermen during a fly-in fishing trip to Guardian Eagle Resort north of Sioux Lookout. We pulled up to a rocky shoreline where the other parties had already started to prep the lunch. It was a spot that the guides frequented a lot and there was everything there that we needed, from the grates to cut wood to picnic tables.
There were three guides who whipped up a delicious meal that day. The guides made the traditional deep-fried walleye, but one of the guests added his own recipe to a batch of walleye. I'm sad to admit that I can't remember the guest's recipe. It was so good, and healthy too! I'm pretty sure he broiled the fish in tin foil with butter, onions and spices, but I can't remember exactly. (If you're reading, please post your recipe ;) )
When the fish goes straight from the lake into the deep fryer or frying pan, there is almost an exhilaration among the lucky anglers who are about to sit down for the feast. In Northwestern Ontario, guided fishing packages often include a walleye shore lunch. Your guide will fillet the fish into nicely sized portions and immerse it in a secret batter. Then it goes straight into the hot oil or into a pan above the open fire on the rocky shoreline. Shore lunch is a true part of the Canadian fishing experience, and in addition to fresh walleye, pike, lake trout, and black crappies can also be cooked up and eaten. When you take that first bite, it will be like you died and went to heaven.  
Catch and Release the Large Fish
You'll enjoy catching the fish that you will eat, but we want to encourage you to do it with this in mind. The best fish to eat, regardless of species, are the smaller ones, generally those between 14 and 17 inches in length.
For larger fish, like the one pictured above on Rainy Lake, it is important that you release them back into the lake. These bigger fish are the prime breeders and instead of eating them, release them so they can produce the ones you'll eat a few years down the road. Dan Baughman, who for many years owned Bow Narrows Camp, has a great article on his blog regarding the Stunning Reality of Keeping Big Fish. Take a picture and put them back; it is a conservation principle that has worked for years to ensure a quality shore lunch experience.
If it's been a while since you've had a shore lunch, or if you've never had one before, head up to Ontario's Sunset Country and experience one for yourself.
Order a FREE Sunset Country Travel Guide and Map to plan which lakes you should enjoy a Canadian shore lunch this year. Bon appétit!