Superior Sunrise
Have you seen a sunrise lately? A Superior Country resident finds inspiration in the outdoors.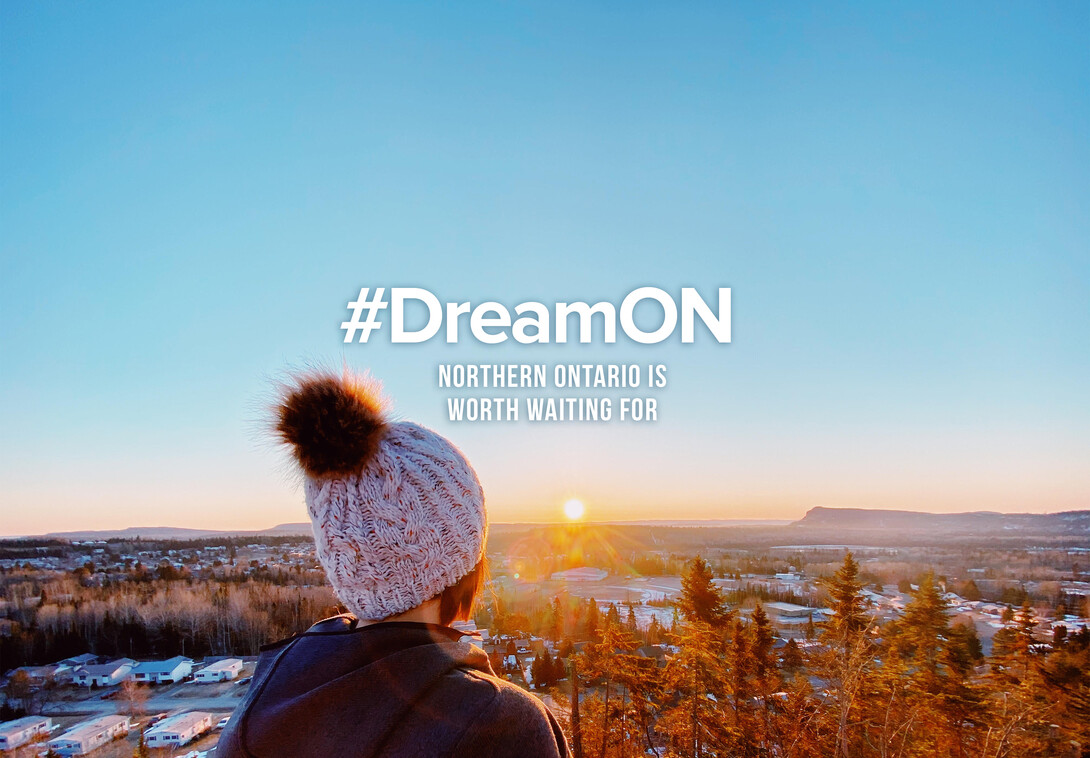 This article is part of our #DreamON series. We asked each of our writers to compose a love letter to their Northern Ontario community. During these difficult times spent in isolation, one writer reflects on the healing nature of the landscapes in her hometown of Nipigon, Lake Superior Country, (aka the centre of Canada) and why nature may be the cure we all need after months in lockdown.
Northern Ontario's evergreen forests of fir and spruce, roiling waterfalls, serene lakes, and breathtaking views have always been my paradise. Growing up in the township of Nipigon, at the most northern tip of Lake Superior, meant the forested slopes at the edge of town were our playground. We'd create our own worlds out there, but we were always close enough to home to hear mom call us in for dinner. As a teenager, these secret childhood spaces became a different sort of refuge.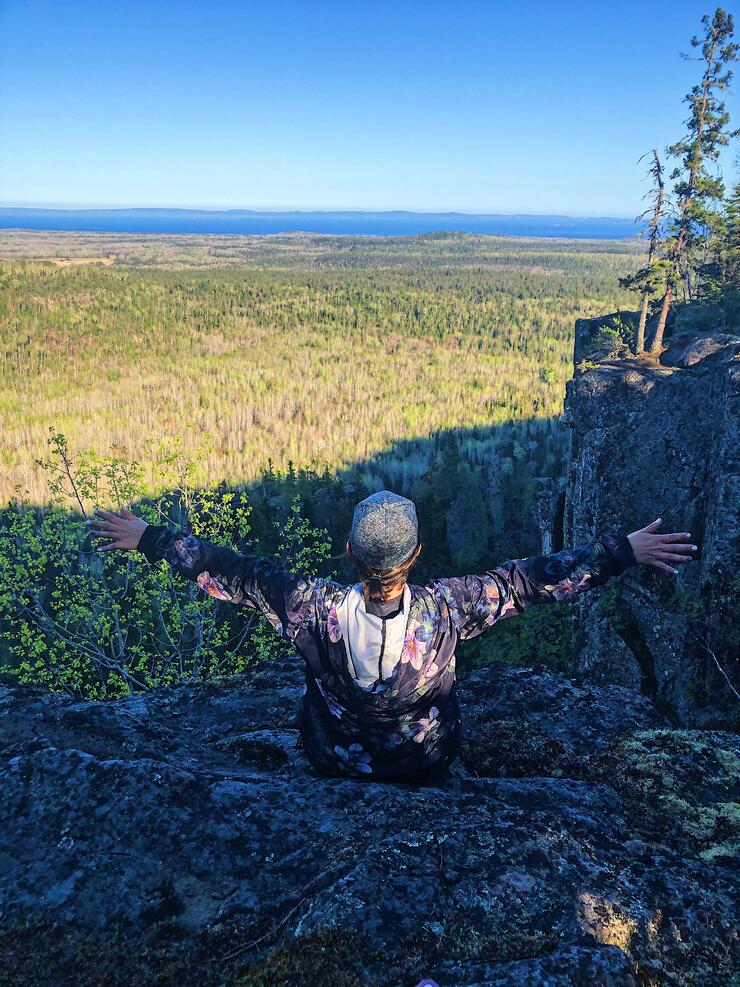 Hanging out with friends, up here in Superior Country, doesn't mean shopping malls and movie theatres. Hanging out means camping on the shores of an inland lake or gathering at the base of a favorite waterfall. All of us share that feeling of coming home from college for Christmas or summer holidays and letting the fresh and crisp northern air greet you like an old friend. It's a place of serenity. Where anything feels possible.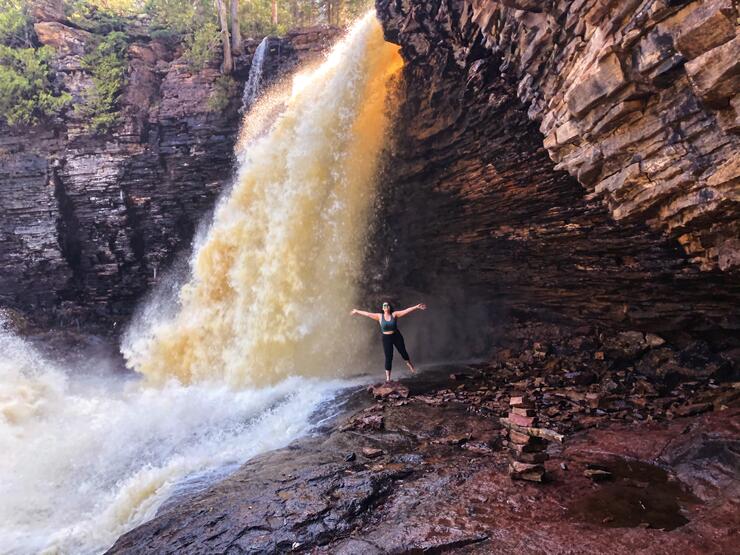 The last few months, however, have introduced new challenges for everyone around the world as we grapple with a reality that looks very different than it did at the beginning of 2020. We have all been challenged in many ways: experiencing a loss of connection with family and friends. To some, especially people living in urban centres and areas without easy access to green space, it may feel like losing touch with the outside world completely. Sometimes we're not aware how important that connection is until it's gone. Until we're not certain when it will return. Over the last few weeks I, too, lost sight of the magic outside my own front door.
The days started blending together. Working from home meant my early mornings turned into late afternoons and meals were eaten at my desk. These habits were an occupational hazard, but without realizing it, I was spending more time inside. One evening I was sitting on the couch, scrolling mindlessly, when I found myself staring at photos I'd posted from my favourite hikes. Soon I was scrolling images of local trails and, eventually, a few amazing sunrise shots. That's when I got an idea.
I checked the morning forecast. The sunrise was at 6:37am so I set my alarm for 5:30am and went to bed more excited than I'd been in weeks. When I woke up, a full hour earlier than usual, I made my coffee to go and felt a familiar rush of excitement. I'm a morning person. It's always been my favourite time of day. Warm coffee, vivid skies, and the excitement of the day ahead is what motivates me. It had been too long.
I rounded up my two sleepy, confused dogs, Stix, a husky shepherd mix, and Nova, a sassy white lab. They're not used to such an early outing but when they saw me grab the leashes there was no turning back. By 6:00 am we were out the door and headed for the Bald Spot that sits just on the edge of Nipigon. The trail is a local favourite.  It's an easy trek of about 15 minutes to the lookout that offers an incredible view of our community, and beyond that the beautiful Lake Superior.
We began walking in the dark, and as we continued up the trail, the darkness lifted. The sun was getting closer and I started to feel my mood slowly shift. The coffee was warm in my hands and being outside, really outside, amongst the trees and the remnants of the last snow, felt good. Talk about perspective! The landscape was here, waiting to welcome me, as it always has. Giving me a strength and joy that I had forgotten about during these long weeks spent inside. Even though my sense of adventure disappeared for a while, Northern Ontario did not.
When we reached the top, I took in the view like I never had before. We sat on the edge of the lookout that was so familiar to me, yet felt so different. As the sun slowly began to rise, my feelings of hope rose with it. I could feel the warmth of the sun filling me as I watched it light up my small but mighty community filled with so many captivating places. And while I took a few photos to commemorate my journey, I let my phone sit on the ground instead of in my hand.
Returning home, I felt rejuvenated, happy, and ready to work. I felt a bit silly that I'd almost forgotten how easy it is to recharge. We're lucky, here in Superior Country, to have so many incredible spots to visit, like Mazukama Falls and the Kama Cliffs.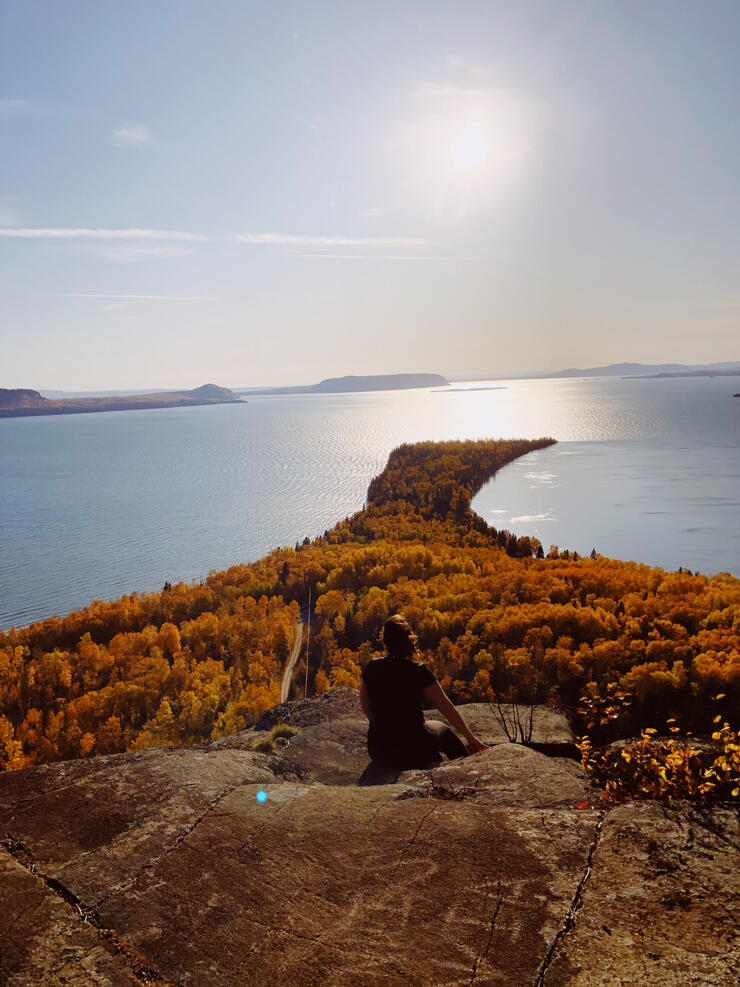 When you're able, I'm confident Northern Ontario will greet you with the same warmth and feelings of inspiration that it did for me. When you're sitting on top of the world, it's easy to feel like you can conquer it, whatever "it" may be. The best thing about Superior Country is how each person finds their own magic here. In the meantime, we reminisce and are here to welcome you back.
Please consult provincial guidelines here to keep up to date with the latest travel guidelines.