Hiking Casque Isles Trail in Superior Country
One of the best hikes in Ontario is also a challenging one. Our writer takes on the Casque Isles Trail to explore Lake Superior's coastal shores, waterfalls, and mountain vistas.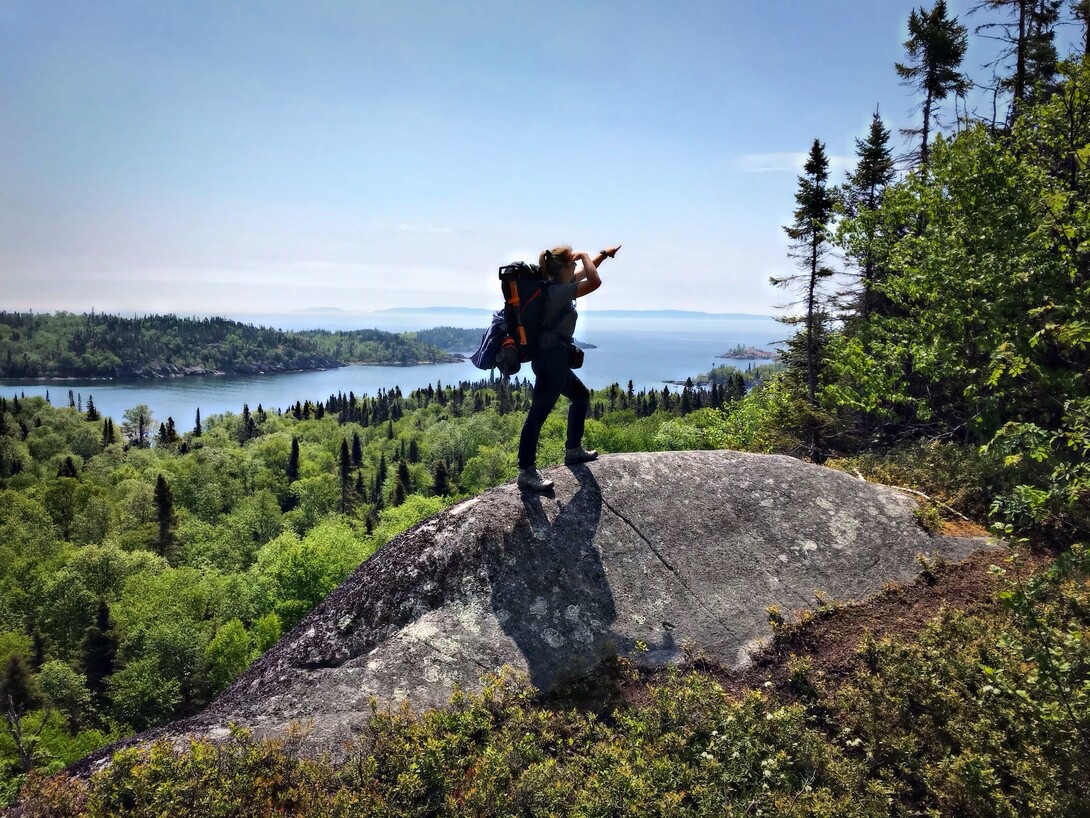 I stood still. As still as I could at that moment. Nausea in my stomach, the dizzying exhaustion you only feel after your body has been pushed hard. Sweat was running down my face, into my eyes, stinging. I tried to catch my breath, but the pounding in my chest and humidity turned deep inhales into shallow gasps. The second you pause the bugs come. With a ferocious hunger. There was fresh meat in the forest.  I looked back at my partner. Her head was down, pace steady. I was praying she would ask to rest, with no such luck.
"Better keep moving, so we don't get eaten alive," she says between deep breaths.
So I pressed on.  The weight of my backpack pushing my heels into the rocky trail, irritating angry blisters. Through covered and glorious boreal forest, I placed one foot in front of the other.  The leaves were deep green.  Spring's growth had matured and the smell of summer was in the air. We were high above the rocky shoreline we'd left behind. Through breaks in the forest to my left, I could vaguely see between the spruce and poplar and birch and pine. I could see Lake Superior encouraging us from below.
We were making our way up from Worthington Bay to Mount Gwynne, an almost two-kilometer uphill press on the magnificent Casque Isles Trail in Superior Country. We initially thought the dirt path was a welcome change from the rough terrain and scrambling we had done that morning as we crossed the Death Valley segment of our journey. We had anticipated Mount Gwynne to be easy going after that. Boy were we wrong. Finally, we came to a junction with a picnic table. It was hidden in the crux of the mountain with dead air and heavy coverage and offered no reprieve from the black flies and mosquitoes that were hiding in dark places between the crevices of rocks.
The view from Mount Gwynne
Then we saw a sign: Mount Gwynne Lookout 300 m. We looked at each other. Any opportunity for fresh air and a break from the bugs was greatly welcomed, even if it meant more climbing upward. We decided to leave our heavy packs at the junction and continue up another 60 m of elevation to a promised reward, a 360-degree view, a breeze, and a potential break from the relentless assault of tiny, winged, blood-sucking terrorists.
Up we climbed, in short, robotic movements. Both of us dizzy and dehydrated.  I emerged from the forest and quickly felt the cold breeze on my face. I was appreciative even if cool breeze was the only reward, I could care less of what this lookout had to offer. Until I looked about and became completely awestruck by the magnitude of the beauty all around. From the vantage point on Mount Gwynne, you have 360 degree views. You can see the communities of Schreiber and Terrace Bay. You can see the sections of the trail you have passed by and to where you are going, the tops of hundreds of thousands of trees swaying in applause and Superior herself, looking up with approval. Maybe it was the exhaustion or the dehydration, but I felt incredibly emotional. With tears welling up in my eyes I spun around in circles trying to consume every second in this place. I looked up and thanked the Creator. I forgot about the bugs and the heat and the sore legs and blisters.   
It's a strange place–the intersection of physical discomfort and uncontrollable joy. This feeling that is impossible to recreate unless in the presence of such natural beauty. This is the intersection that you occupy for much of the journey when you backpack Casque Isles.
a top ten hike in ontario 
Casque Isles is a 53 km trail that connects the Northwestern, Ontario municipalities of Rossport, Schreiber and Terrace Bay.  It was first built in 1976 by a crew from this region, led by Tom McGrath, and is maintained  by the zealous volunteer-based, Casque Isles Hiking Club.
There is good reason Casque Isles was classified as one of the top ten hikes in Ontario. It is challenging and highlights various terrain of the Northwest Boreal forest.  It provides even the most experienced hiker/backpacker with a unique challenge and rewards them with breathtaking beauty from lakeshore to captivating highlands.
This June, my adventure buddy and first-time backpacker, Katrina and I set out to complete Casque Isles over a weekend. Having covered each section separately over the last fifteen years, I knew what to expect of this particular trail system. These are not flat, groomed, easygoing, boring trails. Some sections involve rope-assisted climbs up the side of a steep rocky cliffs, scrambling across huge boulders on Lake Superior shoreline, navigating glacier deposits in the middle of the forest (that are essentially fields of rocks the size of basketballs, perfect for ankle rolls). Combine all of these unique challenges with a 65-pound backpack, and it's the perfect recipe for a glorious adventure and a serious challenge to complete in three days. A challenge we actually didn't accomplish!
It's interesting when you set out to conquer an experience in the outdoors and just fall short of your goal. Our final day of hiking we were planning a big push from Twin Harbours to Rossport, 24km in total. Twenty-nine kilometers in, two nights of broken sleep, two encounters with predators, and a storm in the forecast. The night before our final day, we made the call to end our adventure at Rainbow Falls.  We certainly could have completed the entire Casque Isles in one weekend. Our bodies could have pushed through the final 14 km. However, considering the conditions, bad weather, sore muscles, blisters, and a bit of dehydration, it wouldn't have been enjoyable. For us, the experience itself, the challenges, the views, the exhilaration were all worth more than being able to say, we did it all in one shot.  We wanted to take out time to enjoy, rather than push through in misery. Besides, just getting out and enjoying the beautiful landscape that Superior Country has to offer was enough. So we called it, at Rainbow Falls with 14km left.  
back to finish what we started
After getting home, we felt a little incomplete. We decided that we would return to complete Casque Iles, and 40 days later we did.
Katrina and I set out on a beautiful Friday morning late July to finish what we started. We picked up at Rainbow Falls where we left off and hiked the McLean's Segment to Rossport. As we hiked that day, we reflected on our amazing experience and the explicit exquisiteness of Casque Isles. We were able to fully enjoy the last 14 km and when we finished, we sat on the beach in Rossport, with no regret about the way we decided to make this journey 'ours'. These outdoor places of wonder and beauty are here for us to enjoy. Even in the midst of challenging yourself, pushing your physical and mental boundaries, we mustn't forget to enjoy the journey itself. Truthfully, my friends, there is no journey quite as exciting or wondrous in Northwestern Ontario as the Casque Isles.
Backpacking Tips for a weekend on Casque Isles
1. Pack LIGHT. This is a challenging trail. My motto is: Necessities only!
2. Water. I have a hydro pack (1.5 L) and water bottle (900 ml) filled every morning. I drink every ounce of water each day and more in the evenings. I brought my water filter for easy access to clean water.
3. Food. Food is heavy and occupies A LOT of pack space. Be smart and plan accordingly. Pack foods high in protein and fats.
4. Clothes. Lake Superior weather is unpredictable and can range from humid and hot to foggy and freezing. Technical quick-dry clothing is essential! I pack a microfleece mid-layer, a toque, and extra socks in case the nights are cold.
6. Enjoy the journey. This is one of the most beautiful stretches of trail in Superior Country.  If you want an optimal backpacking experience, stretch this amazing hike over four days.
Enjoy the vistas, stop and smell the roses and eat the blueberries, appreciate the challenge, and take in every moment.