Autumn by ATV
Looking to catch some sweet autumn views on your ATV? This is your go-to resource.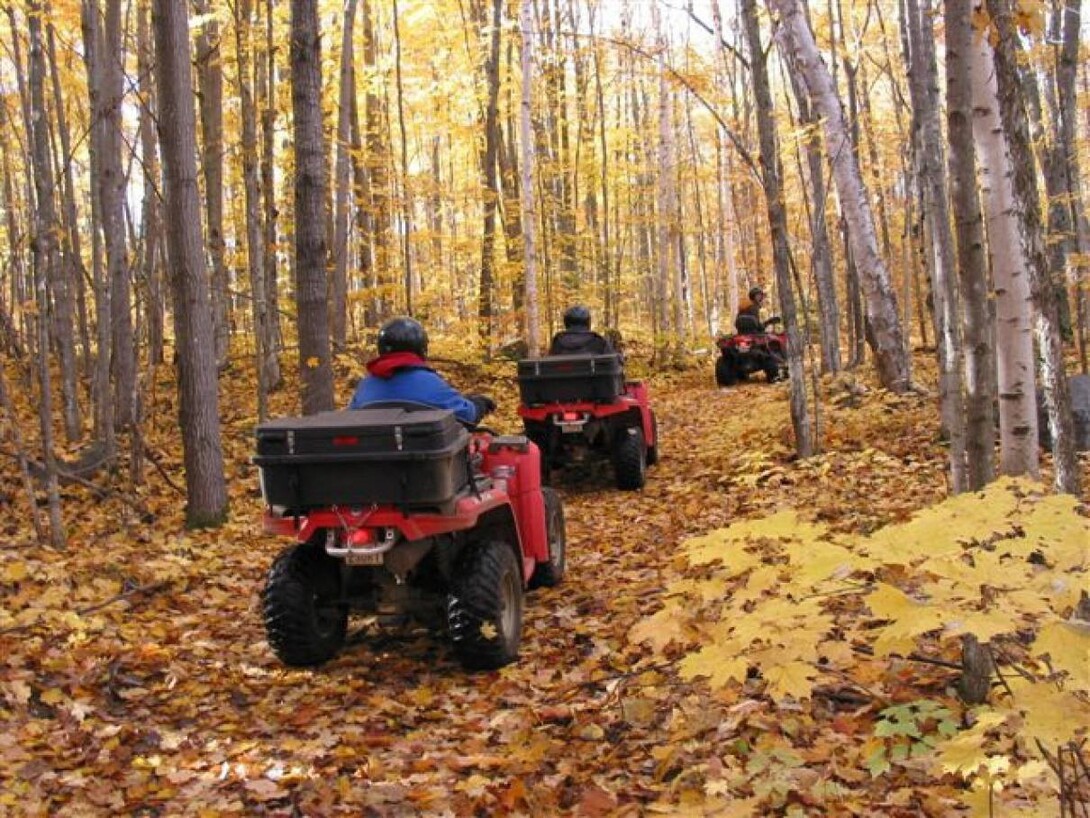 For many motorsports fans, the fall season signals the bittersweet end to the year's playtime. But for ATVing, a sport that can be enjoyed well into the colder months, this is the time when Ontario's best features really shine. By summer's end all the trails have been cleared and are well worn, the bugs are gone, and fishing and hunting seasons are in their prime.
But the most spectacular draw to Northern Ontario, what is revered the world over, is witnessing the millions of hectares of forest transformed into an awe-inspiring ocean of brilliant yellows, vibrant oranges and fiery reds. Planning an ATV trip for late September or early October, depending on how far north you're going, is the best way to experience this awe-inspiring phenomenon. Here we have listed the best destinations for an ATV trip in the fall. All are nearby to great trails and some even provide guided tours. Check the Fall Colour Report to find when and where you want to be for this year's show and get out there!
Birch Dale Lodge, Eagle Lake
Year-round vacation paradise with log cabins accommodating four to 10 guests. located on one of Northwest Ontario's biggest lakes, Eagle Lake. Known for its outstanding Walleye fishing and Whitetail Deer hunting, the area is also home to hundreds of miles of old logging roads, animal paths and snowmobile trails. Some of the intertwining trails and roads can be quite complex so bring a compass or GPS. This is the real wild west!
Recommended Local Trail: Umfreville Trail
Ritchie Falls Resort, Algoma
This going into the serious backcountry. Able to accommodate large groups, Ritchie Falls Resort is the ideal place to use as home base while exploring the ATV trails around Elliot Lake. The owners know the area inside and out and can help you to an amazing ATV adventure. Read all about it here!
Northern Walleye Lodge, Missinabie
Located on the remote Dog Lake, this place is a popular place find plenty of large and rare fish. But the secondary attraction here is bound to become more of a focus. The Missinabie area offers amazing opportunities for ATV lovers. The lodge is only 1km away from the Chapleau Game Preserve where there are miles and miles of trails and old logging roads. With many different types of terrain including sand, swamps, streams, deep bush, burn areas and well used trails. Bring your rod and fish a lake that nobody goes to. While in the area, check out some of the loop tours around Wawa or other ATV tours in Algoma Country.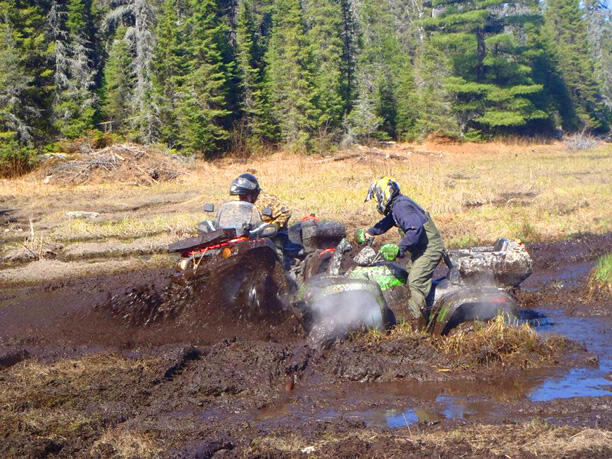 Murray Lake Cottages, Murray Lake
Explore Chapleau's backcounty on the only establishment on beautiful Murray Lake. Discover the scenic and remote locations of this rugged northern territory. The region offers miles of trails with a variety of terrains, such as large hills, smooth logging roads and lots of mud to play in. Great place to see the colours and wildlife like Moose! Guests can enjoy lodging in one of the 5 cozy housekeeping cabins and can begin their quad adventure right from their door. Murray Lake Lodge offers guided tours or can prepare you for your lone adventure with maps of the area. 
Recommended Local Trails and Clubs: Elliot Lake ATV, Chapleau Area Trails
Owl's Nest Lodge, Alban
Open year round to serve the snowmobile, fishing and ATV fans who want to experience the beauty of the the Trout Lake area. With seven rustic log cabins ranging from one to three bedrooms, this is a great place to see the vivid colours of the surrounding birch and poplar trees as the season changes. Click here for more information on trails in the Sudbury area. 
Happy Day Lodge, Chapleau 
Nine cozy cabins on the the nutrient-rich Lake Windermere make this a happy place for fishing. But if you're looking for a complete wilderness experience they've also got a remote outpost camp that sleeps up to eight people with pump water, shower, propane refridgerator and stove. A network of ATV trails surrounded by Boreal Forest make this one of the best places to be this fall.
Elk Cabins, Elk Lake
An ATVer's paradise surrounded by hundreds of acres of Crown land, packed with old logging roads, bush trails and off-trail adventures. A variety of terrain offers makes this a good spot for both the novice and experienced rider. Ask for advice and they'll be happy to help you have the trip of a lifetime.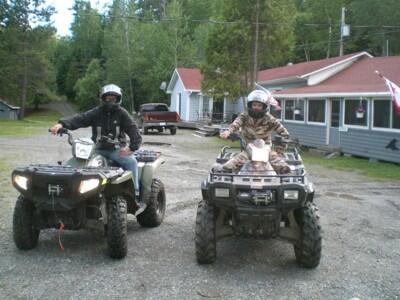 Lake Herridge Lodge, Temagami
Set in the scenic and tranquil Temagami Wilderness Forest, the Lake Herridge Lodge is ideal for anyone looking to have a northern experience only 90km away from North Bay. A range of 1 to 4 bedroom lakefront cottages with everything you need to make the most of your trip. Now offering 3 and 6 hour guided ATV tours. 
South River Resort, Nipissing
Located on a peninsula overlooking the South River which empties into the famous Lake Nipissing, this is a popular spot for ATV enthusiasts to use as a home base while they explore the sand dunes, mud pits and scenic views found on the many trails in the area. Or click here to read the story of three ATV masters meeting in the area and having an adventure worth repeating.
Mattawa Adventure Camp, Mattawa
Located on the shore of the Ottawa River, just down from the confluence of the Mattawa and Ottawa RiversMattawa and Ottawa Rivers, Mattawa Adventure Camp offers just that adventure from your cabin door. Ride over 300km of spectacular trails on the Voyageur Multi-Use Trail System, which is just a short ATV ride from the camp. Make sure when having dinner to ask owner and host Wim to sing a song for you!
Recommended Local Trails and Clubs: West Nipissing ATV Club, Old Nipissing Road
Horseshoe Resort, Barrie
A premier destination for ATV and Off-Roading, the Horseshoe Resort Riding Adventures provide guided tours on a wide range of challenging terrain. Only an hour away from Toronto the Horseshoe Valley Forest is the perfect place to take the family or any kind of group out to experience the thrill of ATVing in a safe and controlled environment.
Recommended Local Club: Central Ontario ATV Club
Sandy Lane Resort, Minden
Located on the beautiful sandy shores of crystal clear Halls Lake, the Sandy Lane Resort offers a wide selection of cottages with full amenities. Best of all, it's only 40 mintues to the Haliburton County Rail Trail and an hour from the World-Class trails in Bancroft, both are ideal for taking in the dramatic change of season found in the Haliburton Highlands.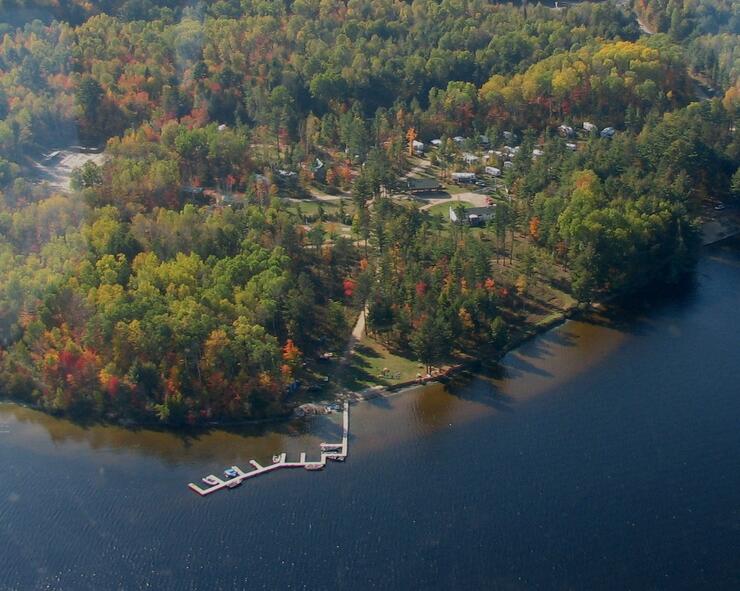 Morning Mist Resort, Stonecliffe
Open year-round in the pristine region of the Upper Ottawa Valley, Morning Mist Resort boasts an 80-acre property crisscrossed with old logging roads, snowmobile and ATV trails. Head out into the wild to find one of the many inland lakes full of various species of trout. Or just explore the unspoiled beauty of the largely undeveloped shores and inlets on this stretch of the Ottawa River. They also offer guided tours of Algonquin Park or anywhere you like. 
Recommended Local Trails: Voyageur Multi-Use Trail System, Haliburton County Rail Trail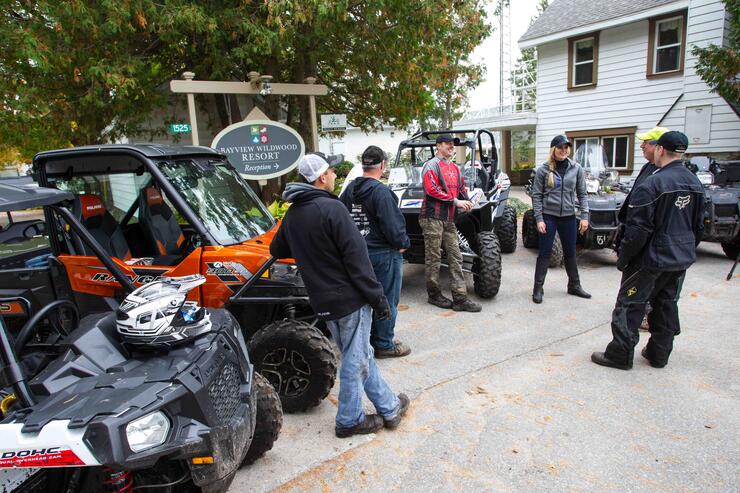 Bayview Wildwood Resort, Severn Bridge
Operating in the lakeside village of Port Stanton for over 110 years, this wonderful Ontario resort knows how to show you a good time. With ATV packages including rentals for the whole family, beautiful cottages right on the shores of Sparrow Lake and a conveniently located nearby to the ATV amenities of Kearney, this is an excellent place to watch summer turn to fall. 
Northridge Inn & Resort, Sundridge
With comfortable and affordable lakeside rooms and cottages, the Northridge Inn & Resort is an ideal fall getaway for a romantic getaway, family adventure or corporate group excursion. The autumn days of the Almaguin Highlands are still warm enough to relax and enjoy the scenery of the local ATV trails. Ask the locals about an abandoned steam locomotive wreck in the area. 
Recommended Local Trails and Clubs: Baxter Severn ATV Trail Riders, Old Nipissing Road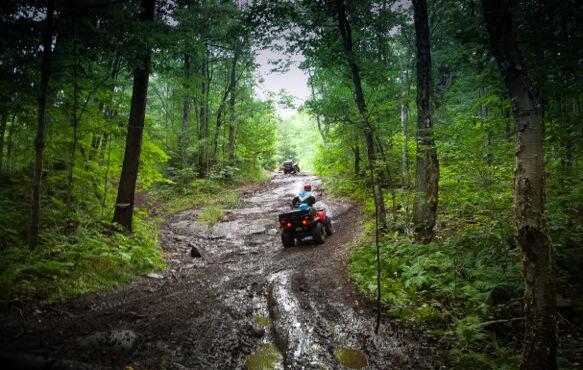 Beachwood Resort, Selwyn
Bring your ATV and explore the extensive and varied trail systems offerd by the Kawartha ATV Association. The resort offers permits and maps making for a great opportunity to get to know some of the 250 km of trails in this area. A room in the main lodge is ideal for two people or come with a group and make use of one of the three- or four-bedroom cottages. Click here to learn more about ATVing around Kawartha Lakes.
Recommended Trail: Kawartha ATV Association