Fighting Fit in Ontario
How UFC Stars Miesha Tate<br />and Bryan Caraway Relax After A Fight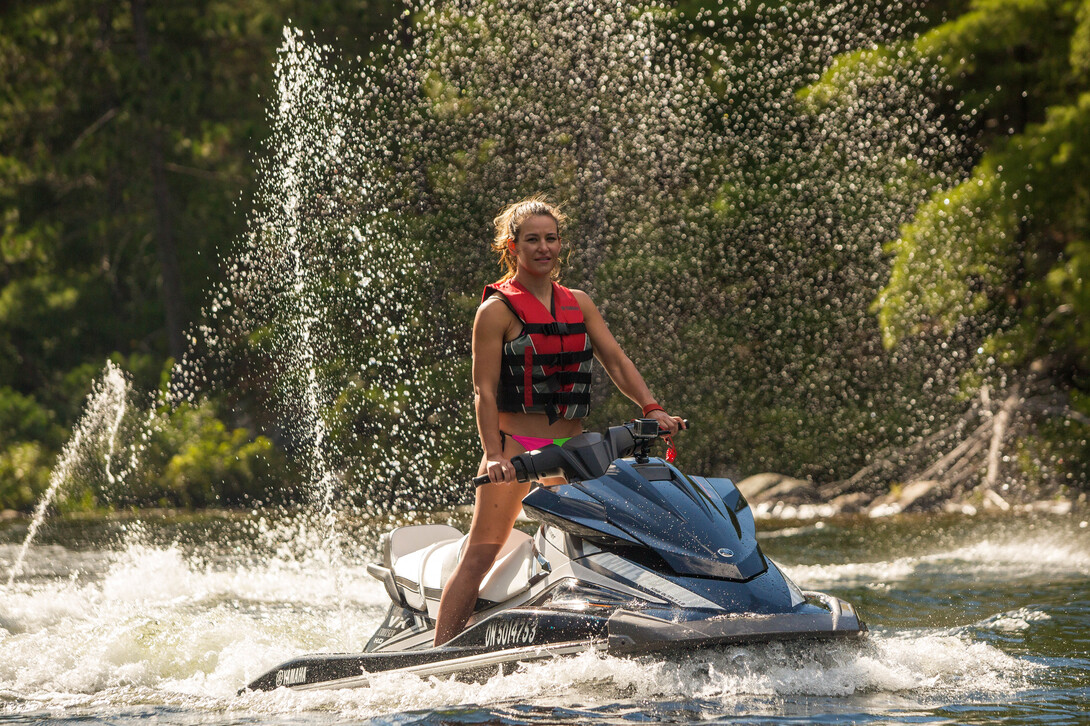 What do two of the world's top MMA fighters do after a big fight to blow off steam? They head to Ontario to ride a dirt bike, of course. And tour around on a WaveRunner. And slam a Yamaha quad through a mud bog. And, well, read on to find out how Miesha Tate and Bryan Caraway—two of the sport's top UFC athletes—spent their vacation in the Great White North.
Ontario is a big place. Bigger than Texas. It's home to Canada's largest city. And Canada's capital, too. But get outside the cities and what you have is space. Land—tons of it. Lakes and trails. Wide roads free of traffic. This isn't just a place for luxury travel, though. It's a tough landscape, much of it still wild. Just tough enough for two of the world's greatest MMA fighters. Which is why UFC bantamweights Miesha Tate and Bryan Caraway chose here—out of all the spots on the globe—to spend their precious little time off between intensive training. Forget LA. Miami. Forget Fiji or Australia. Why? Two words: power sports.
"I love to do things that are out in nature and out in the wilderness, but that also accommodate my nature—a little bit aggressive," says Tate on her love of power sports. "And after a fight is a good time to self reflect." So with just a week to relax and hit to reset button, Ontario was high on her list of spots to explore. "I live in Las Vegas. I'm constantly around people. I'm in the media. So when I want to escape somewhere, I really want to escape."
WaveRunners, Dirt Bikes, and Quads—Oh My!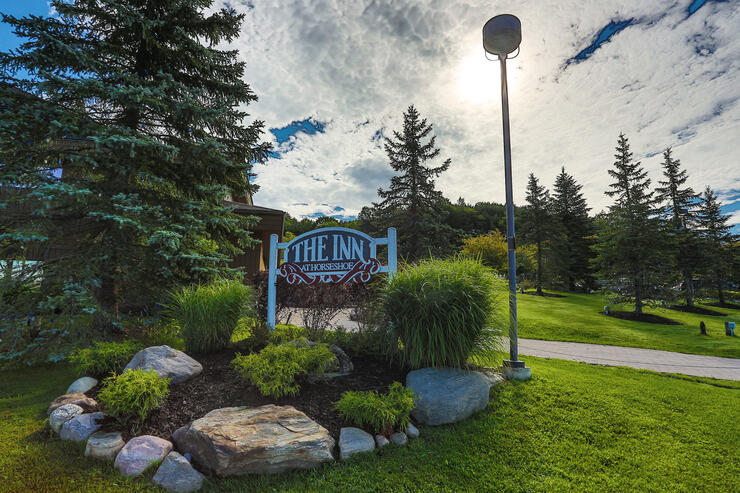 First stop on the relax-and-reset UFC tour of Ontario? Horseshoe Resort in the region of Bruce Grey Simcoe. Yes—it's a ski hill during the winter months. But in summer it's the perfect spot for some dirt biking. And zip lining. They even have a motocross track. And with a S.M.A.R.T. training course, the two athletes were ready to rock.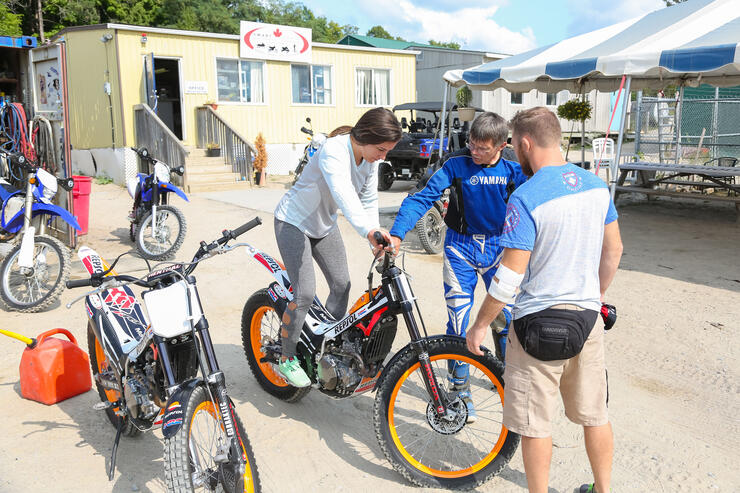 Yeah, it's not a place you go to sit around and contemplate the meaning of life. It's a place to get out and enjoy the great outdoors. Caraway immediately hopped on a YZ250 two-stroke to help him relax ("For me, that rest and relaxation is gripping and ripping the throttle," he notes).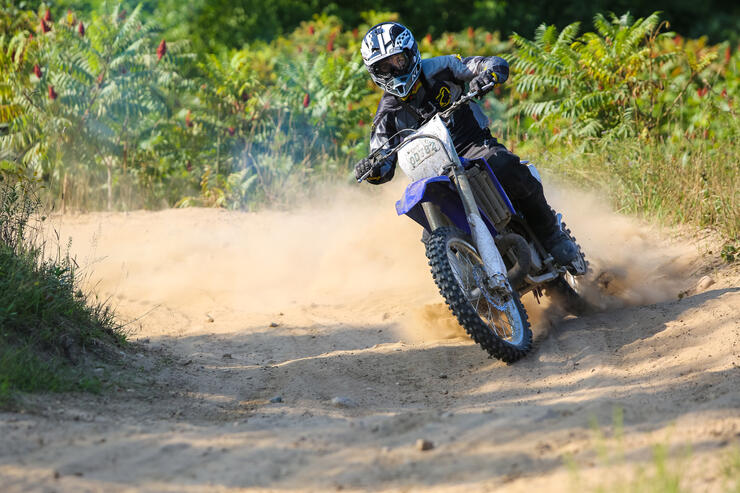 Impressions? "It's incredible," says Tate. The people are friendly. Excited to meet her. She's checking out the scenery—the white pine, the black oak, the red maple, getting a feel for the place.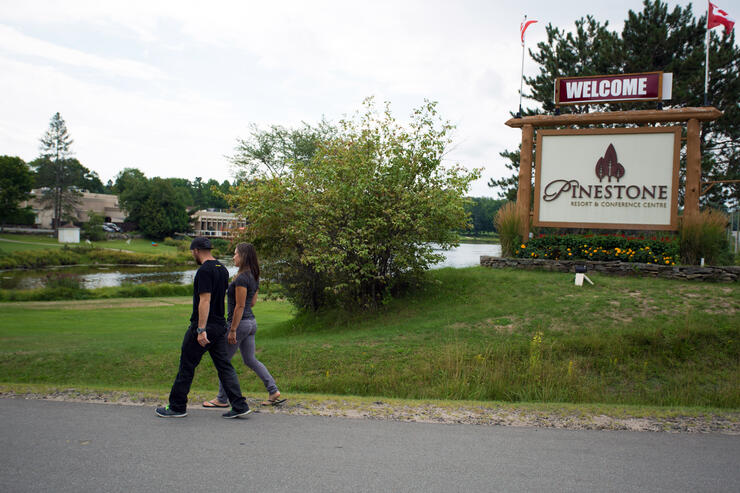 Even the hotels are named after nature, like the Pinestone Resort in Haliburton County that comes with its own golf course. So far so good. 
Next up was Backcountry Tours and Cottages (the lakefront cottages come with ATV, jet ski, and snowmobile rentals). And that meant it was time to suit up in some high-tech Klim gear and durable boots by Scott.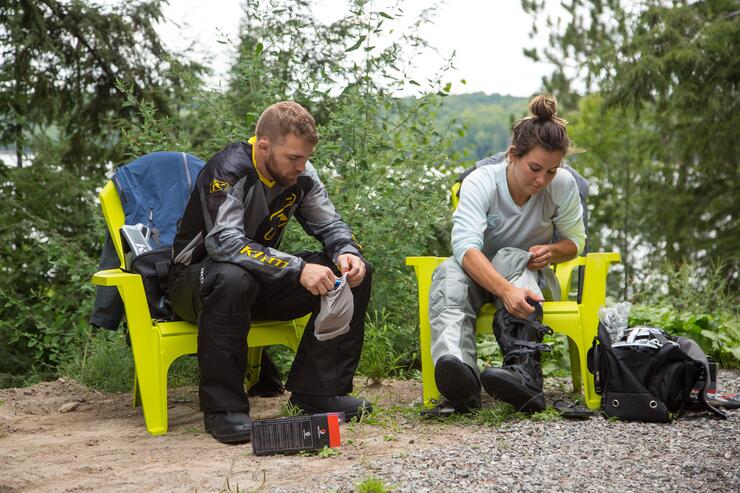 "I hadn't had that much experience on a quad," says Tate. "I'm out on a four-wheeler in the middle of the woods blazing through hardcore trails," she says. "Cruising over rocks, going through mud bogs, that was the icing on the cake."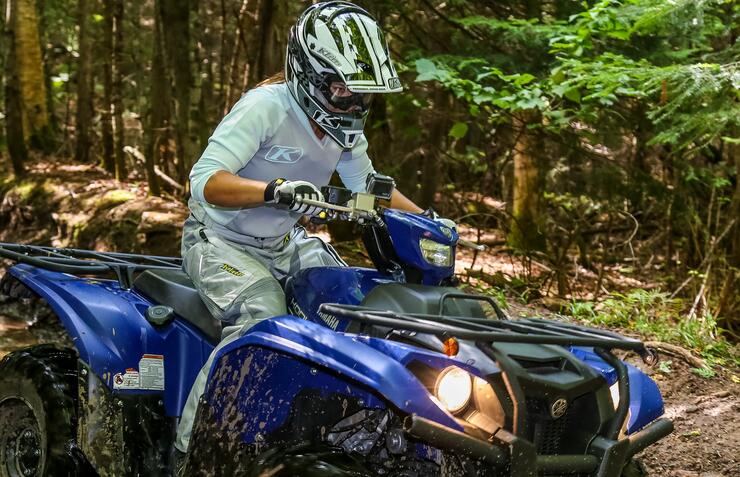 But the quad fun didn't stop there. The duo hit up the VMUTS in Mattawa. What's a VMUTS, you're wondering? It stands for Voyager Multi-Use Trail System. An epic trail system (more than 200 miles of signed and marked trails) on old logging roads specifically for ATVs and mountain biking.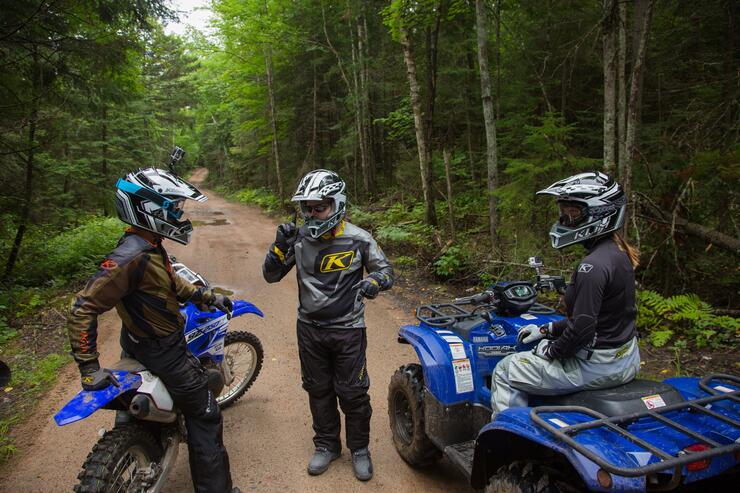 Watch out for the muddy patches and near vertical rocky outcrops. If you're thinking that sounds awesome, that's what Tate thought, too, after ripping around on a Yamaha Four-Wheeler for an afternoon. "It kept my mind sharp," says Caraway about his time on the trail. "I just liked the challenge. I want to buy one now!"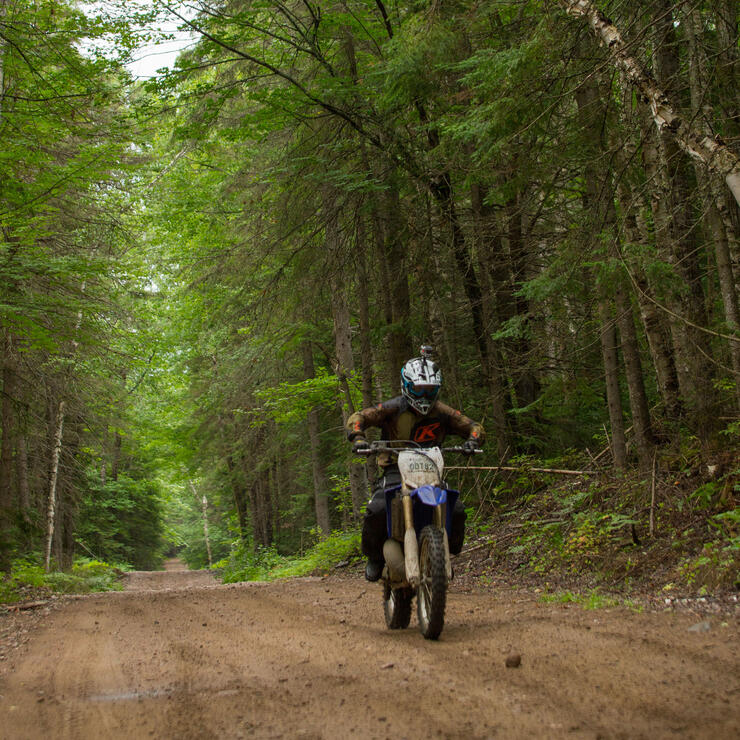 The two came back to clean up and dry off at Ramada by Wyndham Pinewood Park in North Bay (And after a crazy day tearing up the trails, Tate and Caraway were grateful for the resort's outdoor heated pool and hot tub).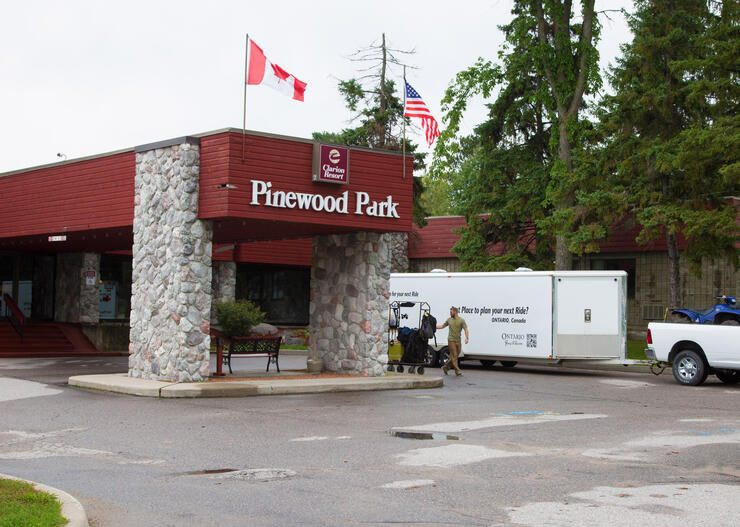 But no vacation is complete without a little time spent at the helm of your own personal watercraft—so Tate and Caraway blew off steam soaring across Turtle Lake on a couple of Yamaha WaveRunners.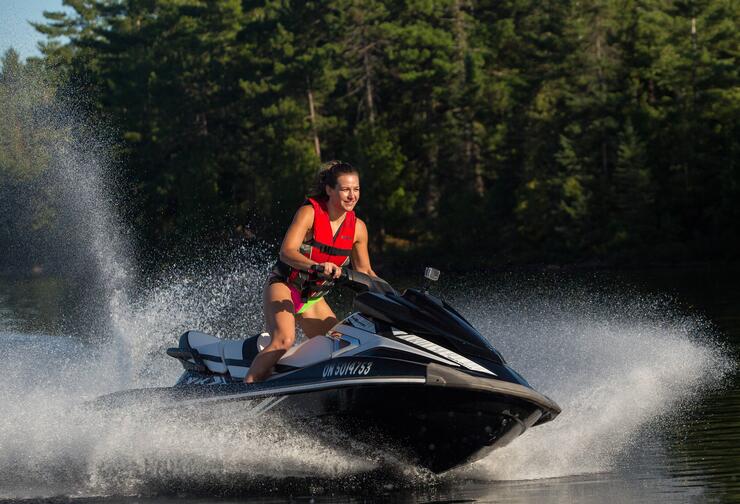 "I'm on the WaveRunner and there's no one in front of me," recalls Tate. "And the water was like glass. You couldn't see a house in sight. You couldn't see a person in sight. Like no one had ever been there before us." (And that's the beauty of Ontario. There are plenty of lakes for everyone.)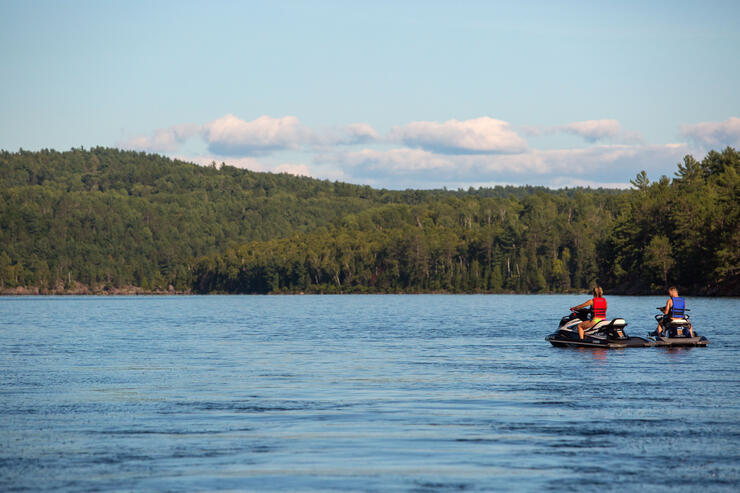 Bryan agreed: "I travel the world, I see all kinds of places and I've never seen anything like Turtle Lake in my entire life. It's like something you only see in pictures and paintings." After a day out on the lake, they retired to Cedar Gables Lodge, a family-run bed and breakfast in Bonfield in Northeastern Ontario. "With a great breakfast in the morning," notes Tate.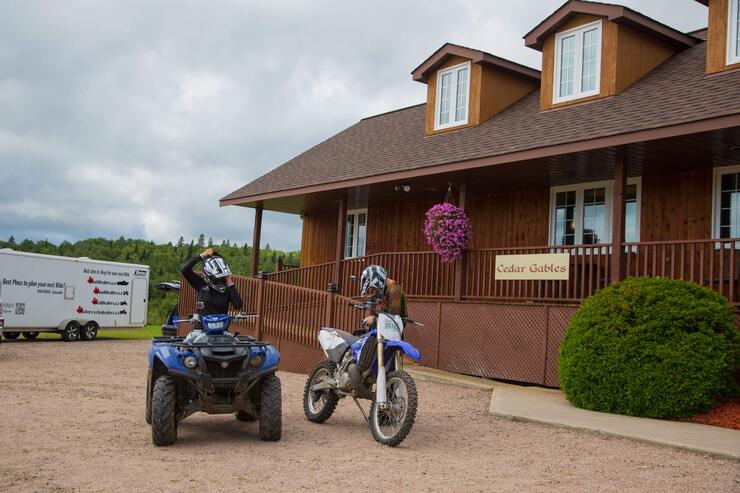 "I'm sold on it," she says of Ontario. "I've done a lot of travelling. I've seen a lot of places. But this has been one of the best experiences I've had." 
"This brought me back to my childhood roots," says Bryan, who grew up in a small Washington town on the Columbia River. "But on another level. Like my childhood roots on steroids."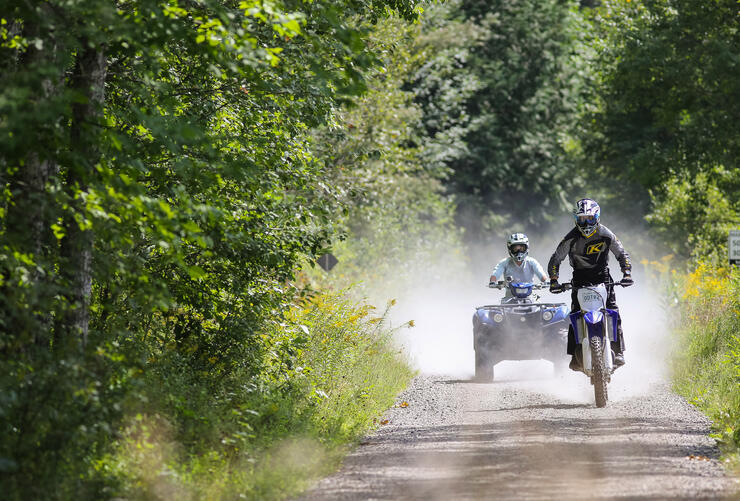 Back to What They Do Best 
But the craziest part of the trip, and the part that dozens of kids are going to remember for the rest of their lives, was the prank these powerhouse MMA athletes pulled at Grounded Studios, a Brazilian Jiu Jitsu spot in North Bay. Caraway decided to join a beginner class at Grounded. None of the other students had any idea that the hapless newcomer was in fact a professional MMA competitor ranked #3 in the UFC bantamweight division. "I was acting like I never set foot in a gym in my life," Caraway recalls. After about 40 minutes, Tate strolled in with a camera team in tow and the jig was up amid a tonne of laughter and disbelief from everyone in the studio.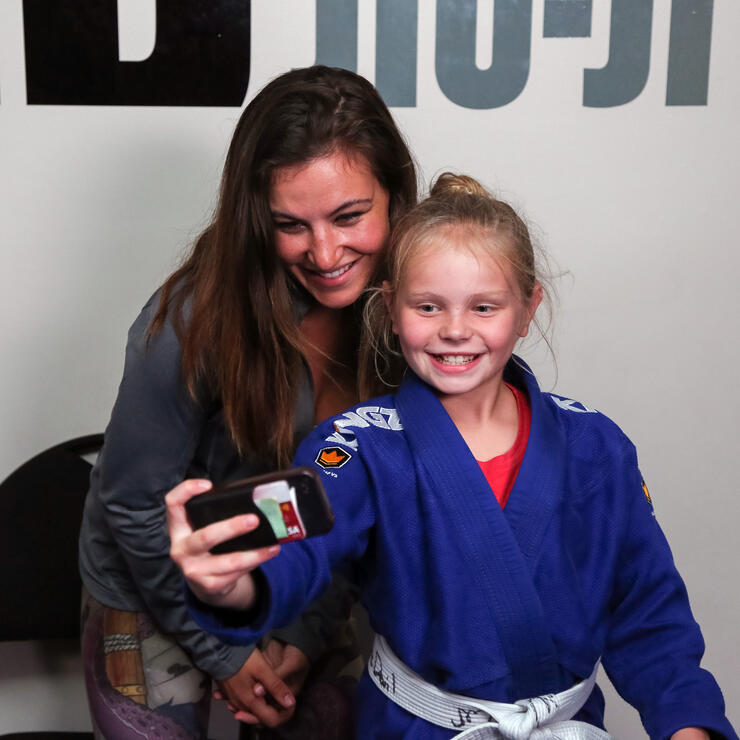 The next evening was Stripe Night and the pair attended to help award the promotions and impart some words of inspiration. "My job doesn't include desks or paperwork," says Tate.  Her job is at the gym—so success in the octagon means showing up to train every day.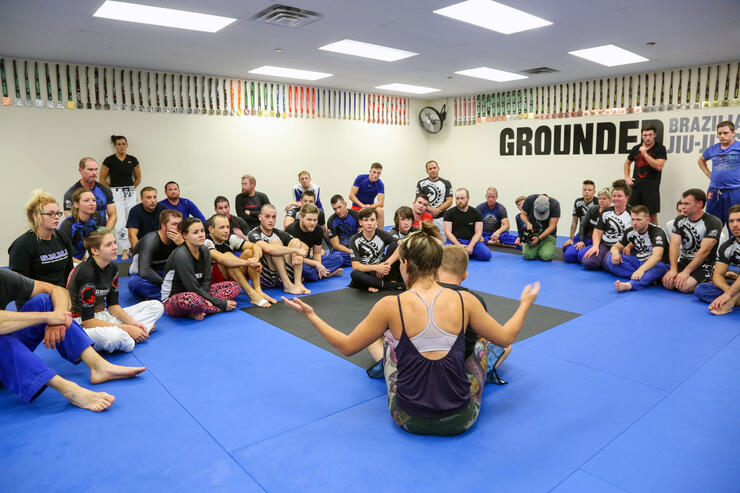 "Each day you have a goal, and you accomplish it," says Tate. That's the message she wants to impart to followers of the sport and that's what she told the students at Grounded. "We were trying to instil that we were proud of them for their accomplishments."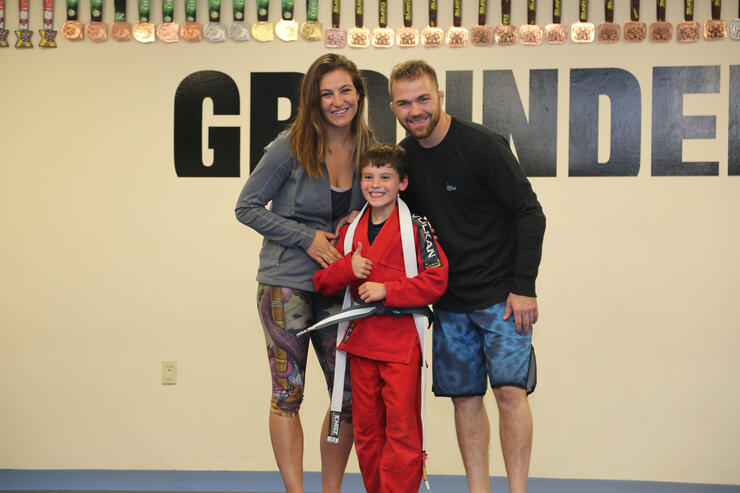 And afterwards... they were ready to get back to the gym for real. 
"It's strange how a small break in the monotony—these five or six days in Ontario—it makes me want to get back in the gym viciously," says Tate. "I'm hungry for it. Everybody needs that reset in their life. So I can regroup and get back in the octagon, and do what I love."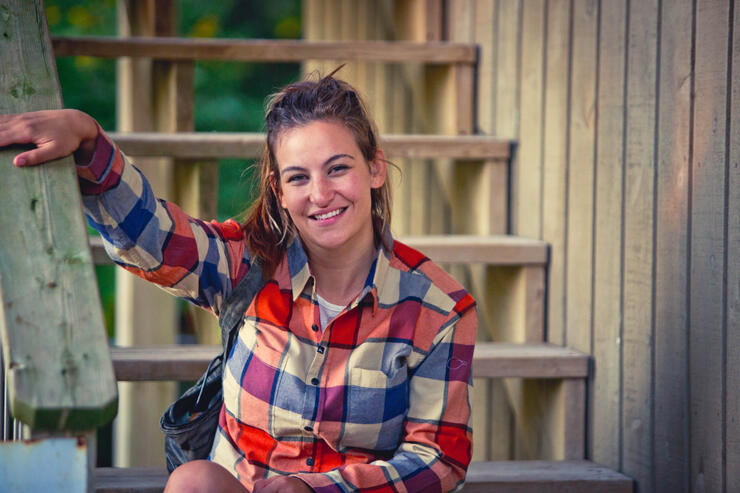 And what's next for the power-sports-loving athletes? "I plan on coming back sometime this winter," says Tate. "I'm extremely excited about the idea of getting on a snowmobile."