Winter ATVing took my breath away!
A father and daughter try their hand at winter ATVing, with spectacular results.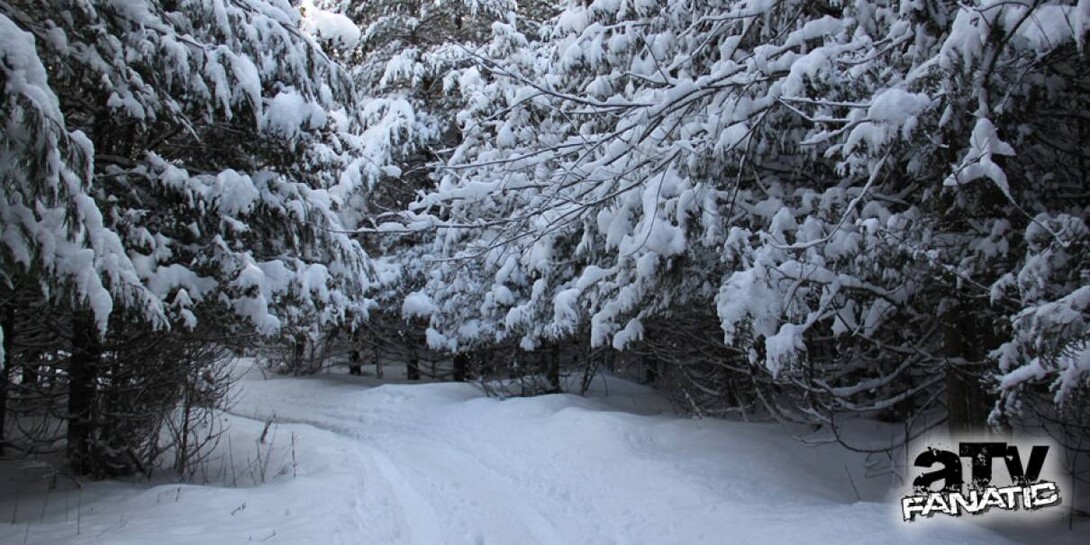 As you may have seen on the Ontario ATV Event calendar, rides and rallies don't start in spring anymore; they run all year round. Traditionally my ATVs have been put away in the fall, and I anxiously wait for spring to come, then wait for the trails to dry up enough to avoid damage. This year I was determined to get some riding in during the cold winter months.
Luckily, an OFATV club not far from me was hosting a ride near Owen Sound on a groomed ATV trail. The Dufferin Grey ATV Club had been out earlier in the week clearing the lunch and parking area, and grooming the trails as was evident on their Facebook page.
With the event on Family Day weekend, I thought it would be fitting if I brought my daughter Paige along. She loves to ride her ATV, and she just turned 12 in January, making her old enough to ride OFATV trails as long as they don't include roads. We loaded our ATVs, grabbed some hot dogs, and donned our warmest outdoor clothing. Finding the event was easy with the newly released 2013 Mid Ontario ATV Trail Guide, giving us detailed mapping all the way to the parking area.
When we arrived we turned around in the parking area that the club had plowed for the event and quickly unloaded our machines. Several other families had youth riders with them, so Paige felt right at home. We headed off down a short trail to a clearing, where the club volunteers had set up a fire, propane heater, and nearby portable washroom. The fire was warm, and I was quickly offered a fresh hot coffee. We spoke with a few club members about the trails, and the efforts put in to clearing and grooming, some were asking if this trail should be open all winter, instead of just for events.
Paige and I decided to follow the club's directions and head out on our own before the big group embarked, assuming that it would be difficult to get lost on a groomed loop trail. Upon entering the forest, I quickly turned on my Drift Innovation helmet Cam as I was astounded with the beauty of the snow covered trees. For this event, I was riding a new 700 Arctic Cat compliments of Bayou Park Marine in Cumberland Beach.
As we meandered through the forest, my eyes were wide; the snow was so bright, and the sky was so incredibly blue, then the next minute you are in a dark forest – what a thrill! The groomed trail was surprisingly easy to ride on; I began in two-wheel drive, so I could judge how difficult it would be for Paige on her 1994 Polaris 250 trail Boss. I did get hung up at one point, but engaging the four-wheel drive got me out quick enough, Paige, however, needed a tug to get through. As it turns out, this was the only spot where we had any problems on the trail, and what would an ATV ride be without getting stuck? I can tell you, pushing and towing in the snow is a lot cleaner than in the mud, and there was no chance of getting cold.
We didn't want to stop, but the warm fire was beckoning, and we figured we better get back to the group. When we returned to the clearing, the group had grown to more than 35 riders, including a group all the way from Niagara Falls, members of the Quad Niagara ATV Club. Paige had some hot chocolate, and I took some time to say hello to some old friends, and meet a few new ones. Before long we were off again as a group, encountering even more trails, and more breathtaking sights.
Later in the afternoon we all stopped for lunch, once again congregating around the fire and heater, with everyone barbequing hot dogs and hamburgers. Everyone was having such a great time – many, like us, first-timers in the snow, amazed at how much fun it was, and how pretty the trails were. Dufferin Grey Club members were receiving lots of praise and thanks for their efforts, and we all hoped to return for the same event next year.
After lunch several other groups went out riding on various trails, as the day went on the trails did become deep, and a few folks got stuck, allowing for the true nature of ATVers to come out, "Leave no one behind." At one point ,there was a group of about 15 riders helping each other get through a section of trail that had become very deep and soft, what a blast.
Paige and I had a great day with friends, and can't wait for the next event. Winter riding is definitely something every ATVer should try out, I heard many say that day that they enjoyed it more than summer riding.