Nothin' Like ATVing in the Winter
Avid ATVer Vera Lloyd describes the thrill of a winter ATV excursion, as told to Mark Hamerton.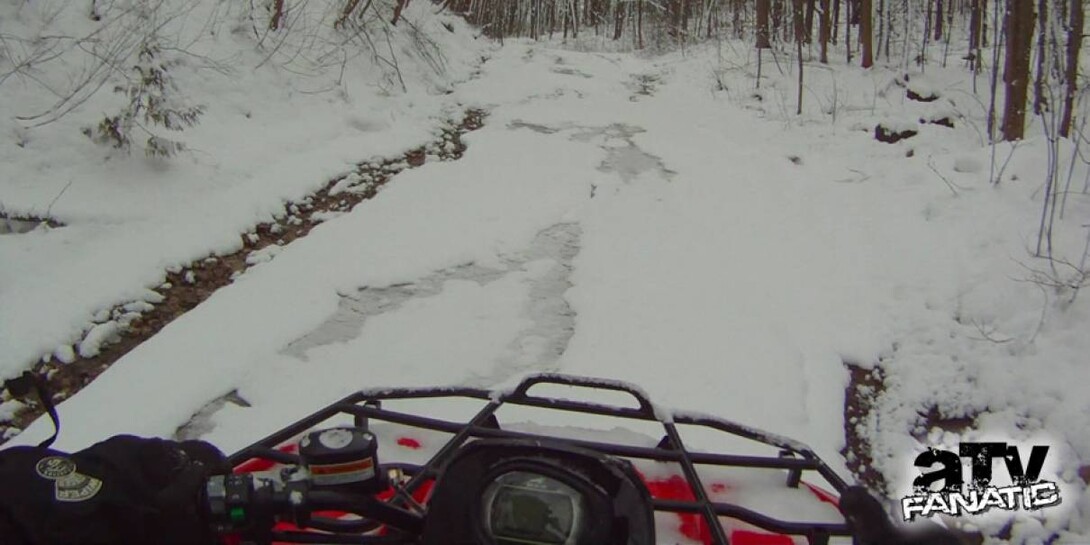 The sun was shining on our frosted trees as I entered the lot to unload my ATV and go for a ride on the Dufferin Grey ATV Club Trail. This was my first ride with the new tracks for my machine that I had gotten for Christmas. I just had them installed.
Twenty minutes of my day was getting into my snowsuit. It was important to make sure I would be warm in the -20C degree weather on this day. I put on my helmet not knowing what was in store for me.
I was off.
The machine moved slowly through the virgin, fluffy snow that had not even been touched by a rabbit or deer. The steering on my ATV was not like driving in the summer time with tires. Turning with tracks took half an acre. After turning, I was free at last — like a bird that had been caged up. I could fly! Up the hills I flew with the snow shooting out behind me. Down the hill I drove again and again. I was like a deer out for its morning run. I could play in the snow, leaving my tracks behind me as if to show someone I was free like nature. This is something everyone to experience. I wasn't even cold and never even thought about how cold it was that day — it was all just about the enjoyment of being free that excited me.
Next, I headed for a ride through the forest to see what animals I could find. It was harder than ever. My muscles ached as I turned to the left and then the right. Challenging as it was, I still felt relaxed. I had gotten my exercise, enjoyed nature, had a rush of fresh air and felt relaxed at same time. It was now time to go home and have a hot bath. What a day to remember; can't wait for the next time.
CLICK HERE FOR MORE ON HITTING THE ATV TRAILS IN WINTER
Vera Lloyd, Avid ATVer, OFATV Member