The Best Ontario Parks to Visit in 2023 Aren't What You'd Expect
From sandy beaches to pictographs to waterfalls, these parks make the perfect summer destination.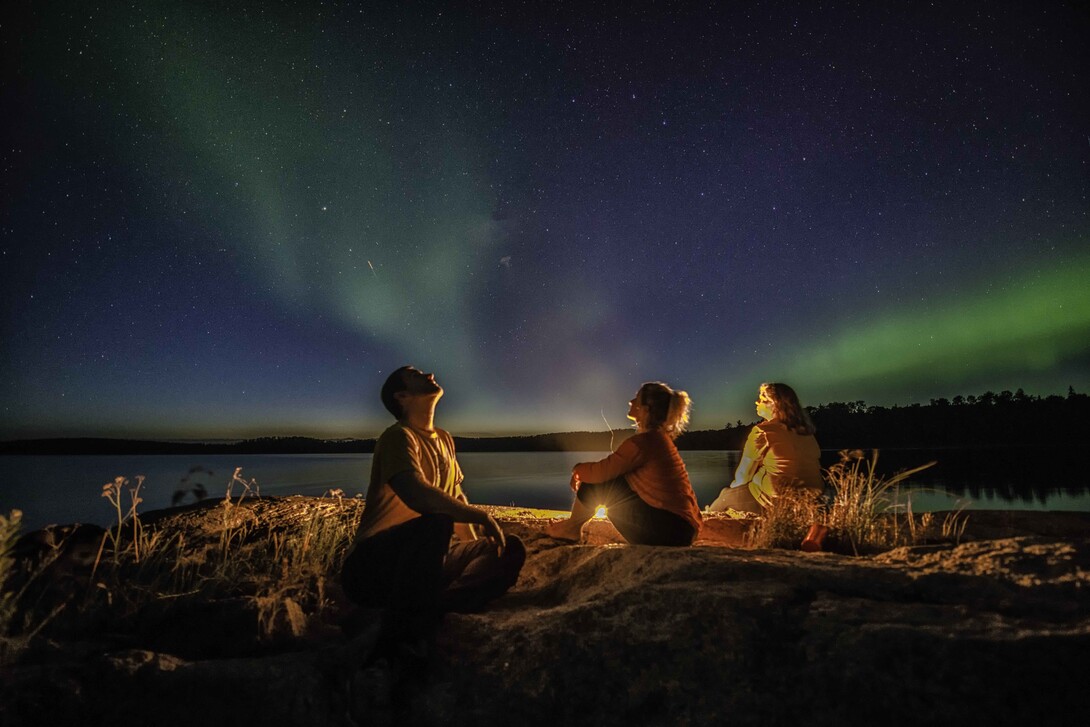 Northern Ontario is lucky enough to be home to a variety of beautiful (and very popular) provincial parks. And while everyone has their own reason for their personal favourites, there are some that just stand out—like these. Why did these under-the-radar spots make the list? Read on and find out. And remember some parks require reservations so book now! 
Here are our picks for the best Northern Ontario provincial parks to visit in 2023.
why we love it: Waterfall hikes and gorge swimming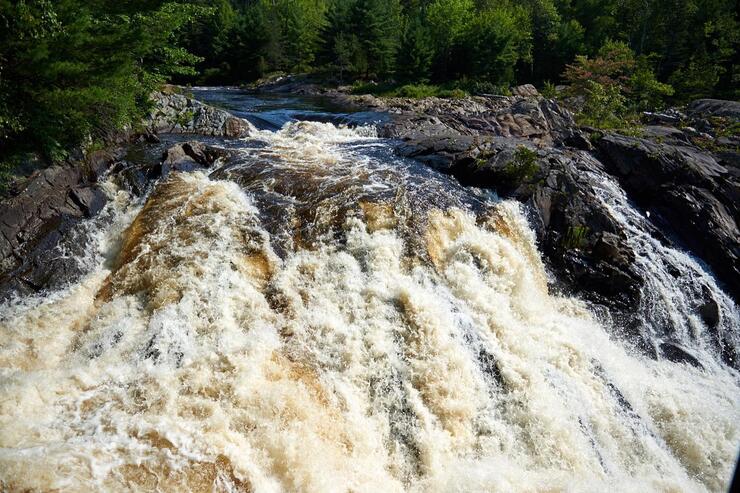 Located between Sudbury and Sault Ste. Marie, near the town of Massey, Chutes Provincial Park is a quiet gem with a waterfall soundtrack. Camp along the Aux Sables River and do a fantastic 6-km hike with great views of waterfalls and the river gorge. It's also a well-placed base to explore Manitoulin Island and Lake Huron's North Channel. The river has sandy shores, with good fishing available in several areas. Come fall, salmon spawn just below the main waterfall. You can also swim at a sandy beach at a bend in the river below the falls. 
Chutes Provincial Park is open from May 20 to October 11, 2023. There are 130 campsites. 
Why we love it: historic pictographs
Lake Superior Provincial Park, located south of the town of Wawa, is famous for its vibrant fall colours, but its rugged beauty makes it a popular destination no matter what the time of year. Enjoy its spectacular scenery of cliffs, beaches, river valleys, waterfalls, inland lakes, Lake Superior and the Algoma Hills while hiking or paddling. It's also home to the Agawa Rock Pictographs, one of the few pictograph sites accessible by foot (but only when Lake Superior is calm). The 35 red ochre images, created by Ojibwe peoples long ago, are a significant historical site that you'll never forget. Try your hand at trout fishing or hike one of the 11 hiking trails. Good news for birders: The diverse terrain and habitat of the park means that it's home to more than 250 varieties of birds. It's also a designated Dark Sky Preserve, [link to article] meaning that light pollution is carefully kept to a minimum to maximize your chances of exceptional stargazing, as well as protect nocturnal wildlife. 
The park is open from May 6 to October 23, 2023. There are just over 200 camping sites as well as 163 backcountry sites on its 150 km of eight maintained canoeing routes and 130 km of hiking trails. 
Why we love it: Lake Superior views, Tidal pools, and hiking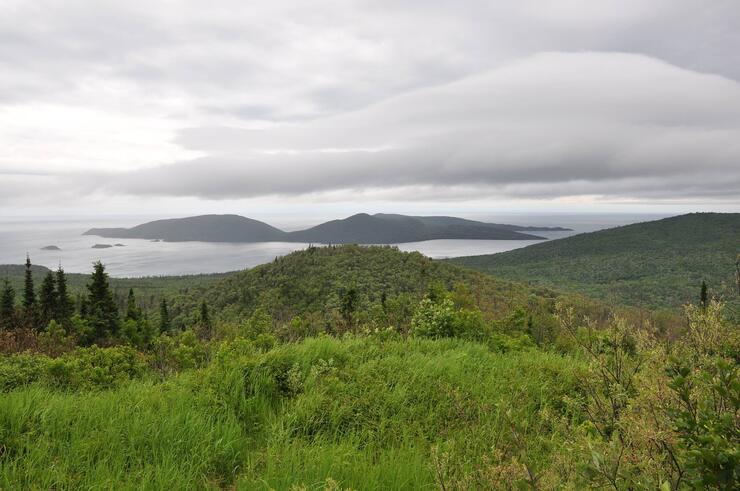 Easy to access from the Trans-Canada Highway, Neys Provincial Park, near the community of Terrace Bay, is known and loved for its sweeping sand beach on Ashburton Bay on Lake Superior's famous North Shore (the drive along the North Shore features winding roads flanked by sheer rock cliffs on one side and the seemingly endless expanse of Lake Superior on the other). Camp just steps from the beach, where Superior's storms have deposited plenty of driftwood that visitors use to create forts and natural art. The bay is sandy and relatively shallow so you can take a dip in Lake Superior (yes, it's cold). There are also smooth, wave-worn rocks and "tide pools" to explore. On calmer days, boat along the shoreline to get a different view of the area or try your hand at catching a brook trout. There are six hiking trails ranging from easy to challenging. History buffs will appreciate the model of the POW camp at the Visitor Centre, as well as the remains of the actual WWII-era Camp 100 on site. Bring your camera or painting easel to capture the landscape that inspired the Group of Seven as well—there are 16 Moments of Algoma Group of Seven interpretative signs at various vantage points between Sault Ste. Marie and Terrace Bay. 
In addition to nearly 150 campsites, there is one rustic cabin for rent. The park is open from May 20 to September 18, 2023.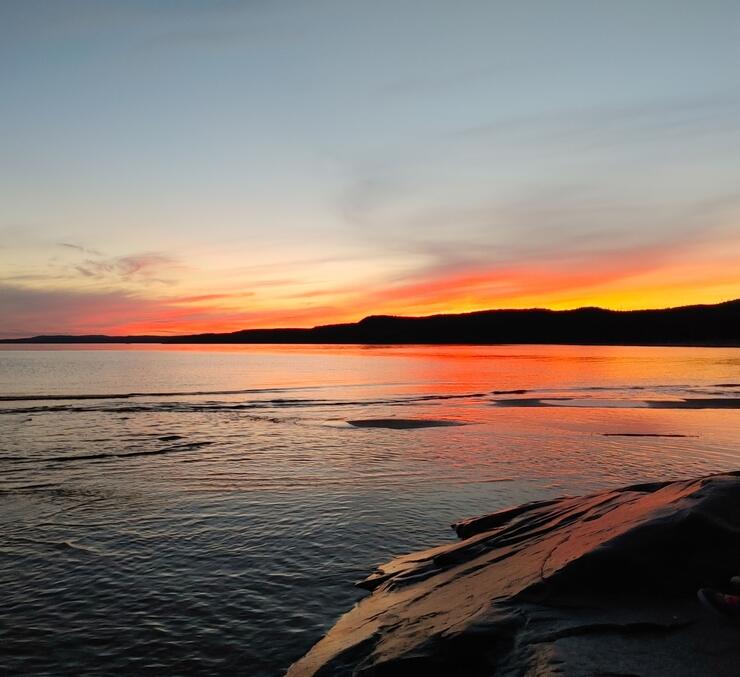 Why we love it: backcountry camping and canoeing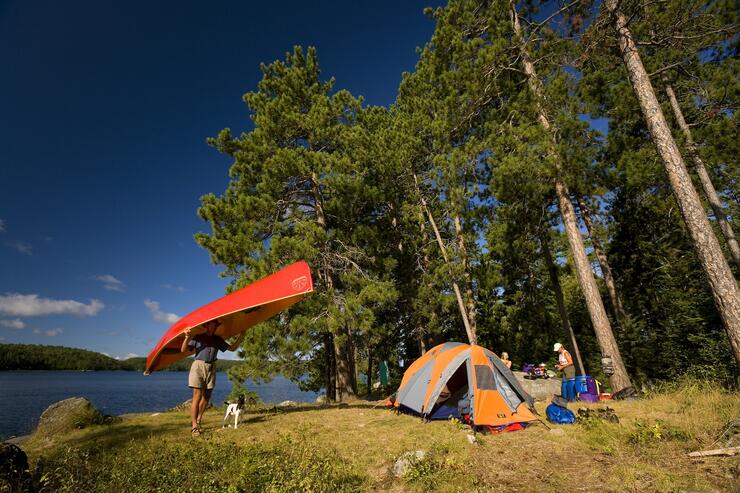 Quetico Provincial Park is a destination for both backcountry canoe trippers and campground campers. Found near the small community of Atikokan in the heart of the boreal forest, it offers world-class canoeing and fishing in a wildly beautiful setting with rock cliffs, rugged forests with towering trees and 2,000 pristine lakes. In the campground, swim, paddle or SUP on the French Lake sandy beach and check out its 35 km of hiking trails. The Visitor Centre (Dawson Trail Heritage Pavilion) is home to interesting displays about the archaeology, history and culture of the park, as well as a research library and artist-in-residence displays. Cast your line to fish for walleye, lake trout, smallmouth bass and northern pike. Wildlife viewing opportunities abound, and it is also an International Dark Sky Park for optimal sightings of constellations and meteors.
Quetico is open for camping from May 20 to October 11, 2023 (as well as January 1 to March 31 for winter campers!) and there are three rustic cabins available for rent year-round. There are about 100 campground campsites and many more water-access ones in the backcountry.
Why we love it: beach camping!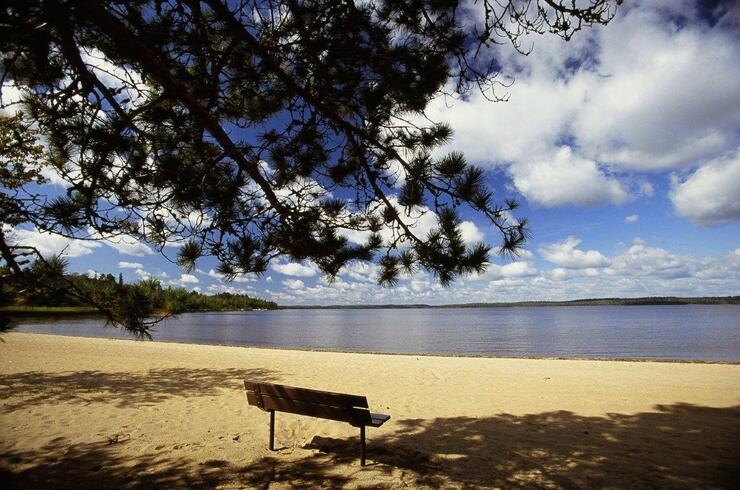 A bit of a well-kept secret, Sandbar Lake Provincial Park has a quiet, laid-back vibe. It's nestled along the shores of Sandbar Lake near the small town of Ignace. Stroll the long, long beach or go for a swim or boat ride—the lake has a gently sloping sandy bottom, making it great for families. Biking is a popular way to get around the park, and anglers love the healthy population of northern pike, walleye and smallmouth bass. There are three hiking trails of varying lengths and difficulty, which wind around the erratic boulders left behind by glaciers during the last Ice Age and through the white pine and red pine, some of which are 300 years old. Many of the campground campsites are found just steps from the lake. You can also use the park as your base for a backcountry canoe trip that takes you past several remote pictograph sites. 
There are just under 75 campsites in this small park. It is open from May 20 to September 18, 2023
Plan your 2023 summer camping trip today
Make 2023 the year of your road trip to these favourite Northern Ontario provincial parks, or discover what's fun and special about some of the other parks that are part of our beautiful landscape.