Embracing the Drive from Winnipeg to North Bay
Rock stars and six-year-olds are remarkably similar as travel companions—needy, demanding, prone to sulking and tantrums...here's how one family enjoyed the ride!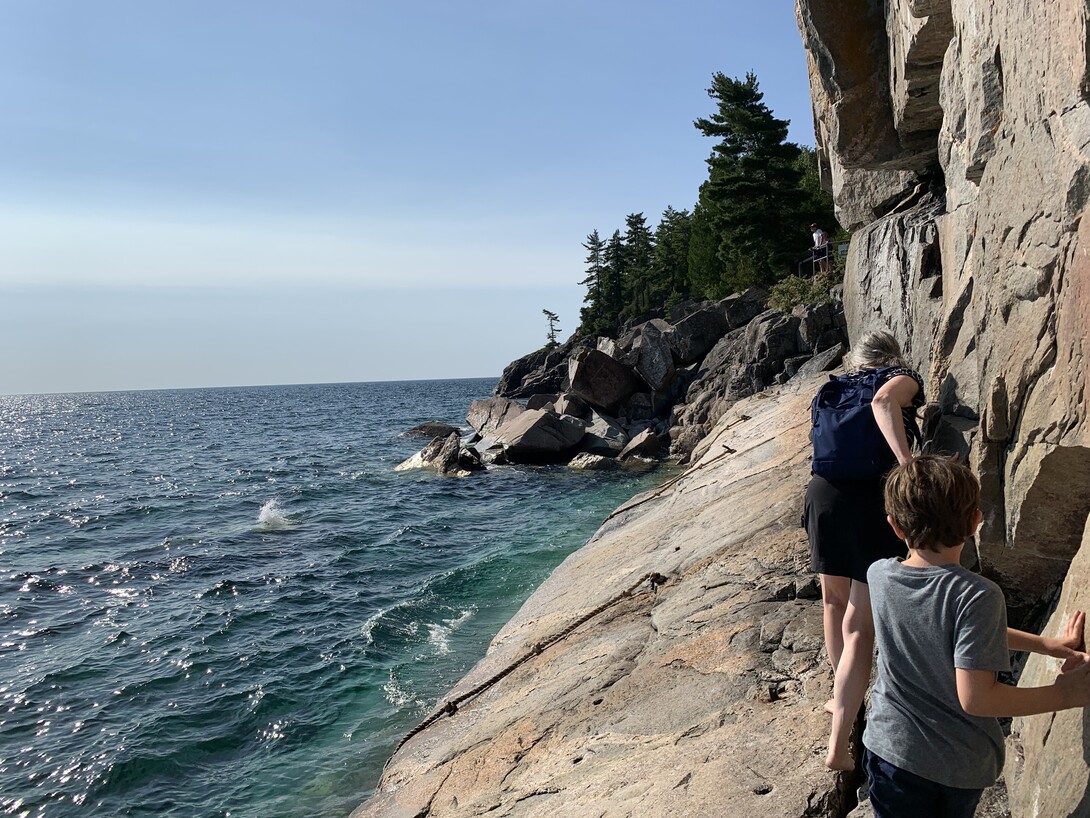 I recently had the opportunity to drive, with my wife and six-year-old son, from Calgary to Montreal. After crossing three provinces in three days, and with the "southern option" off the table for the moment, we knew the next step involved a whole lot of Northern Ontario.
I'd done the trip before—but that was 20 years ago, touring with a band. To be honest, rock stars and six-year-olds are remarkably similar as travel companions—needy, demanding, prone to sulking and tantrums—just swap out the sex, drugs, and rock n' roll for splash parks, juice boxes, and endless repetition of Minecraft-themed Top 10 pop parodies (or maybe that's just my kid).
No, the real difference was going to be in the nature of the journey. When I was on tour, our only imperative was to get to the next town as fast as possible, physical and mental health be damned. The long drive from Toronto to Winnipeg (and vice-versa) was just something to be endured, the natural beauty just a series of fleeting moments. This time around, we wanted to keep the driving days short, stop to see the scenery, and stay as healthy as possible. And as I found out, Northern Ontario was full of stops that were very good for both body and soul.
first stop in ontario? Scenic Kenora
Not long after crossing the border from Winnipeg to Ontario, you end up in Kenora, a picturesque town on the shores of the massive Lake of the Woods. As we crossed the bridge into town, a couple of jet skis roared into the widening mouth of the lake as if cued by a canny tourism promoter. It's been called "a boater's paradise," and it sure looked that way from where we were sitting. 
Not being boaters ourselves, we were looking for something a little more low-key. After grabbing a delicious lunch at Lake of the Woods Brewing Company (the Brewer's Combo pizza: recommended), a quick search revealed the nearby Garrow Lake, with a beach, a playground, and even an outdoor workout station (because adults with sore backs and stiff limbs need playgrounds too). We ate our takeout on the shore and had a brief swim—perfect refuelling for the drive ahead.
Allow time for a Niagara of the North detour
On the way to Thunder Bay, a slight detour off the highway brought us to Kakabeka Falls. The so-called "Niagara of the North" is a beautiful sight to be sure, with adjacent hiking trails if you have time for a longer stop. In the town next to the falls, we found a couple of gems. Metropolitan Moose is a longstanding institution, with cozy cottage decor and freshly prepared comfort food with vegetables straight from their garden. We ate burgers and drank homemade lemonade on the lovely backyard patio, then headed across the street to Shake Shoppe, an ice cream stand serving wares from local Ontario creameries Kawartha and Central Smith, whose popularity was evident from the lineup and whose goods did not disappoint.
Driving the North Shore: Beaches galore
Past Thunder Bay, the scenery got even better as we drove along the shore of Lake Superior. All the gorgeous vistas that I'd gazed longingly at in my touring days as they flew by into the rear-view mirror were now ours to enjoy—the only problem was that there were so many scenic lookouts that if we'd stopped at each one, we might still be there today (and we might be OK with that). There are several small towns with amenities, and wherever you decide to stop has a worthwhile sight—Pebble Beach in Marathon, or Aguasabon Falls in Terrace Bay, a dark-horse contender to Kakabeka for the most beautiful waterfalls in the area.
For art aficionados, this part of the trip features many of the inspirations for the Group of Seven's most famous paintings, and you can see why they were inspired.
As you cross the top of Superior, you find yourself in Algoma Country, another bounty of natural beauty. Algoma features many beaches on the shores of Superior, and they're all beautiful. But when we pulled into Wawa for a bathroom stop, we came across the much lesser-known Wawa Lake, an out-of-the-way gem that was nearly deserted on a warm August day. 
a short hike to Indigenous art
On the way to our camping site in Pancake Bay Provincial Park, we stopped to look at the Agawa Rock pictographs. These ancient Ojibwe rock drawings are a must-see, if you're courageous: copious signs warned of the mortal dangers of venturing out onto the rocks when waves are high, but the water was calm and we were feeling adventurous. The profound spiritual significance of the pictographs has been written about in detail on this site, so I'll just say that they're well worth seeing, and that the brief hike, just a few minutes' drive off the highway, is beautiful in itself.
Lakefront camping on Superior
Pancake Bay is a serene beach looking out at Superior, a lake that's indeed so great in size that you can't see the other side. With sandy shores and gentle but fun waves, it was as close to an ocean as you can get inland, minus the salty hair and scary undertow. Looking out at the sunset from the quiet beach was a highlight of the whole trip, and we went to sleep to the sound of the waves.
Coffee and cafes in the Soo
The next day, passing through Sault Ste. Marie, we felt the craving for some quality food and coffee. (Camp coffee is great, and no disrespect to Tim Hortons—I like a T-Ho's coffee and breakfast sandwich as much as the next person—but a little variety is a good thing.) A bit of searching brought us to the delightful Shabby Motley on the main drag. A well-equipped yarn store (my knitting-obsessed wife had to exercise some serious self-control), it's also a café and restaurant serving healthy, but yummy, food.
The drive east from the Sault is by nature less spectacular than Superior, but there are nice spots along the way. In Chutes Provincial Park, where loggers once drove lumber down the rapids, today families raft down the gentle river next to a scenic waterfall. Like many such stops on our route, it connects to several hiking trails if you have the inclination.
Arriving at the gateway to the north
Our final Northern Ontario stop was in the charming town of North Bay, known as the "gateway to the North" if you're travelling in the opposite direction. Nestled on the lovely Lake Nipissing, it's a friendly community with healthy food options (try Twiggs Coffee Roasters for breakfast or gd2go for dinner) and a bustling local arts community. In recent years North Bay has also become a bustling hub for local film and TV production; a Christmas movie was filming during our August visit, adding a surreal touch to our downtown drive. 
I'll admit it: when I was anticipating four days of driving through Northern Ontario, I steeled myself for a slog. But instead, it was an experience that I'll always treasure, and I look forward to my next visit. It used to be a drive I would just grin and bear, but that was a self-fulfilling prophecy; like the best things in life, it's most enjoyable if you can stop and take it in.