Top 10 Motorcycle Routes in Ontario for 2014
Every year, after a series of trips, I re-evaluate my list of the top 10 motorcycle routes in the province. This list is highly subjective and is strictly my opinion, but I'd say it's a pretty fair assessment of what's out there.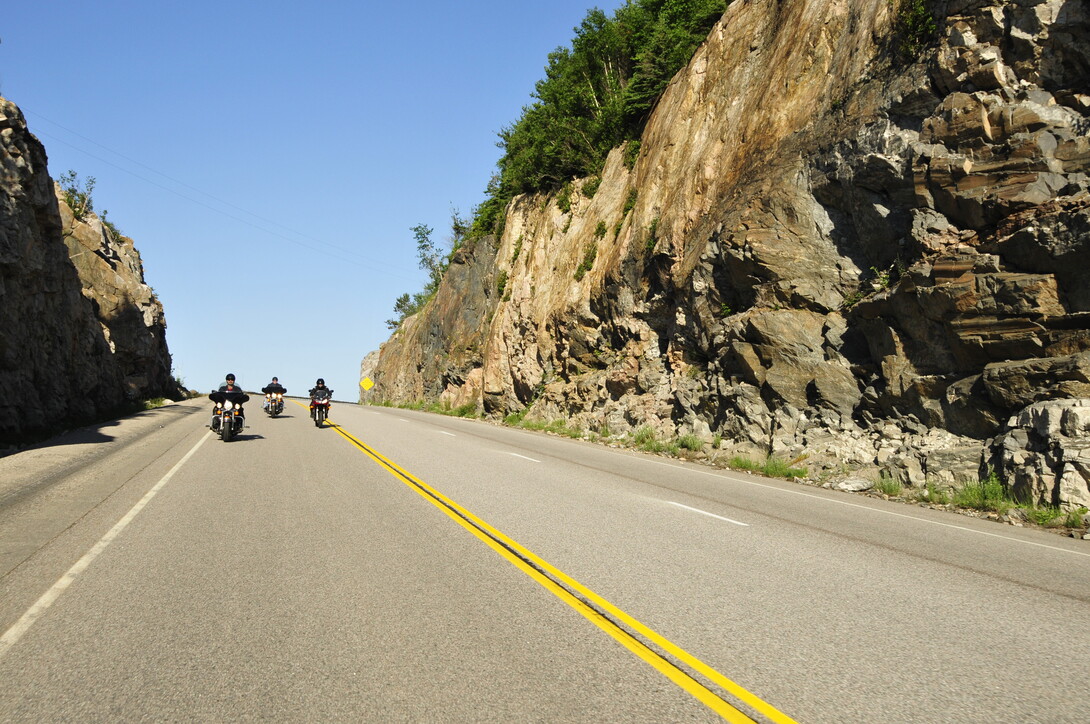 Click here to see our picks for the Top Motorcycle Routes for 2020!
This year, I had the opportunity to get in-depth with a few new areas including Ontario's Southwest, The Great Waterway, Ontario's Highlands and Explorers' Edge, and the more I rode, the more incredible roads I discovered.
You'll see some old favourites on this year's list, but over half are newcomers, and this year I'm happy to include the first adventure touring route. So, without further delay, here is my top 10 motorcycle routes in Ontario for 2014. Ride on.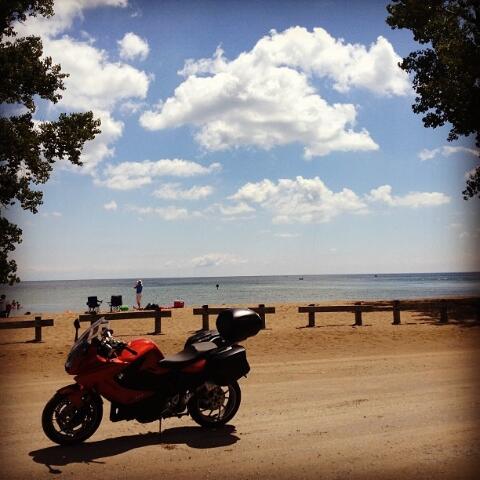 Bordered on three sides by water, Ontario's Southwest is a lakeside cruising destination if there ever was one. Add in rolling farmland, picture perfect beaches, and dozens of picturesque small towns, and you've got the day trip destination of hundreds of thousands in Southern Ontario. Check www.CruiseTheCoast.ca for routes, or www.EscapeThe400s.com. Did we mention it's home to Friday the 13th, Canada's largest motorcycle event?
A new addition to the list, Ontario's Highlands hasn't officially launched their routes for 2014 yet, but the density of twisty roads and pastoral scenery will make this the sleeper destination of 2014. Almost everyone who rides in Ontario has done one or more of the roads (the Calabogie road is #1 on the list of top roads in the province) but who has ridden the full breadth and width of this massive riding destination? Check out their page on riding in the area or check out routes in the Ottawa Valley, Lennox and Addington or the Haliburton Highlands.
Perfect day trips are hard to come by, but being smack dab in the middle of everything makes this a no-brainer. Aside from some crazy twisties like Northey's Bay Road and the legendary Buckhorn Road, this region has tons of history, including the bulk of the Trent-Severn waterway. Check our easy escape route here. Also home to my fav BBQ joint, Muddy's Pit, there's plenty of good eats in this region.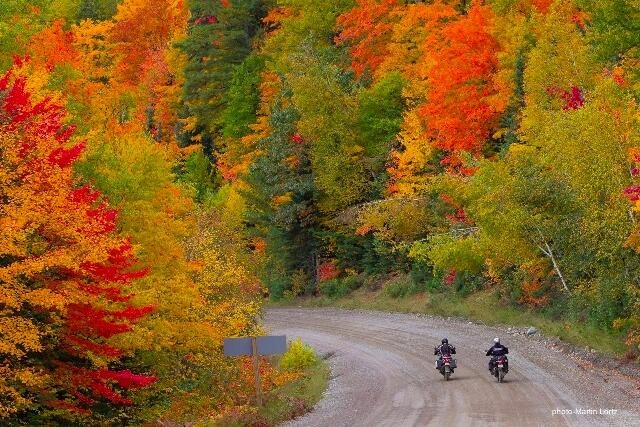 Another first this year is the Algoma ADV loop. Developed by Steven Fox-Radulovich, this route balances some off-highway and some on-highway riding. If you're looking to beat a path through the bush on single track trails, this ain't it. If you're looking for a reason to put some adventure riding under your adventure touring bike, this is the route you're looking for.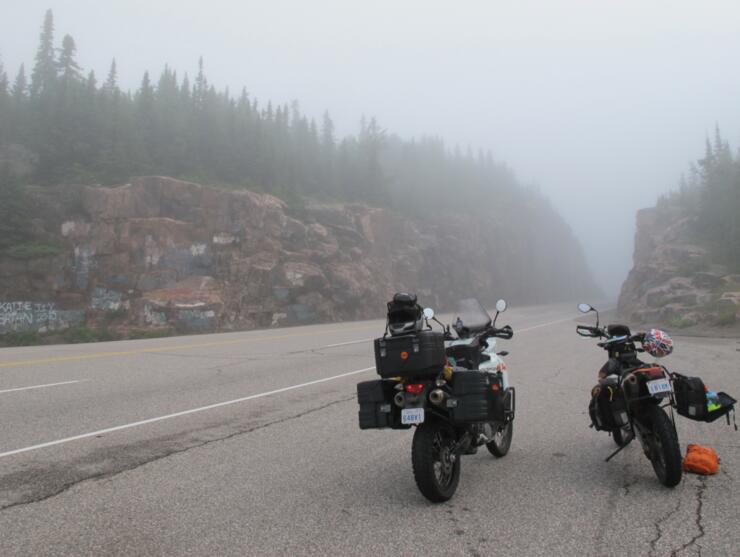 Earlier in 2013, Stephen Bischoff, AKA the Shameless Traveller, rode the Northwest Loop, and you can read his story here. Having ridden it two summers ago, I can echo much of Steven's awe for the loop. What is perhaps most striking about the Northwest is its solitude, which connects the rider with the natural environment like nowhere else. Visit 4,000 year old burial mounds at Kay-Nah-Chi-Wah-Nung and relax at motels where your patio exits right onto the lakefront. This is the way life used to be.
This iconic route takes riders around Georgian Bay, through Grey-Bruce Counties, on a ferry ride to Manitoulin Island, past two on Ontario's most well-loved beaches, and up the Niagara Escarpment. While other routes may boast twistier roads, or more epic vistas, the GBCR is a weekend ride that takes all comers. If you're riding with a big group, you'll appreciate the ease of these roadways.
The highest ranked newcomer on the top 10 list, the Ride The Edge loops in the Explorers' Edge region beg the question, how have they risen so quickly? Three reasons: 1. Algonquin Park. 2.The roads are hella twisty and the pavement is wicked smooth. 3. The scenery is killer (you'll know what I mean when you ride Highway 141). They've included a long loop for touring riders and a short loop in case you only have a weekend. Will they climb even further? We'll have to see what the riding public says after the 2014 season.
Home to the epic Bikers Reunion event, the Temiskaming Loop is probably Ontario's most well-known motorcycle loop. Diving into the heart of Northeastern Ontario and returning through Quebec, this route has easy cruising written all over it. This year, we invited John Flores of RoadRUNNER Magazine to ride the loop, and you can read his thoughts here. If you want to get a flavour of the Bikers Reunion, check out the video above.
Ride Lake Superior is Ontario's bucket list ride. It's not one you do every year, but it is one that every rider has to do once in their life. The mountains and valleys outside of Marathon, the views of Lake Superior from Sault Ste. Marie to Wawa, the canopied roads into Copper Harbour. There's too much to list. This is the one you plan months in advance--if not years.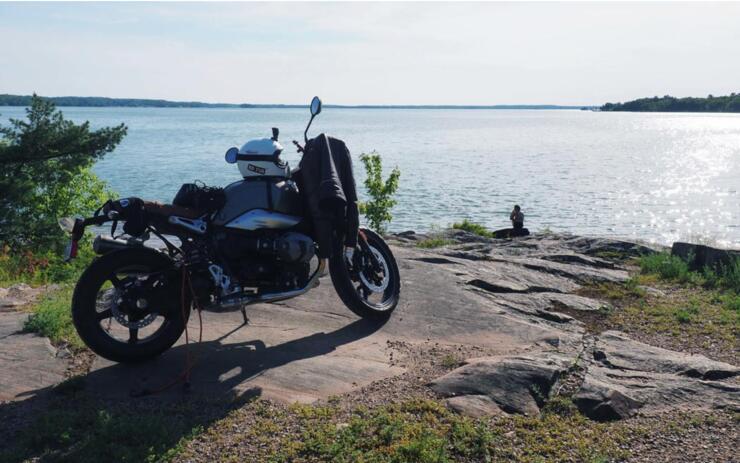 Seizing the top honours again is The Grand Algoma loop. This summer, I had the opportunity to ride part of this loop again (check out photos from the story here) and I got to really take in the northern part of Highway 129. Some of the best views happened on these vast unpopulated expanses, with more than a few that were new to me. It felt like I was meeting an old friend again, but for the first time. There's one clearing in particular, where the road rises up over the terrain, and you might find yourself looking down from high above a picture perfect lake. These kinds of moments aren't rare on this loop either.
That's it for this year! If you're just looking for the best roads, check out my top 30 roads in Ontario, or the list of all the motorcycle events in the province. Don't hesitate to leave a comment below if you think I've missed something. See you on the roads!