The Planet D Rides Ontario
There's no better way to get a handle on motorcycling than spending some time offroading. Everything you learn in the dirt can be applied to the road.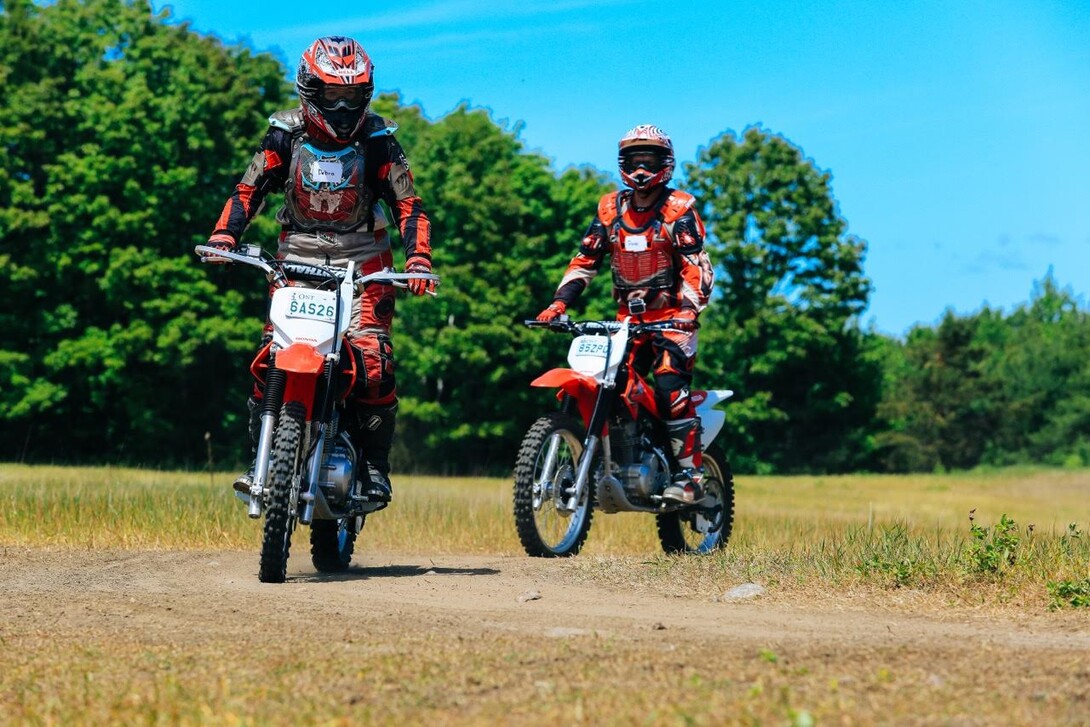 In anticipation of their big ride around Lake Superior the glob-trotting duo known as The Planet D (Dave and Deb), have been racking up some serious kilometres along the paved asphalt roads of Ontario. Just as they were building some confidence on the street, we decided to thrown them a curveball in the form of dirt bike riding and proper off-road training. The man tasked for the job was off-road expert, Allan Lakas of Trail Tours Dirtbike and ATV School—located just an hour north east of Toronto in the county of Peterborough Kawarthas. 
The Planet D's training would be broken up in to two days. Day one would consist of intensive training on the Trail Tours practice facility covering such off-road fundamentals as learning to stand up in an aggressive riding position; the importance of using the back brake to slide; pivoting with the leg in tight corners; log crossings and a host of other useful techniques. Day two would be spent putting all the training to the test as they headed out to the real thing, spending the day riding in the Ganaraska Forest.
'The Ganny' as it's known to locals, is a must ride for anyone looking for the quintessential trail riding experience. It has a reputation in the off-road community for some of the best riding in the province with a multitude of marked trails ranging from 1st gear handle bar grabbers, to wide open 4th gear highways. In addition to instruction, Trail Tours offers a wide variety of current Honda off-road bikes and ATV's to its clients. They also have a big trailer jam packed with all the safety gear you need from head to toe. They definitely thought of everything at Trail Tours.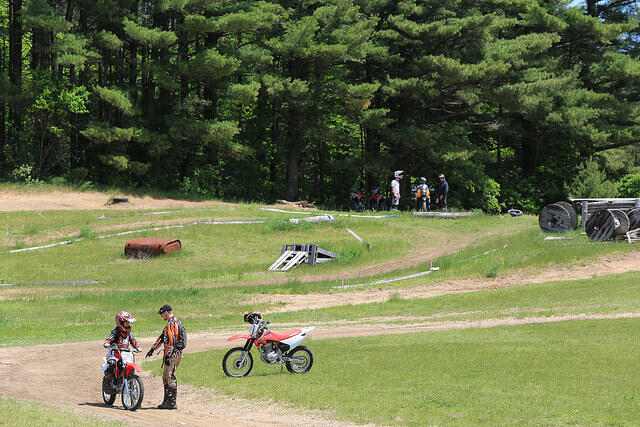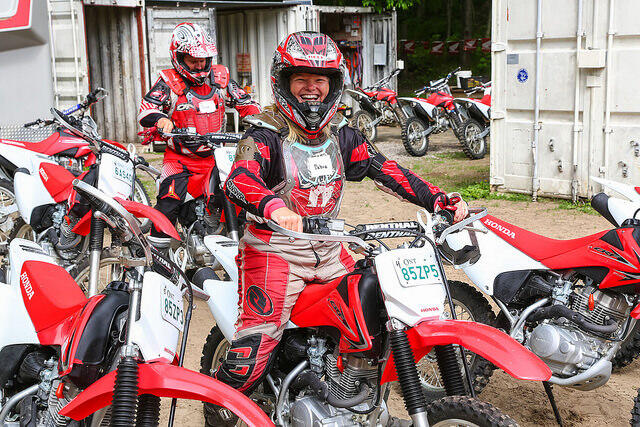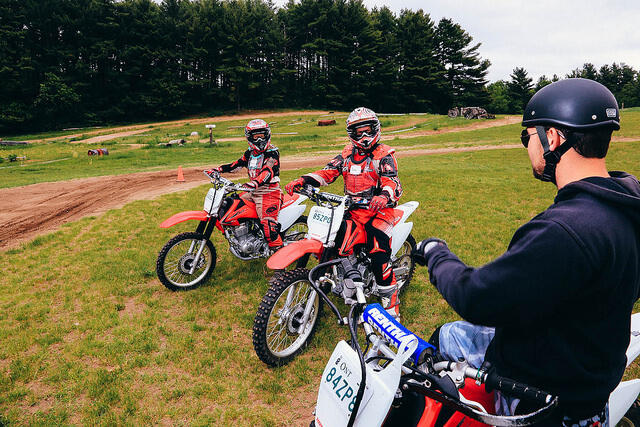 Both Dave and Deb made a smooth transition to the dirt during the training portion, especially considering it was their first time. They followed instructions to the tee and met any challenge their instructor threw at them. As I watched (and photographed) their progress, what struck me the most was how fast they adapted to the style of off-road riding. I watched them both standing up looking aggressive with the 'elbows up' position that is so important to off-road riding. So many street riders seem to have a hard time adapting this technique since all their riding is done sitting down. They looked like total pros and if I'm not mistaken, didn't dump the bikes once—this is a huge feat in it's self. Anyone familiar with riding in the dirt knows crashing is just part of the game.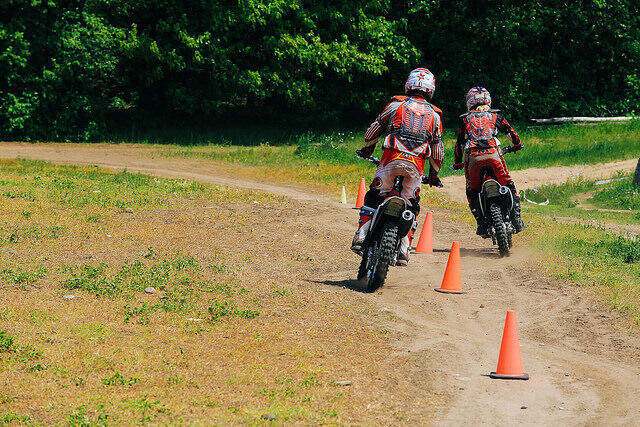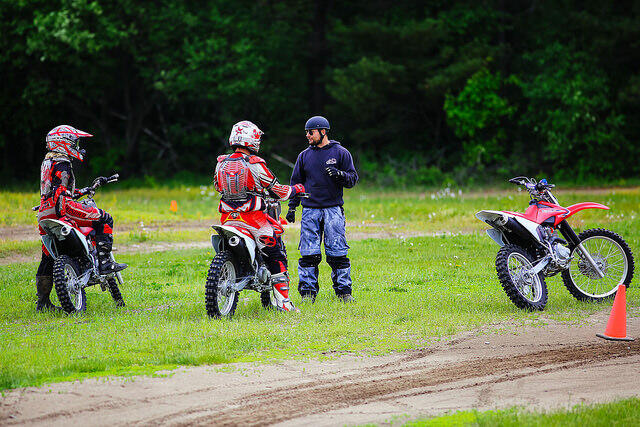 After a long day at dirtbike school we were all looking forward to some R&R and luckily there was a special treat in store for us. We were offered our own cabins at Elmhirst's Resort located on the popular, Rice Lake. Elmhirst's is more akin to a small village than a resort. Some of the highlights include: fully furnished and equipped cottages right on the water, private grass air strip, complete spa, tennis courts, cycling parks for the kids, horseback riding and even kiteboarding. On top of all that it's most unique feature might be what comes out of the kitchen. An organic vegetable garden and chicken coop with eggs laid daily ensure that no outside food is needed in the cooking process. Elmhirst's is located a convenient 30 minute drive North of Trail Tours if you want to make a weekend of it and experience both like we did.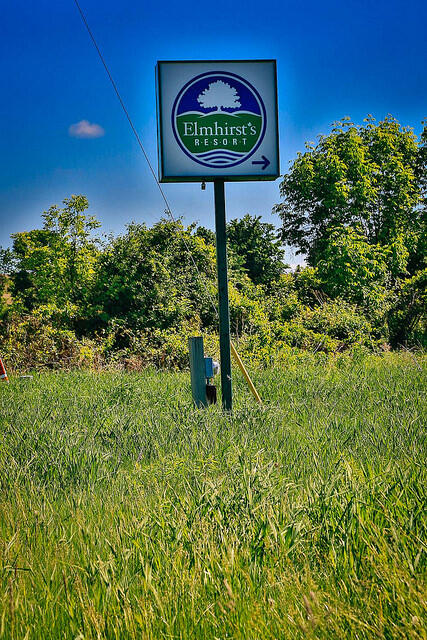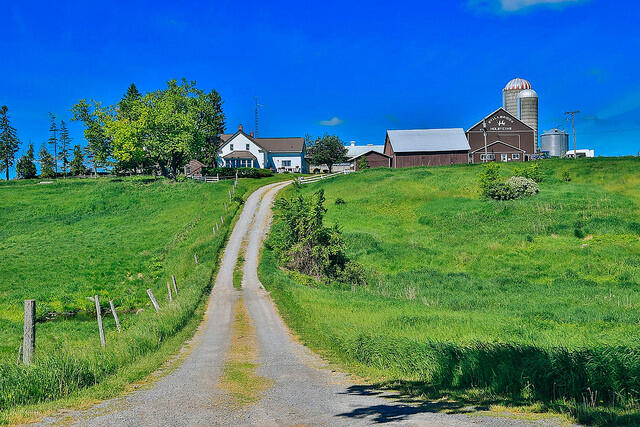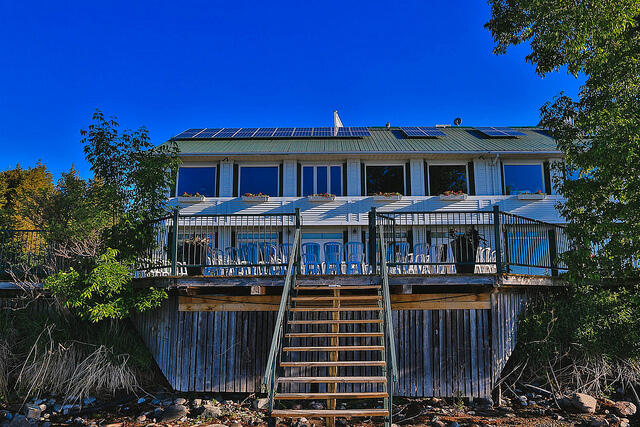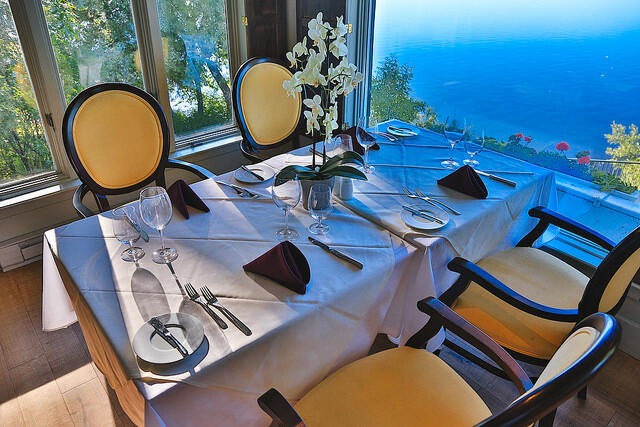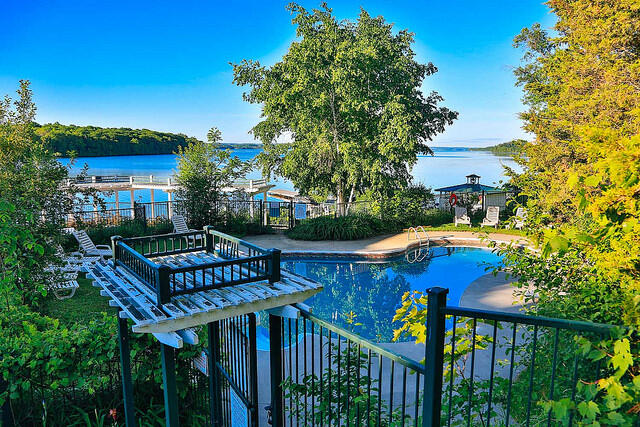 Despite all that Elmhirst's had to offer in the kitchen, we had to make a stop for some legendary BBQ. I was told if I'm ever in Keene ,ON to check out Muddy's Pit BBQ. I knew we'd be right at home when we pulled up to Muddy's and they had a "motorcycle parking" sign right in front.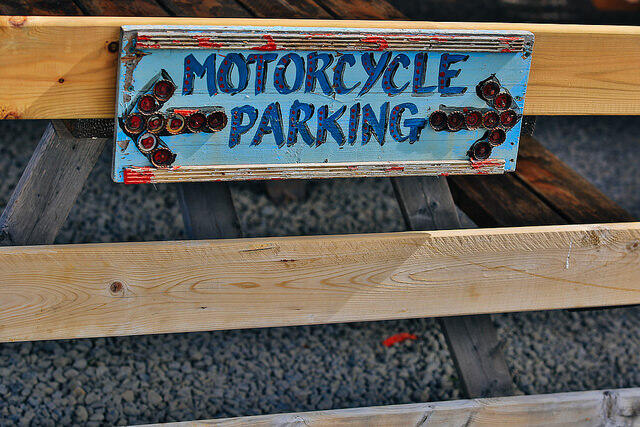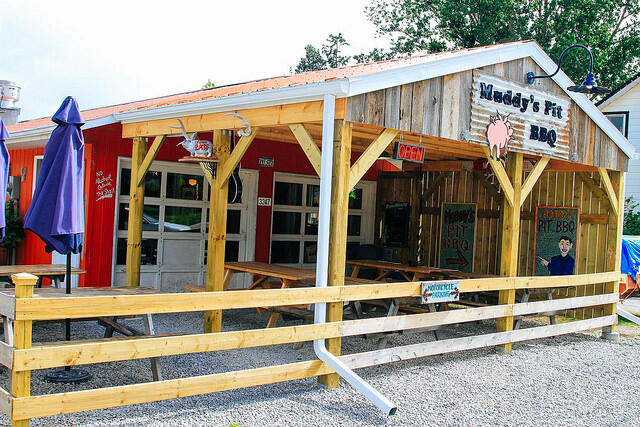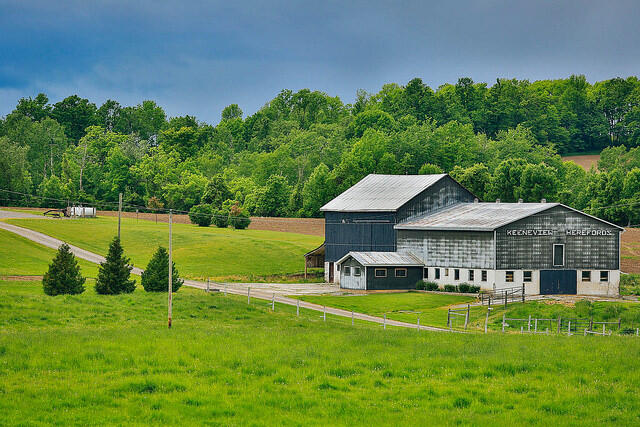 We all ordered somewhat of a 'taster' menu, which included all meat and no veggies! Brisket, smoked sausage and some of the tenderest ribs you could ever sink your teeth into were included in our order. Deb said it best after the meal with this quote; "I've got the meat sweats, I've never had these before". With a full day of trail riding ahead of us we headed back to Elmhirst's to call it a night.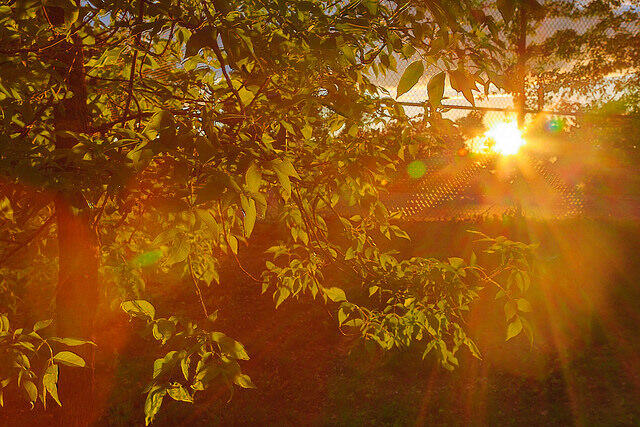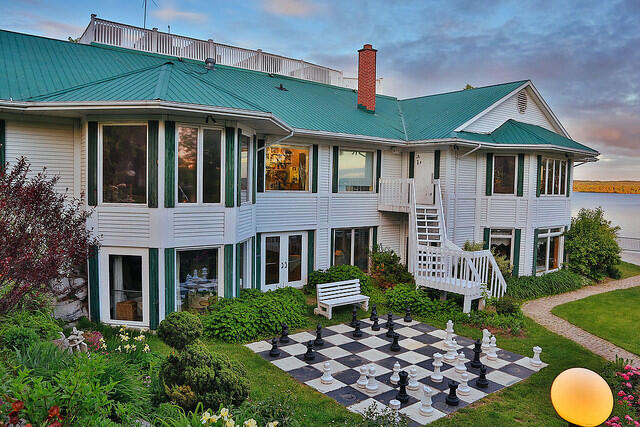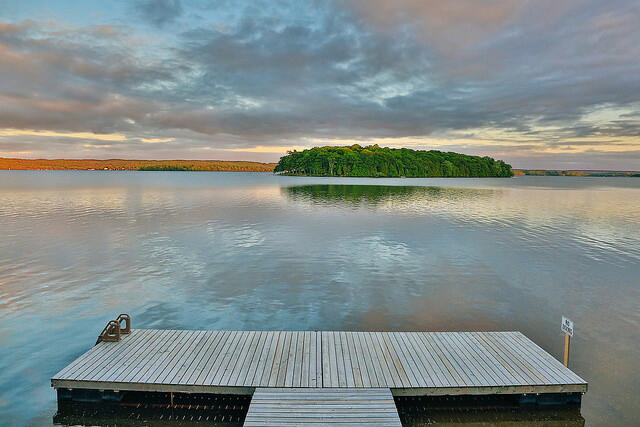 On day 2 we awoke to brilliant sunshine beaming across Rice Lake. The view of the sun rising over the resort had a real zen-like quality too it and I knew it was going to be a good day. We headed down highway 115 for Trail Tours and arrived to the bikes clean, prepped and ready to go. Steve led Deb and Dave out on the trails and they got to put their newfound skills to the test immediately as we crossed over a rough section with dirt moguls (or whoops as they are known in off-road). They both stood up as instructed and blitzed through with no problem.
Not everything went perfect as they encountered some loose sand at one point on an off camber hill, which sent Deb over the handle bars but she jumped right up with no injuries thankfully. We spent the remainder of the day finding cool locations for photos and doing what we all love more than anything: riding!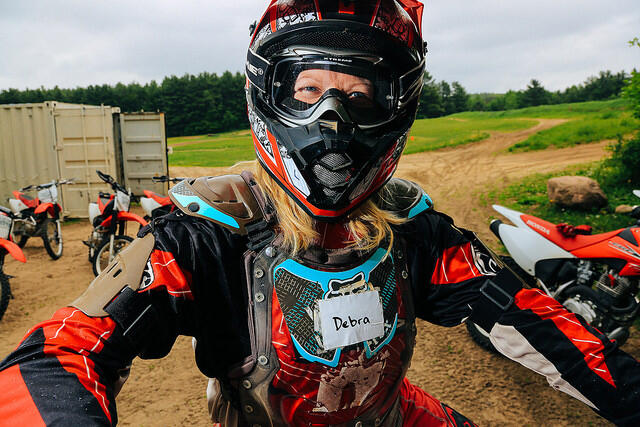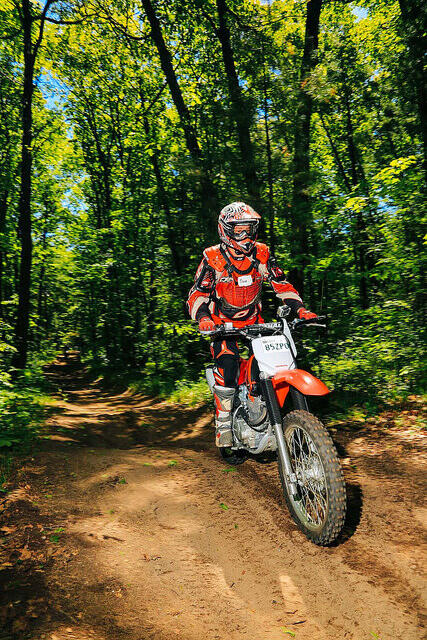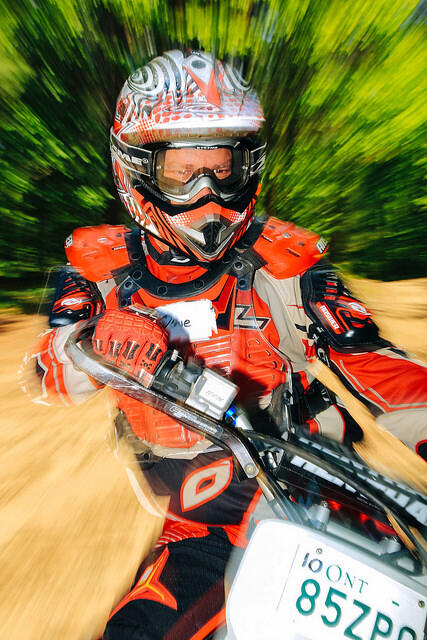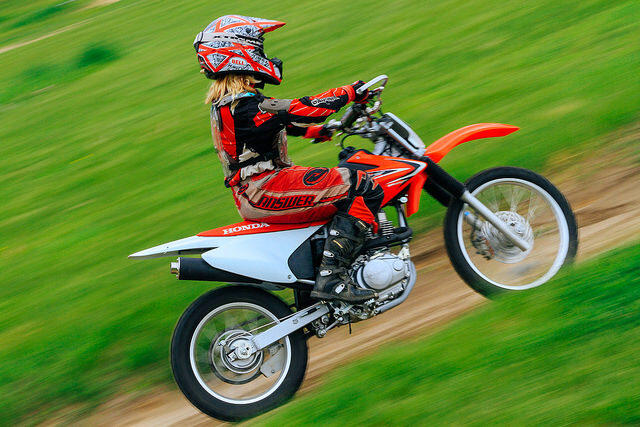 Note- As a former motocross racer and experienced off road rider I'd recommend anybody that rides on the street to come out to Trail Tours and take their off-road riding school. In my opinion off-road riding teaches you so much that you'd never learn exclusively on pavement. One of the biggest things it teaches is proper bike control and how to adapt to constantly changing riding conditions. If I had any lobbying power, I'd make a weekend off-road riding course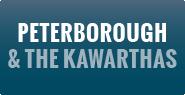 mandatory in the M2 licensing process. 
For a great route to Trail Tours, Elmhirst's Resort, Muddy's Pit BBQ and other bike-friendly destinations, without having to subject yourself to the 400 series highways check out the Escape the 400s-Peterborough and the Kawarthas route.
Click here to find out how to follow the team as they ride Ride Lake Superior from July 19-28th.