Learning in the Dirt
An ADV rider gets a hands-on education at SMART Riding Adventures.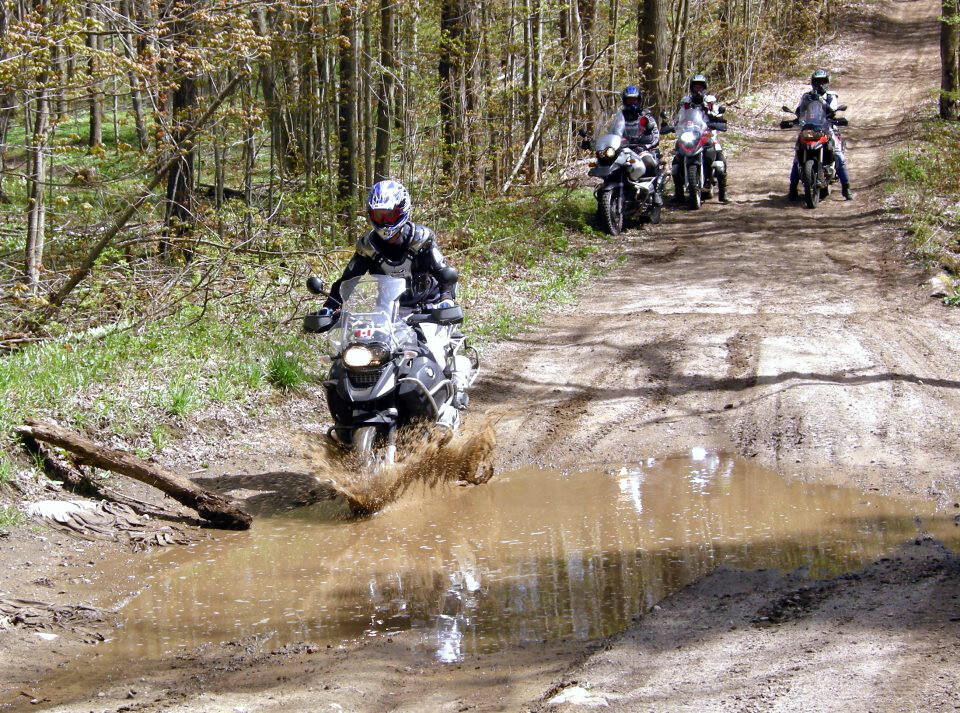 Like many ADV riders, I got turned on to adventure riding by watching Long Way Round, the 10-episode TV series that follows Ewan McGregor and Charley Boorman as they ride around the world from London to New York, going east. The camaraderie, the rugged wilderness, the challenge, the freedom—adventure riding seemed to have everything I was looking for at the right time in my life. I wanted to do the same.
But I hadn't been riding long, and all my riding had been on the road. There's a scene early in the series when Ewan and Charley are training at Simon Pavey's Off Road Skills school in Wales, and Ewan, whose riding, although extensive, has been limited to the road, drops the bike again and again as he tries to perform simple slow-speed turns on uneven ground. I knew that would be me. But after a day or two of guided practice, he's riding the trails with Charley and Simon. I needed to find a similar school.
I first came across Clinton Smout's SMART Riding Adventures on YouTube. Clinton is a certified BMW instructor, and I found his instructional videos clear and informative. Beyond that, what reassured me to try his school was Clinton's affable demeanour that comes through on camera. The school is located in Horseshoe Valley in Barrie, Ontario, just an hour or so north of Toronto and conveniently adjacent to Horseshoe Valley Resort and Carriage Ridge Resort, which would be helpful since I was coming from Quebec and would need accommodations.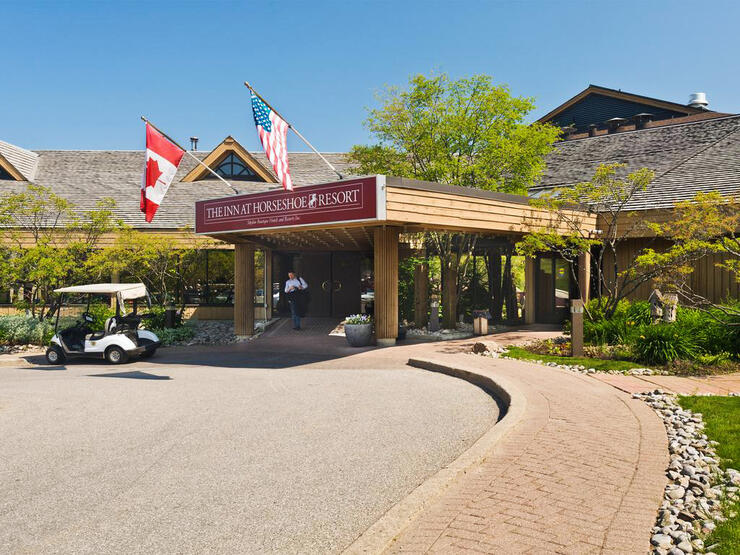 Horseshoe Resort includes a number of other activities, including golf, lake swimming, beach volleyball, mini-putt, zip-lining, and wakeboarding. There's also tree-top trekking for the kids, downhill and cross-country biking trails, and a spa, so something for everyone if you decide to bring the family. A special rate is available for those using the off-road school. I decided to visit SMART Riding Adventures at my first opportunity and learn the skills needed to have my own adventures.
I brought my own helmet but was provided with all other off-road gear, including a roost-protector, shoulder and elbow pads, and motocross boots.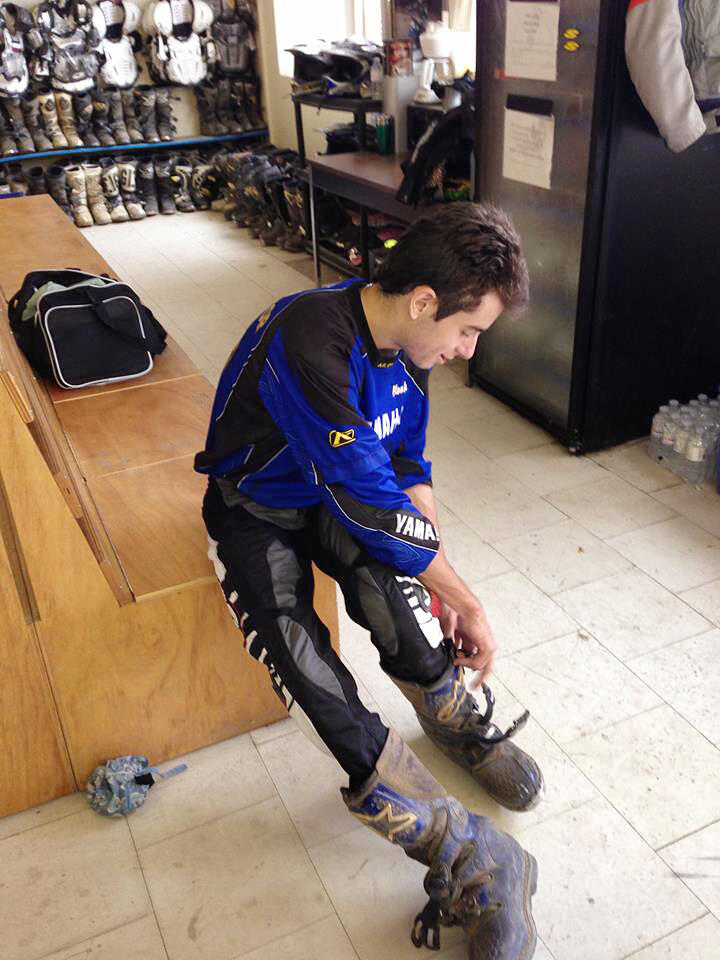 I was put in a group of three with Cheryl, who wanted to get more comfortable on her 800GS, and Bruno, who rides a Harley but felt he needed a little something extra. Yes, dirt riding makes you a better and safer rider on the road too.
We started the day on Yamaha TT-R 230's. Starting with these small dirt bikes lessened the learning curve significantly.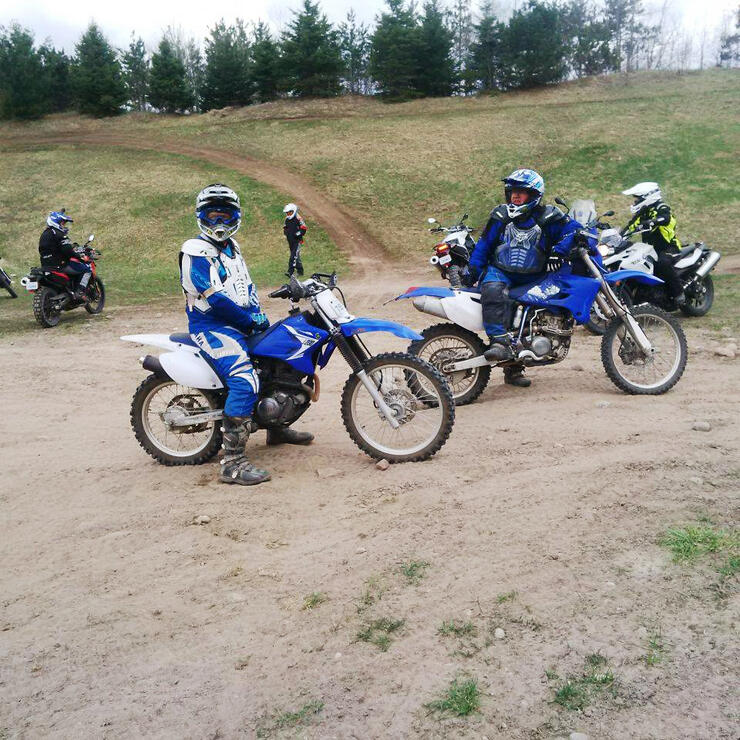 We began in what the staff refer to as The Pit—a large open area of mostly dirt and sand—with some relatively simple skills like peg-weighting while standing, slaloming through cones to get used to the bike moving beneath us. Our instructor, Graham, made corrections on our body positioning and gave thoughtful and detailed answers to our questions.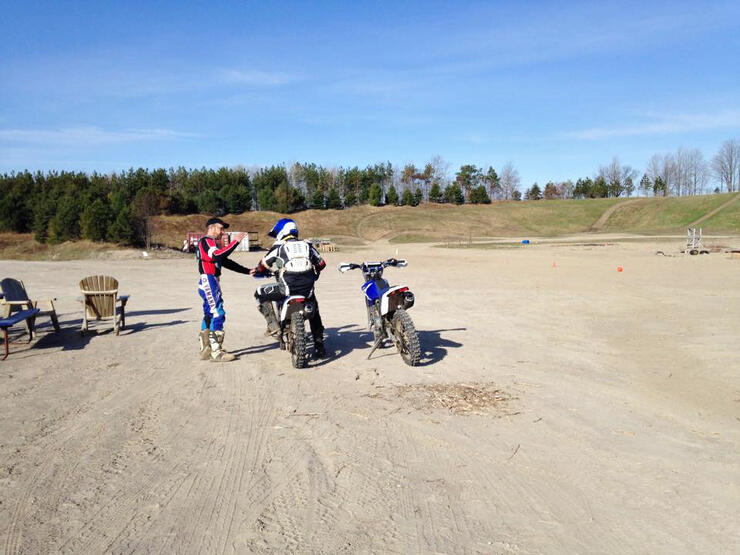 The Pit is surrounded by grassy hills with trails cut into them, and we also covered hill climbs and descents using a variety of methods.
Soon it was time to venture onto the surrounding trails. There are few things I've experienced in life more fun than riding trails on a dirt bike. The knobby tires give you confidence even through the muddy and sandy sections, and Graham led us through some single-track and wider sections and showed us how to cross logs.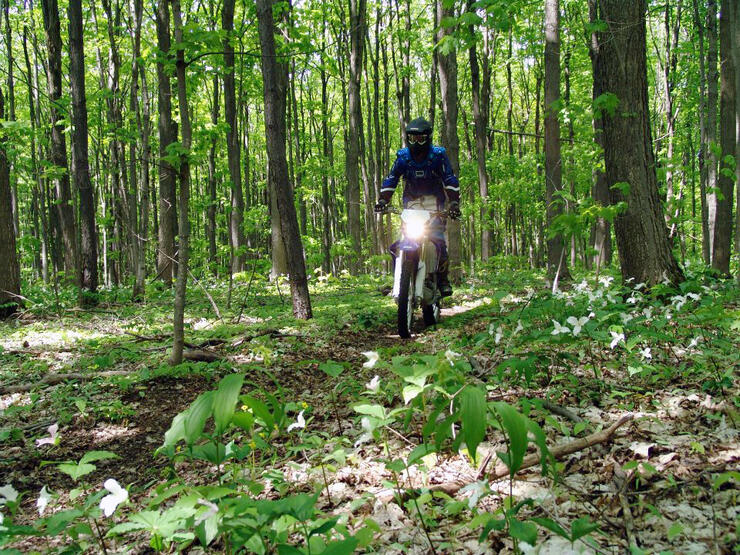 We also practiced throttle control, snaking slow-speed through the trees. The most challenging element was a muddy bog. Some Hummer had gone through earlier and the ruts were knee deep. We were shown three methods for getting through: paddling, sitting, and standing. It was tough but we all made it, one way or another, and then it was time for lunch.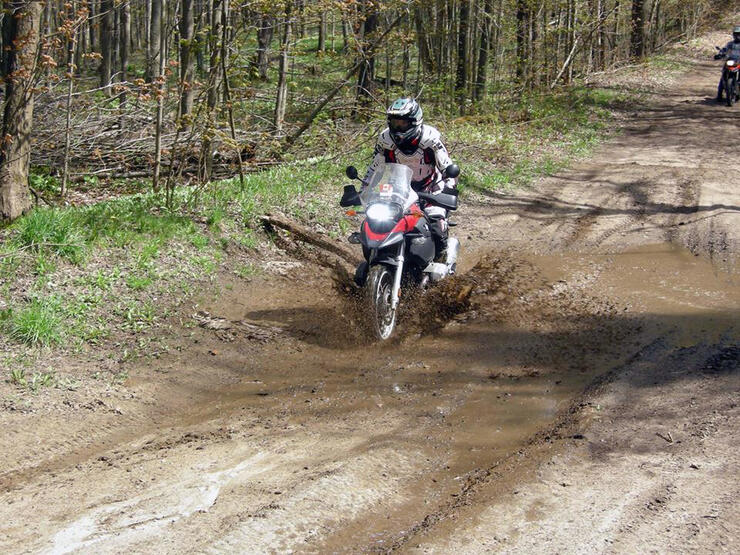 You can order lunch from the resort and have it delivered to the school, making everything really easy. We all sat at the picnic tables in the shade, and soon Clinton came along to see how we were doing and to give a few pointers. As an educator myself, I complimented him on his instruction and we struck up a conversation about pedagogy. He showed me a bike he had modified (and labelled with a warning sign!) with the clutch and brake cables reversed. This bike, he explained, is designed to remind his instructors of what it's like to be a student, when riding is unfamiliar and challenging.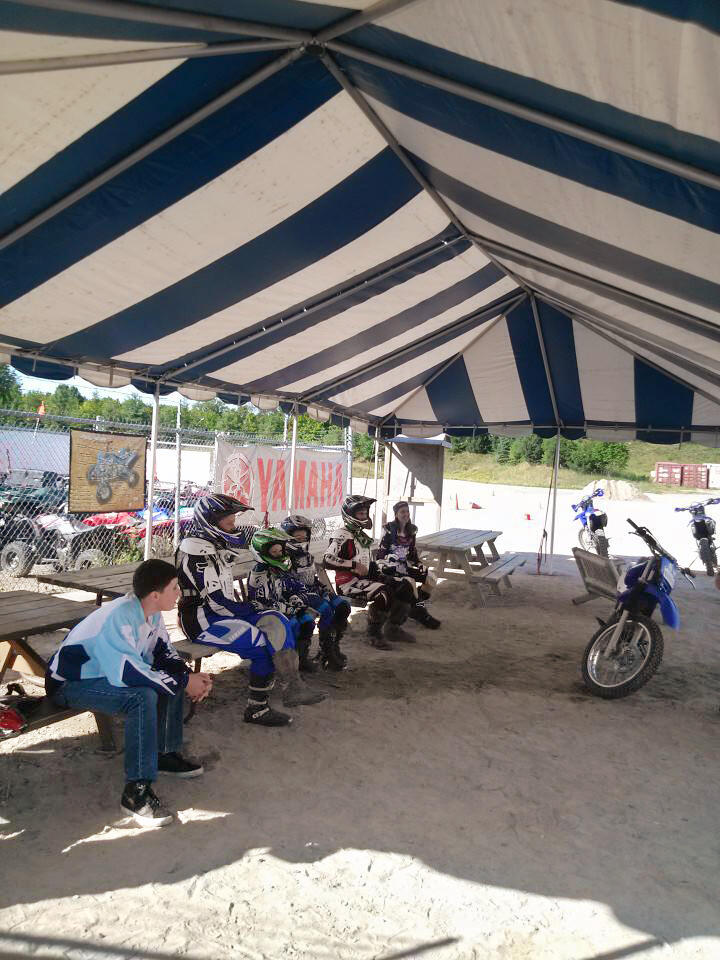 After lunch, it was time to move on to bigger bikes. SMART has partnered with BMW Motorrad Canada and has some GS's to rent, but I decided to use my own 650GS. My instructor now was Emily and we headed off into another trail network available to the school. I could immediately see how the skills I'd learned in the morning on the small bike were directly applicable to a larger bike. I was riding with a lot more confidence—maybe too much confidence.
I came into a corner too fast, panicked, drew on road muscle memory, pulled the front brake, and the bike washed out. Umph! Nothing major was broken and the gear kept me safe. Emily's first question, after "Are you alright?" was "How many fingers did you have on the lever?" I couldn't remember but probably all of them. I'd forgotten what Graham had said earlier: two fingers only on the clutch and the brake.
Naturally, the next lesson was off-road emergency braking. We went out to the gravel road and Emily had me lock up the rear wheel to get used to sliding the back end out, both sides. Once I was comfortable with that, she suggested adding a little front brake. Then we did some rocky descents and some more slow-speed sharp turns on uneven ground. I noticed I was better turning one way than the other; Emily corrected my body positioning and soon I was turning both directions full-lock. I was learning a lot!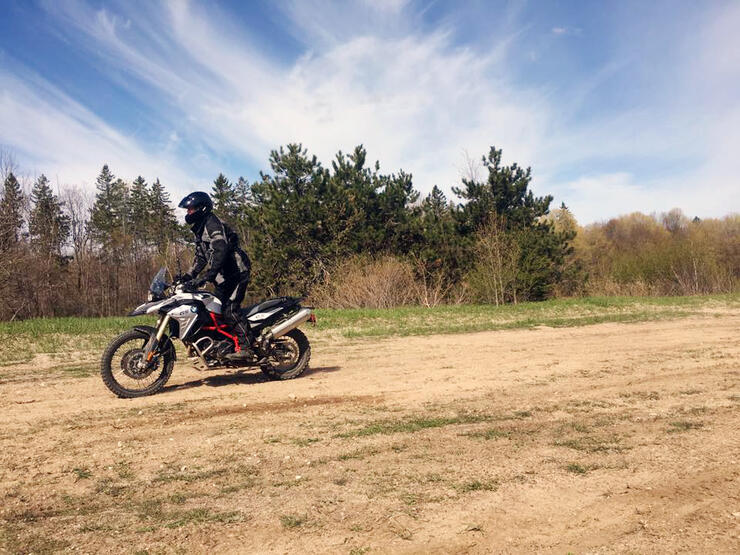 Back at The Pit, my final exercise of the day was recovering from an unsuccessful hill climb. This is a skill for when you're partway up and realize you're just not going to make it and have to bail. You use the back brake, stall the bike, but let the clutch out and the engine will hold the bike. Then you turn the handlebars, feather the clutch to let the bike roll back in a slow arc until it's perpendicular to the hill, all the while leaning the bike uphill and keeping your uphill foot down. Then swivel the handlebars back and forth until the bike is positioned where you can safely pull in the clutch and roll down the hill. You can see Clinton demonstrate the technique here:
Emily showed me how it's done and it looked so easy I was overconfident when trying it, lost my balance, panicked, drew on road muscle memory again, and pulled in the clutch. The next thing I knew the bike was on its side and I was on my back. Off-road riding involves developing a completely new skill-set and retraining muscle memory. Then I tried it again and did it, and a third time to be sure I could do it when needed in the field.
The SMART Riding School has been the best investment I've ever made for my riding—better than any gear or any accessory for my bike. It gave me in one day the skills and confidence to venture off road while doing the Great Legends Loop in Northern Ontario. Whether you dream of doing off-road adventures or just want to improve your on-road skills, Clinton Smout's SMART Riding Adventures, coupled with the Horseshoe Valley Resort, will get you there.