8 Design Savvy Motels in Ontario to Visit
From beachfront to lakefront, from art-inspired to snowmobile-friendly, these motels are a must-stop on your next road trip.

With the new hit Netflix show Motel Makeover piquing our interest in retro lodging and many Canadians discovering the joys of local travel this year, the old-school motel is experiencing a revival.
While Motel Makeover shines the spotlight on the June Motel properties in Sauble Beach and Prince Edward County, locals and visitors alike can also experience the nostalgic charm of a motel stay at these cozy properties found in and around the Northeastern Ontario region. 
Check out these 8 retro motels in Ontario and start planning your next road trip!
1. The artsy mural Motel
The Mohawk Motel is an inviting, family-owned property located in artsy Massey, Ontario. The motel's location at the confluence of the Sable and Spanish rivers makes it an ideal stop for visitors to Sudbury and Manitoulin Island and a great base for enjoying the area's excellent hunting and fishing opportunities. Chutes Provincial Park, which features lovely hiking trails and waterfalls, is within walking distance and, in the winter, guests will also find top-notch snowmobiling trails close by. Save time to tour the garden-filled grounds surrounding the motel, which are home to a distinctive collection of sculptures designed by a local artist. 
2. the beachfront midcentury modern
Get ready for a beachside getaway at the Huron Sands Motel, which is located an easy walk away from the idyllic beach at Providence Bay on Manitoulin Island. Widely recognized as one of the best beaches in Northern Ontario, the beach at Providence Bay is known for its sandy shoreline, picturesque boardwalk, and wonderful trout and salmon fishing conditions. Fresh off of a series of renovations in 2019 and 2020, the motel's revamped facilities include comfortable rooms equipped with fridges, microwaves, and coffee makers, as well as a seasonal restaurant where many dishes draw on the owners' Eastern European heritage. Here are 6 essential things to do on Manitoulin (plus a guide for cyclists). 
3. The outdoor lovers getaway
This classic motel in Mattawa, Ontario offers 12 tidy rooms equipped with Wi-Fi, flat-screen TVs, as well as free coffee and tea. Cheerful printed bedspreads add pops of colour to the homey rooms. The Two Rivers is an appealing choice for outdoor enthusiasts, with Samuel de Champlain Provincial Park located nearby. Those looking to get off-the-beaten-path can also explore Mattawa River Provincial Park, found a 25-minute drive away, which offers challenging canoeing and white water rafting opportunities. For more inspiration, check out our guide on the best things to do in Mattawa Voyageur Country. 
4. The snowmobiler park and ride
With a snowmobile trail leading directly to the property, Norvic Motel is a perfect destination for winter sports fans. A continental breakfast is included in the rate, helping guests fuel up for a day of touring the region. The motel's well-kept grounds include BBQ grills and a picnic area for guest use. Set just off of Ontario Highway 17, the Norvic Motel is also conveniently located for discovering the Greater Sudbury area, with attractions like Science North and the Lake Laurentian Conservation Area found less than a 30-minute drive away. 
5. The lakeside retreat in elk lake
Moosehorn Motel is a welcoming riverside motel, set in an excellent location for travellers keen to get out into Northeastern Ontario's great outdoors. The nine delightful rooms come with Roku streaming players, microwaves, mini-fridges, Wi-Fi, and Keurig coffee makers, with many featuring artwork inspired by the motel's natural surroundings. Moosehorn offers pontoon and fishing boat rentals for exploring the peaceful nearby lakes. Those visiting in the winter can make the most of the motel's location in the middle of the Ontario Federation of Snowmobile Clubs (OFSC) trails and the option to park your snowmobile right on the property. 
6. The local favourite in franco-ontario
With motel-style rooms and hotel-level facilities, the Companion offers the best of both worlds. The property's pleasant rooms come with fridges and coffee makers, plus guests can take advantage of a fully-licensed restaurant, gift shop, exercise room, and steam room found on-site. Hearst's population is over 90 percent francophone, so don't be surprised if you hear diners speaking French at the restaurant, which is open for breakfast, lunch, and dinner. Enjoy daily specials like the poutine bar lunch on Fridays, before heading out to discover the area's prime hiking, fishing, cross-country skiing, and snowmobiling. 
7. beachfront digs in a culinary hotspot
Haileybury Beach Motel is a scenic motel overlooking the shores of Lake Temiskaming. A free breakfast is included in the room rate and guests can take advantage of barbecues located on-site. This cute motel is well-located for enjoying outdoor activities in the surrounding area, with the Stato biking trail passing by the property plus boat docks and fishing piers found nearby. Guests can explore sandy Haileybury Beach before settling in to one of the motel's smartly-decorated rooms. The region is known for its farm-to-table cuisine so check out these 5 reasons to love the Temiskaming Tour as well as these 11 spots foodie lovers must add to their to-do list. 
8. a near-northern retreat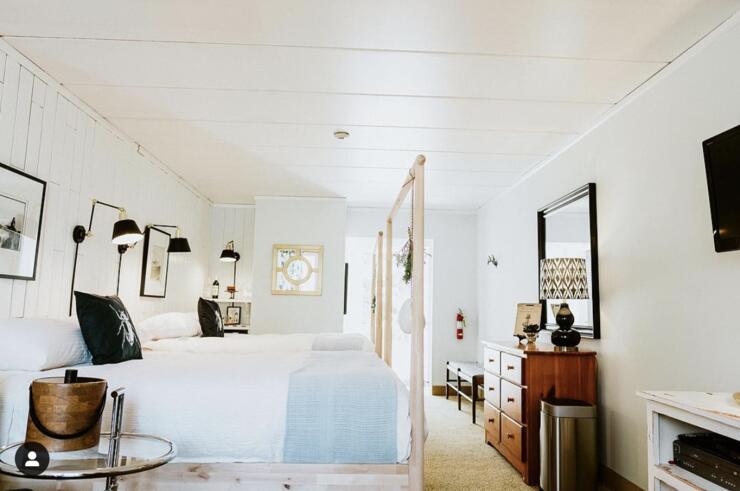 The Northridge Inn is just south of North Bay and offers a back-to-nature experience that's far from roughing it, with rustic-chic lodge rooms featuring serene views of Lake Bernard. The inn's modern, Canadiana-style rooms come with rain showers, wood-burning fireplaces, and goose down duvets. Guests can unwind by the pool or get active by taking advantage of canoes, kayaks, mountain bikes, and other free sports equipment and facilities available on-site. Days spent exploring Muskoka's natural beauty can be capped off by savouring seasonal fare at the NorthRidge's restaurant or sipping a cocktail at the intimate Copper Fox Lounge. 
We hoped you enjoyed our round up of the best motels to stay in when visiting Northeastern Ontario. Check out more places to stay in Northeastern Ontario and plan your visit today! 
Did we miss one? Send us an email about your favourite Northeastern Ontario motel at info@northernontario.travel to let us know! We'll add your favourite spot to the list.