Emily Batty's Guide To Planning A Bike Vacation To North Bay
There's something for every cyclist in the Gateway to the North.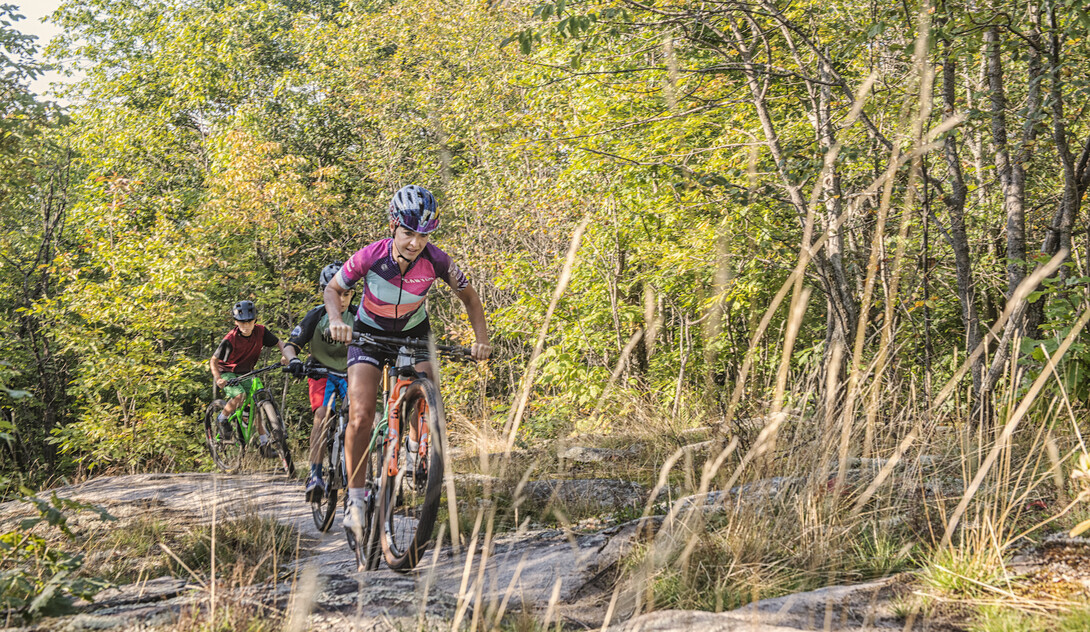 Professional cyclist Emily Batty travels the world to ride her bike. So it says something when she speaks glowingly of a weekend trip she took to North Bay, Ontario last fall.
"I had an amazing time," says Emily, who captured the women's gold medal for Canada at the 2015 Pan American Games in Toronto. "I truly think this is a destination worth coming to and checking out."
It's true, North Bay is rapidly emerging as a hub for all forms of cycling. Located an easy three-hour drive north of the GTA, this vibrant city is aptly known as the Gateway to the North. The community boasts excellent opportunities for mountain biking, with a natural landscape of rock and verdant forests that creates an immediate connection between the rider and the rugged Northern Ontario wilderness. What's more, the city's ever-growing network of urban trails makes it easy to get around town or escape for a quick ride, with bike routes suitable for everyone from fitness cyclists to families.
As if that wasn't enough, an abundance of smooth highways and a seemingly endless network of hard-surface and gravel secondary roads has made North Bay the starting point for countless road and gravel biking options along the long-distance Voyageur Cycling Route.
Yet North Bay is also small enough to be friendly and welcoming. The stoke for cycling is unmistakable and highly contagious.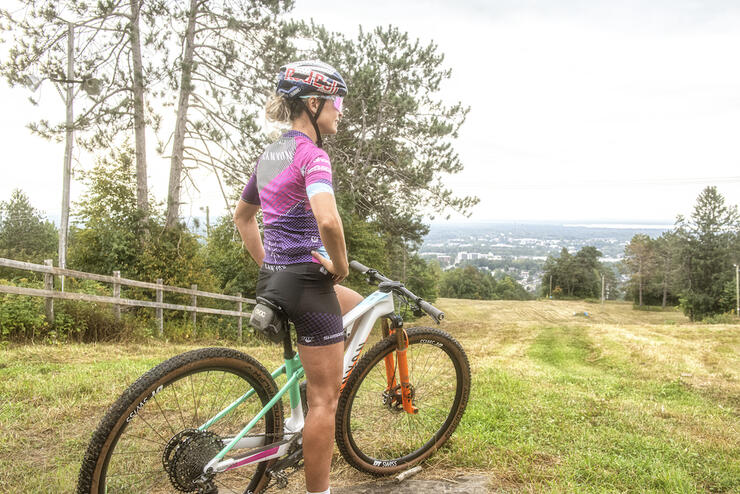 "When I first came to North Bay I immediately felt this energy and welcoming love," Emily says. "An outdoor lifestyle is a passion and a priority here. It was just amazing and I'm so looking forward to coming back."  
So, how do you plan a bike vacation to North Bay and have an experience akin to Emily's?
Where to eat
Emily enjoyed a meal at the 1886 Lake House Bistro on Lake Nipissing's Callander Bay, a 16.5-km bike ride from downtown North Bay. Described as a casual cottage bistro, the Lake House embraces the waterfront and takes in the open horizons of Lake Nipissing—and handcrafts some of the finest burgers in the North.
The bistro specializes in locally sourced ingredients with a comprehensive menu that's full of comfort food for all diets. What's more, it's also seriously bike-friendly: the 1886 Lake House Bistro won the 2021 Best Bicycle-Friendly Businesses Award from Ontario By Bike. Thoughtful amenities include on-site bike parking and a bike staging area. The restaurant is easily accessible from the Kate Pace Way urban trail.
Where to stay
Emily stayed at the Homewood Suites by Hilton, centrally located on North Bay's Lake Nipissing waterfront. This upscale hotel is close to the bike-friendly Kate Pace Way urban trail and waterfront parks, and offers free hot breakfasts as well as easy access to downtown dining and other attractions.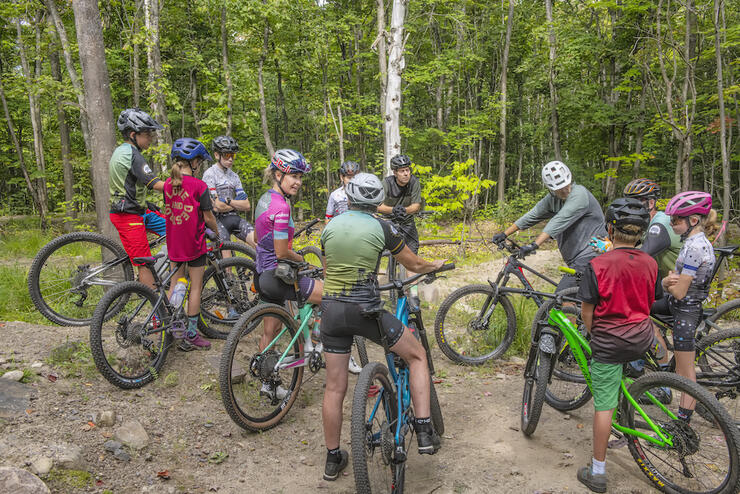 Bike experiences
Three Towers Trails
Emily met members of the North Bay Mountain Bike Association and rode the recently built Three Towers mountain bike trails, located just east of the city centre off of Tower Drive. The 6 km of dedicated mountain bike trails offer something for everyone—from kids and beginners, all the way to professionals like Emily.
"The trails here were so much fun," says Emily. "The rock and the terrain that this area has to offer—to ride and look for new lines to challenge myself as a professional while riding with beginners was amazing."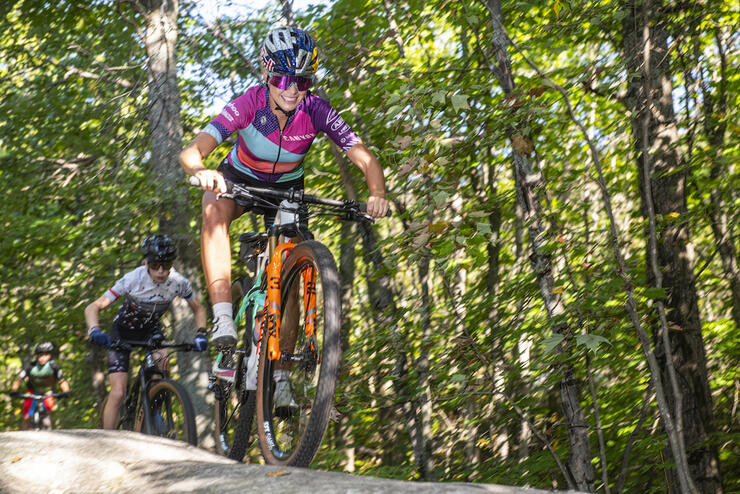 The club crafted the trails according to mountain bike industry standards, and included amenities like ample parking, a bike repair station, a picnic area, and a pump track nestled in the woods. NBMBA is working on expanding the area, adding another 6 km of trails with descents of up to 110 vertical metres, flowy side loops, and impressive natural features in the rugged and rocky terrain. The new trails are set for completion in the summer of 2023, just in time for Emily to return and get a taste for herself.
Urban Bike Routes
Kate Pace Way and the Kinsmen Trail are two urban rides Emily experienced during her stay in North Bay. Named after North Bay's Olympic downhill skier, Kate Pace Way is a multi-use, non-motorized 12-km trail that's open to cyclists and fat bikers year-round. The 6-km Kinsmen Trail follows Chippewa Creek through urban greenspace from Airport Road to Lee Park on Lake Nipissing.
For a longer ride, the Spirit of the Bay bike route takes in all the urban highlights as well as rural and cottage communities on North Bay's outskirts, with a big focus on embracing the spectacular Lake Nipissing shore. The route offers up to 84 km of paved trail and road riding, with access points throughout the city as well as the outlying community of Callander, allowing for a variety of distances for all levels of cyclists, including families.
Gravel Riding
One look at a map of North Bay's surroundings makes it obvious why the city has become a hub for gravel riding. The options for backroad riding seem endless, to all points of the compass. For starters, check out the Farmstand 40, a ride that takes in agricultural lands and rolling terrain to the southeast of the city, between Highway 11 and the Canadian Shield hills of Algonquin Provincial Park. The basic 37-km route has the option of a 23-km extension.
You'll find inspiration for many more backroad itineraries on the Voyageur Cycling Route website, including the Red Toque Tour, an 86-km one-way gravel route from North Bay to Mattawa, tracing the historic voyageur highway of the Canadian fur trade.
Bike Race
The inaugural Cycle North Bay races were a hit last August Civic Holiday weekend, and organizers are excited to follow it up with an even better event in 2023. Events included provincial criterium championships, high-performance youth road racing, the provincial road championships, as well as a youth mountain bike skills clinic and women's mountain bike exchange. Two days of events are sure to showcase North Bay's vibrant cycling scene and amazing surroundings.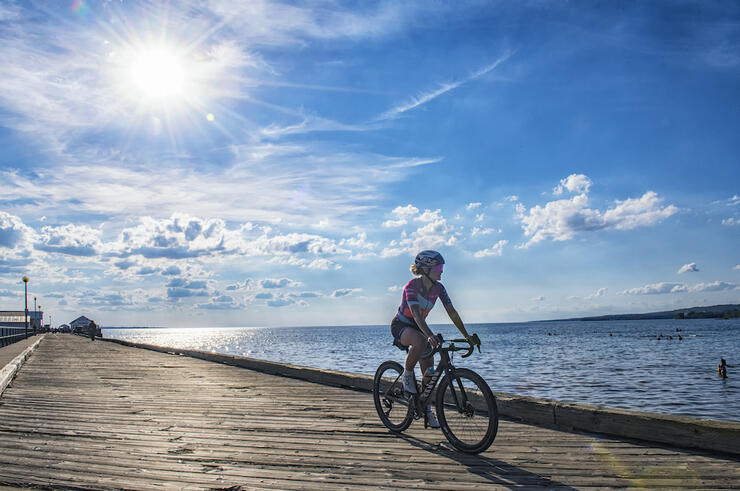 Bike support
No problem if you need bike rentals, last-minute gear or emergency bike repairs in North Bay. Emily stopped by Wheelhouse bicycle shop on Cassells Street for a fast tire repair. Other local options include Cycleworks and Cheapskates. CycleAlley is a new bike mechanic shop located on Oak Street.
Follow in the tire tracks of professional cyclist Emily Batty and explore the area's urban trails, mountain bike trails, and back roads. Book your next cycling adventure in North Bay today.