This Story is Archived
Please note this page may no longer be up to date. For new stories about Northern Ontario visit us here.
4 Group of Seven-Inspired road trips
These weekend itineraries will take you to the heart of their story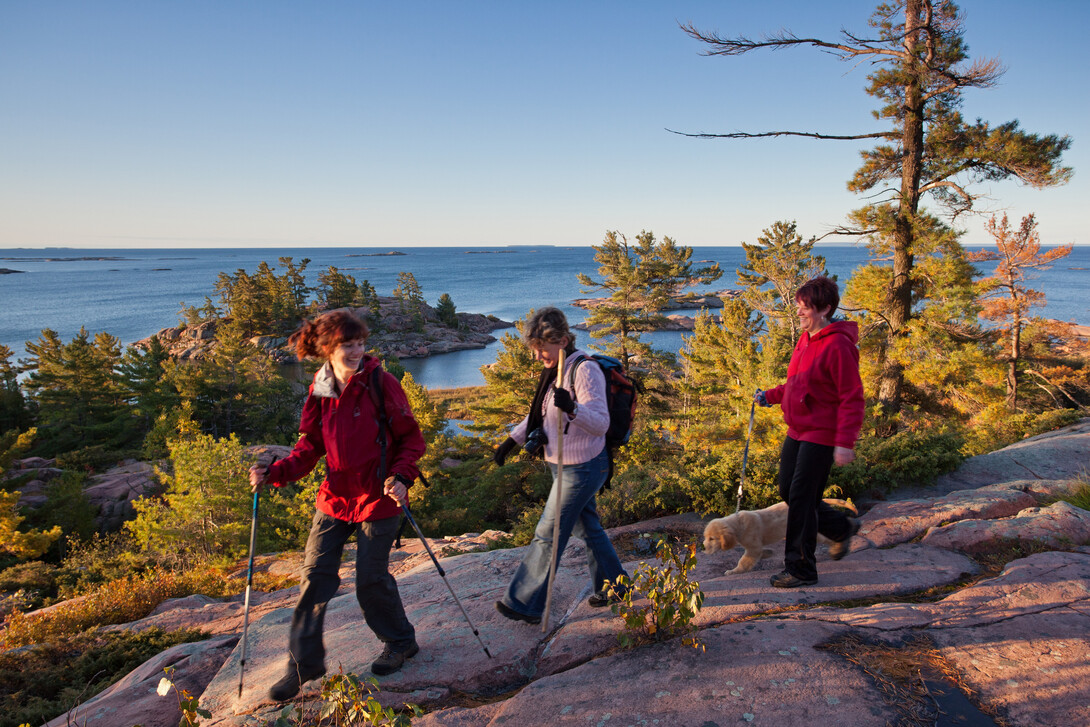 Northeastern Ontario has plenty to be proud of when it comes to pioneering and influential 20th century Canadian artists, the Group of Seven. Did you know that some of these artists played a key role in the establishment of Killarney Provincial Park? Or that you can stay in the same cabin that member A.J. Casson stayed in, near Whitefish Falls? 
Pay homage to the Group of Seven and their iconic landscape paintings with a 21st century road trip! The fall colours are just starting to appear (check the fall colours report here), so it's the perfect time to load up the vehicle and take a weekend road trip to BIG Northeastern Ontario. To make your weekend getaway a breeze, we've put together four itineraries to help you follow in the footsteps of the Group of Seven - accommodations included. Did you remember to pack the camera? Then let's go!
Heart of the La cloche - Manitoulin route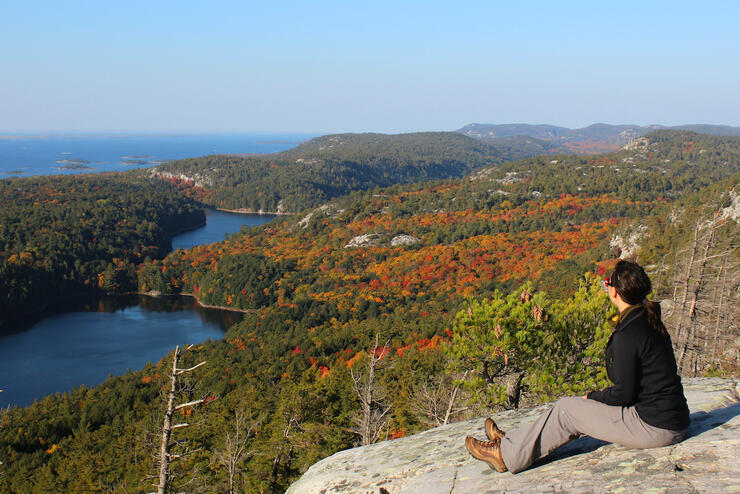 Spend the weekend exploring the charming North Shore and Manitoulin Island, stay in the heart of the La Cloche mountains, and sample locally made goodies and crafts. There are endless scenic viewing opportunities available for fall colour seekers on this route! 
Artist: A.J. Casson.
Iconic Work: Nellie Lake (1933); White Pine (1957).
Get Here: Make the crossing on the Chi-Cheemaun Ferry before heading north across the island (make sure to stop in at the unbelievable 10 Mile Lookout). Alternatively, approach from the east via Sudbury, and take in the Canadian Shield.
Do: If you're here to paint, the North Channel and Shore have no shortage of vantage points to choose from (Victoria Ward has a few pointers for landscape and plein air painters). Art enthusiasts will also want to stop in at the Perivale Gallery, boasting one of Ontario's finest contemporary art collections. Those wanting to see the Island should visit McClean's Nature Park near Manitowaning, or take a guided hike on the Great Spirit Circle Trail to learn more about the local people and culture.
Stay: At Widgawa Lodge. Casson actually stayed at one of cottages in the early 1950s, and you can too! See first-hand exactly why he was so taken by the area, and nearby Dreamer's Rock, where White Pine was painted. Maybe you'll find Carmichael's famous lookout. 
A.Y. Jackson Lookout - sudbury route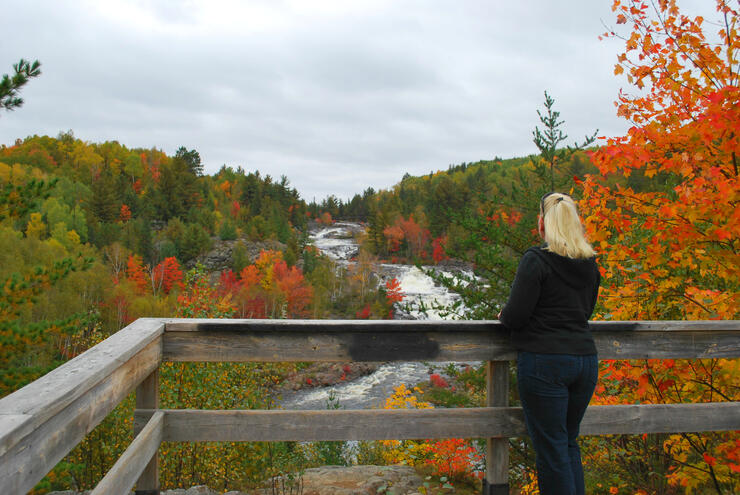 Named for founding Group of Seven member A.Y. Jackson, you will look out over the rim of an eroded meteor impact crater and giant cascading waterfall, High Falls. Dropping over 55 m from start to finish, this is one of Ontario's largest and most impressive waterfalls, located just outside of Greater Sudbury.
Artist: A.Y. Jackson.
Iconic Work: Red Maple (1914); Spring on the Onaping River (1953).
Get Here: Via Sudbury and the Trans Canada Highway 400.  
Do: You will have to make the trek if you want to imagine how Jackson envisioned Spring on the Onaping River, as the original painting was stolen from its display in 1974. Stretch your legs on the three joining hiking tails the run on both sides of the falls through a red pine plantation (0.5 km – 1.0 km – 2.0 km respectively). Want to learn more about the crater? Take the self-guided Geological Walking Tour and learn about the impact that has shaped Sudbury's history. This tour is wheelchair accessible. Pack a lunch, as picnic areas and washroom facilities are available at the trailhead.    
Stay: At the Travelway Inn. This hotel is situated within walking distance to Sudbury attractions such as Science North, Ramsey Lake and the local art gallery. 
Northern Silver Mines - Temiskaming Shores Route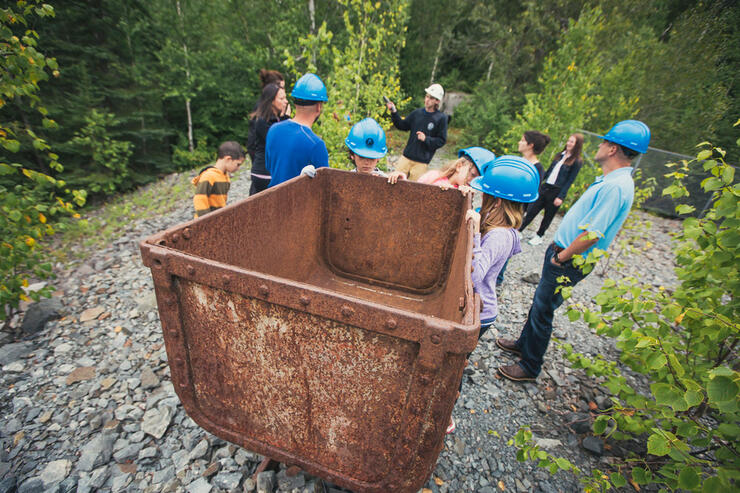 A very historic town indeed, silver was discovered in Cobalt in 1903 and shaped the development of the town. By 1908, the region was considered the world's largest producer of silver, and of course, cobalt. Tour non-operating silver mines and take in the views of a traditional Northern Ontario mining town.  
Artist: Franklin Carmichael.
Iconic Work: A Northern Silver Mine (1930).
Get Here: Access Cobalt and the Temiskaming Shores area via Highway 11 through North Bay.
Do: Explore Cobalt with your camera, and take a tour of a non-operating silver mine to get a feel for what the miners experienced. Take a self-guided driving tour around the area on the Heritage Silver Trail to complement your visit. After spending time in Cobalt, head to Haileybury and experience more northern-inspired art at the local gallery.
Stay: Stay at either the historical Presidents' Inn & Suites, or the comfortable Leisure Inn, both located in Haileybury. 
big wilderness - killarney route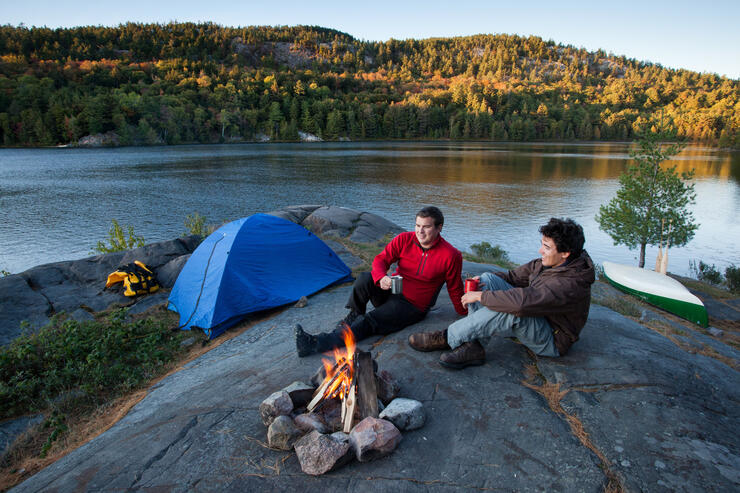 Possibly one of the most well-known Group of Seven experiences in the region, the Killarney Provincial Park exists partly because of the efforts of the Group in protecting its world-renowned wilderness. Partake in stunning hiking, paddling or just plain hanging out, Killarney is a choice destination for those wishing to experience BIG outdoors.
Artists: A.J. Casson; Franklin Carmichael.
Iconic Works: Mirror Lake (1929).
Get Here: Access the south side of Killarney Provincial Park via Highway 637, off of Trans Canada Highway 400.
Do: Killarney offers a range of hiking trails for every experience level. Seeking a challenge? Hike to Silver Peak, the pinacle of the park. The hike can be completed in one day as long as you get an early start. After making yourself hungry, head to the Village of Killarney for fish and chips, ice cream and other top-notch dining options.
Stay: Go for the true luxury weekend vacation and check in to Killarney Mountain Lodge, or stay in the park, and consider renting a yurt (available year round) from Friends of Killarney Park.