Northeastern Ontario Ice Fishing Forecast
A pro's forecast to this year's ice fishing season in three of the hottest areas in Northern Ontario.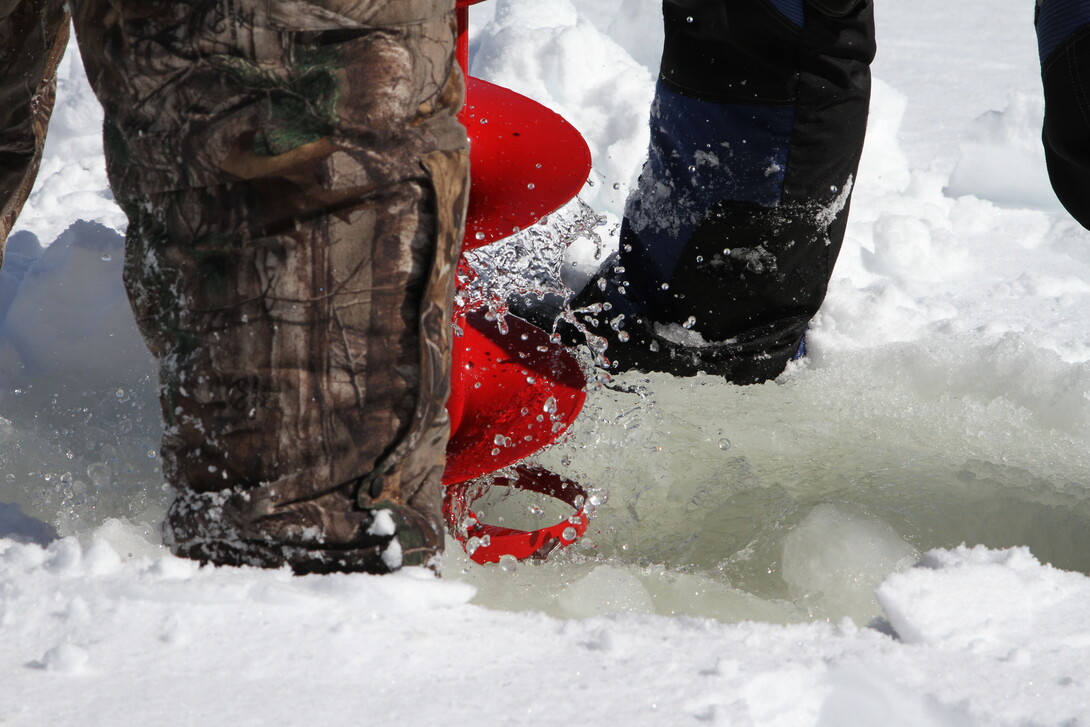 Ontario's magnificent northeast has always been synonymous with top-notch winter angling opportunities, and this coming season is no exception!  Avid anglers from across the province and beyond flock to this region for quality winter fishing once lakes and rivers have frozen over. 
The time is now, and the northeast is the place to go, as temperatures begin to drop.
On the heels of a long and productive winter season last year, lodge owners and hut operators are chomping at the bit to get back on the hard top. Three of biggest winter hotspot areas last year were the Nippissing, Temagami, and Matachewan areas, some of the most popular winter destinations in the Northeast for several fish species. And I have the inside track on what to expect, and where to go, this coming season.
temagami forecast
Lake Temagami is a massive lake, 60 km in length with 4,800 km of shoreline and 1,259 islands. The name Temagami means "deep water" in the Ojibwe language, and indeed the lake dips to over 300 feet in some spots. Deep water-dwelling species like whitefish, lake trout, and burbot live here and in adjacent Cassels and Rabbit Lake, in sizable numbers. With such vast fishing opportunities in Temagami, and great ice fishing last season, winter anglers are looking forward to another great season, despite some recent regulation changes.
Word on the street is that the lesser-known fish like the burbot are hot like fire this winter! These historical "cod-like" nocturnal feeders of the northeast are no longer taking a backseat to popular species like walleye and lake trout. Last winter's gigantic 18-pound specimen caught in Lake Simcoe has anglers thinking twice about these eel-like critters this winter, and Temagami happens to a burbot hotspot.
Temagami Shores Inn & Resort is a Temagami lodge that offers ice hut rentals to enthusiasts looking for the elusive burbot.  The resort is located on the lake's northeast arm and is a family-run operation, quite open about sharing hotspots with clients before they hit the ice. They will prepare hot meals such as pots of stew, chili, or soup, available each day, to take and warm up on your stove. Give them a call for up-to-date news on where the big ones are biting this winter, on any given day.
Nearby Northland Paradise Lodge is coming off a great winter season last year. Located on the shores of Cassels and Rabbit Lakes in downtown Temagami, Northland positions itself to target lake trout and whitefish and, according to co-owner Doug Adams, catches are expected to be solid again this winter. They offer all-you-can-eat meals and accommodation packages for winter guests, and have bait available, but will not be renting huts this year. Doug says lakes are usually frozen and a safe thickness by mid December, but please call ahead for early season ice fishing conditions, and bring your own portable shelter. Doug reminds guests that new regulations are in effect this winter. Whitefish and burbot are open all year, with northern pike and walleye available through March 15. Lake trout is only open from February 15 through March 15, 2020, this season leaving just one month to land your lakers.
nipissing forecast
Lake Nipissing, located in Ontario's Near North, is another top pick this year for prime ice fishing action!
At press time, Sam and Kevin Simpkin up at Fish Bay Marina are already out scouting their winter "bungalow" locations, and are currently booking spots for this season. This year they are offering 15 comfortable ice bungalows for rent. They have day huts as well as two, five, six, seven and eight-person bungalows, fully equipped with the comforts of home and located in spots that catch fish. Lots of nice northern pike, walleye, and whitefish were pulled in last season as well this year's sleeper hit, the burbot. With extremely promising catches last season, across the board, the Simpkins are excited to see what this winter will hold.
matachewan forecast
For any interested in catching trophy trout this winter, Saul Outfitters in the Matachewan-area are trout experts extraordinaire! Byron Saul is a third-generation forestry worker by trade, and a trout aficionado and experienced outfitter by passion! Ice fishing enthusiasts will be comfortable at Byron's main property in Matachewan, where satellite TV, bedrooms, washroom and hot showers are available. The region is dotted with small lakes, you can enjoy ice fishing for trophy brook trout, lake trout and even splake fishing. Based on the giant catches of trout last season, Byron is expecting more of the same this year. What makes Saul Outfitters so special is the family's experience in the field. Byron personally accompanies each guest, doing his utmost to have chunky trout appear in your auger hole with regularity.
Whether you travel to Temagami, Nippissing, or Matachewan this winter for your ice fishing excitement, you will be rewarded. Stay warm and I will see you on the hard top!