Everything you need to know about winter Northern Pike fishing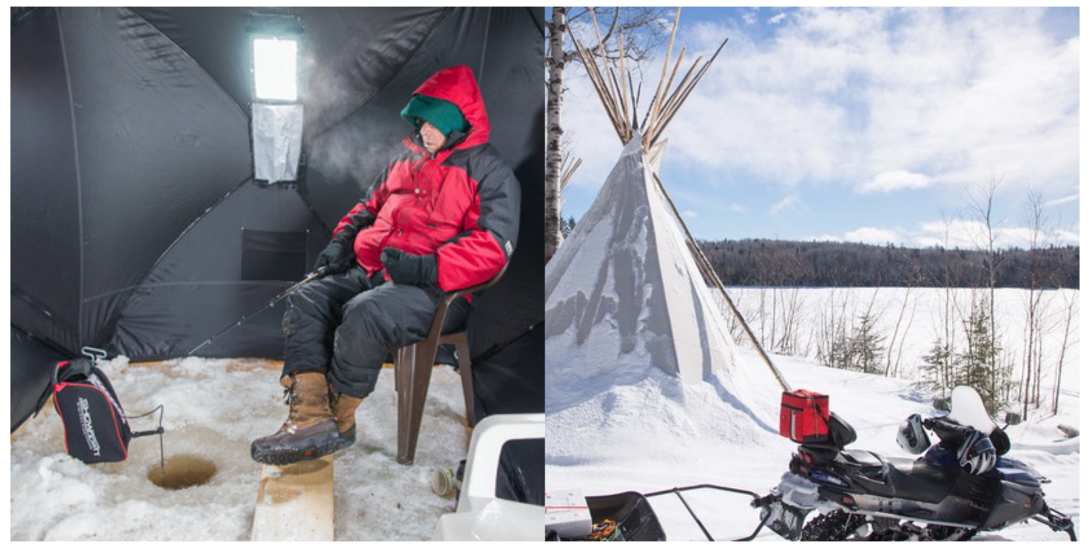 Have you ever visited the Timmins area? Well I have, and I can tell you it is one of the region's hidden gems, especially during the winter months. As the third largest city in Northeastern Ontario, Timmins has built a reputation as a premier logging and mining town with a long history of great hunting and fishing opportunities, right at its doorsteps. What does Shania Twain Country have to offer when the lakes freeze over? One of the opportunities, an under-utilized one I might add, is winter fishing for one of my favorite game fishing, the mighty northern pike!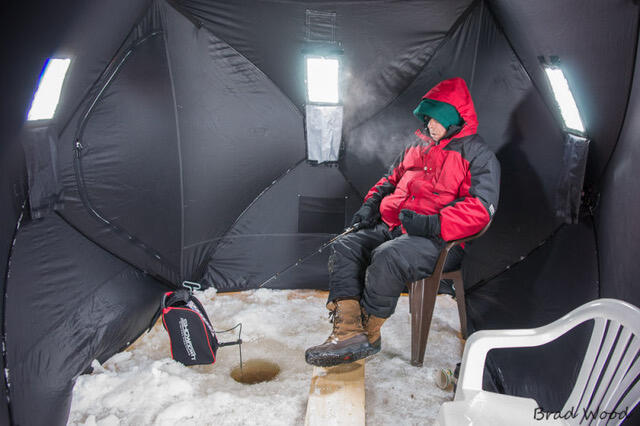 Want to know something about winter recreation around Timmins that involves northern pike? Just ask Mike Brazeau, owner of Horwood Lake Lodge. Mike and his wife Jaana operate one of the busiest lodges in this region, with a reputation of catching some of the best northern pike and walleye in the area, right in front of the lodge! Once the lake freezes over, however, Mike admits that most of the pike and pickerel head down the lake towards the river mouth where they congregate during colder months. Seasonal movements are quite common among esox lucius.
Not to worry folks, Mike Brazeau has the answer for catching up to fish on the move, and comes with two skis and a track and invented in 1923 by Joseph-Armand Bombardier.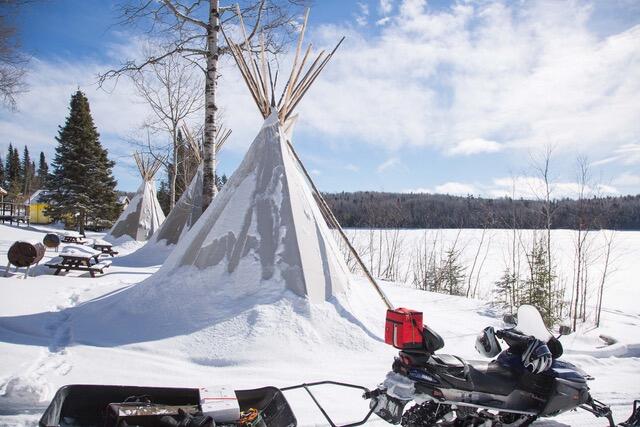 "Horwood Lake Lodge established a strategic partnership with L1fe Outdoors Rentals in order to provide the rental snowmobiles—which, by the way, are designed for back country riding,"  says Brazeau. "These sleds will get you into any back lake regardless of the snow depth," he adds.
Not only is Mike and Jaana's considered a top-notch lodging destination, but they are one of the only locations where ATVs and snowmobiles can be rented in Northeastern Ontario. Their goal is a Stay and Play Vacay in their back yard which, incidentally, boasts over 500,000 acres and hundreds of lakes to carve a hole through and search for the elusive northern pike.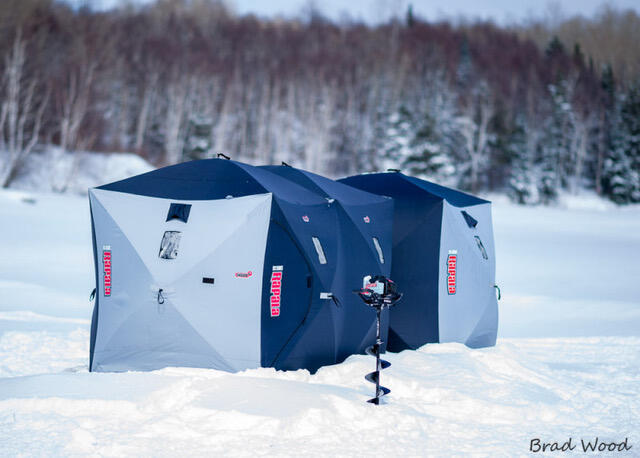 Ice Fishing Done Easy
Mike Brazeau has tailor-made his snowmobiles fully rigged for winter fishing, which include a six-foot sleigh loaded with a six-person Sherpa pop-up tent, folding chairs, propane heater, ice auger, axe, buck saw, tip up rods, hand-held rods, and even a Marcum Fish finder, all for only $99/day. The only thing left is to drill some holes, set your lines, and and hold on with both hands!
The snowmobiling in this region is tied into a fantastic network consisting of over 600 km of old roads and backcountry trails, which run through some truly untouched wilderness. You will find an abundance of tranquility, and more northern pike lakes than you can shake a stick at!
Fileting Your Catch
Ok, so now that you've been lucky enough to land one of these magnificent fish, how do we clean it? Start by cutting a slit behind the fish's pectoral fin. You may cut off the head completely if you prefer. Hold the pike by the tail or clamp the fish down on a wooden fillet board. With your fillet knife blade pointing away from you and across the body of the fish, begin to cut from the tail toward the head.
To separate the fillet from the skin, begin by holding the fillet by the tail-end with your thumb and forefinger, or with a pair of pliers. Skin should always be facing down. Insert the knife between the skin and the flesh and slowly cut forward with long, smooth strokes. You will need a slightly downward motion to separate the meat at the skin. Be careful not to cut through the skin. Continue your cut through to the end until skin is separated from the meat. Discard the skin and rinse the fillet under cool water.
Pike is Served
Now that your delectable fresh northern pike filets are cleaned, a home cooked meal of pike is just what the doctor ordered! Featured in my award-winning Canadian Fishing Cookbook published by Company's Coming, this Pan-Seared Pike recipe will have you coming back for more.
Northern pike are perhaps the most underrated freshwater fish when it comes to table fare. Possibly, it is their unsavoury predatory behaviour or pungent live smell that has given them a bad name. Provided the fish is filleted properly and carefully skinned so that the protective slime layer does not come in contact with the flesh, pike meat is white, flaky, and bursting with taste. By the same token, northern pike must never be cooked or barbecued with the skin on, because it gives the meat an unpleasant muddy taste. When prepared properly, though, the northern pike is one of the most pleasant-tasting fish around—one of my personal favourites.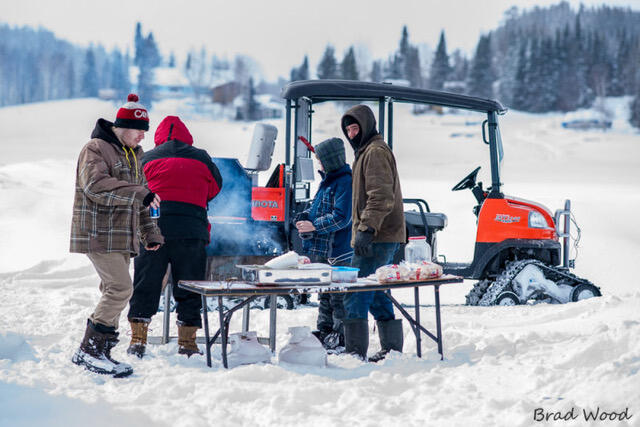 Pan - seared pike
Serves 8
1 (4-6 lb) northern pike, cleaned but not filleted
1 1/2 cups water
1 onion, sliced
1 carrot, sliced
1 celery stick, chopped
4 shallots, diced
3 tomatoes, diced or 3 canned tomatoes, squashed
1/2 cup dry white wine
Salt and pepper to taste
Preheat oven to 400º F (205° C). Boil water in medium saucepan, and then add onion, carrot and celery. Simmer until reduced to ½ cup of liquid. Strain and set liquid aside. Spread shallots and tomatoes in medium non-stick baking or casserole dish. Lay pike in dish and then pour in white wine and ½ of liquid.
For more information on the ultimate winter getaway, contact Mike or Jaana Brazeau: (866) 242-9992 or check them out online here.