Go Waterfalling
From Sudbury to North Bay, Manitoulin Island to Cochrane, Ontario's northeast has got some pretty epic waterfalls. How many have you visited?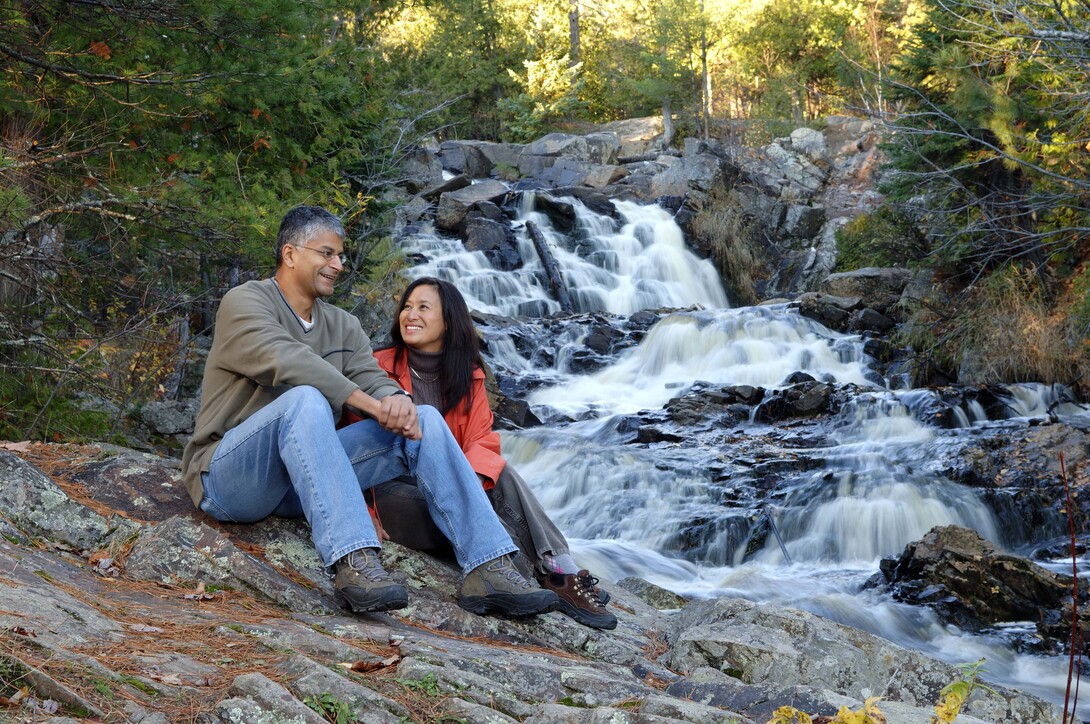 As the weather warms, you may be eagerly planning outdoor excursions for the spring and summer. Whether you're road-tripping, canoeing, portaging, or simply planning a new hiking route, it's vital to have stops and sight-seeing planned for along the way. Among the many natural wonders available to visit in Northeastern Ontario are a number of breathtaking waterfalls—perfect for photo-ops or simply taking a break to marvel at nature's majesty. 
Here are six must-see waterfalls in the region.
1. New Post Falls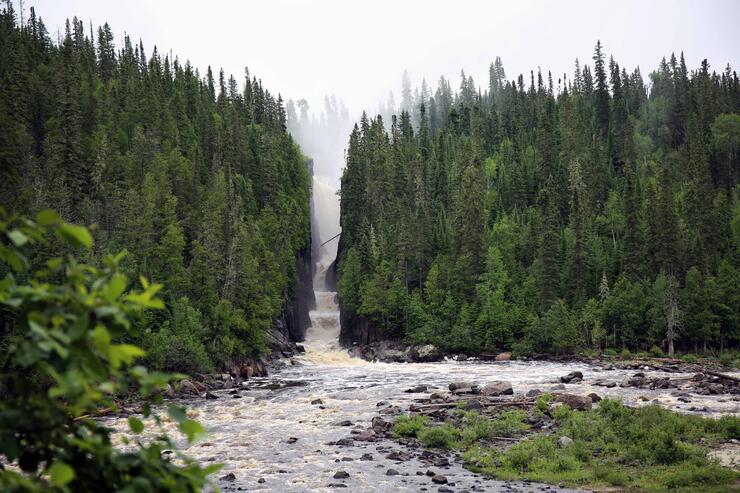 Where it is: Cochrane
Why it's worth the stop: The falls have recently been restored to their old glory
Until recently, the New Post Falls in Cochrane were roaring, the result of the man-made diversion on the Little Abitibi River, which took place in the 1960s. The completion of the New Post Creek dam means that the flow over the New Post Falls has reduced substantially—but don't take this as a reason to avoid the falls. In fact, it's a good thing: Indigenous elders from the area describe the falls as having been closer to a trickle, saying they were once able to walk across the dramatic narrow gorge on either side. Visiting the restored falls now will give you a much more accurate idea of how they looked prior to manmade, colonial intervention.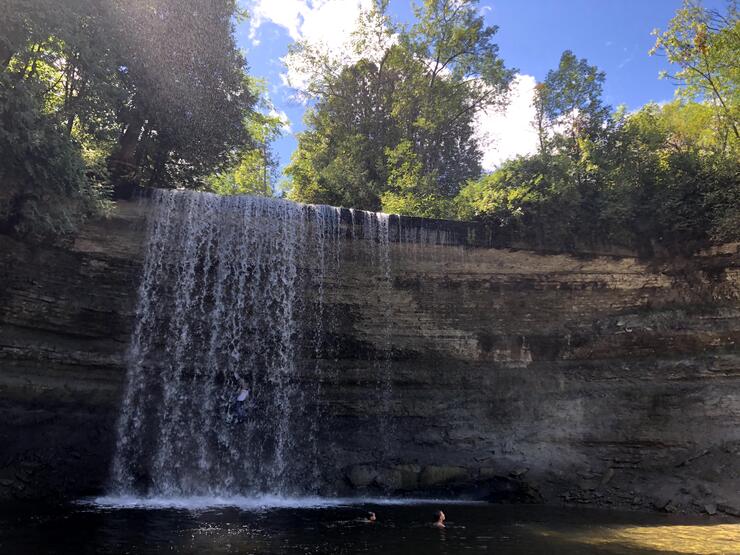 Where it is: Northeastern Manitoulin Island
Why it's worth the stop: You can get up close and personal
Located near Kagawong, on Manitoulin, what Bridal Veil Falls lack in size—they're about 10 metres tall—they make up for in intimacy. Since the rock bed over which the waterfall cascades juts out beyond the "wall" at the back of the falls, visitors can feel free to walk directly behind them, with little to no risk of getting wet (you'll get a few drops, of course). A short, flat hiking trail leads to the falls from town, and there's a short steel staircase you'll need to walk down in order to get down to the riverbed.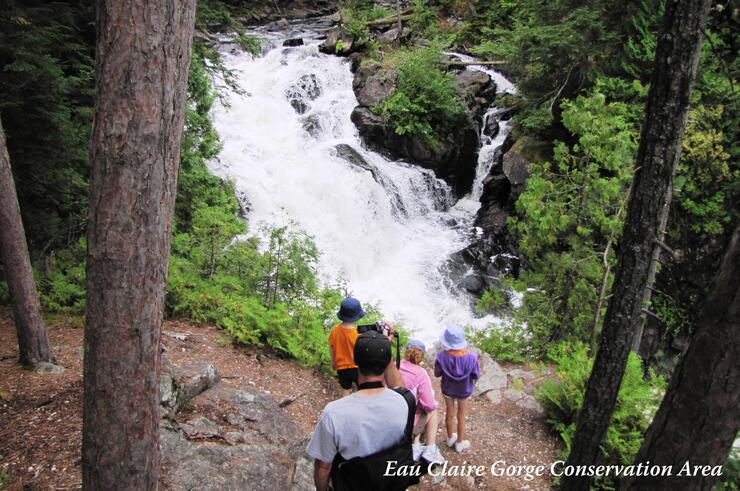 Where it is: Mattawa Voyageur Country
Why it's worth the stop: It's a testament to nature's power
The Eau Clair Gorge Falls are part of a series of fast-moving drops and rapids making up the beautiful, red pine-lined area where the Amable du Fond and Mattawa rivers meet. The falls are loud, fast, and powerful—you can hear them from dozens of metres away as you approach. The falls drop about 40 feet, and can be viewed from either side of the gorge—just be careful not to get too close, or lose your footing!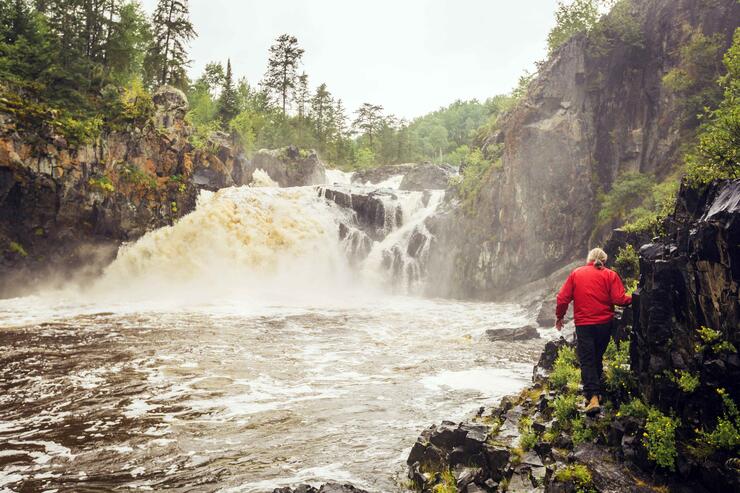 Where it is: Englehart
Why it's worth the stop: It's right in the name
In English, the Ojibway "kap-kig-iwan" translates roughly to "water running over the edge," so you can be assured that your visit to the Kap-Kig-Iwan Provincial Park (Ontario's smallest) will yield some incredible waterfall viewing. The area has a number of falls in all shapes and sizes, ranging from short drops and narrow trickles to the spectacular High Falls, all connected by the rushing Englehart River. 
5. Onaping Falls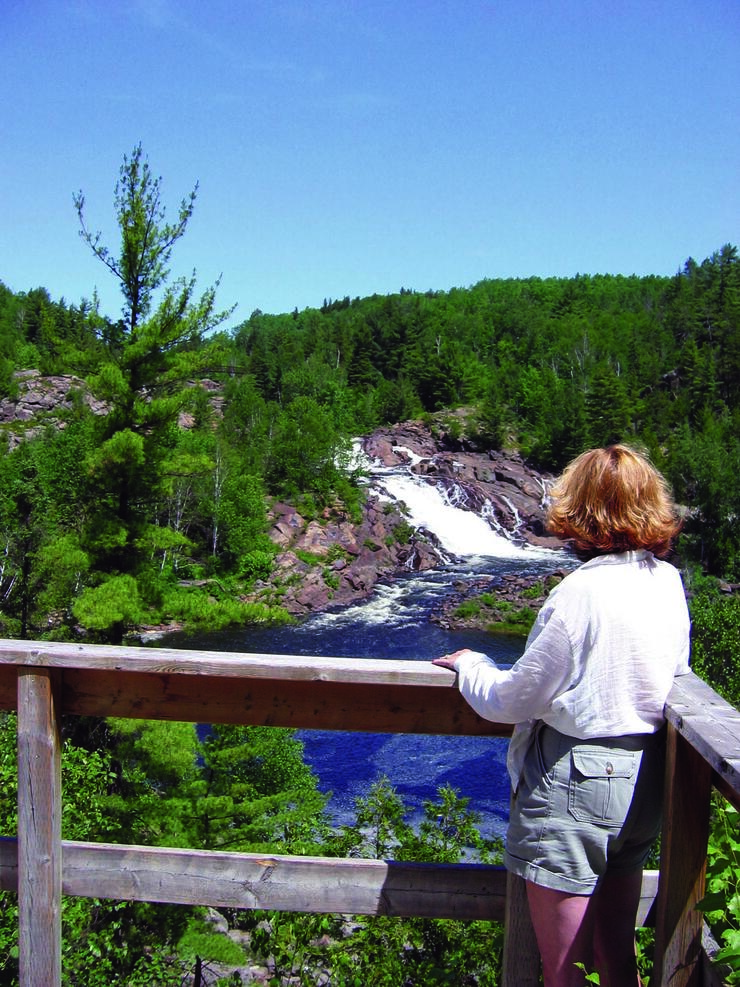 Where they are: Sudbury
Why it's worth the stop: They're absolutely ancient
The waterfalls at Onaping, also known as High Falls, are among the longest in Northeastern Ontario, with a cascading, gradual drop of more than 45 metres—its largest drop is more than 10 metres long alone. There are numerous opportunities along the falls' long run to marvel at their strong, powerful current (and snap a photo or two, of course). Plus, Onaping's waterfalls are located at the edge of the Sudbury Basin, which is an impact crater more than two billion years old.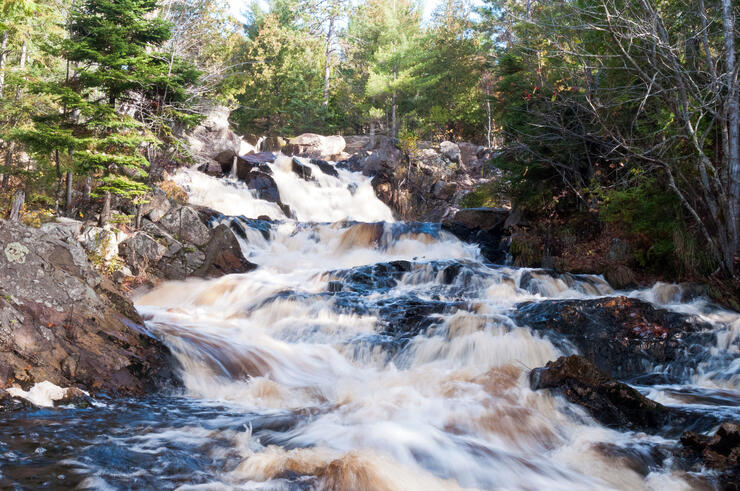 Where they are: North Bay
Why it's worth the stop: Bigger is better
Onaping may be long, but those falls are dwarfed by Duchesnay Falls in North Bay, which span a whopping 70 metres in gradual, downward cascades. The falls are absolutely thunderous in the spring—you can hear them from the Duchesnay Falls trailhead—and in the summer and fall months are often so low in volume that visitors can walk right alongside the water as it flows and falls (be sure to watch your footing—the wet rocks along the waterfall can be very slippery).
go waterfalling in Ontario today
If you're looking for big waterfalls, gorgeous scenery, and easy-to-medium hiking opportunities these six waterfalls are a must-visit. Plan your visit today and discover everything scenic Northeastern Ontario has to offer.