BIG Hikes: Bridal Veil Falls' Salmon Run
The #1 hiking spot in the Northeast as chosen by you is...Bridal Veil Falls, on Manitoulin Island.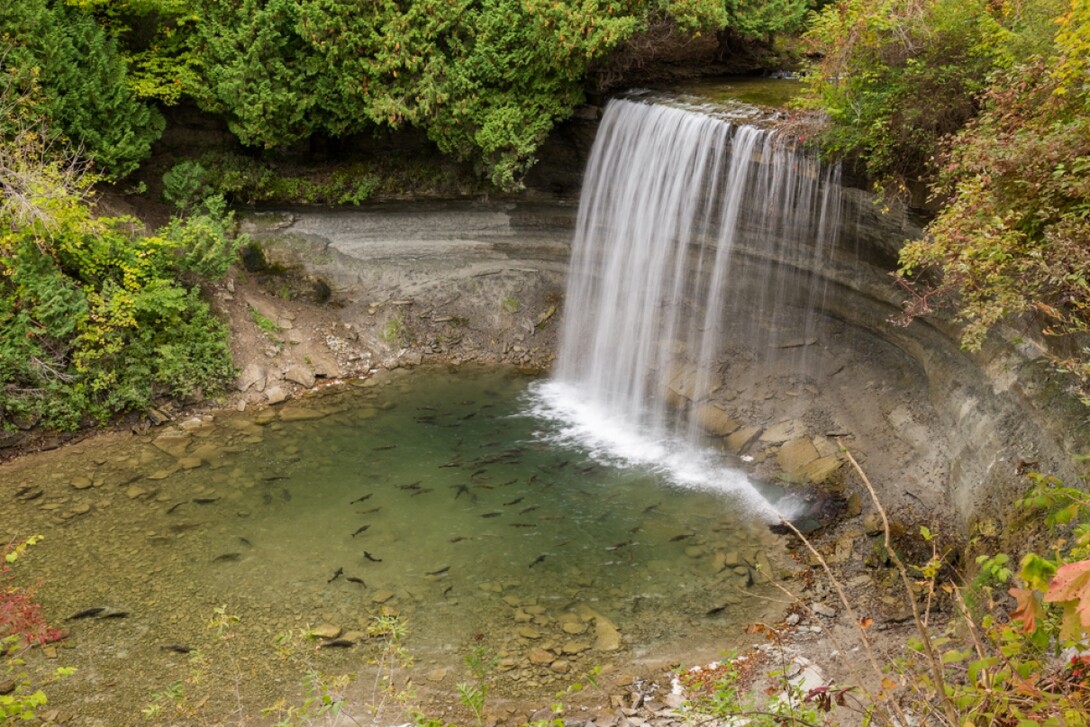 Editor's Note: This summer, we asked you to tell us what your favourite hiking trails in Northeastern Ontario are as part of our BIG Top Five Contest. Each month, we will be publishing a story about each of the top five hiking trails in Northeastern Ontario as voted by you!
 
This month we are featuring the hike that earned the number one spot—Bridal Veil Falls.
With a name like Bridal Veil Falls, I expected the waterfall to be beautiful, with its delicate cascade of water spilling over a uniform rock ledge creating a pretty curtain of liquid filling a shallow pool below.
What I didn't expect was the violent struggle of life and death happening just below all this beauty.
October is salmon spawning time in Northeastern Ontario, and what I didn't know when I planned my visit to Manitoulin Island's most picturesque waterfall was that Bridal Veil Falls is the end of a long journey for thousands of Chinook salmon fighting their way upriver to the place where they were born years before.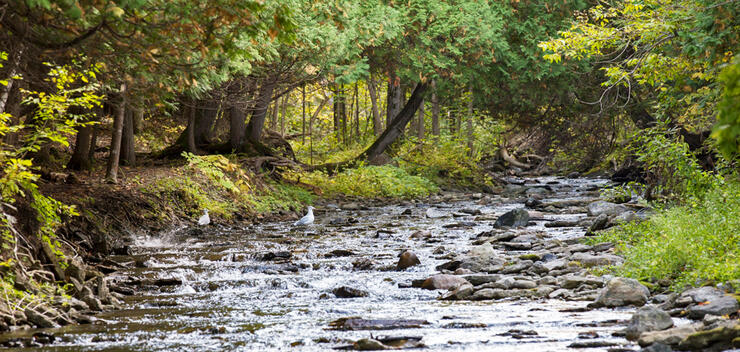 So when we drove to the parking lot at the top of the site and looked down at the waterfall, the first thing that struck me after the pretty view of the falls themselves was that it felt like I was looking at a glorified fish pond. Hundreds of huge salmon were circling in the water below the falls, like some kind of giant fishing arcade game.
Then suddenly, there was a violent thrashing in the river where the water from the falls spills over a shallow lip, and three huge fish, more than half their bodies out of the water, and using their tails as powerful rudders, fought and muscled their way up and over this final barrier into the pool. Here they rested, exhausted after their herculean effort.
Moments later, out of the corner of my eye, I caught a glimpse of another fish actually leaping up the 35-foot tall cascade of water, in a futile attempt to leap past the falls. Excited by what I had just witnessed, I couldn't help but squeal 'Did you see that!!?" to anyone who happened to hear me.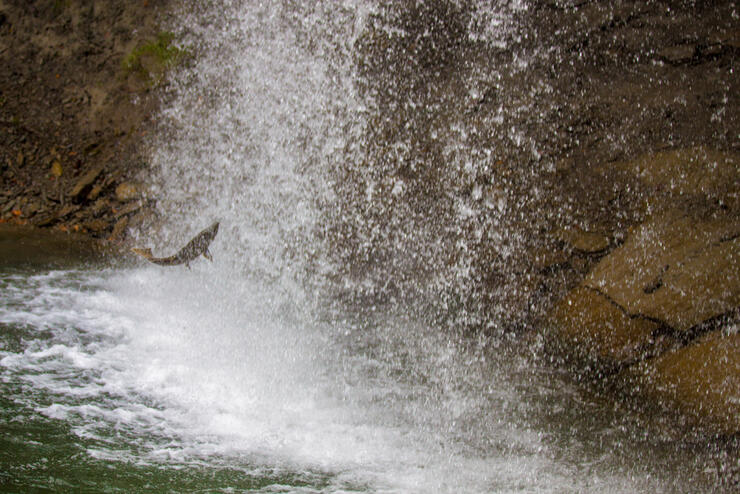 After all, a salmon run was something I had watched TV documentaries, but I had never actually seen this phenomenon for myself until now. And to be honest, it completely overshadowed the falls and the trail that I had originally come here to see.
Fortunately for me, the location of that trail made it easy to watch all of this incredible activity up close: a staircase right off the parking lot gives visitors easy access to the base of Bridal Veil falls and to the trail that runs alongside the Kagawong river that feeds it.
So it was an easy 30-second climb down and I found myself standing on the edge of the river where salmon continued to fight upstream, heaving themselves up and over shallow cascades and natural 'fish ladders'. But here at the waterfall itself, the run ends, since even these tenacious fish could not scale the height of the falls (although that clearly didn't stop some from trying).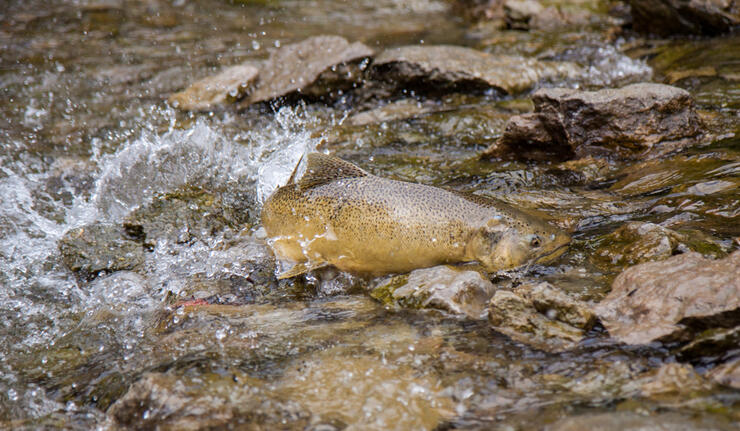 I must've spent an hour watching this spectacle play out in front of me, trying to capture that split-second leap of a fish in my camera, or waiting for the exact moment when a resting salmon would make an attempt to reach the pool by powering his way over the last barrier.  
Eventually, I left the falls to follow the trail that runs alongside the river, where hundreds of yards downstream I could see more fish still making their way upriver to join the others. I also saw the scavengers; opportunistic seagulls who were waiting for the salmon to float downstream after spawning where they would die – and once again become part of Mother Nature's food chain.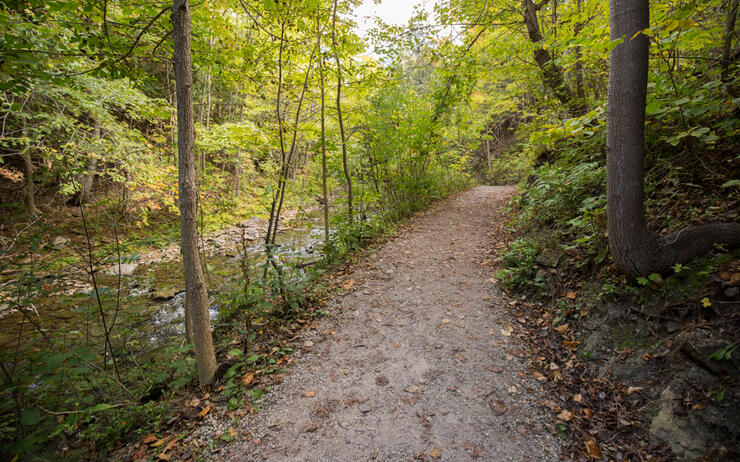 In sharp contrast to the struggle going on in the river alongside it, the trail itself presented the gentler side of nature; sloping downstream from the falls, with the sound of the river bubbling along beside it, the well-groomed path provided a peaceful place to walk and admire the trees that were just beginning to show their autumn colours. Regardless of the season, with its picturesque location and easy access, it's no wonder Bridal Veil Falls is one of Manitoulin Island's most popular places to visit at any time of the year.
But in my particular case, October proved to be perfect timing for seeing the Falls – and my first ever salmon run.
(TIP: The salmon run occurs in late September/early October)
Access to bridal veil falls
To access the riverside trail, there are two parking lots off Hwy 540; one is right beside the falls where there is a metal staircase that takes you to the bottom; the other lot is closer to the hamlet of Kagawong. Here, a wide sloping path takes you to the trail.
Difficulty: 1
The riverside trail is an easy walking path, well-groomed, with an easy, gradual incline to the Falls. BE AWARE that there are signs that warn you to stay on the path because of poison ivy near the trails.
Once at the falls, the shallow pool allows for wading/swimming with rock ledges that swimmers can even climb to get behind the falls.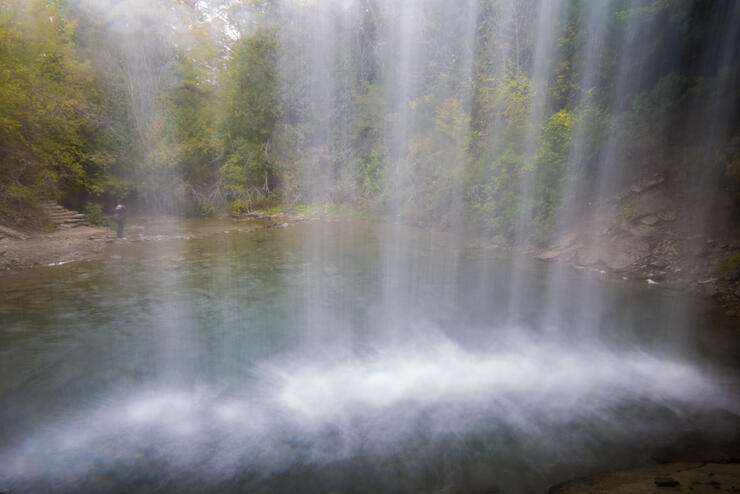 Amenities at bridal veil falls
There are washrooms at the parking lot near the falls end, and a variety store opposite. At the opposite end of the trail near Mudge Bay is the tiny village of Kagawong, where there are a few shoppes and galleries, including a Chocolate Factory.
Where to Stay near bridal veil falls
Only a few minutes' drive from the Falls is Solitudes Bed & Breakfast, a beautiful modern home located on the shores of Lake Kagawong and surrounded by acres of countryside. The home's elegantly furnished great room not only has a fireplace and large-screen TV, but offered us expansive views of the lake. With almost zero light pollution, the skies are ideal for stargazing and it's not unusual to see deer on the property in the mornings. Gracious hosts John and Carolyn provide top-notch accommodations and a delicious gourmet breakfast.
Trail Difficulty Legend
(Evaluated by an occasional hiker, 50+, reasonably fit with no mobility issues and who is able to walk 3-5 kilometres and climb 5-10 flights of stairs with no difficulty)
 
LEVEL 1: Easy. Trails are easy to follow, with good footing and gradual slopes, although surface would not be suitable for strollers. (May even have handrails, stairs or other assists in certain places.) Comfortable, closed footwear recommended.
 
LEVEL 2: Moderate. Trails have the occasional incline, with roots and/or rocks to step over. Running shoes with good tread and support, or hiking footwear recommended.
 
LEVEL 3: Moderate with some challenging areas. Trails may be rocky, requiring careful footing, with some steep inclines, or the trail could involve sustained uphill hiking for longer sections. Hiking footwear recommended.
 
LEVEL 4: Challenging. Requires agility and a good level of cardiovascular fitness as there may be steep sections, climbing over and around large boulders, roots, etc. May involve water crossings on rocks or logs with rough or narrow surfaces where balance is required. Hiking boots/footwear required.
 
LEVEL 5: Expert. (Basically a sustained Level 4 throughout most of the trail, with occasional sections that are easier) Hiking boots required.