This Story is Archived
Please note this page may no longer be up to date. For new stories about Northern Ontario visit us here.
The Manitoulin Ice Showdown, Feb 9-10!
The Wiikwemikoong Ice Fishing Derby and the Manitoulin Expositor present the first ever Manitoulin Ice Showdown!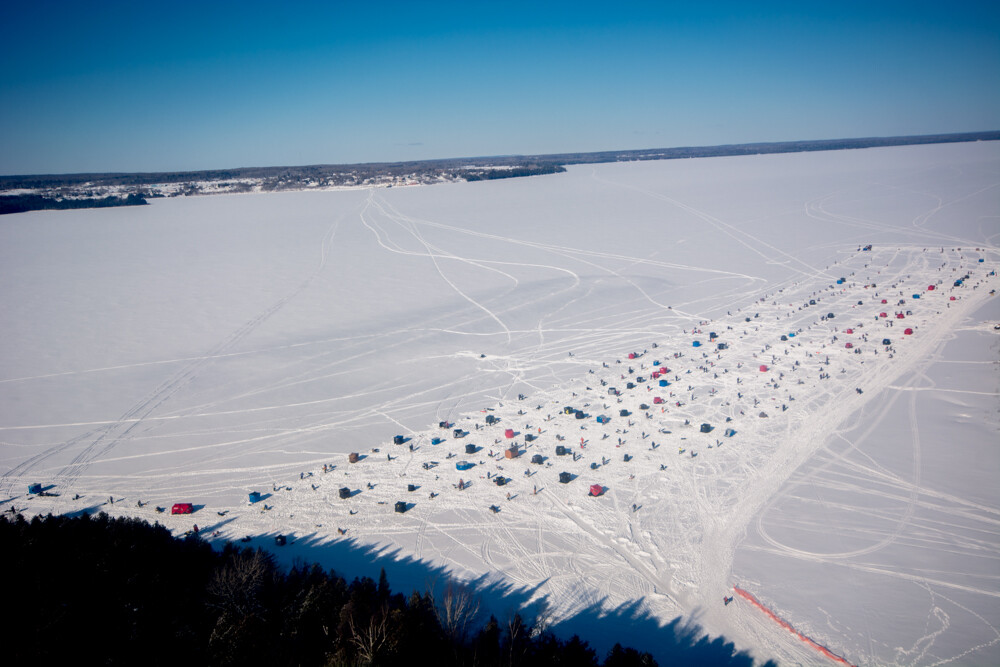 Wikwemikong Tourism and the Manitoulin Expositor will be hosting the Manitoulin Ice Showdown on February 9 and 10, 2019 and the organizing team is extremely excited about it! Everyone who is familar with the Wiikwemikoong Ice Fishing Derby knows all the great stuff that this weekend brings. With several chances to win over $50,000 in cash and prizes, and all the usual fun and camaraderie that this ice fishing tournament is known for. For more information on the derby and how to register follow this link.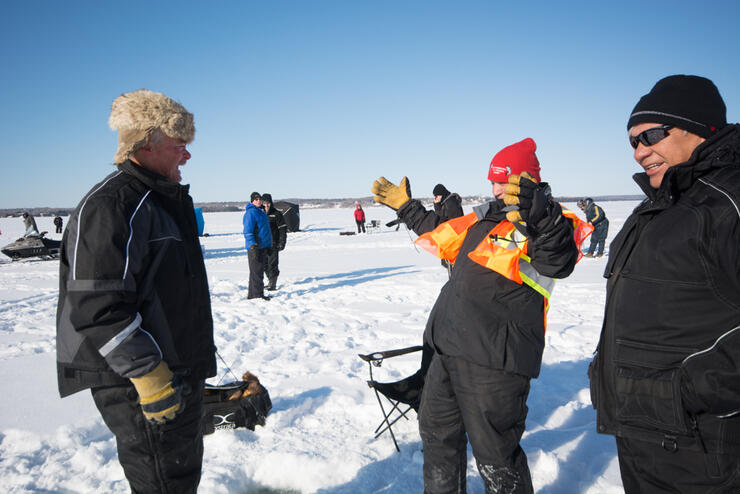 The Wiikwemkoong Ice Fishing Derby, was started as a way of "exploring the opportunity of four season tourism," according to Tourism Manager, Luke Wassegijig. The Derby has become Manitoulin Island's premier winter event bringing in up to 500 derby participants annually, 50 to 60 percent of whom are visitors to Manitoulin Island.
Its continued growth over the years, in both size and popularity, is a true testament to the desire for a fun winter activity on Manitoulin Island. The derby's success has also created a high-quality event that stimulates the local economy and has lots of attractive prizes, along with great Wiikwemkoong hospitality.
Home of the Tagged Fish Contest
The Wiikwemkoong Ice Fishing Derby is the only derby in Northern Ontario with a tagged fish contest, which has earned us the title "Home of the Tagged Fish Contest." The tagged fish contest was introduced in Year 5, in partnership with CTV, as a separate contest for a "pimped" ice hut. Since that time, the contest has evolved and grown, and is now included in the regular registration.
Each year 50 fish are tagged and live-released at the derby site, and every year at least one of the tagged fish has been caught. Catching a tagged fish at the derby has resulted in previous years' winners winning ice huts, Ski-Doos, and thousands of dollars in cash prizes.
Big Prizes for Big Catches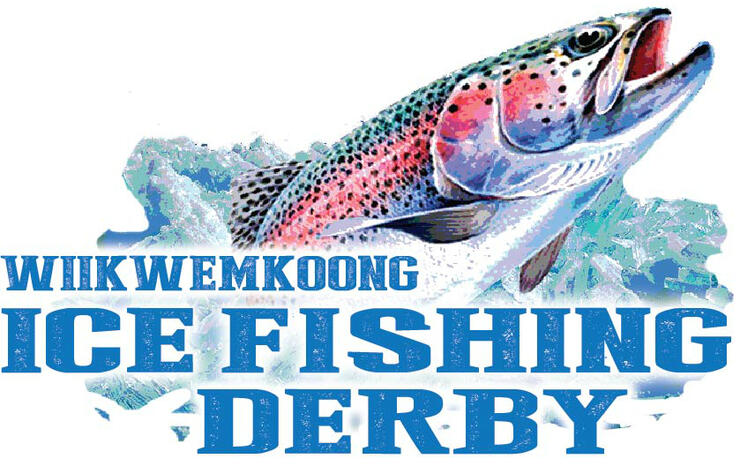 In celebration of our 10th anniversary, we have a fresh new look with an exciting new logo and a new spin on our tagged fish contest. To host our big celebration, we will be moving our post-derby social to the arena in order to accommodate more people!
This year's tagged fish contest includes prizes for the first two tagged fish of either $10,000 cash or a "pimped" ice hut package which includes a 2018 Polaris Voyageur 550, valued at $10,000. Something new and exciting in this year's tagged fish contest is the completely new $25,000 Lucky Catch Contest, sponsored by Aon, in which the person responsible for catching the third tagged fish caught is eligible to receive $25,000, should it match the randomly generated number sealed in an envelope.
In addition to the tagged fish contest, there are many other opportunities to win prizes at the Wiikwemkoong Ice Fishing Derby including an early bird draw of $1,000 for registrations purchased before January 19th; 10 registration prizes of $1,000 which all registrations are eligible for; and top ten prizes for the heaviest fish.
"We pride ourselves on the prizes we offer," says Wassegijig, who expresses his gratitude for the tremendous support received from local area businesses and retailers who donate the top ten prizes to make the derby truly an island event. "Every year we seem to be offering something new and exciting."
All Ages & Skill Levels Are Welcome – Anyone Can Win Big!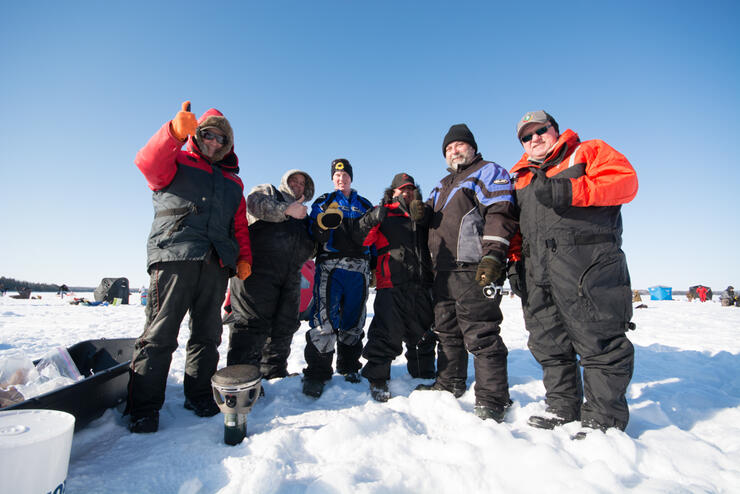 Another aspect of our derby that we pride ourselves on is the community spirit present on the ice on derby day: there's always lots of fun and laughter out on the ice and, while it's a competition, you can still see derby veterans welcoming and assisting first-timers to the sport.
We aim to be accessible. Many families come to our derby and we want them to enjoy themselves and be comfortable. It's these reasons that bring participants back year after year. Some have been with us since the first year and they keep coming back because they always have a good time, even if they don't catch any fish! If you're debating whether or not to come to the Wiikwemkoong Ice Fishing Derby, one thing to know is that our derby is a fun day for the hardcore angler as well as the first-time fisher—and anyone can win!
We've seen everyone, including 8-year-olds and first-time fishers, win the derby. In fact, one of the biggest fish caught was an 8.6 pound rainbow trout caught by a first-time ice fisher! Another year, the first place winner was an 8-year-old whose fish beat out all the veterans proving anyone can win the derby: it could be your first time ice fishing and you can win a lot of money for it!
Everyone's Friends Out on the Ice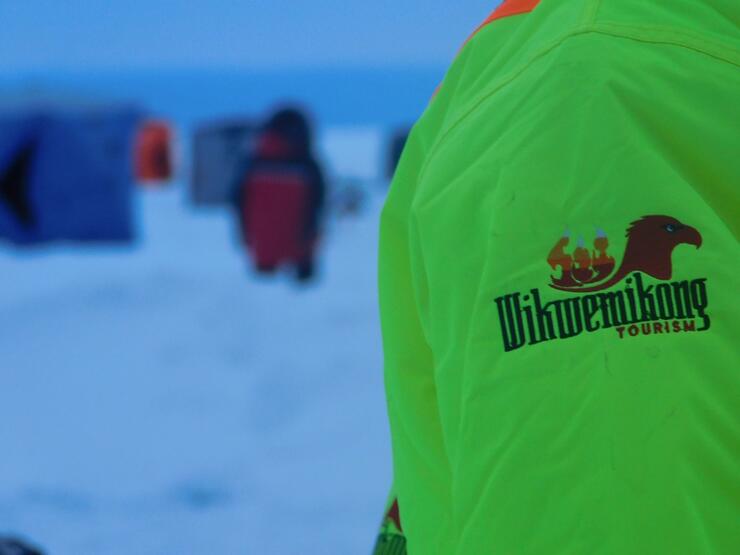 So come out and enjoy yourself for the day and, if you live off-island, make a weekend out of it and explore Manitoulin Island. Manitoulin is well known for its sport fishing industry, with its abundant whitefish, rainbow trout, and perch. You're in for a good time when you come to the Wiikwemkoong Ice Fishing Derby, where everyone's friends out on the ice!