Scratching the Surface
"We knew we had only scratched the surface of this vast and remote wilderness fishery."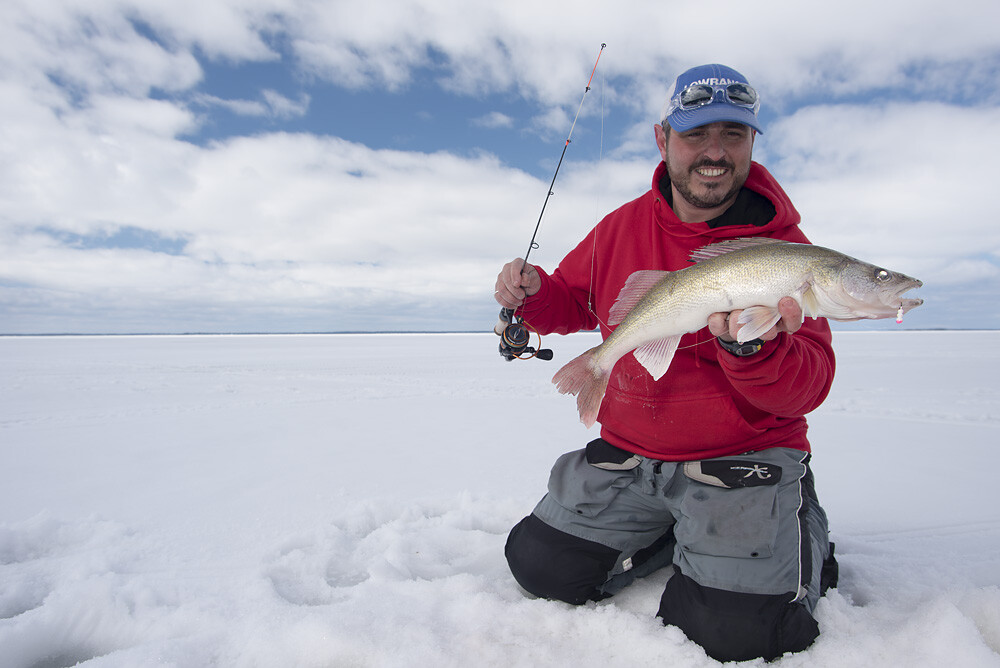 I love ice fishing. I've done it a lot and I appreciate when the conditions are almost perfect. I had one of those days with a group of anglers in the boreal wilderness of Northeastern Ontario. We were fishing with Dunnright Outfitters on the giant Lake Abitibi under clear skies, warm temperatures, and with a daytime walleye bite. 
The father-son team of Bill and Mark Froud were with me in the group. They built Lake Abitibi Lodge a few years ago at the northwest corner of the lake. It's a 90 kilometre drive from Cochrane—the last 30 kilometres by snowmobile along an abandoned rail bed. I first heard about the lodge from Timmins angler Graham Campbell and it didn't take much convincing for me to join Graham and fellow Timmins angler Paul Ethier for a visit to Lake Abitibi Lodge. (I also got to do a story about it for Ontario OUT OF DOORS Magazine.)
We were also joined by Bob Izumi and the Real Fishing crew. In addition to Bob's wife Sandy, his brother Wayne, and son Darren, there are several friends and associates who each played a role in the ensuing days. Of particular note is Bob's friend Matt Maurice, a chef by trade, who fed us all in style. While some in the Izumi crew have snowmobiles, most travelled by Snow Bear—large enclosed tracked vehicles. It was just after dark by the time the whole crew assembled at Lake Abitibi Lodge.
The Light of Day
After a fun evening charged with anticipation of Abitibi walleye, our group of over a dozen anglers regrouped for a 20-kilometre run to a narrows separating the two basins of the giant lake. Within the low-slung boreal landscape, there were very few shoreline landmarks and I was thankful to have Mark and Bill leading the way. The glinting sun on the open water of the narrows highlighted the importance of knowing exactly where we were on Lake Abitibi and, even though conditions were clear, I was sure to mark the route back to the lodge on my GPS.
After a chorus of power augers punched holes through three feet of ice, we broke out a wide variety of walleye presentations. The most popular among local anglers is known as the Pickerel Rig—a series of hooks, wires, and weights. It's a crude but proven Lake Abitibi rig that immediately starts producing walleye, sauger, and ling. I set up one rod with a pink jig and live minnow, and then worked a series of jigging lures. Bob and Wayne Izumi dangled a wide range of baits, and Cam Bronson and Rob Walton from Berkley worked through a sled-load of walleye presentations.
Although fat walleye up to 20 inches are caught on Rapala Jigging Raps, when the smoke clears, it's obvious that the most effective presentation is hanging a minnow just up off bottom.
Another interesting thing about Abitibi is just how shallow it is. This is one of the deeper areas we fished and there was only three or four feet of water under the ice. Despite the depth, the activity of a dozen anglers on the ice above didn't seem to slow the bite. In fact, when there was a lull in the action, Bill jumped on his snowmobile and ripped around the periphery to get things stirred up. Inevitably, the fish bit. When it wasn't walleye, it was sauger, pike, mooneye, or ling—all sporting the pale colouration unique to the area.  
Civilized Wilderness
It was no surprise that Bob and I share a love of fishing and the outdoors, and it didn't take long to surmise that we both also love food. Between reeling in Abitibi pike and walleye, I made frequent forays to the Izumi's Snow Bear to see what Bob was snacking on—he always had something tasty to share. "After 30 years in this business, I've learned to surround myself with good people and good food," he said as we approached a lunch time spread of fried walleye, Asian salad, and sautéed moose. It was a combined effort between Chef Matt, Mark and Bill, eaten around the Froud's portable woodstove.
After a sunny, fish-filled afternoon it was a real treat to step off our sleds and into our rooms. The lodge consists of five housekeeping units, each with flush toilet, shower, hot running water, full kitchen, and plenty of shelves and hooks for clothing and gear. There's solar power with diesel generator backup, and a propane furnace for each room. Clearly, Dunnright Outfitting is serious about getting things right. And one of the best things about Lake Abitibi Lodge is its location.
With only a light dusting of ice huts spread sparsely across its 900 square kilometres, Lake Abitibi is relatively untouched. Mark says they get busy with anglers from Cochrane and surrounding communities, who prefer to stay at the lodge than to head back home after a day on the ice. It also attracts anglers from southern Ontario and beyond, who want to experience great fishing, remote wilderness, and an ice fishing season that extends well into April.
Even with a few more glorious spring days left to fish, we knew we had only scratched the surface of this vast and remote wilderness fishery.