5 Mistakes Beginner RVers Make
Do you even know your dry weight, bro?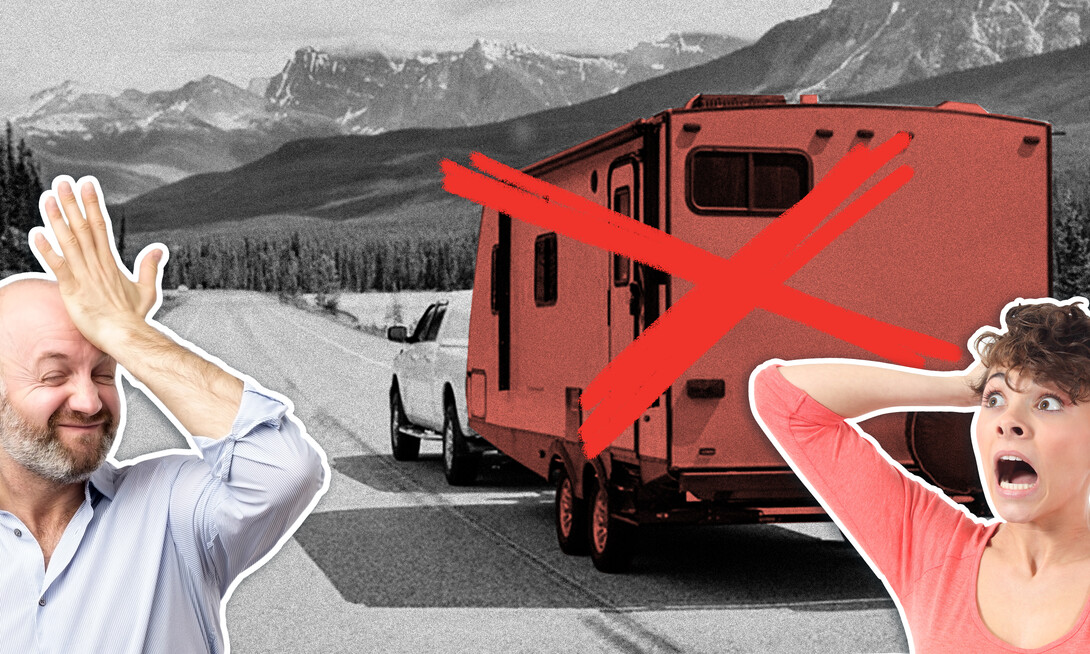 Interest in camping and RVing has soared since early 2020. First-time campers and seasoned veterans alike have chosen camping as the ultimate escape—now more than ever before. 
Of the over 10 million families who camped for the first time last year according to Kampgrounds of America (KOA) over a third chose it because it's a "safer way to travel to avoid crowds."
This higher volume of RVers on the road, especially first-timers, means that trailer/RV safety is more important than ever. Greenhorn campers may not be accustomed to captaining a large RV or towing a trailer behind their vehicle and could pose a risk to themselves and others on the roads. 
That is—if they are not totally informed on best safety practices for RVers! There are some helpful safety tips I learned in my 40-plus years of camping and RVing across North America. Having camped in every Canadian province and a number of US States, in the past four decades, I learned a plethora of safety tips along the way.
If you're brand new to RVing, be sure to check out our RV guide for beginners. And if you want to sound like you know what you're doing, here's a handy guide to RVer lingo! Soon you'll be Wallydocking with the best of them. ;)
1. Not Understanding your towing capacity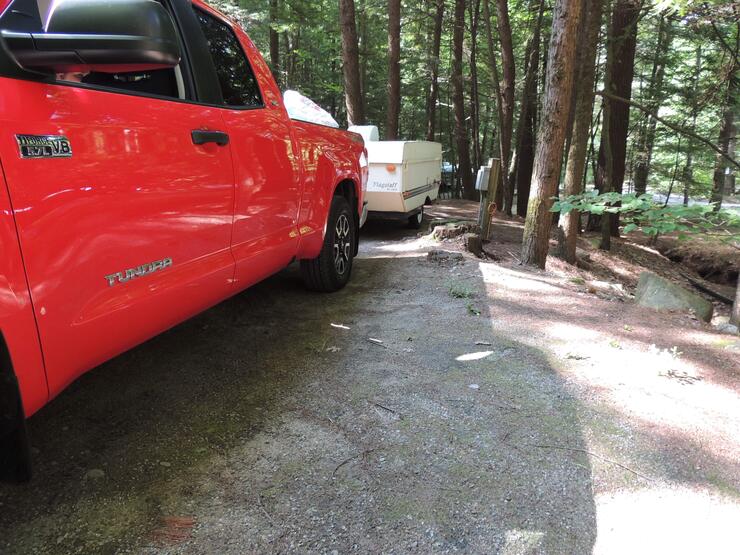 Perhaps the biggest safety concern when heading out on the road with a trailer, or RV, for the first time is towing/driving safety. If you have never towed a trailer before, you must first ensure that your vehicle towing capacity is adequate for the travel trailer you wish to haul. Your trailer's dry weight should never be more than 90% of your vehicle's towing capacity, and preferably less. For example, if your tow vehicle (usually an SUV or Truck) has a towing capacity of 5000 pounds, never tow a trailer with dry weight heavier than 4500 pounds at the absolute maximum, and preferably less. The heavier you go, the more dangerous it is. 
2. not using the right weight distribution hitch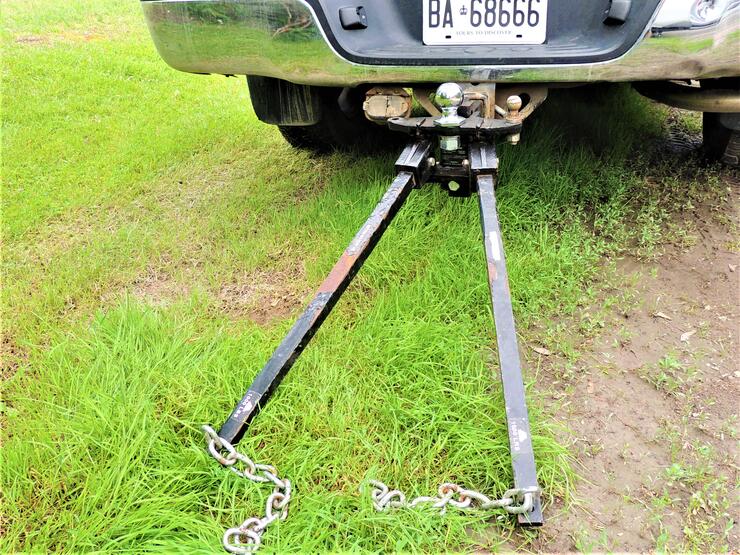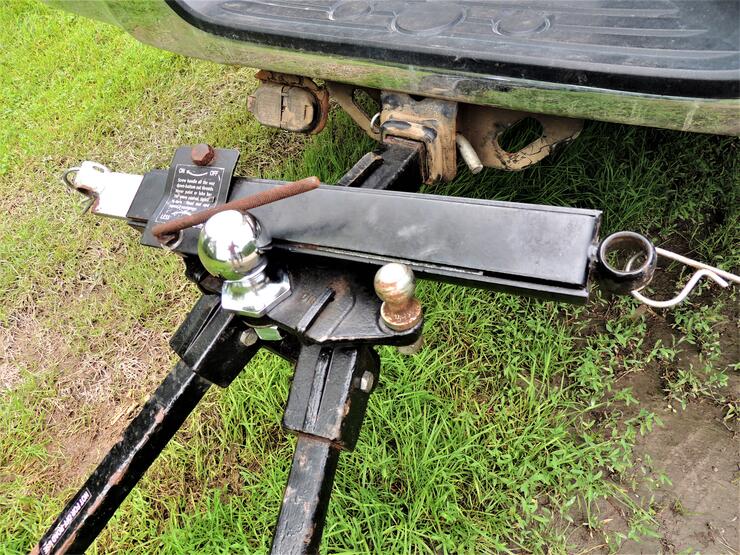 Hauling a heavy travel trailer requires a fine-tuned safety requirements and hitching accessories. One crucial piece of equipment for anyone who tows a trailer is a weight-distribution hitch. This specialized hitch offers improved towing, by removing weight from your trailer tongue, by distributing it more evenly. Keep in mind that trailer tongue weight should be around 10% of your total trailer weight. If, for example, your travel trailer has a dry weight of 3500 pounds, a good rule of thumb is 300 pounds of tongue weight. 
A weight distribution system generally comes equipped with two heavy torsion bars, which are chained in place to improve towing ability and they work—big time! I have always used a weight distribution system for my trailers, regardless of how big or small, and it has served me well.
Weight distribution hitches usually come with a sway bar attachment, which secures your tow vehicle to the trailer and prevents fishtailing. The sway bar is a sort of braking system that keeps your travel trailer tracking smooth and straight. It is necessary for small and larger trailers alike and just one more tool in your safety arsenal. 
3. not Installing an Electric trailer brakes/brake controller
Another crucial piece of safety equipment when pulling a travel trailer is a properly installed electric brake controller in your tow vehicle. A brake controller is a link between your truck brakes and the trailer you are hauling. They allow both components to brake, in tandem, so when coming to a stop your trailer slows along with your tow vehicle, allowing for a smooth and safe stop. Hauling a larger trailer without trailer brakes, or a brake controller, is dangerous and foolhardy. Imagine trying to make a sudden stop, going downhill with 3000+ pounds of weight pushing you from behind? Have a professional install a quality brake controller in your vehicle and be sure to adjust the braking power before you head down the road.
4. not Getting your Tires inspected
Trailer/RV tires are your safety link to the road underneath and require constant maintenance. Proper tire inflation is crucial and many travelers are unaware of what that should be, in a practical sense. The sidewall of your trailer tires indicates the maximum psi and your tires should ALWAYS be inflated to that maximum pressure. Never underinflate or overinflate since your trailer is meant to be towed at maximum tire pressure at all times. Keep your trailer tires covered when not in use, to prevent drying and watch for uneven tire wear, which might indicate a wheel bearing or ankle issue. 
5. Choosing a camping location that's too remote/too far/too off grid for your first trip
Now that your RV is ready for the road and you're up to speed on what's required to operate it safely, it's time to choose your first campsite. I remember the first camping trip I did with my daughters when they were little, to the KOA Renfrew. It was the perfect spot for a first-time trailer camping trip with children—just an hour from home at a campground that had everything we required for a first-time family camping trip. I chose this location for a few reasons:
It was close to home if we ran into issues pulling a pop-up tent trailer with the children with us. 
Quality. We knew they would be no surprises when we arrived, like electrical hookups that did not work, or unsanitary washrooms. Of the over 500 KOA campgrounds across North America, each one undergoes an annual 600-point inspection, the most stringent in the business. Camping with children, you have your hands full as it is, so choosing that first campground wisely will make all the difference.  
It was a relatively busy site so we didn't have to worry too much about bear safety practices. Here's are some tips for being bear aware when travelling to more remote spots in Ontario!
Now that you've completed these 5 essential steps for getting your RV safely on the road, you're ready to ride!
By following these few basic travel trailer safety tips, your camping will undoubtedly be safer and more enjoyable, for you and your family this summer.
RV travel itineraries from beginner to expert!
If you're looking for ideas on where to travel in Ontario check out these top 3 RV itineraries:
7-days of Beer, Wine, and Culture
10-day Provincial Park Nature Tour
See you all in the great outdoors!