Ontario RV Camping Along Lake Superior
From Sleeping Giant and Neys, to Lake Superior Provincial Park, this amazing RV route is the ultimate Northern Ontario camping experience.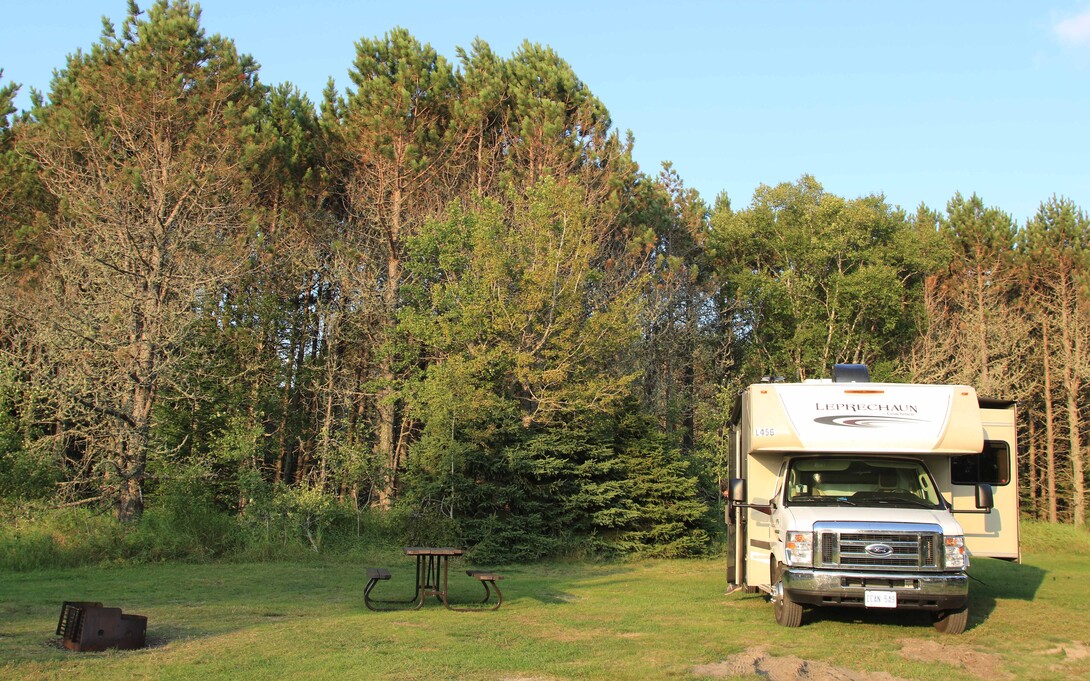 Most RVers know that the Lake Superior Circle Tour—1,300 miles through two countries, three U.S. states, and one Canadian province—is one of those epic, bucket-list adventures. Travelling through Algoma Country, starting in the city of Sault Ste. Marie and into Superior Country is pure RV awesomeness.
But if the full circle isn't in the cards, campers can keep it Canadian by travelling to Thunder Bay and back along the north shore of the lake for a half circle adventure. And the further north you get into Ontario, the more wild and beautiful this drive becomes. We've rounded up everything you need to know about RVing the north shore. 
where should RVers camp in Northern Ontario?
There are private RV parks on the Lake Superior Circle Tour. We stayed at the KOA in Sault Ste. Marie and found the perfect launching point for activities throughout Algoma Country. We also took in the Serpent River Campground and marveled at the natural beauty of the river and surrounding area. The Red Top Motor Inn gave us a good break from RV living and a great place to eat that has attracted a serious following in culinary circles.
And speaking of culinary circles; North 82 Steakhouse in Sault Ste. Marie was to die for, along with The Breakfast Pig, billed as Sault Ste. Marie's best breakfast (and we definitely aren't complaining). 
We've found some of the best and most affordable options are Ontario's Provincial Parks. Most offer spacious electric and non-electric sites, picnic tables, fire rings, laundry, shower houses, ice, firewood, nature programs, and more. And they do it at bargain rates in some of the most stunning spots in North America.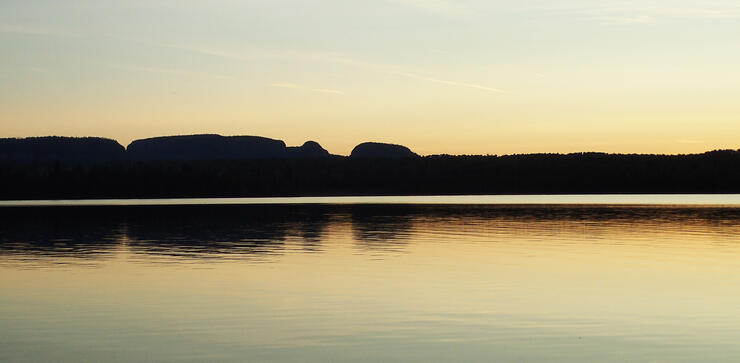 Three of Ontario's best Lake Superior Provincial Parks, Sleeping Giant, Neys, and Lake Superior Provincial Park are all open mid-May to mid-October. Each is unique and special; here's why:
Sleeping Giant Provincial Park
A 244-square-kilometre (94-square-mile) park on Sibley Peninsula east of Thunder Bay, Sleeping Giant Provincial Park is named for distinctive mesas that resemble a reclining giant. This park offers 80 kilometres of hiking and mountain biking trails and terrific views of Lake Superior from Top of Giant Trail and Thunder Bay Lookout. 
The main campground for RVers is Marie Louise Lake Campground with 200 sites, 85 of them electric. The sites are spacious and offer fire rings and picnic tables. There's also a sugar-sand beach, boat launch, and Visitor Centre and park amphitheater.
The park's boreal forest offers excellent wildlife viewing. You may spot moose, wolf, fox, lynx, and more than 200 bird species. When we visited, a beautiful red fox scampered through our campsite. Exhibits at the Visitor Centre explore the natural and cultural history of the Sibley Peninsula, including a model of the Silver Islet Mine.
Neys Provincial Park
East of Sleeping Giant just off Highway 17 is Neys, a 5,383-hectare (13,300-acre) provincial park. Four campgrounds throughout the park offer 144 campsites (61 have electrical service) and all are a short walk from Neys' long, sandy beach. Campgrounds offer showers, RV dump, picnic tables, and fire rings.
Neys, which served as a POW camp during WWII, is famous for offering several trails within a short distance of the campgrounds: the 1-kilometre Dune Trail travels through sand dunes and a beaver pond; Lookout Trail, 2.5 kilometre, takes hikers above the campground and offers terrific views of the park; 1-kilometre Point Trail follows Lake Superior's shore to a rocky outcropping where boats used to ferry POW lumberjacks; and the 2-kilometre Under the Volcano Trail follows the coast and includes information about the geological history of the area. For hikers wanting a challenge, the 10.5 kilometre Tower Trek Trail (round trip takes approximately 4.5 hours) offers stunning views of Pic Island. Guided hikes are available during the summer.
The Park Visitor Centre provides a fascinating natural heritage education program and a model of the former German POW Camp. There's also an impressive sculpture—one of several throughout the provincial parks—commemorating Lawren Harris, one of the Group of Seven painters who made this region's stunning beauty famous.
Lake Superior Provincial Park
Located halfway between Wawa—the town made famous by big goose sculptures and the eclectic Young's General Store—and Sault Ste. Marie, Ontario, Lake Superior Provincial Park offers 11 miles of hiking trails, waterfalls, picnic areas, eight canoe routes, and two stunning campgrounds.
It also provides access to Agawa Pictographs, ancient red ochre First Nations paintings of animals and mystical figures on a lakeshore granite cliff.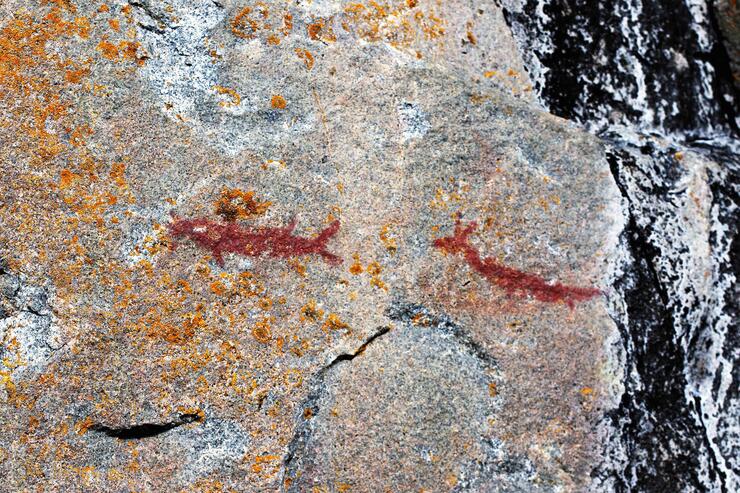 Agawa Campground, which is right on Lake Superior, has 3 kilometres (2 miles) of beach and forested campsites, many with lake views. Rabbit Blanket Lake campground is located on an interior lake and offers both shady, pine-studded sites as well as more open campsites. Agawa's Visitor Center features terrific displays of Lake Superior history (human and natural) and extensive visitor programming, including yoga on the beach. Both campgrounds feature amenities like flush toilets, showers, and laundry.
So whether you're an RVer looking for challenging hiking trails, interesting programs like yoga on the beach, beautiful places to fish or kayak on Lake Superior, or just terrific campgrounds where you can kick back and relax, you can't go wrong with Ontario's Provincial Parks.