An Amazing 7-Day RV Trip to Lake Superior Provincial Park
RVer Jacob Sandler tells us his ideal itinerary for a 7-day adventure from London to Lake Superior.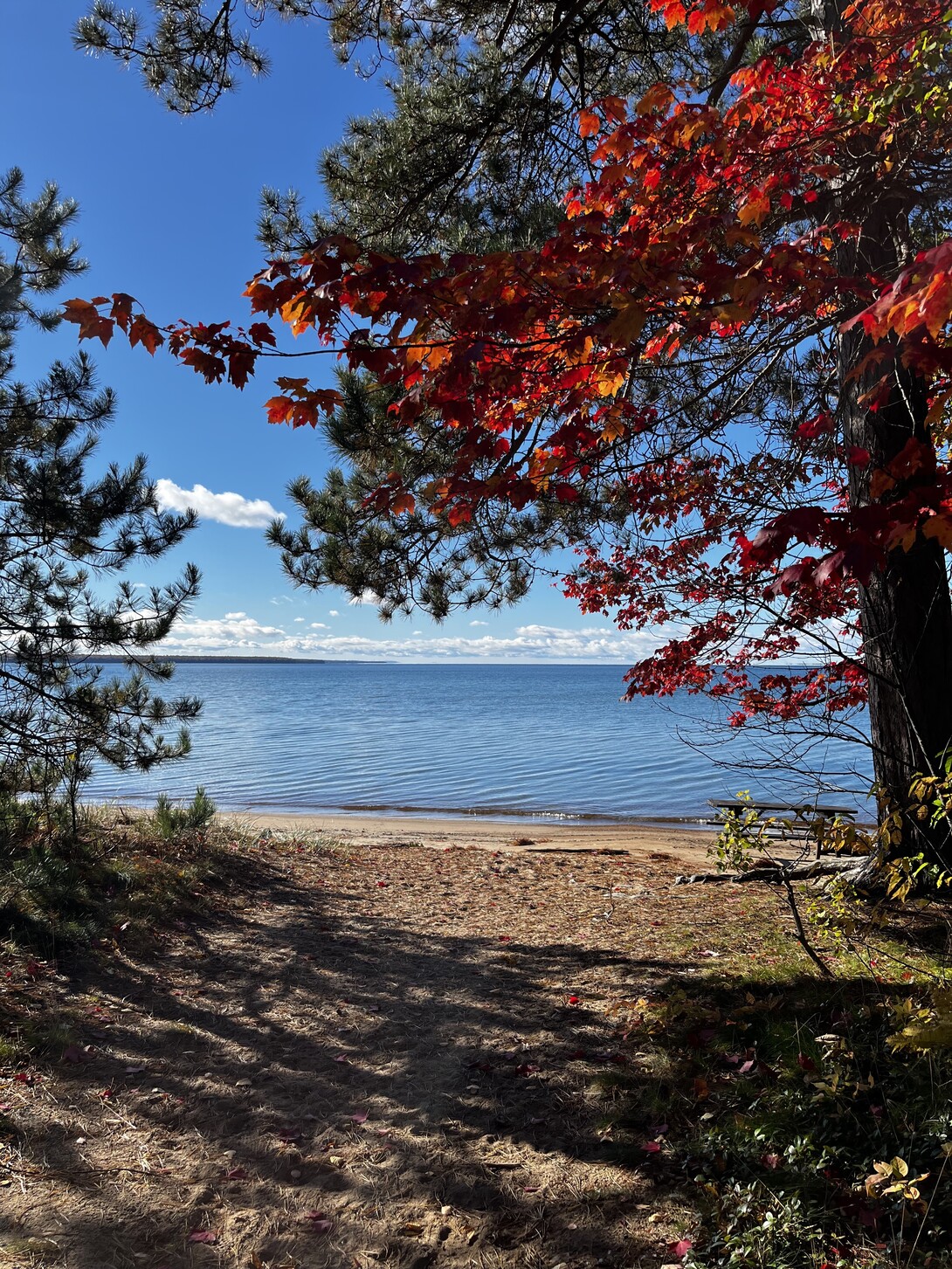 Sault Ste. Marie is located at the mouth of Lake Superior, on the shores of the St. Mary's River, by which Lake Superior empties into Lake Huron through a series of wide channels and rapids. The Soo, as it's often called, is the gateway to the North Shore of Superior, the last city of any size until Thunder Bay. But just north of Sault Ste. Marie, well within a half-day drive is access to some incredible parks and stunning perspectives of Lake Superior.
If you've never been to the shores of Superior or north of Sudbury before, then it's this region, Algoma Country, where I'd recommend making a first trip. 
Because I've structured my professional life specifically to accommodate regular road-tripping, I've had the privilege to drive over Lake Superior—called Gichigami ("big water") in Ojibwe—eight times as an adult, the last four towing my 22-foot Airstream Caravel, which I've had since 2020.
There's something awe-inspiring about the scale of Lake Superior, something tangible in the way it speaks and moves. Perhaps it's the shocking cold temperature even in late summer, or the ocean surf-like swells and often totally surfable conditions. Even as you first come upon Lake Superior, just west of Sault Ste. Marie, one is struck almost immediately by how unique the shoreline is.
If you live in Ontario but have never had the opportunity to go visit Lake Superior, here's what I'd recommend for the first time.
Proposed RV Itinerary: First Taste of Superior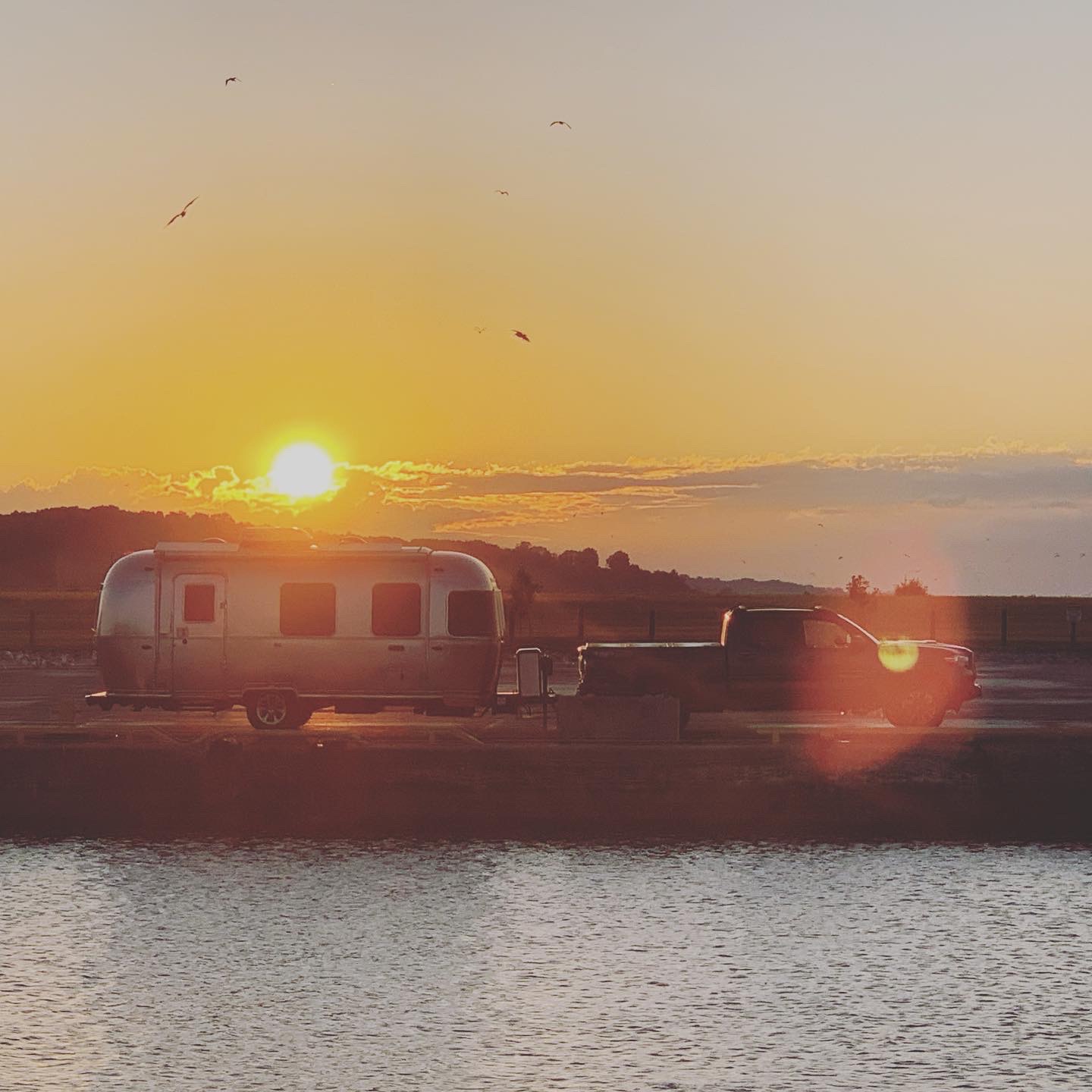 Trip Length: 7 Days
Activities: Hiking + Scenic Views
Longest Travel Day: ~7hrs (including ferry)
Notes: Pre-coordination required. Campsites, especially those with hookups, go quickly each season. Be sure to make reservations in advance.
Driving to Northern ontario
When I think about driving to Sault Ste. Marie from London, where I live, there are a few options I consider regarding routes. 
There's the 401 east to 400 north until that turns into Highway 69, then onto The Trans Canada Highway 17 West in Sudbury. When you take that route, I always joke that we're getting the worst stretch of the entire drive out of the way on the first day (as we inevitably sit in traffic on the 401). Despite the traffic, this is the fastest route north and the one I'll take if getting to my destination trumps savouring the journey. 
Option two is cutting the 401-400 bit and bypassing the GTA north, taking country roads and county highways instead, then linking up to the 400 north of Barrie. It might take a bit longer, but if you've got the time, this route bypasses major highways and heavy traffic while offering scenic country views and exposure to various microcosms of Canadian rural culture. 
Finally, there's the seasonal option of bypassing Georgian Bay, and instead going across it, taking the Chi Cheemaun ferry from Tobermory to Manitoulin Island, where the mouth of Georgian Bay opens widest into Lake Huron. 
The Chi Cheemaun route is by far my favourite and the one this itinerary is built around. For a condensed, 5-day trip to the shores of Superior, skip days 1 and 2 and take highways straight to Pancake Bay on your first day. 
Day 1: Getting to Tobermory
Travel Time: ~4hrs from both Toronto and London
Drive backroads to Tobermory and spend your first night (or more) camping in Bruce Peninsula National Park on the traditional territory of the Saugeen Ojibway Nations. 
Cypress Lake Campground in the park can accommodate trailers and motorhomes up to 27ft. Campsite reservations for Summer 2023 sites open on March 21st and go quickly each year for peak months. If you're towing or driving something longer than 27ft, there are a number of private RV parks in the area that can accommodate you. 
Day 2: Bruce Peninsula National Park & The Grotto 
Travel Time: N/A
Physical abilities allowing, be sure to take the 2.3km hike from Cypress Lake campground to The Grotto. In summer or early autumn, my preference is to pack a lunch and stay for the day, braving swimming in the frigid Georgian Bay waters as much as possible and drying on the rocky outcroppings in between dips. Keep in mind this area is not lifeguarded, conditions can get rough, and the shoreline is uneven with steep drop-offs. Swim at your own risk and don't go in if you aren't confident in your abilities. 
If you're camping outside Bruce Peninsula National Park but want to explore it for the day, reservations should still be made in advance. Access to the Grotto in particular is limited and generally sells out in advance. For an alternative hiking spot in the area with equally stunning views and historically less traffic, check out Lion's Head Provincial Park (bonus: no need to schedule parking in advance).
Day 3: Chi-Cheemaun to Pancake Bay
Travel Time: ~7hrs (including ferry)
Taking the Chi Cheemaun is an Ontario highlight! Board in Tobermory through the upturned nose of the ferry. The Chi Cheemaun itself is quite impressive and the views from the deck as you sail to Manitoulin Island are breathtaking. Book your ticket well in advance, and arrive early for boarding, especially if you're towing or driving an RV. You'll need to know your height, length, and weight, measurements when you reserve.
From the South Baymouth ferry terminal where you disembark, head north on Highway 6 towards Little Current where the island meets the mainland, and then continue to Espanola where you turn left onto Highway 17 West. If you want to explore Manitoulin Island or extend your stay there, it's known for its hiking and there are various RV sites on the island.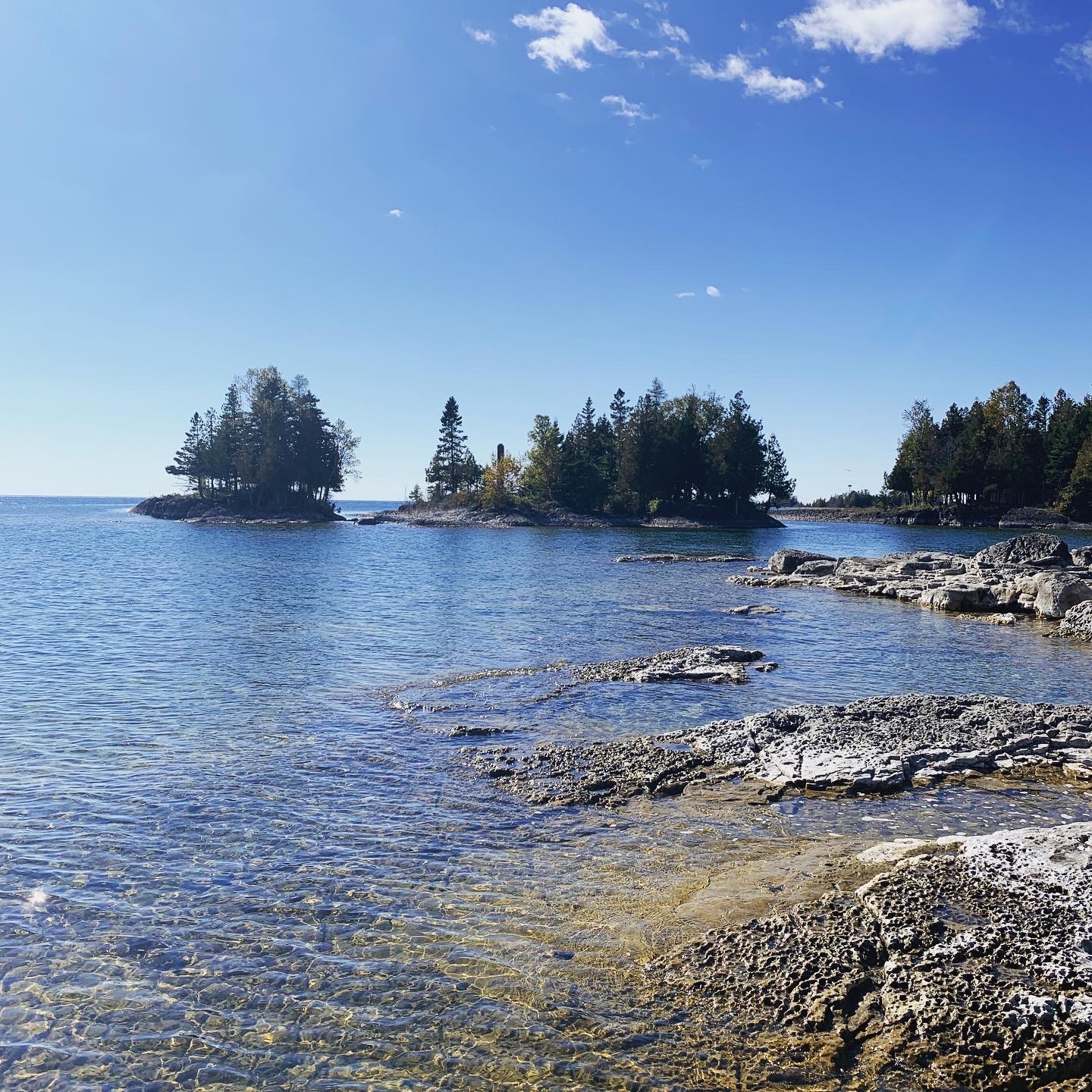 This is a long day of driving, but if you take an early ferry, you can break it up with scenic stops in Blind River and Chippewa Falls on either side of Sault Ste. Marie, and run any errands you need to do in the city itself as you pass through. The highway passes right by grocery stores and gas stations, some with washes and blackwater dumping available.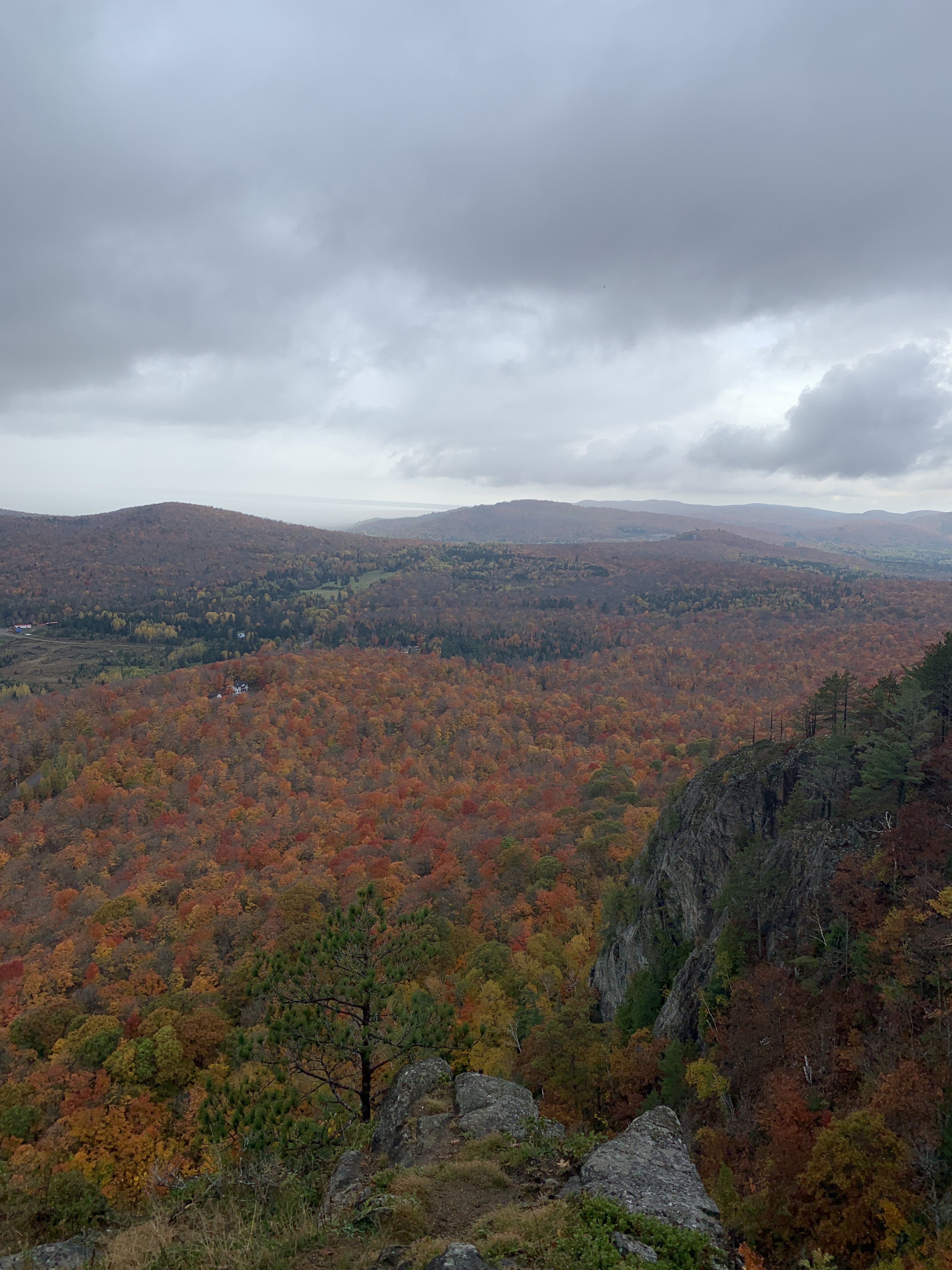 Past Sault Ste. Marie you'll start to see your first glimpses of Lake Superior. Camp for the night in Pancake Bay Provincial Park. Reserve ahead and don't worry if you arrive after dark. This is a relatively easy park to navigate for RVs of any size and you'll have time in the morning to explore and check out the views.
Day 4: Pancake Bay to Lake Superior Provincial Park
Travel Time: ~1.25hrs
Pancake Bay is a waterfront park with 3km of sandy Superior shore and hiking options with panoramic views of the coast. It's on the stretch of coast nicknamed the graveyard of The Great Lakes, and you can see look out to where Edmund Fitzgerald sank, as Gordon Lightfoot famously sang about.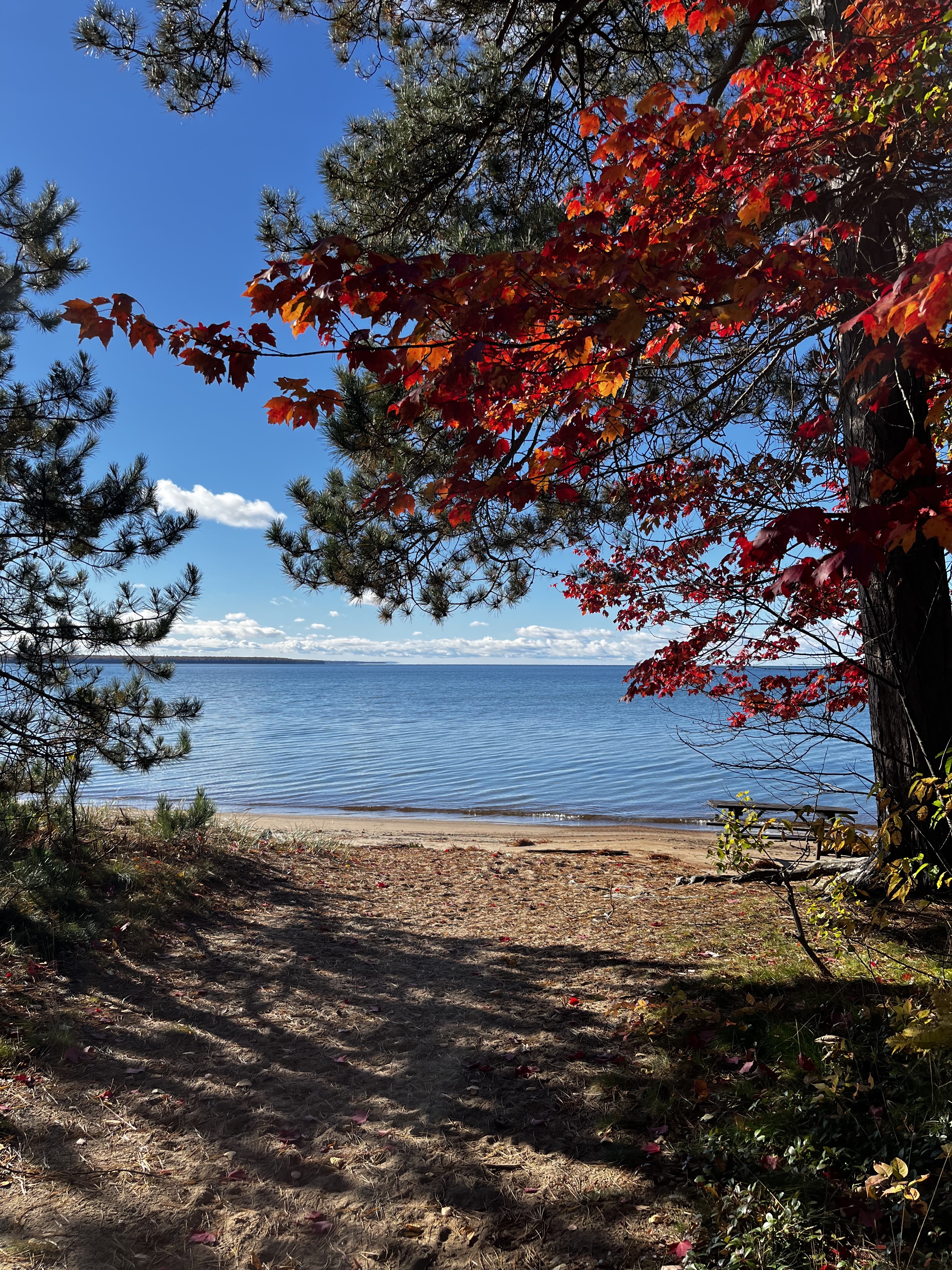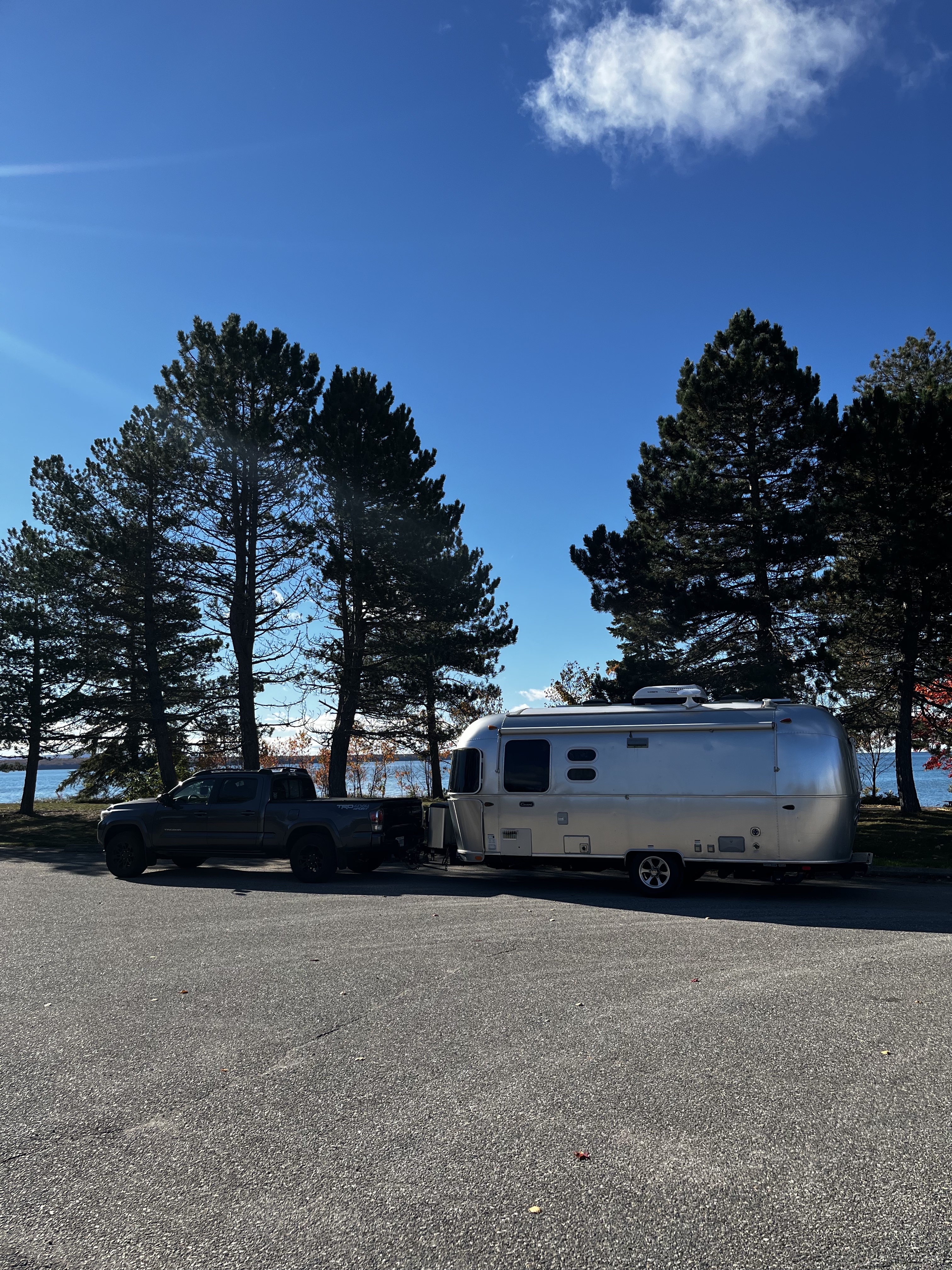 Leave by mid-day to drive north 1.25 hours to Lake Superior Provincial Park. Get a site for 2 nights. Both Agawa campground and Rabbit Blanket Campground have hookup sites for RVs up to and over 32ft. 
Unhitch if you're towing. You'll want the freedom to drive and even moreso to park without the trailer tomorrow at Old Woman Bay.

Day 5: Lake Superior Provincial Park & Old Woman Bay
Travel Time: ~0.5hrs
You've made it. Take today slow. Maybe some beach time? Or if you're craving a hike, get at it, because there are some stunning routes of varying lengths and types of terrain in the park. 
Whatever you decide, be sure to save time for a drive to Old Woman Bay. The parking lot is narrow and won't accommodate easily turning around with trailers or large RVs (especially when full), so if you're driving something big, I recommend pulling over to the shoulder and not turning in without at least scouting it first.
There are trails here, including the 5km Nokomis loop that climbs up the hills behind the bay and provides epic views of the sheer cliff where you might be able to see the stonecast face of an old woman. If something lower-key feels more appealing, just wander out on the sand and look up at the cliffs and out over the water from there. 
Day 6: Lake Superior Provincial Park to Grundy Lake Provincial Park
Driving Time: ~6.5hrs
No need to rush today. We're backtracking and even though it's a hefty stint of driving, it's nothing that can't be managed in an afternoon. I think for this sort of trip it's important to drag out that slower sensation of the middle bit before turning around and hauling home. 
For me, I always want to rush the way back, and there's probably a good chance that when I do this I'll just skip Grundy Lake, stay an extra day and night in Superior, and then push all the way home 11 hours in a day… But that's a long drive and not realistic for most people.
So if you're breaking it up across 2 days, I suggest staying at Grundy Lake Provincial Park, which has large sites and plenty with hookups. Killarney is another midway option, but there is a more limited number of RV sites to choose from.
Day 7: Grundy Lake to home
Driving Time: ~4.5hrs to London, ~3hrs to Toronto
Final day, and if you're not going to Toronto (like me) and instead heading southwest to Guelph, KW, London, or Windsor, and you're willing to savour the day, I recommend getting off Highway 400 South at either Coldwater or Moonstone and taking Highway 23 or 19 southwest, bypassing the GTA and providing some beautiful country driving.
Stop for a snack or lunch at The Fry Guy by Craighurst or sit down somewhere in Creemore and treat yourself. From there, one of my favourite stretches of highway winds along a river through Dunedan. 
You'll pass wind turbines and maybe drive through sweeping a thunderstorm depending on the time of year. August through early October is what I'm aiming for myself this season. Everything's dry and gold by that time. And the mosquitos are mostly gone…
As I pass through Stratford, it's familiar country, the friendly rolling farmland of Southwestern Ontario.