A Feast for the Senses
From Pancake Bay to Rainbow Falls, a group of Torontonians takes an RV tour of 5 Ontario Parks.
Adventures come in many shapes and sizes. You can hop on a plane across the world to explore new cultures, languages, and history, or you can even walk outside into your backyard and explore just as many new and wonderful things—it's all about perspective. I like to live as though every day is an adventure, no matter what I'm doing or where I'm going. 
So when DotheDaniel.com told me that Ontario Parks was turning 125 (Oh and happy birthday, by the way! You don't look a day over 50), I decided to add this to my adventure bucket list. In order to celebrate this momentous occasion, I hopped into an RV with three of my friends to check out some of Northern Ontario's iconic scenery at the beginning of the fall season.
Ontario has 340 Provincial Parks, which is just under 8% of the total land area of Ontario. This province is huge and there's just so much to explore! To say that I did not know what to expect is an understatement. What people don't realize about these parks is that they're not just awesome in the summer—there's a world of possibility to experience all year long.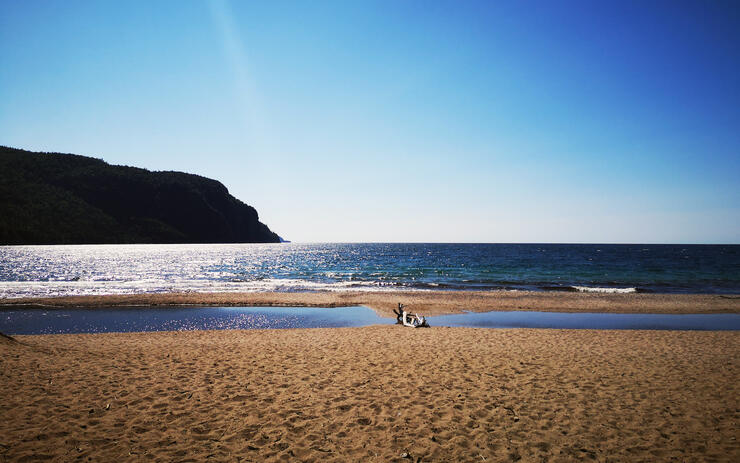 Pancake Bay Provincial Park
We started off our adventure by driving about eight hours north of Toronto to Pancake Bay Provincial Park, which is located on the coast of Lake Superior. The drive in the RV itself was a unique experience, which allowed for us to get accustomed to our home on wheels for the next week. It was dark by the time we arrived, so we parked up for the night, plugged in, got settled, and ready to make our first of many dinners over a campfire. Sleeping in the wilderness is one of the best feelings—no city noise, no city lights, just fresh air and lovely, soothing nature sounds.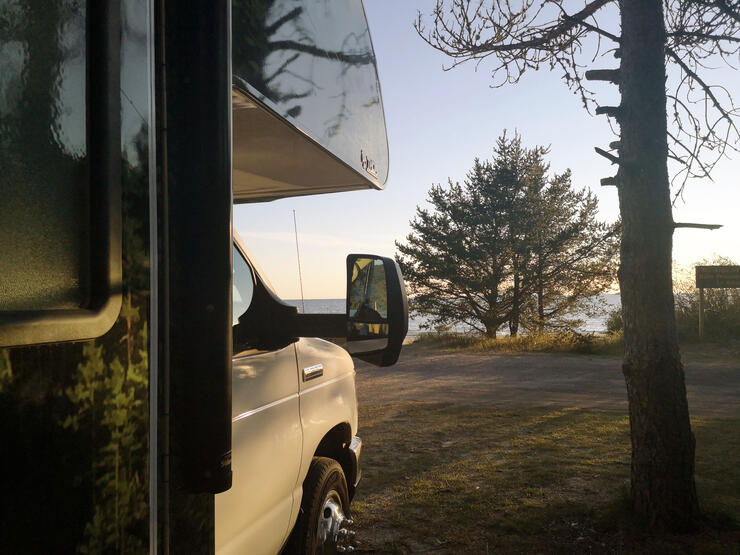 I had no idea what I was waking up to the next morning. I had been to areas around Lake Superior when I was a kid because I have family scattered all around it—but those are just vague and distant memories. I stumbled out of the RV in sleepy travel stupor, started a fire, and made a hot cup of tea. Exploring the campsite around, we were greeted by so many lovely people and ample amenities. It was only when I turned to go down a small path, with my hot tea in hand, that I found the opening to the beach.
Sandy beaches and crystal clear water for miles, surrounded with stunning displays of the abundance of nature—where even am I right now? Is this for real? We spent the day exploring the area, including a hike along the Edmund Fitzgerald lookout trail (also known as the Pancake Bay Lookout Trail) for some spectacular views of the leaves just beginning to turn on Batchawana Bay.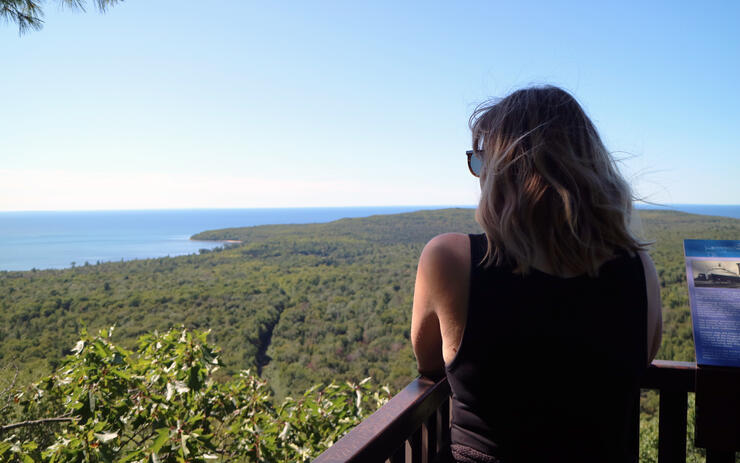 Lake Superior Provincial Park
We headed off to our next destinations of Agawa Bay Campground for a night and Rabbit Blanket Lake Campground for another night, located in Lake Superior Provincial Park. We spent our time exploring the surrounding areas, with more hiking and even a trip out on the canoe for some fall portaging.
Both encompassing unique aspects of Lake Superior, it's easy to check out everything in between—including a quick pop over to Katherine's Cove for an icy yet refreshing swim (and even more of those "is this even real life right now?!" moments).
One of my favourite spots in this park is Sand River Falls, where I was also able to get in a bit of trout fishing while we hiked the trails along the water.
Neys Provincial Park
On we ventured to Neys Provincial Park, where upon arrival we were greeted with a beach full of stunning sun-bleached driftwood, forming statue-like figures all around us.
Every evening was spent watching the sun set into the vast abundance of water upon the horizon. Life is pretty darn magical, if you just make sure to open your eyes long enough every now and then to take it all in. 
Rainbow Falls Provincial Park
Rainbow Falls Provincial Park was our next destination, and we had heard really great things about the falls themselves. When we arrived, we parked the RV and headed right off on the trail. That's likely my favourite aspect of each campground—the accessibility to hiking and how well-signed everything is. We didn't get lost once! When we got to the falls, we loved how many people were there admiring the beauty and how easy it was to get around, with a boardwalk and steps leading the way, versus a dirt or rock trail.
Chutes Provincial Park
Reluctantly, we knew we had to make our way back down south towards Toronto and leave our new found love, Lake Superior. Luckily, there are pretty wonderful options within a couple of hours away from home. So we made our way down to Chutes Provincial Park for the last day, which is located on Lake Huron, for one more night in the RV. 
We visited a few more beaches and hiked a few more trails along the way—anything to get our nature fix in as much as possible before heading back into the city. Millions of people travel through these parks annually, and we knew we were fortunate to be four of them.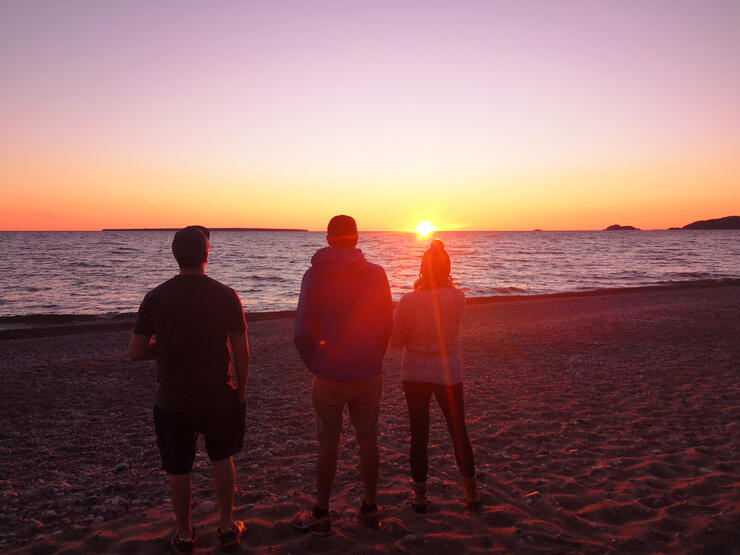 We took only photos and left nothing but memories behind. Every night was filled with campfires; every day was filled with wonder. I can't wait to start planning my trip for next year.