Gorgeous Gorge
Just off the Trans-Canada Highway is the breathtaking Ouimet Canyon—and a must-see for anyone RVing the Lake Superior Circle Tour.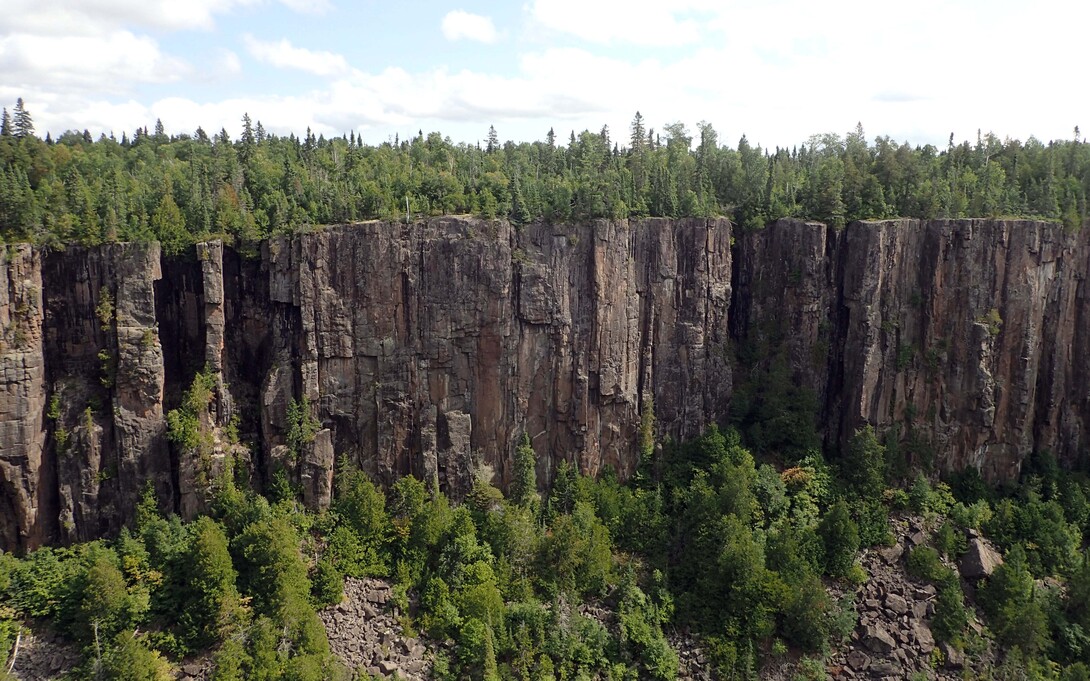 Photos don't do it justice. Ouimet Canyon, an ancient gorge sliced into the earth more than 300 feet deep that contains rare arctic flora and fauna, is a must-see for RVers driving Ontario's Lake Superior Circle Tour.
Located about 60 km (37 miles) northeast of Thunder Bay, Ouimet (pronounced "we-met") is only 10 minutes off the Trans Canada Highway and well worth a stop. We visited this impressive canyon in the fall when the weather was still beautiful, but the breeze whispered of winter cold to come. The paved road into Ouimet Canyon Provincial Park is a bit steep but quite doable in an RV. (There are places to drop trailers too.)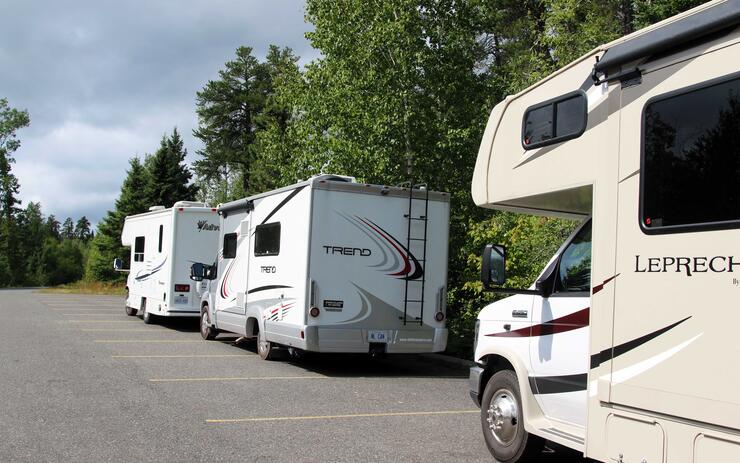 Up top, there are plenty of places to park rigs. However, this provincial park, which is open mid-day to mid-October, is day-use only, meaning no overnight camping. Fortunately, there are campgrounds and RV parks in nearby Thunder Bay, or just 20 minutes down the road, Wolf River Park has 50 sites and a beach.
Explore Ouimet Canyon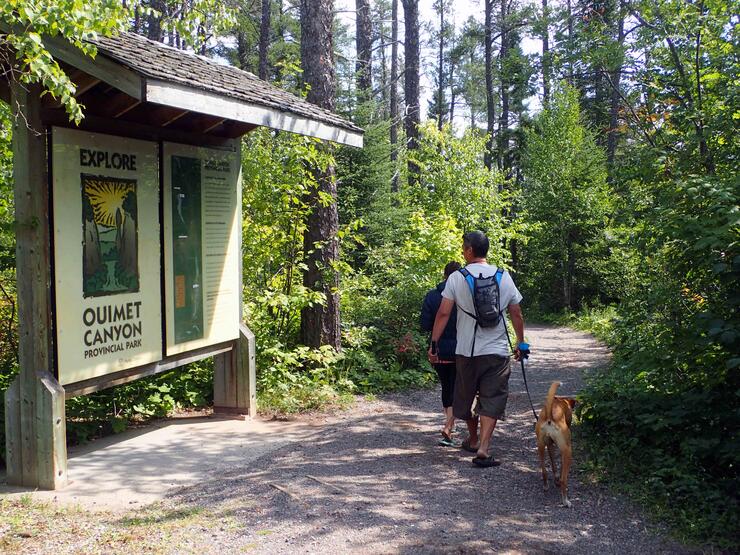 We parked and walked five minutes on a forested trail to a modern bridge that crosses the deep, narrow canyon.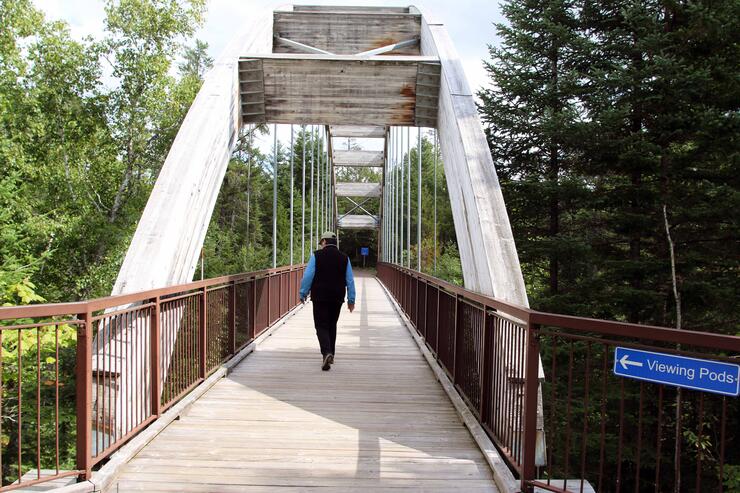 The first sight of Ouimet's rugged beauty made me suck in my breath. Geologists believe Ouimet Canyon, 100 metres (330 feet) deep and 150 metres (490 feet) wide, was carved a billion years ago by the massive weight of advancing glaciers or from the huge volumes of water released when the glaciers retreated. Today, heavy rains and winds that scream up the canyon from Lake Superior continue the canyon's erosion.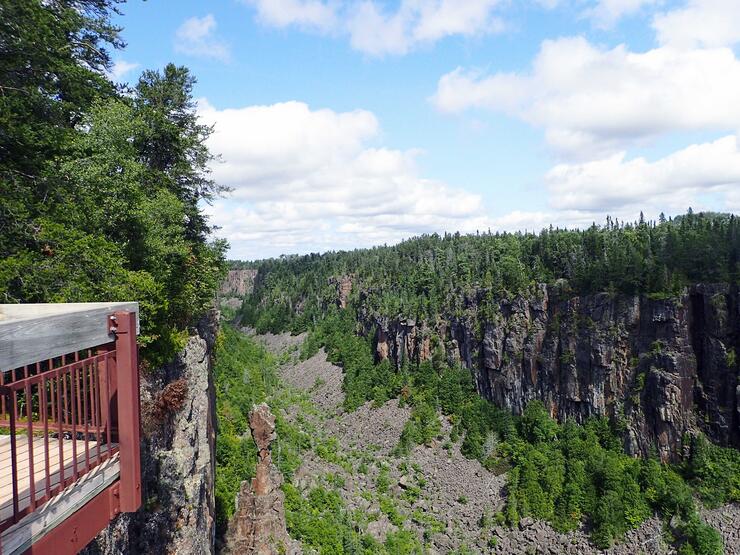 The enormous forces have left behind a giant's playground—huge, rampart-like walls with orange and grey striations and a canyon floor littered with a tumble of truck-sized rocks. The temperature at the bottom of the canyon is so cold that Arctic plants like mosses, Arctic wintergreen, and Alpine Bistort thrive. In fact, Ouimet Canyon is the only location south of the subarctic where liverwort, a branching, spore-producing plant, is known to grow.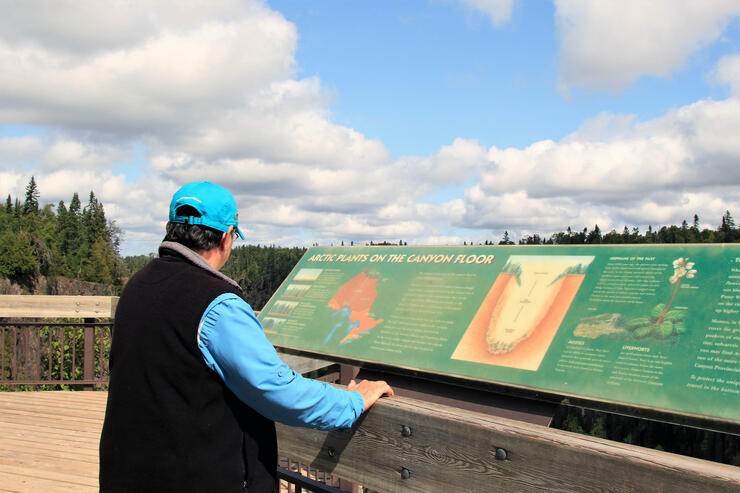 The trail leads to two sturdy viewing platforms that jut dizzyingly over the vast canyon. I look over the viewing platform's edge, and it's a sheer drop straight down.
Across the canyon, birch, willow, tamarack, and black spruce—many taking on the yellows and golds of fall—cling to the rock, managing to eke out living in this harsh environment.  
History and Legend of Ouimet Canyon
Ouimet Canyon was named for the former rail station of Ouimet, an unincorporated rail stop on the Canadian Pacific Rail line not far from the park. The station was named after Joseph Aldric-Ouimet, the Canadian Minister of Public Works from 1892 to 1896.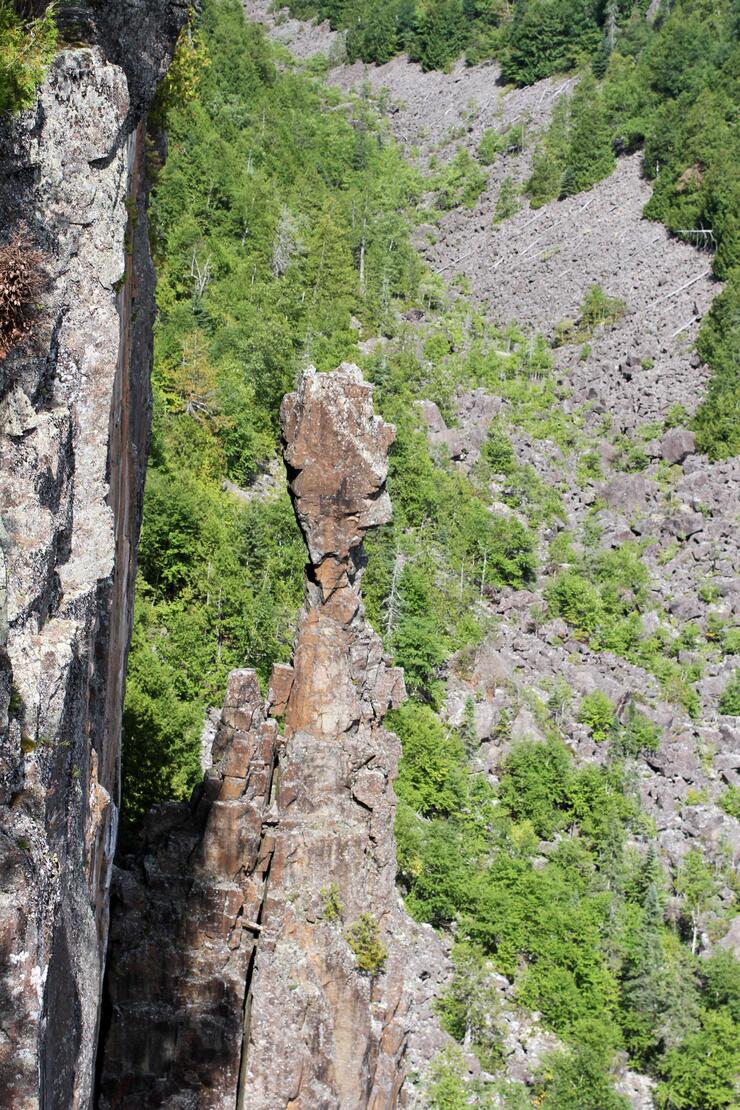 The Canyon is 2,000 metres (1.2 miles) long. Standing on the northern viewing platform, I spot a giant rock column. This is Indian Head, a fantastic but rare example of the few remaining gravity-defying pinnacles on the Canadian Shield in Northern Ontario.
There's a Ojibwe legend that explains how this distinctive rock came to be: a giant, Omett, helped Nanabijou make mountains and lakes. Omett fell in love with Nanabijou's daughter, Naiomi. One day when Omett was moving a mountain, part of it fell and killed Naiomi. Fearing the wrath of Naiomi's father, Omett hid her body. Nanabijou looked for his daughter and found her when a thunderbolt split open the ground and created Ouimet Canyon. He buried her there. Nanabijou turned Omett into stone and hung him on the canyon walls to watch Naiomi's grave forever.
As I stood gazing across this magnificent canyon, drinking in its beauty, an eagle circled ahead. In the distance, the water of Lake Superior glittered in the afternoon sun. What a place!