Fly Fishing Downtown
Fly fish all year in the rapids of St. Marys River.
One day, I stood beside a wild river in Northern Ontario and watched an Indigenous guide put on a fishing clinic. The young man set up near a small pool that was the only area of calm amidst a boisterous cascade. Each of his casts yielded chunky walleyes that were played with great efficiency and wordless nonchalance before being promptly released back into the river's depths. This was a man in his element, truly at one with the natural world. His only show of emotion came when he inadvertently hooked a northern pike—and a good sized one at that—and shook his head ruefully and groaned.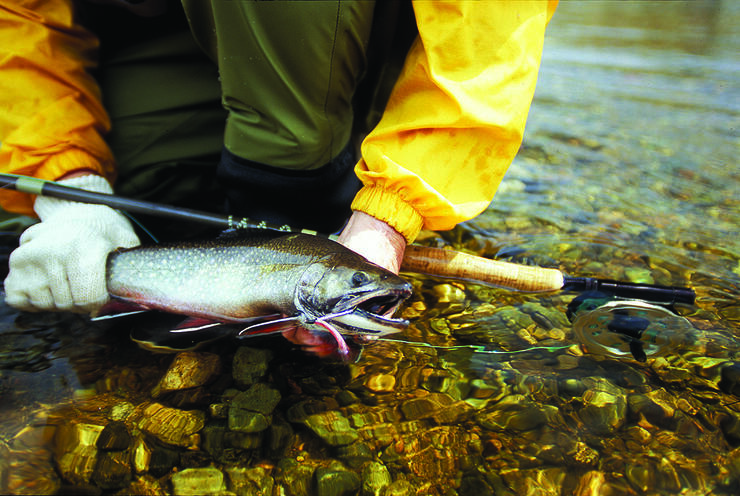 This angler's prowess was not unusual for Algoma, where catching your limit often entails nothing more than wetting a line. The fish he coaxed out of that pool had likely never seen artificial bait in their lives. What left me slack-jawed—walleyed, as it were—was the equipment this young angler used: a fly rod. With the exquisite poetry of motion of a onehanded fly cast, the man wasn't simply overpowering nature with barbs and treble hooks. He was working in concert with the subtleties of flowing water and fish behaviour. I was struck by a sense of harmony in the man's encounter with the wilderness. I hoped the moment would never end. Just then, he caught another walleye, dispatched it for the night's dinner, dismantled his rod and prepared his boat to travel back upstream.
Great Wilderness Fishing

Seventeenth century British author, conservationist and legendary sportsman Izaak Walton called fly fishing, "The contemplative man's recreation." Whereas flashy lures and spin-casting rods are crude and graceless, catching fish on delicate flies requires an intimate knowledge of the interaction of insects and fish, as well as a mastery of a casting technique that demands exact coordination and timing. "It's an art and a connection with nature," says Adrian Hoke, the proprietor of the Misty Mountain Fly Shop on Havilland Bay, 40 kilometres north of Sault Ste. Marie. "People think fly-fishing is a mystery. But the truth is, fly-fishing is as complicated or as simple as you make it."
Hoke struck an angling gold mine when he left his native England and immigrated to Northern Ontario in 2004. He purchased a general store, motel and restaurant on Lake Superior's eastern shore and was quickly enthralled by Algoma's opportunities for fly-fishing, his preferred angling technique. Access to privately owned trout streams back in Britain depended on "driving the right Range Rover," says Hoke. "Unless you're friends with the vicar, everything is booked."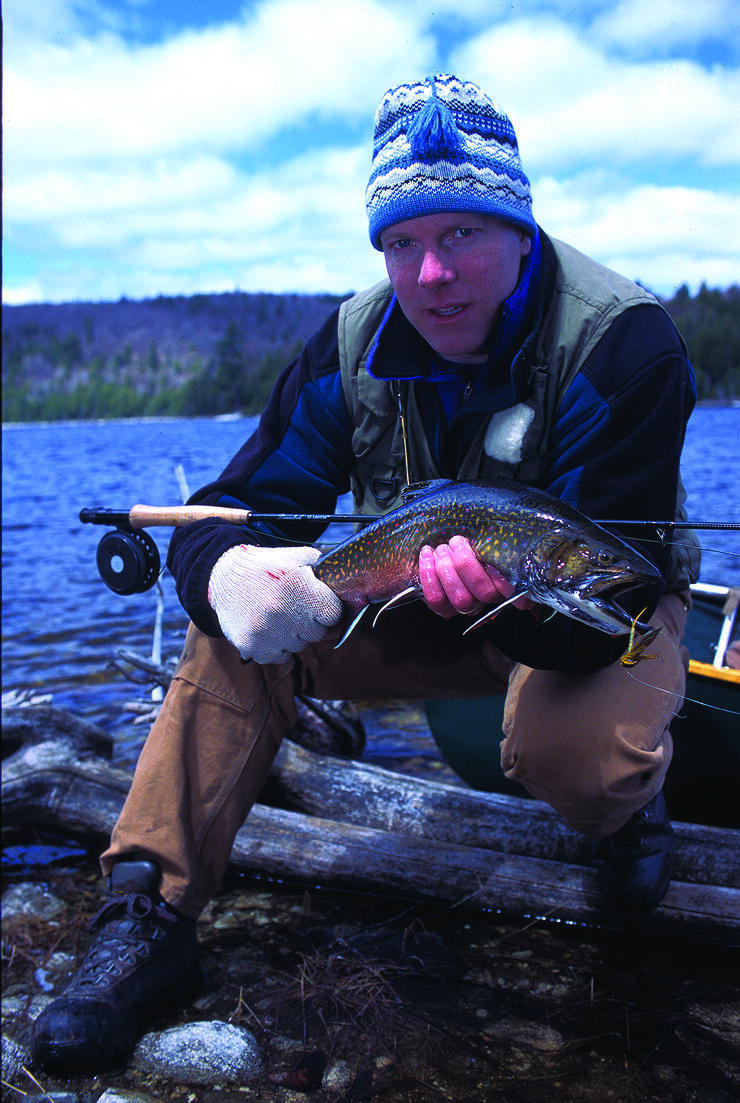 Needless to say, Hoke was overwhelmed by the wilderness surroundings of his new home—primarily because it afforded him the freedom to angle pretty much wherever he pleased, on countless inland lakes, streams, rivers and Lake Superior itself. He decided to carve a niche in Sault Ste. Marie's competitive outdoors market by focusing his shop primarily on fly fishing. At the time, the rapids of the St. Marys River had long been a bucket list destination, but the countless rivers north of Sault Ste. Marie were largely unknown by the growing number of "contemplative" anglers who prefer to fish on the fly.
"Fly fishers want to visit New Brunswick's Mirimichi, they want to fish the Skeena River in B.C.," notes Hoke. "And it's true, these rivers produce big fish. You can have the same experience in Sault Ste. Marie. We catch 20 to 30 pound Chinook salmon on the fly. We also have great wilderness fishing. You come here and you realize you've just hit the jackpot."
St. Marys Rapids

Ernest Hemingway wrote, "The best rainbow trout fishing in the world is in the rapids of the Canadian Soo." Nearly a century later, the St. Marys Rapids remain a premier fishery located within minutes of downtown Sault Ste. Marie. Hemingway's rainbows still reside here year round, not to mention the whitefish that made the kilometre-long cascade a key summer gathering place for native Indigenous people for thousands of years. Migratory Atlantic, Chinook, pink and coho salmon, and steelhead and brown trout also pass through the rapids at various times of year. Fly- fishers access productive mid-river pools by wading, and experts like Hoke recommended two handed Spey rods to accurately cast flies into distant holes.
"Fly-fishers outnumber the spin-casters at the rapids most days," says Tyler Dunn, a local guide. "The fishing is year-round. Spring and fall are the prime times for salmon and steelhead. In the summer, you get Atlantics. The rapids are even worth fishing in the winter—even in February you see people casting flies out there."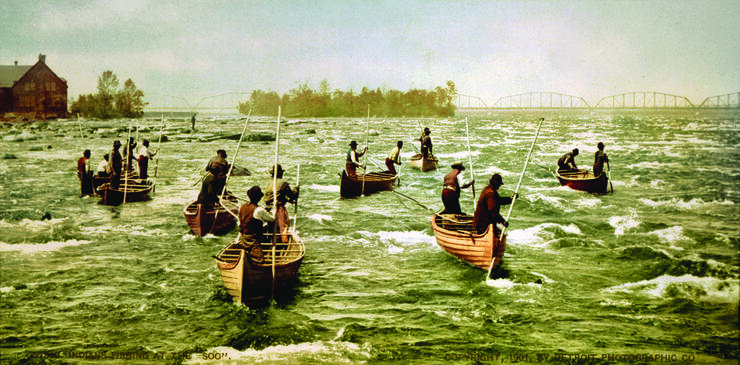 Under the Bridge

What makes the St. Marys unique pertains to the fact that fish aren't solely coming to the rapids to spawn. Resident trout and Atlantic salmon "are there to feed," notes Dunn. "These fish are out to kill so you get an aggressive bite. Every day you go out there you have the confidence of knowing you have a solid chance of hooking and fighting a lot of fish."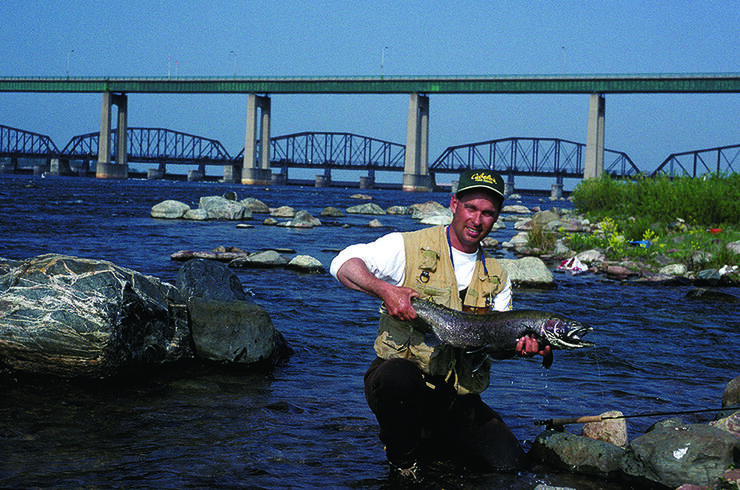 As much as the St. Marys is well established in the annals of recreational angling, Dunn insists no fishing trip is complete without contrasting the urban, big-water experience of wading the St. Marys with a trip north to fish the intimate trout rivers and lakes of rugged Lake Superior Provincial Park. Numerous remote lodges accessed by floatplane or train provide the opportunity to catch trophy walleye and pike on the fly. "It doesn't take much to get that sense of adventure," says Dunn. "Drive a half an hour out of town and it feels like you've left civilization behind."
Look for a Local Guide?

Angling Algoma -  Specializing in big Bass trips along with other sought after species, Adam Vallee offers guided adventures in both Algoma Rivers and Lakes. With a vast knowledge of tournament style techniques, fish and learn alongside Angling Algoma, targeting your iconic big one! 
John Giuliani's Fishing Adventures - Professional guide John Giuliani has been guiding the rapid for over 29 years for steelhead, atlantic salmon, five species of pacific salmon and resident rainbow trout. John also offers boat trips throughout the St Marys River for beautiful Atlantic salmon as well as guided excursions to the many lakes in the Algoma region.
Tyler Dunn Guiding - An accomplished guide who operates throughout the Algoma region. Tyler offers unique fishing adventures along the shores of Lake Superior, on the St. Marys River, as well as many different lakes and river found in the Algoma region.