Beyond the Group of Seven
Canada's landscape legacy is an important part of our history. But there's also a lot of activity going on in the contemporary arts scene.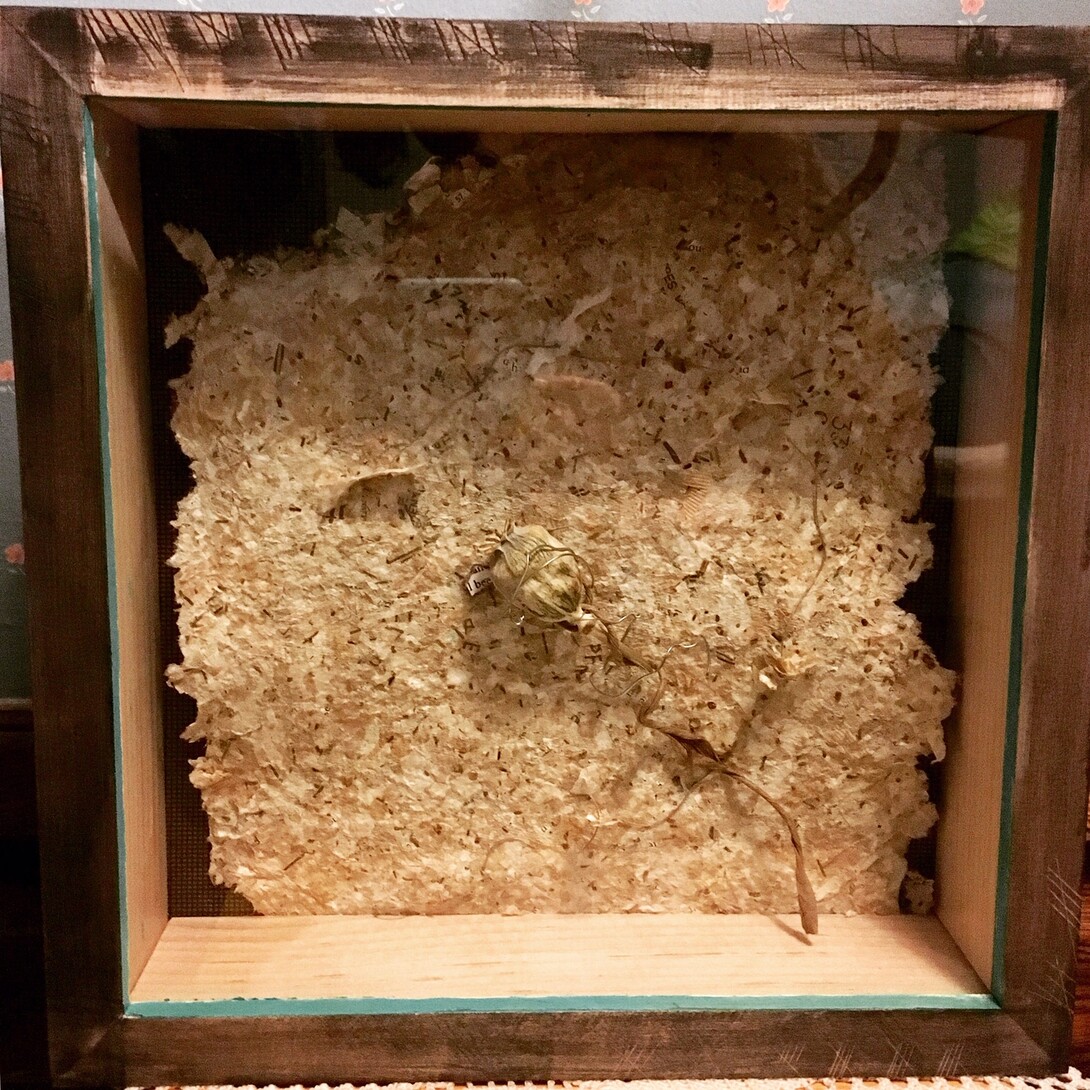 From an arts and culture perspective, Sault Ste. Marie and Algoma have long been known for the region's relationship to the Group of Seven, and understandably so. Canada's most historically iconic visual artists travelled here in the early 20th century, painting some of their most notable works.
There is no doubt that the Group of Seven's legacy remains strong to this day in Algoma, but though important, the Group and related landscape traditions do not represent the entirety of the area's rich and diverse regional arts and culture. This article aims to highlight some of the region's practicing contemporary artists and arts practitioners, each contributing a unique perspective on living and making work in Sault Ste. Marie and Algoma. These artists have been building spaces and places to share meaningful work in a Northern setting that can uniquely support their needs and creative pursuits.
Miranda Bouchard is an arts practitioner who was born in Sault Ste. Marie and raised in Algoma. She works in the region as a community artist and arts manager, currently co-leading Thinking Rock Community Arts alongside Robin Sutherland. Bouchard describes her work with Thinking Rock as "concerned with surfacing and telling local stories through art-making, and engaging as many people as possible—of all ages, abilities and backgrounds—in the co-creation of artistic works that speak to and of this place we call home."
After living and studying away (Guelph and Finland), Bouchard said proximity to other artists in Algoma, and being able to give back by serving the communities she cares about, lured her home. "Since returning to Algoma, I've been fortunate to find and make continuous work in my chosen field. I want to help others connect to opportunities for meaningful work and involvement in the arts & culture sector, too."
Thinking Rock's first project, The Rivers Speak, involved the production and performance of a play that was co-created by members of the community of Central Algoma, and was informed by stories shared among the community. Thinking Rock is now in the midst of another multi-year project, Social Fabric, which will highlight textile and land-based practices in the region. Keep up with them on Instagram and Facebook.
Lisa Meschino, PhD, is a visual and community artist with unique experience in arts, business and academics. Meschino is involved in many local art organizations, including 180 Projects, the ArtSpeaks Hive at the Sault Museum, and at the Art Gallery of Algoma. Tremendously involved in local arts and culture, Meschino moved to Sault Ste. Marie in 2016, bringing a rich background of involvement in the Toronto arts scene. The move was preceded by a visit to St. Joseph Island, four years ago, which confirmed her decision to move North. "The wilds of the Northern rock, woods, water, and their human and animal residents had a visceral effect on me," she says, which "helped articulate a direction I felt my work was already moving toward."
Meschino works with natural materials such as making dyes, inks, and clay. Though the region and connection to the landscape motivates her work, Meschino admits it was difficult to find meaningful arts and culture events and spaces as a newcomer. "Something is getting lost in translation from what residents know and experience here to what is communicated to newcomers and tourists."
Meschino will exhibit a solo exhibition at Blind River's Timber Village Museum in 2019.
Ray Fox is a contemporary Anishinaabe artist whose work mainly consists of drawing. He has exhibited regionally and beyond, including recent solo shows at LopLops (Sault Ste. Marie) and Debajehmujig Creation Centre (Manitoulin). His work is inspired by family history, childhood memory, and creation stories of animals, which Fox explains, "to Anishinaabe people, are considered extensions of family, and whose stories are much older than ours."  
Fox once thought he needed to live in a big city to find his way as an artist, which brought him to Toronto and the Ontario College of Art and Design. "What's funny is that I didn't actually find myself until I moved back here," he recalls, when he also found new direction in his artwork. "I feel like there is a great network of artists here who want to see other artists practicing and active."

Now, Fox is immersed in the arts and culture community in Sault Ste. Marie. In our conversation, he offered a list of unique arts spaces for tourists and newcomers, including lesser-known spaces like L&D's Gallery and 180 Projects. Fox included that many local businesses, such as Café Natura, LopLops, Vibe Eatery, Shabby Motley, Scott Coffee Co., and Gliss often exhibit local artwork. "Festivals, Pow Wows, annual art shows and craft fairs," he added, are also opportunities to tap-into and support local arts.
Fox's work can be purchased at Shabby Motley, Winnie B's Originals, and will soon be available at the Ermatinger Clergue Museum gift shop.
Isabelle Michaud is a painter and mixed media artist whose process involves acrylic painting on wood and collages incorporating found paper and photographs. Her work explores personal subject matter, including "family, autism, francophone roots, and joy," she explains. "My works are emotional translations of the places I inhabit, the people and communities I encounter and love."
As a francophone, moving here in the 1990s for her husband's work was difficult for Michaud as there was not a major francophone presence here. Despite this, she has since found arts and language spaces and organizations that share and support her passion and creativity. Michaud completed a BFA at Algoma University, working there as a French Professor, and has exhibited work in various community galleries including the Art Gallery of Algoma and 180 Projects, and also launched the Miinikaan Project in the Arts Council of Algoma. Now, Michaud says she no longer feels at home anywhere else. "The passing of the seasons, the smell of sweetgrass and the fragrance of the red pines, as well as Lake Superior, have had such a strong impact on me. The quiet no-nonsense of the people… Where else can you see such beauty?"
Michaud will exhibit a recent project, Dactylografies, at the Timber Village Museum in August, 2019.
Maria Parrella-ilaria has a varied arts practice, that can be separated into personal and public/community arts practices. In her own artwork, Parrella-ilaria explores memory, desire, and loss, through a number of installations that incorporate photography and sculptural forms made from manufactured and natural or organic materials. As a community arts practitioner, she has initiated a number of projects, most recently The Art Speaks Projects (2017), which as she describes "offers arts-based learning as a means of fostering resiliency in women coping with trauma." An offshoot of this project, the ArtSpeaks Hive, is housed in the Sault Ste. Marie Museum (690 Queen Street East) and offers bi-weekly, community studio time as a means of non-clinical art-as-therapy.
Originally from Algoma, Parrella-ilaria said she returned after grad school and living abroad largely because she missed being close to Lake Superior: " I've always felt grounded being near the Lake," she notes. Though she feels Algoma's ties to the Group of Seven do speak to the power of the land and of lakes, she feels that dominant narrative oversimplifies the breadth of what this place offers: "The lore of the region, the relationship between the indigenous peoples of this area to the land (through oral tradition, cultural creations, visual representations), and the relationship between settlers and Indigenous peoples… and immigrant stories/cultural creations in response to living here would be more powerful statements in terms of a northern identity."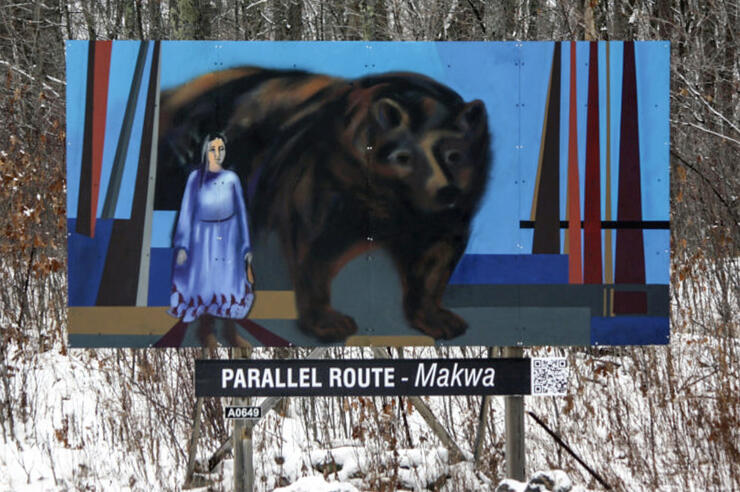 Sharon Hunter's Parallel Routes series greets travellers driving into the Sault from the East. These billboard-sized murals line Highway 17, depict industrial imagery and wildlife. "My recent work has visually represented the tension between natural systems and human-imposed structure," she explained.
An artist of mixed settler/Indigenous heritage with a range of experience in various media, Hunter's practice examines her own relationship to the land as well as colonial constructs imposed on it.  "I am here with Land—this means a relationship seasons, sounds, changes—and this is an evolving form," she says, adding that she has formed a strong network of colleagues in Algoma who support and understand one another. "Indigenous land knowledge is very important to me. I sit with Indigenous Elders, knowledge-keepers and community members. They share stories, teachings and images about the land, giving me permission to respectfully explore them in my work," she emphasizes.
She is also interested in settler relationships to and control over the land. Hunter's recent research is concerned with travel and souvenir culture, and the way the North is often presented as an idyllic, almost mythical, pre-packaged experience. She will exhibit Road Show, with works exploring these themes, at 180 Projects in the 2020-2021 programming season. This summer, Hunter will install a new series of billboards along Highway 17, with murals "honouring stories gathered by women from Garden River First Nations and Thessalon Algoma region entitled Women of the North."
Keep an eye out for Hunter's murals on Highway 17 and see more of her work at sharonhunter.ca.

Hopefully you enjoyed hearing about these artists and some of the smaller, or newer, institutions allowing these artists reach audiences across the region. The impact of the landscape, the lakes, trees, and mountains have always profoundly influenced Algoma creatives, including those working outside of the landscape tradition. If successful, this article might pursue you to think about the broader arts communities thriving in Algoma next time you are in search of a cultural excursion, or perhaps if you are looking to buy new artwork for your collection.
Helpful Links: