Agawa Canyon Tour Train
Unforgettable rugged beauty surprises visitors.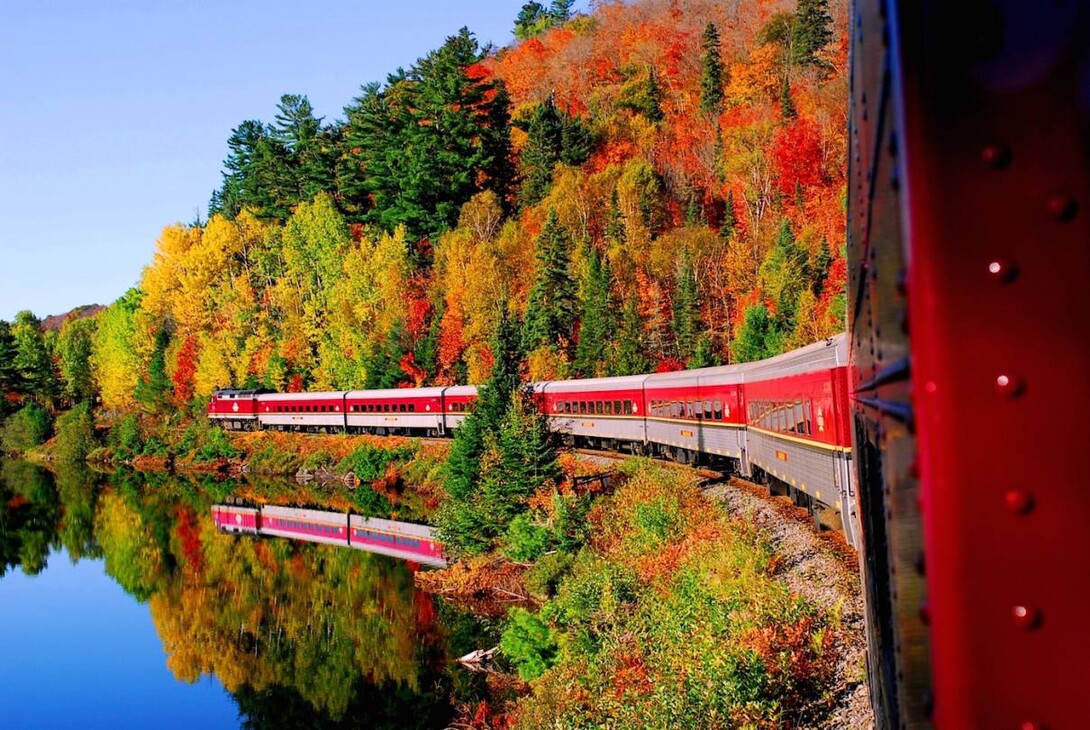 "The seemingly unending mixed forests of the Canadian Shield open up as you skirt the shores of northern lakes and rivers, cross towering trestles, and set eyes on the same rugged landscapes and majestic views that inspired the Group of Seven."
Northern Ontario's rugged beauty often surprises visitors. There are many opportunities to experience and explore these incredible landscapes, and one of the more unique ways is aboard the one-day Agawa Canyon Tour Train.
Departing from the Algoma Central Railway/CN depot in downtown Sault Ste. Marie, Ontario, this 114-mile excursion truly showcases this rugged beauty that is exclusive to the region. As you settle into your comfortable coach, you can feel the pace of life slow as the experience of a train ride evokes a sense of simpler times while raising expectations of the journey that lies ahead.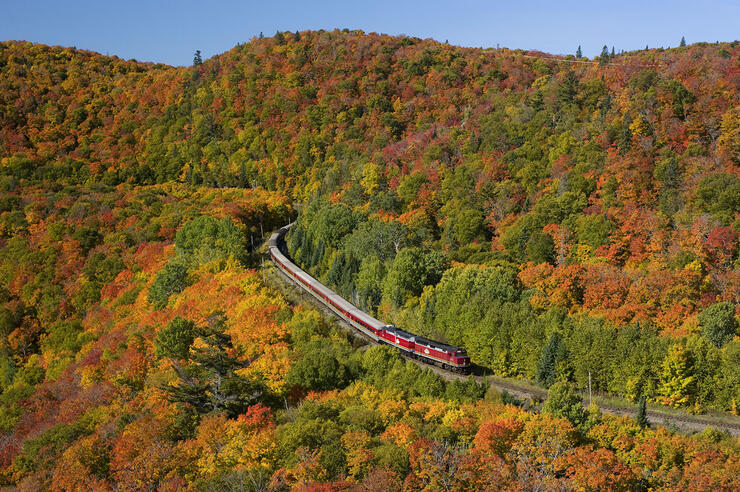 Traces of city life soon fade away as the Northern Ontario wilderness begins to unfold outside the large tinted windows. The seemingly unending mixed forests of the Canadian Shield open up as you skirt the shores of northern lakes and rivers, cross towering trestles, and set eyes on the same rugged landscapes and majestic views that inspired the Group of Seven to create some of Canada's most notable works of art.

As the train winds its way through this one-of-a-kind terrain, a GPS triggered commentary weaves the story of the region. Available in five languages including English throughout the coaches and in French, German, Japanese and Mandarin via wireless headsets, you'll learn about upcoming points of interest as well as some of the rich history of the Ojibway, fur traders, explorers and entrepreneurs that opened up this vast wilderness. And to enhance the scenery outside your window, locomotive mounted cameras provide an engineer's 'eye-view' via flat screen monitors installed throughout the coaches.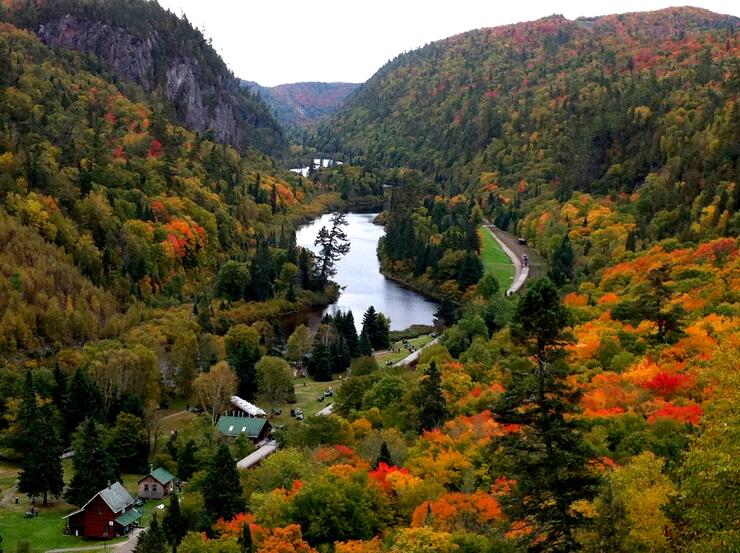 Just when you thought you'd experienced it all, the train starts its descent into the canyon at Mile 102. As the rail line hugs the top of the canyon wall, you'll descend 500 feet over the next 10 miles to the floor of the Agawa Canyon, created more than 1.2 billion years ago by faulting and widened and reshaped by the last ice-age that retreated 10,000 years ago.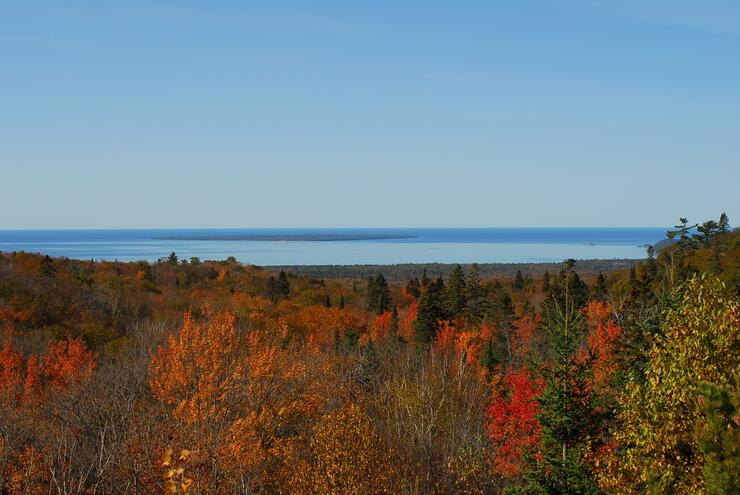 As the train pulls to a stop at Mile 114, you'll have an hour-and-a-half to experience the 'jewel' of the tour—Agawa Canyon Park. Enjoy scenic walks on graveled trails leading to several waterfalls or experience the invigorating climb up over 300 stairs to the breathtaking Lookout perched 250 feet above the canyon floor. If you're looking for something a little more relaxing, you can enjoy a quiet lunch in the many picnic areas located throughout the park, pick up a special memento of your trip in the Souvenir Car, or just pull up a bench and watch the Agawa River flow peacefully by.

The excursion is one of North America's iconic rail tours and offers a unique and engaging way to enjoy the rugged beauty that is Northern Ontario.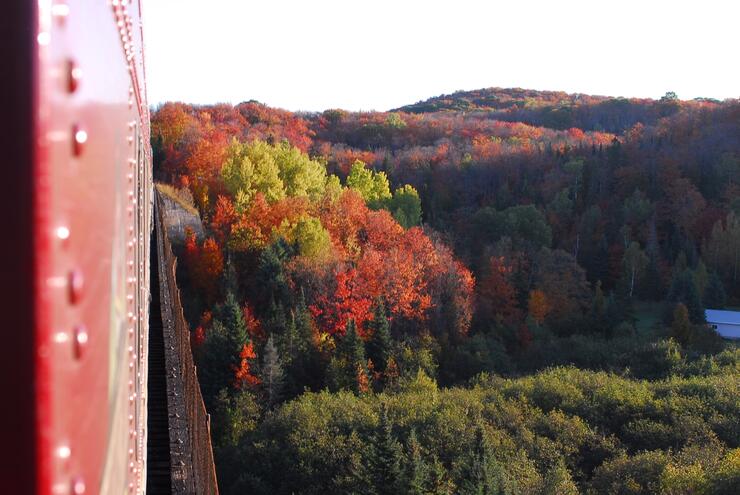 Souvenirs
There are three locations offering a wide variety of Train Tour, Railway and Canadian souvenirs, from clothing to collectibles:
Whistle Stop – Passenger Depot
7:00 a.m. - 6:30 p.m.
Gift Coaches – Onboard Train
8:00 a.m. - 11:00 a.m. / 1:45 p.m. - 4:30 p.m. (Listen for announcements)
Souvenir Car – Agawa Canyon Park
Open on arrival at Canyon until 20 minutes prior to departure. (Listen for announcements)
Dining Car Service
Sure, the main attractions of your railway tour reside outside your window. However, the Agawa Canyon Tour Train also caters to your more "civilized" tastes.
Take the dining car for example. Located in the middle of the train, it provides continuous service from the time you board until approximately 4:00 p.m. Enjoy a hearty breakfast, hot and cold lunches, picnic box lunches, cold drinks, coffee, tea, a cold beer on a hot summer day, along with wine and coolers (alcoholic refreshments available after 11:00 a.m.).
To help accommodate the breakfast rush coaches are called to the dining cars by coach number, so make sure to listen for announcements. Lunch seating is come as you please. For your convenience there's also a Café Car(s) offering light lunches and beverages (Listen up for announcements for car location). Please note: no personal food or beverages are allowed in the dining car.

No Smoking Policy

The Agawa Canyon Tour Train is a smoke-free environment. Thank you for not smoking.
One Man's Vision
Having first visited the region in 1892, U.S. industrialist Francis H. Clergue foresaw numerous opportunities for growth as an industrial centre, and it was his vision that laid the foundation for the present day city of Sault Ste. Marie. Though Clergue had a flair for losing his investors money, his persuasive style and boundless optimism attracted investment dollars; and between 1894 and bankruptcy in 1903, he founded a dozen major enterprises including a steel mill, a pulp mill, two railways, two power and light utilities, a streetcar system and a fleet of steamships. Thanks to his vision, he watched a frontier outpost of 2,000 grow to a thriving town of 8,500.
And it was the discovery of an iron ore deposit at Wawa by a prospector named Boyer that was the catalyst for his steel company and a driving force for Clergue to build 'his' Railway.



Tales of the Rail
The Algoma Central Railway has over 100 years of history. Here are a few timeline tidbits:
1899: On August 11, 1899 The Algoma Central Railway Company is incorporated.
1900: March 20, 1990 construction of the ACR begins and on November 17th of that year the first passenger train travels to the end of track at Mile 19.
1901: Plans are made to push the rail line to Hudson's Bay and on May 23rd the name is changed to Algoma Central and Hudson Bay Railway Company.
1903: Clergue's empire collapses and construction is halted for 6 years. At this point track is laid to Mile 56 on the mainline north of the Sault and on the branch line from Michipicoten Harbour to Josephine, 6 miles from short of Hawk Junction.
1906: Construction of the line resumes.
1911: The Montreal River Trestle is constructed and track is laid over it by the end of October. The line reaches Hawk Junction and the branch line to Michipicoten Harbour is connected.
1912: By mid year the main line crosses the Canadian Pacific rail line at Franz (Mile 194.9) and then crosses the Canadian National Railways line at Oba (Mile 244.7) six months later.
1914: Track is laid as far north as Hearst, Ontario and shortly after plans to continue to Hudson Bay are abandoned.
1918: Group of Seven artists, Lawren Harris, J.E.H. MacDonald and Frank Johnston rent a boxcar fitted out as a portable cabin and spend a month painting in the areas of Agawa Station, Hubert and Batchewana. They continued to travel the ACR on painting trips until 1923, joined on various occasions by A.Y. Jackson and Arthur Lismer.
1935: Construction began on the power damn that now sits at the base of the Montreal River Trestle at Mile 92. The damn became operational in 1937.
1952: Algoma Central Railway became the first Canadian Railway to switch over entirely from steam to diesel locomotives. The first picnic area is cleared between the track and the Agawa River and Agawa Canyon Park is born. Customers travel up on the northbound passenger train and return with the southbound passenger train.
1959: 60 years after start up, Railway shareholders receive their first dividend cheque.
1965: References to Hudson Bay are removed and the name is changed to Algoma Central Railway.
1972: Due to increased popularity, the Railway begins operating the dedicated Agawa Canyon Tour Train.
1995: On February 1st the railway is purchased by Wisconsin Central Railway and with the change of ownership the name is changed to Algoma Central Railway Inc.
1998: In the previous year the steel mill announced it would be shutting down its low grade ore mine in Wawa and on June 25th the last 18 car ore train rumbled along the branch line to Hawk Junction. It then moved down to the Sault and with it an important chapter in the Railway's history came to a close.
2001: On October 9th Wisconsin Central is purchased by Canadian National Railway and Algoma Central Railway Inc. becomes a part of CN's Eastern Division.
2014: The Railway has the pleasure of your company aboard the Agawa Canyon Tour Train, joining over 3 million people who have experienced the beauty of this one-day rail tour.
The Group of Seven
Several members of Canada's Group of Seven painted in the Algoma region between 1918 and 1923, including Lawren Harris, A.Y. Jackson, Franz Johnston, J.E.H. MacDonald and Arthur Lismer. To gain access to this remote region, they rented a boxcar from the Railway. The car was outfitted like a cabin and was shunted to sidings near choice painting locations. From these locations they would set out on foot or canoe to capture this untamed area on canvas. Their paintings brought this vast, rugged and beautiful part of the country to fellow Canadians and the world. (Group of Seven in Algoma Oct 2 - 26, 2014 brought to you by the Algoma Fall Festival)

Here are some interesting facts and details that you'll find along your journey:

Mile 76: Mongoose Lake
In the fall of 1920 the artists stayed in a cabin on Mongoose Lake instead of the box car to sketch and paint. One of these painting sites was discovered as recently as the fall of 2013.

Mile 92: Montreal River/Falls/ Hubert
The Montreal River attracted MacDonald and he made sketches in the neighborhood of the falls that resulted in his large canvas, Falls, Montreal River. Among all the painters, he responded most deeply to Algoma, creating a magnificent series of large-scale compositions.

Mile 113: Agawa Canyon
The artists stayed in their boxcar studio in Agawa Canyon to sketch for several days and then using an Algoma Central Railway hand-car, they ventured north and south to sketch and paint.
Mile 123: Eton and Mile 138: Sand Lake
In the fall of 1921 Harris, Lismer and Jackson came north again to sketch and paint in the Eton area, and then moved further north to finish up on Sand Lake.

Mile 195: Franz
At the end of their 1921 fall trip, Harris and Jackson decided to travel west along the shore of Lake Superior. They took the ACR north to Franz, where they caught a C.P.R. freight to Schriber where they got off and walked to Rossport, their final destination.
SCENIC GUIDE POINTS
With so many awesome spectacles to behold, you won't want to miss a thing. To help make sure you don't, here are some quick hits of the more notable sights you can expect to see during your journey:
Northbound Sault to Canyon
Between Miles 102 and 110 the mile markers are on poles to your left. Look to your right for the rest of the trip.
Miles from SSM
0 – 2 Waterfront to the left. Past old paper mill, under International Bridge, past the main entrance to Essar Steel and through the Algoma Central rail yards and shops.
3.5 – 4.5 View of western portion of city including steel mill, bridge and upper St. Marys River.
7.75 Cross overpass on Highway 17 North and follow it on your left until it divides and veers towards Lake Superior.
15.5 Searchmont Highway to right and below, passing Lower Island Lake.
19 – 20 View of Bellevue Valley. Best view to left of track. Cross Goulais Bay of Lake Superior in distance 810ft/246.9m long, 100ft/30.5km high trestle.
27 Goulais River Valley to the left.
30 – 32 Cross Goulais River and see Searchmont Ski Resort to the right.
32 Farming, mining and timber brought settlers to the village of Searchmont beginning in the early 1890's.
43 – 45 Little Achigan Lake to the left and Achigan Lake appearing on the right.
48 Ogidaki Lake to the right.
52 South Branch of Chippewa River.
57 Trout Lake to the right. The Department of Lands and Forest firebase here was closed and sold to cottagers.
60 – 61 Look right across valley to upper Trout Lake.
62 Mekatina Lake on the right.
69 Cross North Branch of Chippewa River.
71 Spruce Lake to the left.
75.5 View of Mongoose Lake to the right.
80 – 84 Ascent from the Batchewana River begins and the valley can be viewed to the right at Mileage 84.
80.5 Cross Batchewana River.
85.5 Passing Rand Lake on the right.
89 Regent Lake on right.
92 The curved Montreal River trestle is 130ft/39.6m high, 1550ft/472.4m long, and offers views in both directions. The power dam at the base supplies Sault Ste. Marie and surrounding area. Another 3 dams are further downstream. The river is navigable 30 miles (48.2km) upstream.
95.5 Hubert Lake on the right.
102 – 114 Train descends over 500ft/152.4m in 12 miles (19.3km) to reach the Canyon floor. Views are to the left and, for the first time since Mileage 19, you will see Lake
Superior and Highway 17 North about 5 miles (8km) away. The Agawa River winds below. At Mile 112 we reach the Canyon floor and cross the Agawa River. Bridal Veil Falls is to the right and Black Beaver Falls to the left.
Train Departure

Passengers detrain for approximately 90min. Please listen for announced departure times.
TOUR TRAIN TIDBITS
The awesome region the Agawa Canyon Tour Train winds its way through is truly a sight to behold. If you have any doubts, just check out some of these incredible stats:
The Canyon Walls – 575ft/175.2m at the highest point.
The Lookout – 250ft/76.2m up the Canyon wall. There are just over 300 steps and a return trip from the First Aid Building takes approximately 40 minutes.
Black Beaver Falls – 175ft/53.3m high and a return trip from the First Aid Building takes approximately 30 minutes.
Bridal Veil Falls – 225ft/68.5m high and a return trip from the First Aid Building takes approximately 40 minutes.
Agawa River – the colour of the Agawa River is the result of staining by tannic acid (tannin), which leaches out of the root systems and bark of cedar trees. The substance is common in this area and is also found in red wine and tea.
Lake Superior – 10 miles (16km) west of Agawa Canyon Park. Highway 17 runs along the shore of Lake Superior.
Lake Superior Provincial Park – the boundary is 6 miles (9.6km) west and 2 miles (3.2km) south of Agawa Canyon Park.
Distance in Rail Miles
Sault to Agawa Canyon – 114 miles (183.4km)
Sault to Hawk Junction – 165 miles (265.5km)
Sault to Hearst – 296 miles (476.2km)
Canyon to Frater – 11.5 miles (18.5km)
Canyon to Hawk Junction – 51 miles (82km)
Canyon to Hearst – 182 miles (292.8km)
AGAWA CANYON PARK INFORMATION
Area Geology
The granitic bedrock underlying this area, formed 2.5 billion years ago, is amongst the oldest rock in the world. Agawa Canyon was created through faulting which occurred 1.2 billion years ago. A series of ice ages subsequently abraded and altered the Canyon over a period of 1.5 million years with the last ice cover retreating about 10,000 years ago. These ice sheets, over one mile thick, widened the Canyon walls and deposited sediments on the Canyon floor – creating the present terraced surface above the Agawa River and below the Canyon walls.
Algoma Weather Average Temperatures
January -11˚C 11˚F
February - 6˚C 19˚F
March 0˚C 31˚F
April 8˚C 47˚F
May 16˚C 61˚F
June 20˚C 68˚F
July 24˚C 75˚F
August 23˚C 74˚F
September 18˚C 65˚F
October 10˚C 50˚F
November 4˚C 39˚F
December -4˚C 24˚F
Yearly Precipitation: 906mm (35.66in)
Average Snowfall: 472cm (15.75ft)
Record Snowfall: 1989-90 782cm (25.5ft)
Latitude: 47 degrees 30´
Longitude: 84 degrees 30´
Your Canyon Park Visit
In summer and fall you will enjoy a 90 min stopover in the pristine beauty of Agawa Canyon Wilderness Park. (This stopover may be reduced in order to meet safe train schedules). Canyon Park is located at Mile 114 and is only accessible by rail.

During the stopover, your train seats will be turned for the return trip. Articles left on the floor may be damaged during this procedure and we ask that you place any personal belongings on your seat. Departure and boarding time announcements will be made just prior to your park stopover.
The park has a variety of trails that lead to the most scenic spots, including three waterfalls and the breathtaking Lookout. There are plenty of picnic areas for those wishing to have lunch during the stopover or you may want to eat prior to arrival or after departure, in order to have the most time to explore the park.
During your stay in the Park we ask that you watch for any train movements as you cross or walk beside the tracks. The Railway cannot be held responsible for injury to patrons within the wilderness park. Please exercise caution while in the park and walking on trails, and be mindful of children and considerate of others. Please ensure you wear suitable recreational clothing and footwear. The first aid building is designated with a green cross and staff will be on hand if you require any assistance.
Canyon Restroom Facilities

The restroom facilities in Canyon Park are located just off the train platform between the Souvenir Car and First Aid Building. Though they may look the same as the restrooms you may find in a quality department store, that is where the similarity ends. These facilities are environmentally friendly. Called a Clivus Multrum system, they have no negative impact on the environment and produce a high quality compost fertilizer that the park uses on its flowerbeds. Usage is the same as a regular bathroom, except there is no need to flush. IMPORTANT: In order for the system to work properly please close lid after use and refrain from throwing garbage or cigarette butts in toilets. Thank you for helping us keep Agawa Canyon Park pristine. The train restrooms are also available during your stopover.
Flora & Fauna
We have attempted to augment the environment to provide optimum habitat for a variety of native plant and animal species. As you walk the trails in the park, look around and you may be rewarded with a glimpse of a ruffed grouse, beaver, river otters or speckled (brook) trout inhabiting Otter Creek. Large mammals can make occasional sojourns into the park, but seldom linger long. The proximity of the railway track and steep canyon walls render the area unappealing to moose and bear. Beaver and otter inhabit the Agawa River and may be visible from the River Trail, as may mergansers, wood ducks and goldeneyes. Small mammals that might be seen include red chipmunks, meadow voles and groundhogs.
Bird life in Canyon Park is varied and though they tend to be least active during tour hours you may see a variety of raptors including merlins, golden eagles, broad wing hawks and American Kestrels. The most commonly sighted birds at mid-day include ravens, robins, grackles, ruffed grouse, flickers and a variety of waders and ducks. Great Blue Herons hunt pools in the park and are occasionally seen during the tour.
Agawa Canyon Park is situated in the transition zone between the Great Lakes – St. Lawrence Forest region and the Boreal Forest, with representative flora from both regions present in the park. It may be further classified as a River Lowland Zone and the resultant plant community is numerous and diverse. Some of the more common species that flower in the spring and summer include: yellow and orange hawkweed, ox-eye daisy, nodding trillium, yellow clintonia and bunchberry. Common species that flower later in the season include: viper's bugloss, bladder campion, pearly everlasting, yarrow, evening primrose and a number of asters. The park has a wildflower slope containing many of these common, as well as introduced, species.
Plant and animal communities in Canyon Park face a variety of obstacles to their survival including an annual snowfall exceeding 15ft/4.5m. Please be gentle with all living things in the park. The balance of nature can be easily and unknowingly upset through picking or damaging plants and trees.
Trails
The trails in the Park have been developed to provide access to the most scenic spots and to provide a wide range of walking/hiking opportunities. The trails are well maintained and are covered in fine gravel called crusher fines. Please refrain from smoking on trails. Park staff roam the trails during the tour and you may usually find them stationed at the Lookout, Bridal Veil or the First Aid Building should you require assistance.
Note: Approximate trail times are for a round-trip from the park First Aid Building.
The Talus Trail
The Talus Trail follows along the base of the west Canyon wall. This trail will lead you past lichen covered talus slopes to the viewing platforms at North and South Black Beaver Falls (30 min return trip) and Bridal Veil Falls (40 min return trip). The water flow at all the falls is contingent on runoff from snow and rainfall and can range from raging torrents to thin trickles over the course of the tour season. Even at low flow the 175ft/53.3m Black Beaver and 225ft/68.5m Bridal Veil Falls are a beautiful culmination to a very enjoyable hike. When walking the Talus Trail watch for ruffed grouse, woodchucks and eastern chipmunks. For the return trip you may want to use the River Trail.
The Lookout Trail
A challenge for the adventurous and the energetic, this trail ascends 250ft/76.2m above the tracks to provide a breathtaking panoramic view of the Canyon. The trail is a combination of crusher fine paths and over 300 stairs that lead you to large wooden viewing platforms where you can catch your breath, until the view takes it away again.
The River Trail
Follow this gently rolling trail along the banks of the Agawa River to Black Beaver Falls (30 min return) and Bridal Veil Falls (40 min return). The tannin-stained waters of the Agawa River are home to speckled (brook) trout, beaver, otters, mallard and merganser ducks, which you may catch a glimpse of during your stroll. Picnic tables are located along this route for a private, peaceful lunch. The Talus Trail on the west side of the tracks provides an alternate return route.
OTHER RAIL ADVENTURES
Tour of the Line

A must see for rail fans... a 296 mile tour of our entire line combining the rugged beauty of the Canyon Tour with the boreal forest of the Great Clay Belt Region. After a full days travel you will arrive in the French Canadian community of Hearst, Ontario, where you can spend a day or two discovering all that one of Northern Ontario's friendliest towns has to offer. Year-round on the regular passenger train schedule.
Wilderness by Rail

The Algoma Central Railway provides the outdoor enthusiast access to incredible wilderness opportunities and there are a growing number of Adventure Travel/Ecotour Operators in the area, offering a wide variety of experiences. Load all your gear – canoes, kayaks, backpacks, whatever your adventure requires – into the Railway's baggage cars and travel to a remote drop off point along the rail line. From the rugged landscapes of the Algoma Highlands, to the backcountry of Lake Superior Provincial Park or the wild beauty of the Chapleau Game Preserve, the Algoma Central Railway is a truly unique way to experience your wilderness adventure. From sea kayaking, canoeing, ice and rock climbing to hiking, photography, birding and ATV tours, these operators have an eco-adventure planned for you.
Tracks to the Trails

Load up your sleds in our enclosed baggage cars and sit back and relax as we transport you north, through the breathtaking winter wonderland of Algoma Country. Get off at one of the communities along the line or travel to the end of steel and begin your sledding adventure in Hearst, Ontario. You'll discover hundreds of miles of well groomed and signed trails, affordable accommodations and friendly people. Whether it's a couple of sleds or a large group, die-hard riders or a family outing, incredible snowmobiling experiences are waiting for you along the line. Operates on winter passenger train schedule.
Lodges Along the Line

The Railway provides the outdoor enthusiast year-round access to a variety of remote wilderness lodges as it winds its way through the heart of 22,000 square miles, including the Chapleau Game Preserve, the world's largest wildlife preserve. From the first class to rustic, summer or winter, fishing hunting or birding, business or art retreat or a family vacation away from it all, an incredible wilderness lodge getaway is waiting for you along the line.
RAILWAY SIGNS
Whistle Post
Blow Whistle as prescribed by C.R.O. Rule 14 (L) i.e., road crossings etc.
Restricted Clearance Sign
To call attention to restricted side or overhead clearance or both where employees must not ride sides or tops of cars.
Flanger Sign
Calls attention to snowplow and flanger operators of an upcoming obstruction to the operation of their equipment.
Station Mile Board
Indicates one mile to the station stop.
Mile Post
Located at one-mile intervals to designate subdivision mileage
Derail
A safety device that will derail vehicles passing it, often used to prevent rolling stock from unintentionally fouling the main track.
Spring Switch
A switch equipped with a spring mechanism arranged to restore the switch points to normal position after train passes through it.
Measured Mile Sign
Placed at locations specified in timetable subdivision footnotes to facilitate unit speedometer check.
Main Track Begins Sign
Located at the actual point where main track begins.
Main Track Ends Sign
Located at the actual point where main track ends.
Permissible Speed
Call attention to a permanent speed restriction or zone speed specified in special instructions. When two speeds are shown on the sign, the upper speed applies to passenger trains and the lower speed to other trains and engines. When one speed is shown on the sign it applies to all trains and engines, which are otherwise authorized to operate at a higher speed.
Resume Speed
When a sign is placed to slow a train, the sign will be placed 1/4 mile in advance of the speed restriction. A resume speed sign or a speed sign showing a higher speed will be placed at the end of each restriction. A train engine or track unit must not exceed the speed shown on each speed sign until the rear of the movement has passed a resume speed sign or a sign showing a higher speed.
LODGES
Mile 71.5: Spruce Haven Wilderness Lodge
Call: 705-759-6347 (all year)
Visit: www.sprucehavenlodge.netfirms.com
Mile 92: Canadian Adventure Camp
Call: 705-882-1018 x013 (summer)
715-484-2742 x240 (winter)
Visit: www.canadianadventurecamp.org
Mile 118.5: Kwagama Lake Lodge
Call: 705-856-1104 (summer)
616-694-6571 (winter)
Visit: www.kwagamalakelodge.com
Mile 122.5: Windy Lake Lodge
Call: 705-856-7086 1-800-771-5495
Visit: www.windylakelodge.com
Mile 165: Totomenai Lodge
Call: 1-800-361-5709 (all year)
Visit: www.totomenailodge.com
Mile 178: Loch Island Lodge/Camp Lochalsh
Call: 705-234-2592 (summer)
1-888--635-1996 (winter)
Visit: www.lochisland.com
Mile 195: North To Adventure
Call: 705-759-8577 (all year)
Visit: www.northtoadventure.com
Mile 206: Errington's Wilderness Islands
Call: 705-884-2215 (summer)
705-946-2010 (winter)
Visit: www.wildernessisland.com
Mile 212: Wood's Cabins
Call: 705-884-2211 (summer)
604-731-3533 (winter)
Visit: www.woodscabins.com
Mile 215: Tatnall Camp
Call: 705-884-2444 (summer)
705-856-4901 (winter)
Visit: www.tatnallcamp.com
Mile 245: Ontario North Fishing Adventures
Call: 705-883-9011 (summer)
705-759-0057 (winter)
Visit: www.ontarionorthfishing.com
Mile 245: Watson's Pine Portage
Call: 705-856-2223 705-856-4233
Visit: www.fishthefinest.com
Mile 296: Hearst Air Service
Call: 1-800-844-5700 (all year)
Visit: www.hearstair.com