OLYMPIC GOLD BORN ON THE RINKS AND TRAILS AND PATHS AND LAKES OF SUDBURY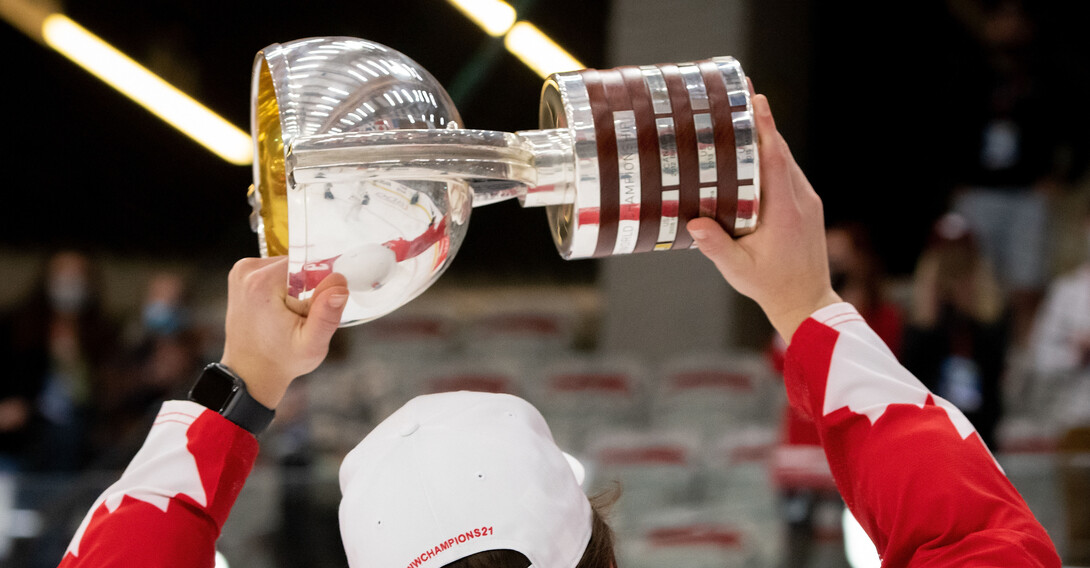 Whether in Vancouver or Sochi, in Pyeongchang or Beijing, at all of the various rinks of the past four Winter Olympics, climate control is a given.
That is not, however, where the early burgeoning of the career of four time Olympian, three time gold medal winner, and pride of Sudbury Rebecca Johnston occurs.
"The outdoor rink at Lo-Ellen; I was always out there with my family," suggested the 32 year old athlete extraordinaire, the local phenom whose name still populates much of the high-school sprint records almost two decades after she made the jump from MacLeod Public School to Lo-Ellen Park Secondary School.
"I think that's really where my love for the game started. I remember how much fun it was just being out there, not even caring what the temperature was. It was something that we did together as a family. It was a place to be free and have fun, with no pressure."
Most casual hockey observers, even in these parts, don't pick up her tale until after Rebecca follows in the footsteps of older sister Sarah, committing to the Cornell University Big Red in Ithaca, New York. But to those young teammates who were at her side on minor hockey teams coached by her father (Bob) and Dave Laporte, the signs of Olympic potential were already there, even as she drifted from her early days of boys hockey to the girls game at age fourteen.
"I think the transition was pretty natural for me," said Johnston, one of six children of Bob and Colleen that constitute one of the most gifted athletic families in the history of this city: Katie, Sarah, Jacob, Rebecca, Ryan and Steven, in order of age. "I grew fairly late, so I was still fairly short when I was playing boys hockey."
"All of the guys were growing, getting bigger and stronger - and I was still short and small."
When she began her secondary school career, perhaps that was still the case. Yet by the time she departed for the NCAA, Johnston had pretty much topped out at her current height of 5'9". More impressively, the raw talent that developed from a family support system that consistently emphasized the benefits of year-round physical activity was there for many to see.
"We would always go through the Laurentian path (the one that connects Loach's Road to the University property), run through the trails near Laurentian," recalled Johnston. "I would bike through the path to go to workouts at Laurentian when I was a little bit older. We sometimes would play pond hockey in that little pond, just off the path."
"It was kind of just a place to go as a kid; I still walk there with my parents.
The simple truth is that, before long, the impressive northern Ontario teen was not only making waves on the national women's hockey scene – Johnston was named top forward at the Canadian U18 championships as a 16 year old and starred in the Canada Winter Games just over a year later – but was also showcasing the depth of her athletic versatility, capturing a bronze medal in the 400m dash at the Canadian Junior Track & Field Championships (55.44 seconds) between those two hockey highlights.
Safe to suggest that Rebecca Johnston was one highly driven athlete – still is, for that matter.
"I think I liked and thrived in competitive sports, wanting to be the best at whatever I was doing," she said. "That was a challenge I enjoyed; I wanted to excel. Everything was 100% - that was just the way I was raised."
Which is not to say that Johnston could not dial it down a notch or two, an absolute necessity as she agreed to help out her high-school friends, suiting up with a Lo-Ellen Park girls hockey team that covered a very wide spectrum of talent.
"For me, it was fun to be out with my friends – but you really don't know how hard to go," said Johnston with a laugh. "When you're playing with people that really can't skate and you can skate, you can have the puck all day, if you really want it."
All in all, it would be hard to over-emphasize the importance of the neighbourhood of Lo-Ellen Park and the surrounding area when it comes to the developmental years of Rebecca Johnston. For as dedicated as she was to her workouts, the Laurentian trail is very much an outdoors adventure, one which can occasionally lead to a sudden change of plans.
"There was one summer when I ran into three different bears at three different times," she stated. "It was quite the summer. I was heading to the track, so I just turned around and went back home. I've never had a scary moment – more just seen them around and tried to avoid them."
The Johnston homestead was always busy, throughout the years, the bi-product of simply having six children on hand. With the decorated Olympian now serving as "Auntie Rebecca" to a growing number of nieces and nephews, the house can be downright chaotic – all the more reason to scamper outside and partake in the sliding and skating and running and frolicking that the entire clan so enjoyed.
"I think Sudbury is such a great outdoors city, an active city," said Johnston. "It's not so small that you know everybody, but when it comes to the local sports world, you know everybody. It was a close-knit community where I felt at home. I think that really shaped the athlete that I am and how I grew as an athlete."
"Sudbury is a huge part of the love that I have for sport."