Mural Selfies
Strike a pose just in time for this years Up Here Festival
Over the last five years, We Live Up Here has established quite the reputation in the arts and culture industry. Each summer they host the Up Here Festival, a four day music and arts festivals located within Sudbury's Downtown. Each year, We Live Up Here organizes and creates a number of murals painted alongside alleyways and building throughout Downtown Sudbury. Today, more than 20 murals can be found, helping to beautify our Downtown. With all the buzz about the latest mural additions, we decided to go explore and check out this outdoor art gallery for ourselves. In no particular order, here are some of the beautiful outdoor pieces that have helped brighten our Downtown core: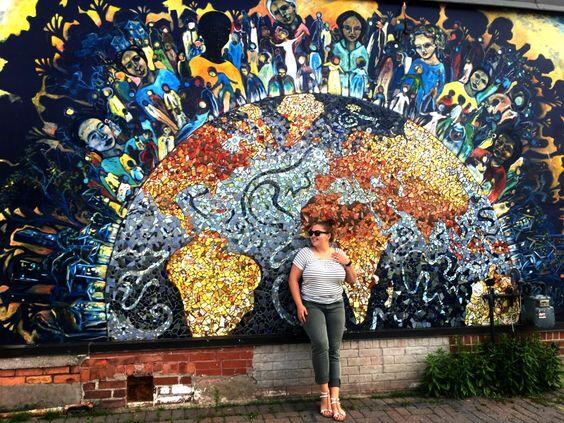 "Village International" by Sarah King Gold            
Location: Elgin Street, Behind Village International
This beautiful mosaic mural was created out of recycled glass; it represents the cultural, economic and environmental principles of the non-profit organization, Village International.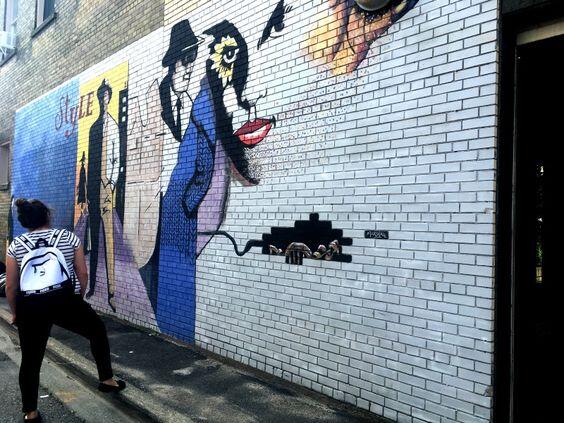 By Irvin Marshall              
Location: Medina Lane beside Reg Wilkinson Clothing
This mural remains a mystery with an unknown title and back story.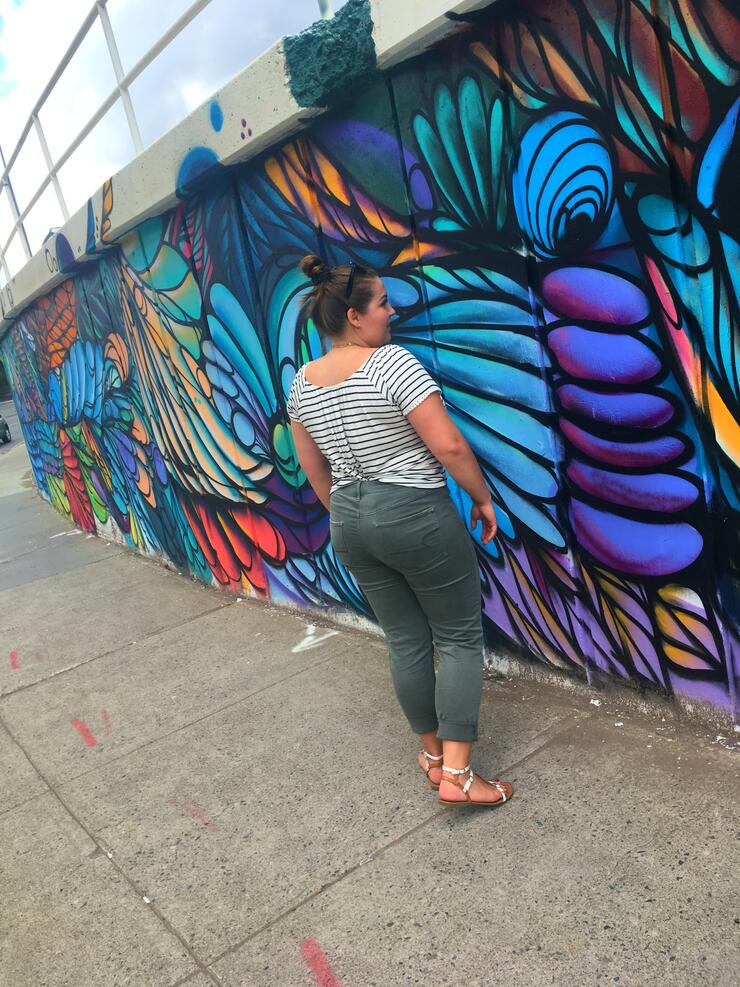 "Great Blue Heron" by Mique Michelle
Location: Ste. Anne Road & Mackenzie Street
This artist's childhood connection to the outdoors, water and her Métis roots inspired this new addition to Sudbury's outdoor gallery.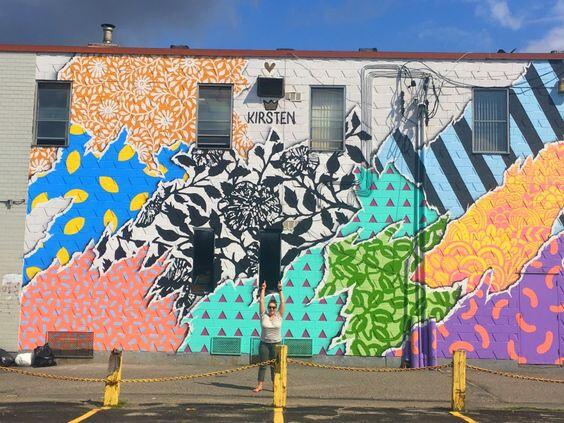 "Queer the North" by Kirsten McCrea
 Location: Elgin Street beside Zigs Bar
This unique mural features nine different artistic styles and patterns to depict overlapping pieces of wallpaper that have been torn away; McCrea states that this represents society itself.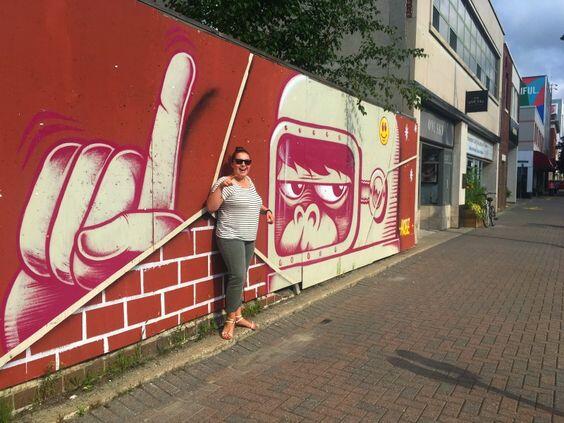 "Space Monkey"
Location: Durham Street across from YMCA
This unknown mural remains a mystery with an artist and back story.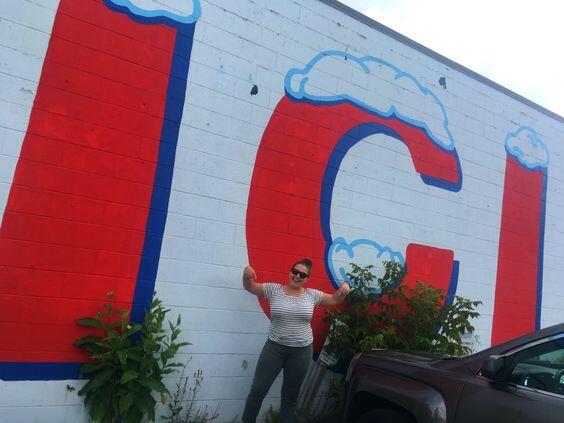 "Vous Êtes Ici" by Alexandra Berens-Firth
Location: Minto Street on the side of Old Rock Café
Inspired by historical iconography and signage, this mural was meant to be a landmark for the entrance to Downtown Sudbury.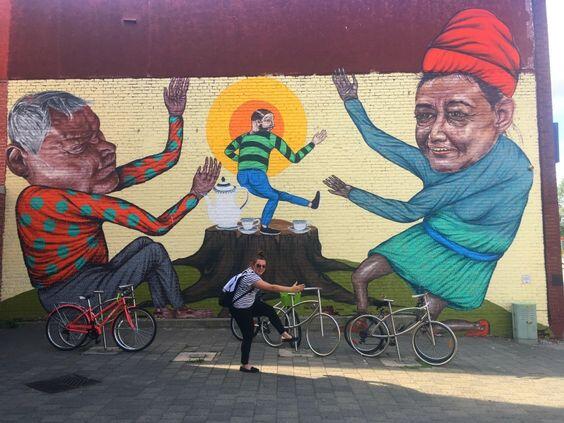 "Oma's Fables" by Troy Lovegates
Location: Durham Street by YMCA entrance
This mural is inspired by Troy's familial heritage as it represents one of Troy's grandmother's stories; Troy now continues the family tradition of story-telling through art.
"Stay Wild" by Tracy Baker          
Location: Memorial Park
Like all of Tracy's work, this colourful, nature-based design features elements of nostalgia, warmth and playfulness, and brightens up our downtown park.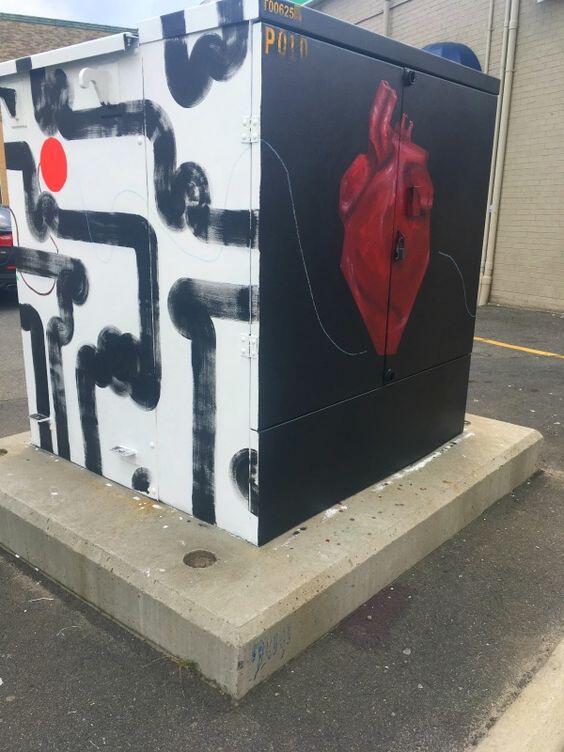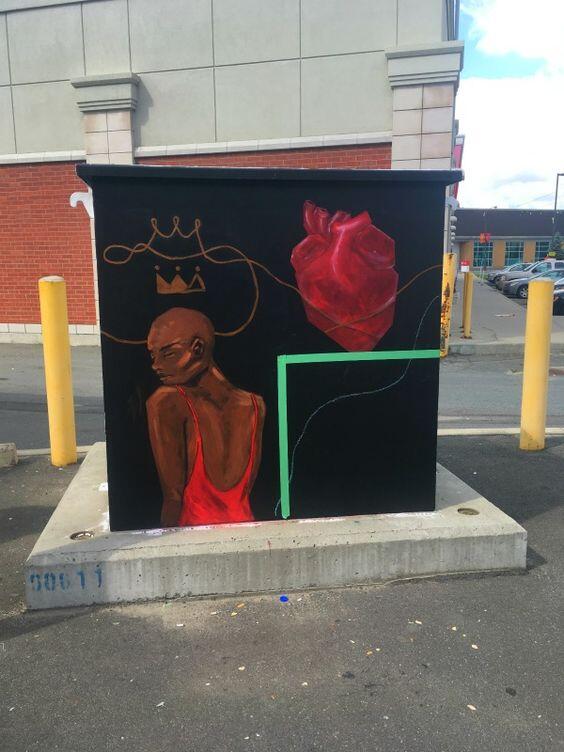 Throughout the city there are 24 electrical utility boxes that were painted by a variety of local artists. The power up project was created as a way of beautifying our downtown sector, turning a simple object into something beautiful.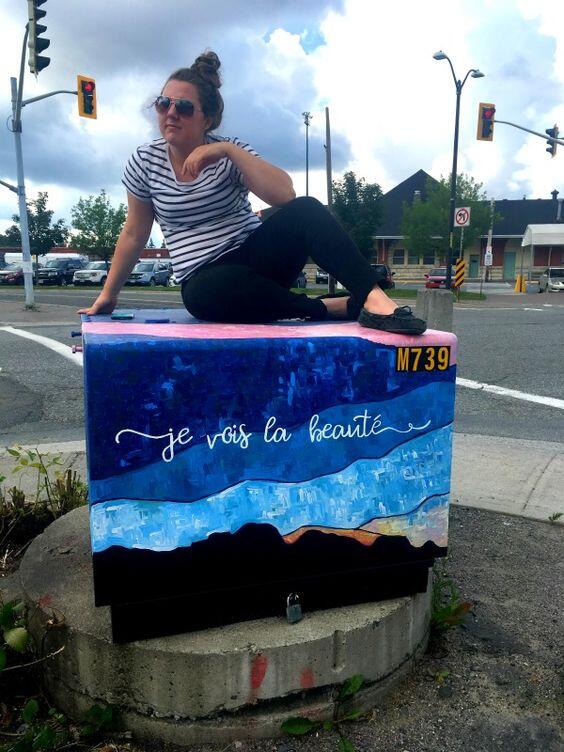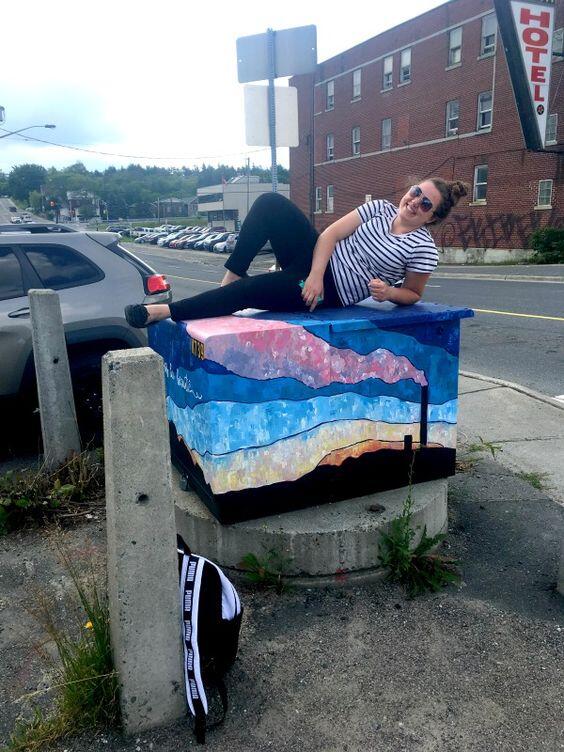 By Julieanne Steedman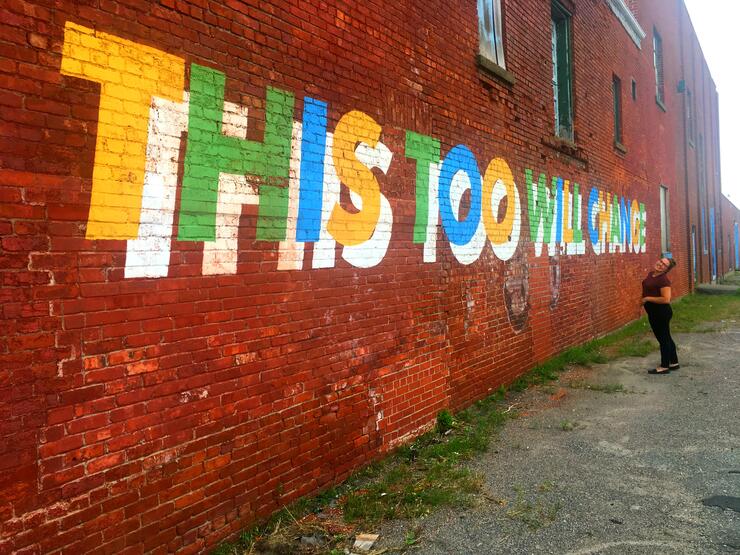 "This Too Will Change" by We Live Up Here
Location: Brewers Lofts on Alder Street
This simplistic but powerful mural refers to both our ever-evolving society and the building itself. What was once an old brewery site will one day be transformed into something new.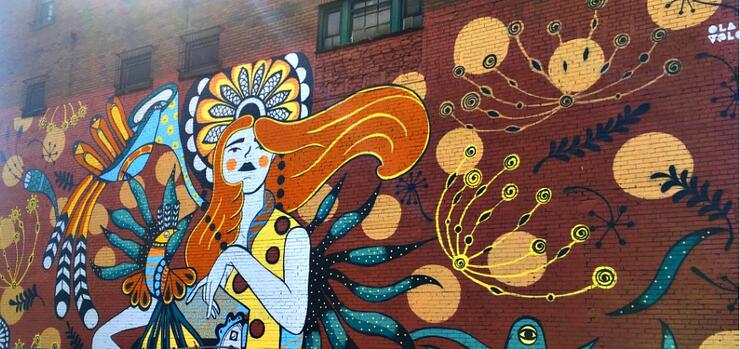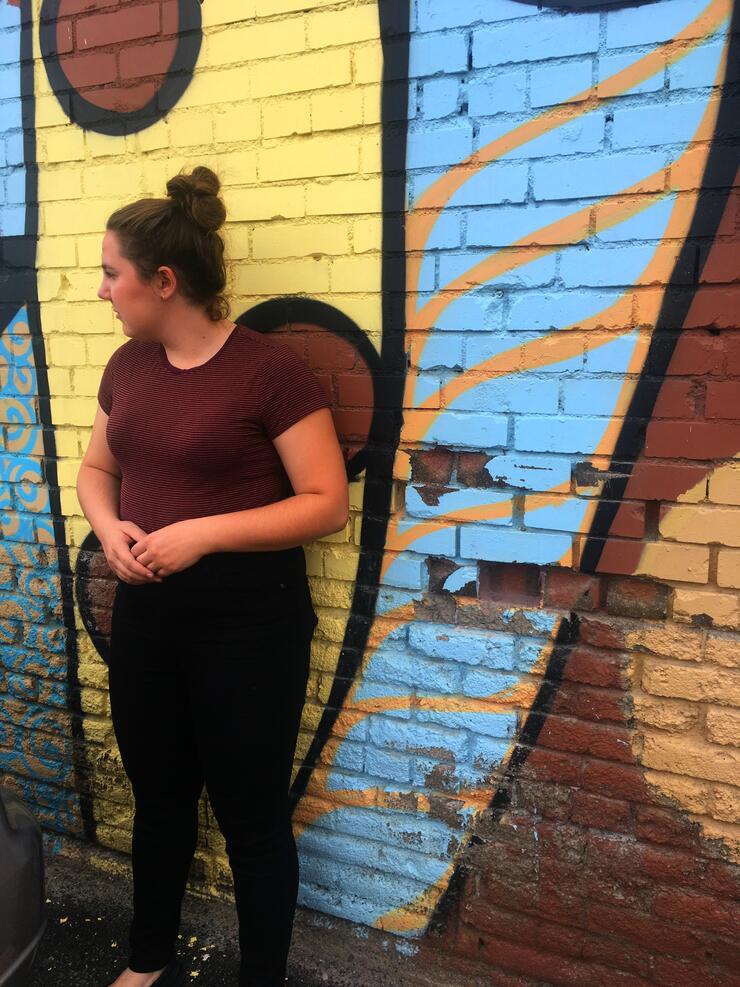 "Untitled" by Ola Volo                  
Location: Elm Street, behind the Mackey Building
In this beautiful, earth-based mural, Ola uses history, multiculturalism and folklore to bring together animals, people, architecture, and nature.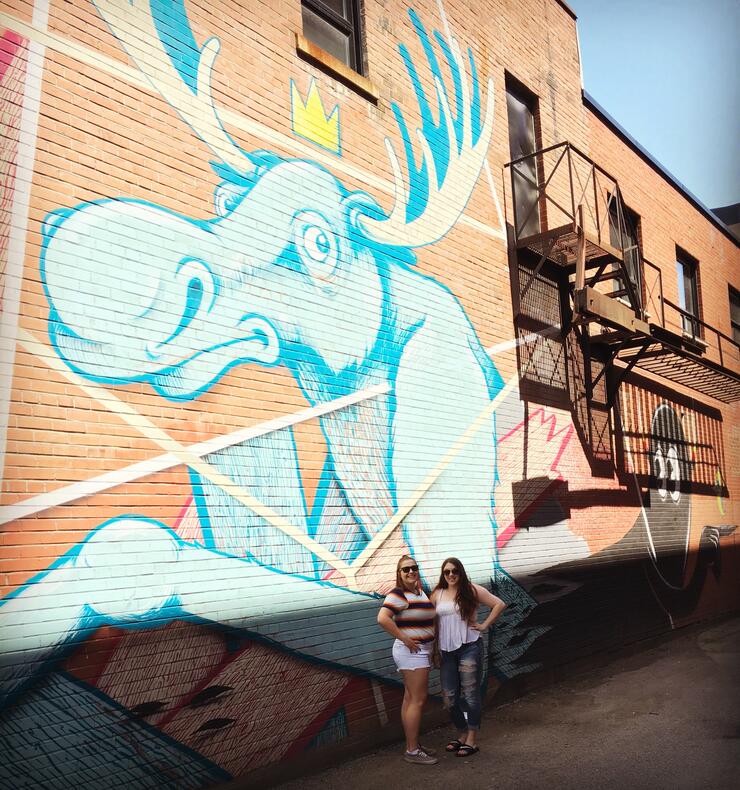 "The Blue Moose" by Hobz         
Location: Old City Hall Lane, next to Respect is Burning
This two part mural shows Hobz's influences of pop culture and comics and is sought out by every tourist.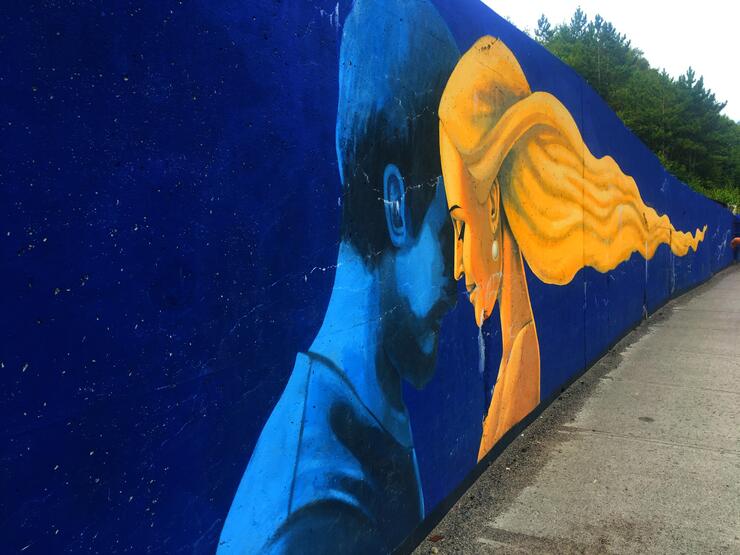 "Togetherness" by Neil Nenkova
Location: The Kingsway across from First General Services
This beautiful mural contrasts masculine and feminine and industry and nature. The man, a miner, is consumed by thoughts of his warm and loving wife while underground.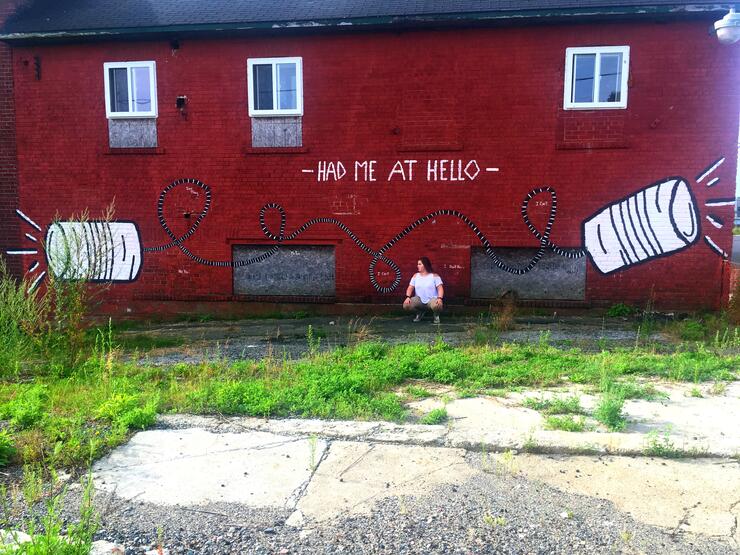 "Had me at Hello" by Nico Glaude
Location: Brewers Lofts on Alder Street
This mural depicts the initial spark between two people and the rare moment of "hitting it off". 
"Under Ground" By Emmanuel Jarus
Location: 58 Lisgar Street across from Kuppajo
The newest addition to downtown's outdoor gallery is this mining-inspired mural. A sense of eeriness and mystery is captured in this story of Sudbury's first female miner.
Some murals were just too big to capture! Head over to www.uphere.com/murals for more magnificent murals in Downtown Sudbury.
We challenge you to go out on the town and take a selfie with your favourite mural! Tag us on Facebook, Twitter and Instagram using our handle @SudburyTourism.
For more great things to see and do visit our website discoversudbury.ca
This article was written in collaboration with Emily O'Connel