Shop the Sudbury Summer Market
From farm fresh produce and pastries to goat milk soaps and Alpaca fiber socks, the Sudbury Market has something for everyone!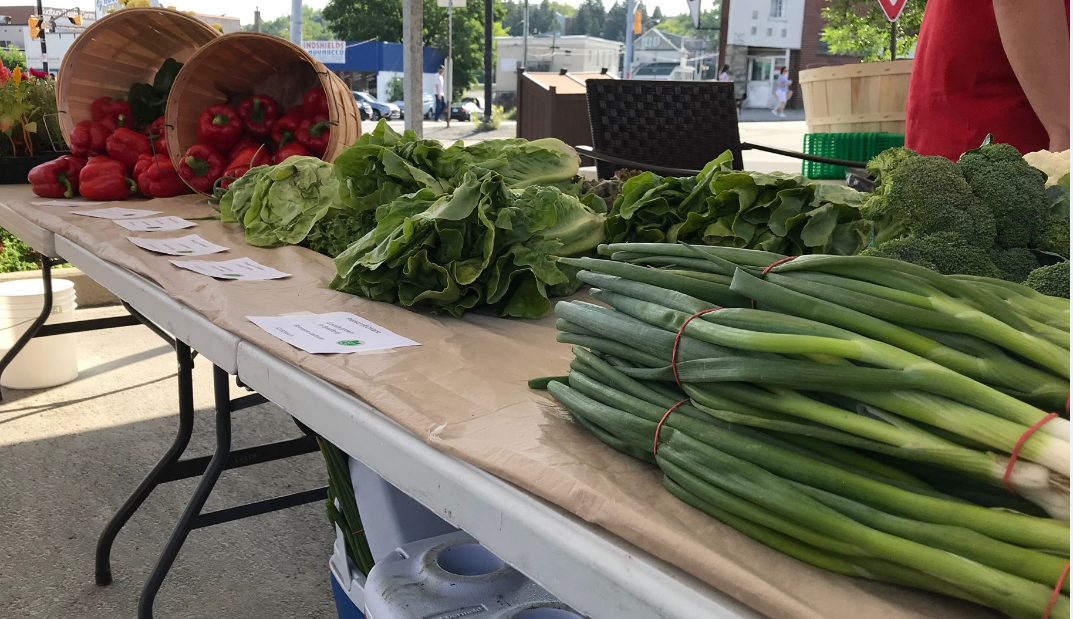 If you haven't visited the Sudbury Market during the summer, you're missing out! Every Thursday and Saturday from June to October, ambitious and talented local farmers and artisans set up shop eager to showcase their products. Thursdays from 2PM - 7PM in the York St. Parking Lot, in front of Bell Park and Saturdays from 8AM-2PM at the Via Rail Station parking lot downtown.  From farm fresh produce and pastries to goat milk soaps and Alpaca fiber socks, the Sudbury Market has something for everyone!
On your way, stop by one of our local downtown cafés for your morning fix, then head over to the Sudbury Market!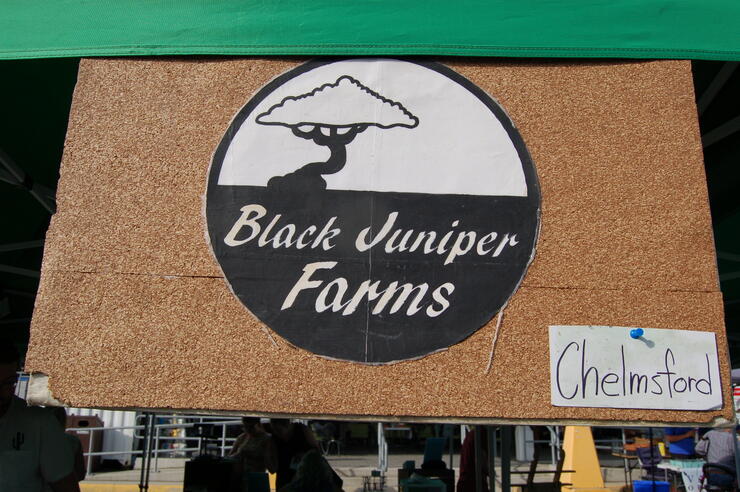 Established in 2017, Black Juniper Farms is owned and operated by young entrepreneur and farmer Niko Hebert. This bio-intensive farm is located in Chelmsford and focuses on efficient, hand-labour farming practices without the use of pesticides or herbicides. Black Juniper Farms is seasonal, operating only in the warmer months, and specializes in growing herbs, root vegetables, flowers (both edible and decorative) and greens like baby salad mix. Catch Black Juniper Farms at the Sudbury Market every Thursday and Saturday!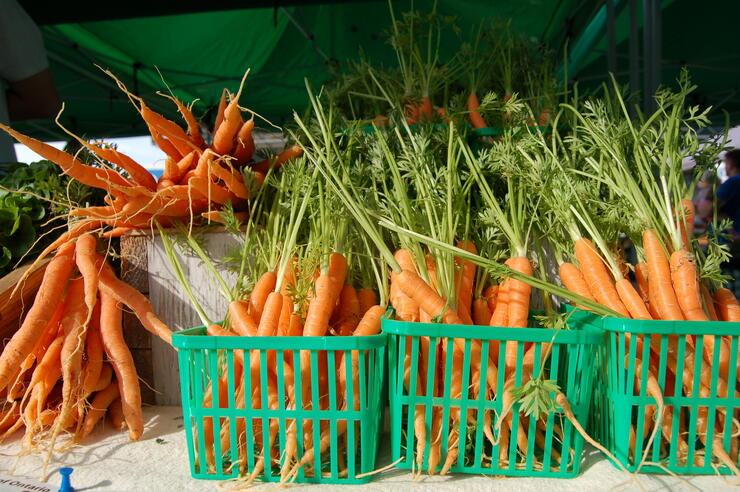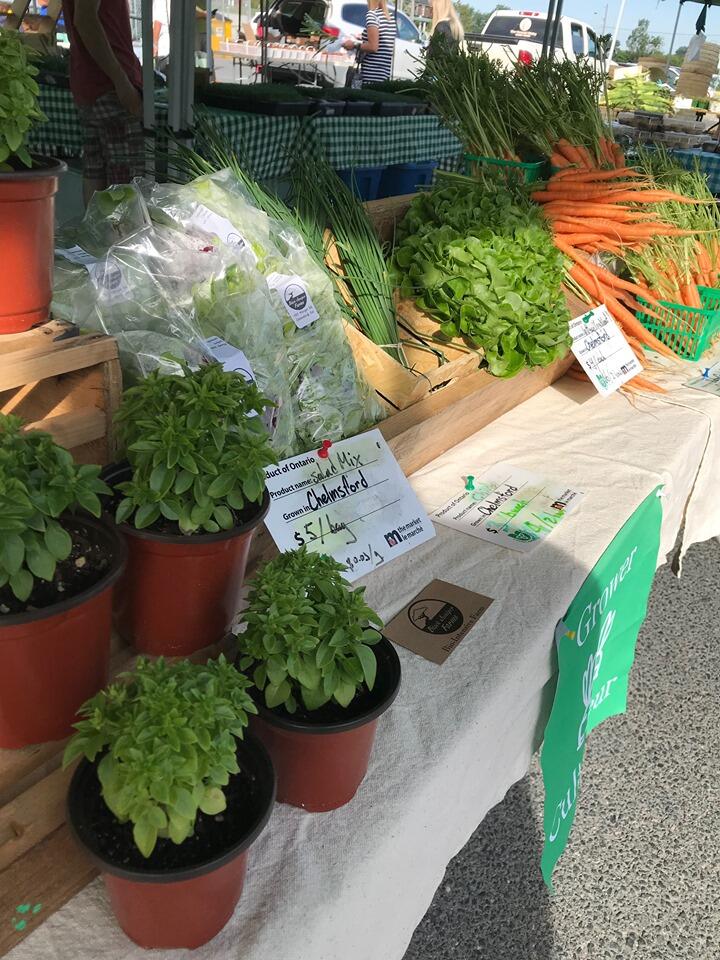 Casimir Forest Soaps' owner and operator Tracy Burnham has been making handcrafted goat's milk soap for 12 years. Tracy's soap-making business began on a small goat farm in Casimir Forest, St. Charles, Ontario and has transitioned to an in-home shop in Hanmer, where up to 1,500 lbs of soap is made weekly. All of Casimir Forest Soaps' products are inspired by Canada's own Boreal Forest, incorporating ingredients like berries, woods, and flora native to Northern Ontario. In addition to the Saturday market, Casimir Forest Soap products can be found at Kate's Kountry Kitchen in Warren, Ontario as well as in disguise as private label soaps around the city of Sudbury.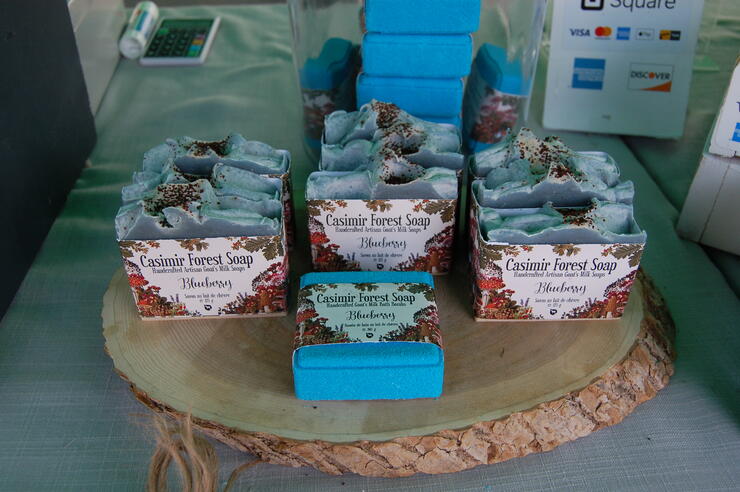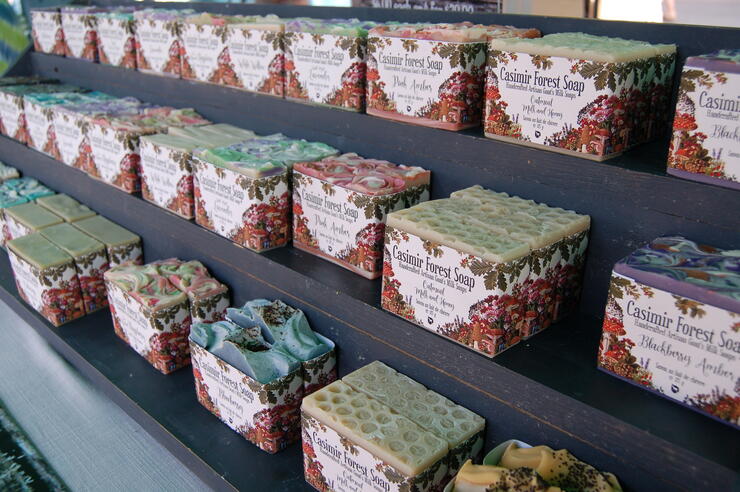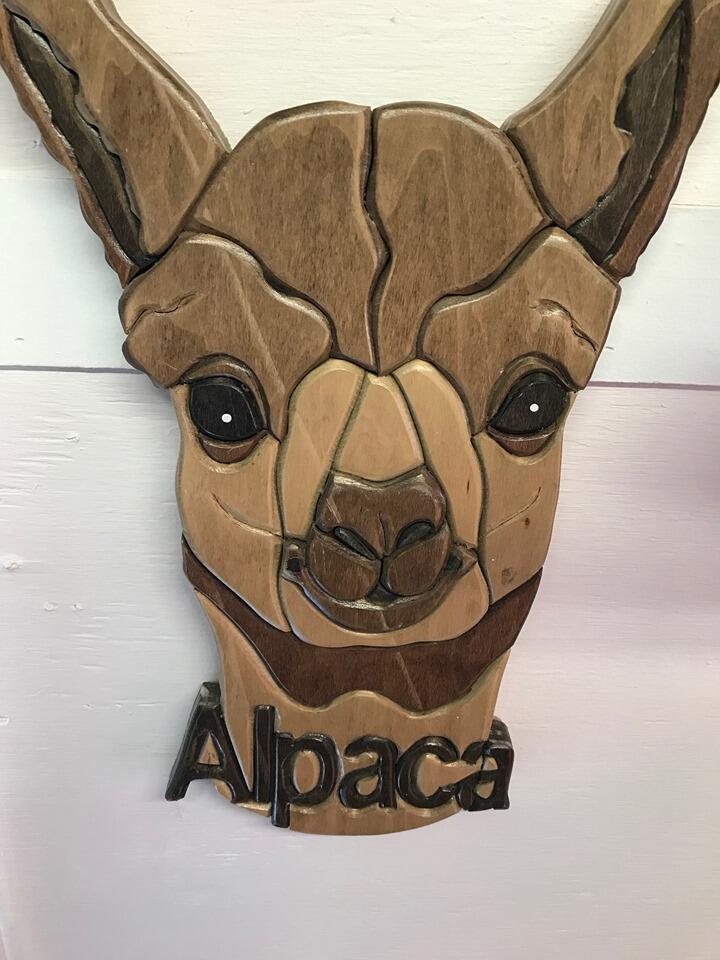 Dare 2 Dream Alpaca Farm is a family-run farm located in McKerrow, Ontario –just 45 minutes West of Sudbury. This farm is 100% sustainable and holistic as the alpacas are bred, born and raised on-site and are farmed for all types of products including Alpaca fiber clothing such as shawls, socks and mittens, meat, and manure for gardening. Also located at Dare 2 Dream Alpaca Farm is Sandy Loam Produce, a four acre garden that produces a variety of fresh vegetables including greens and herbs. Stop by the Thursday or Saturday market to shop all-things-Alpaca or head over to the farm year-round to shop Alpaca products, tour the farm, and make some furry friends!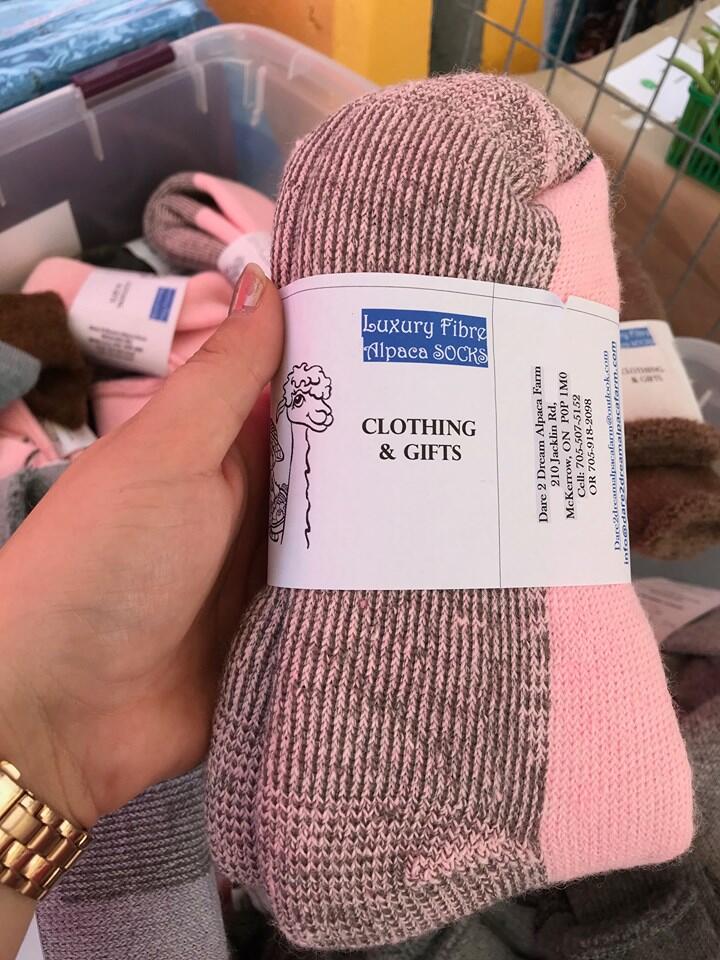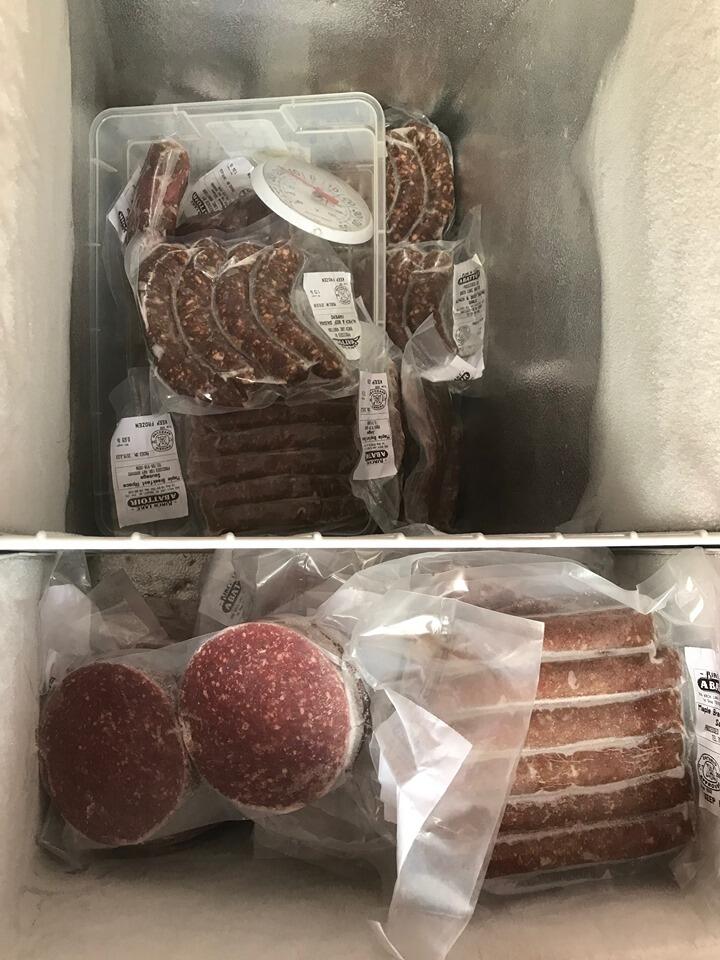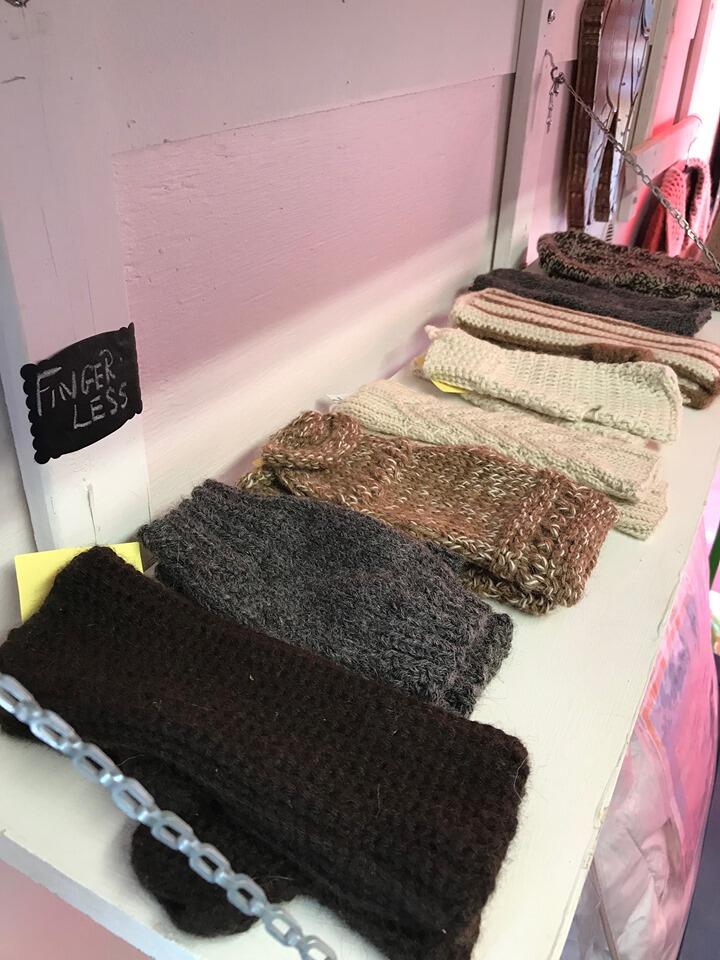 Spoiling your best friend has never been easier or healthier! Give a Dog a Bone is a local ma and "paw" business in Downtown Sudbury that sells natural, home-made dog treats. Owners Mike and Angel pride themselves on making the treats as well as the packaging all in-house; their healthy and delicious dog treats are edible to everyone! The treats are made primarily of local ingredients and feature flavours like peanut butter and blueberry and even seasonal flavours like Gingerbread. Shop Give a Dog a Bone every Thursday and Saturday at the markets or at local shops like The CreateHive, and Smith's Markets.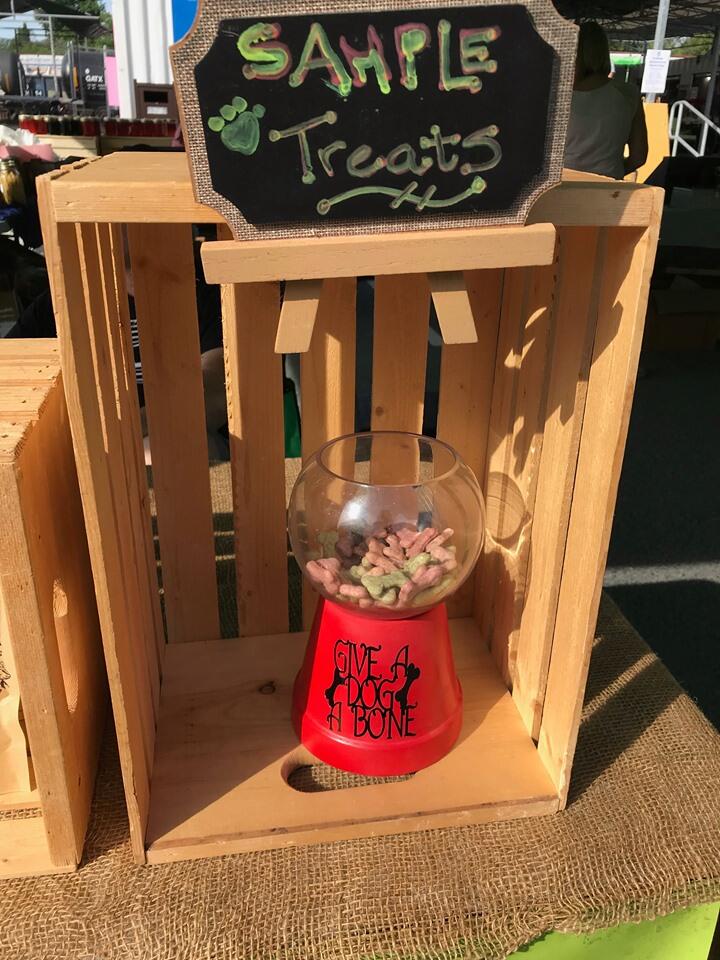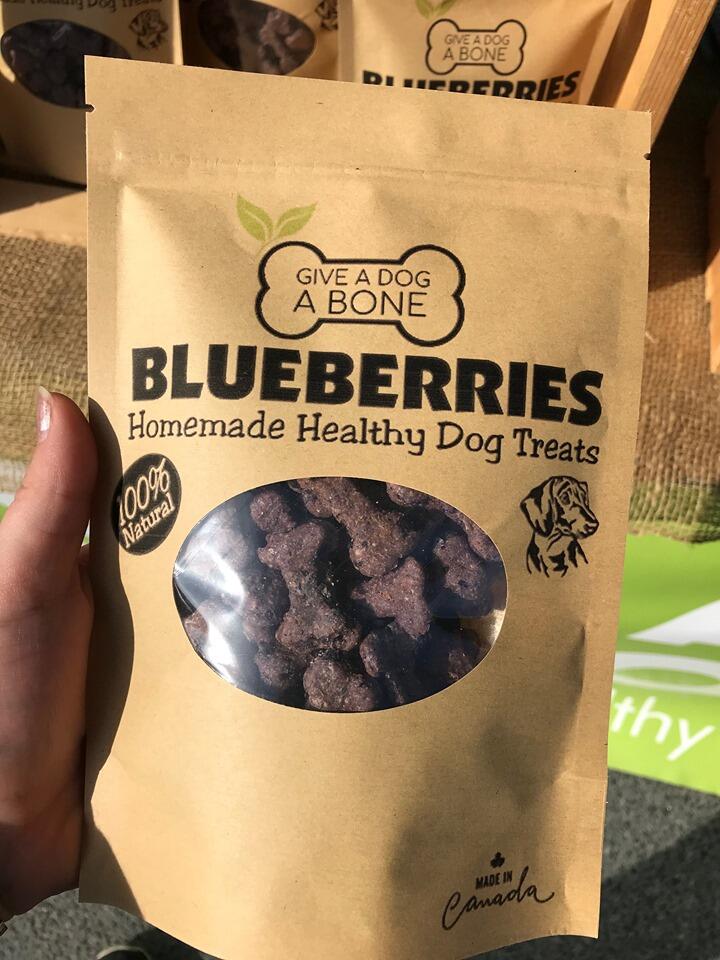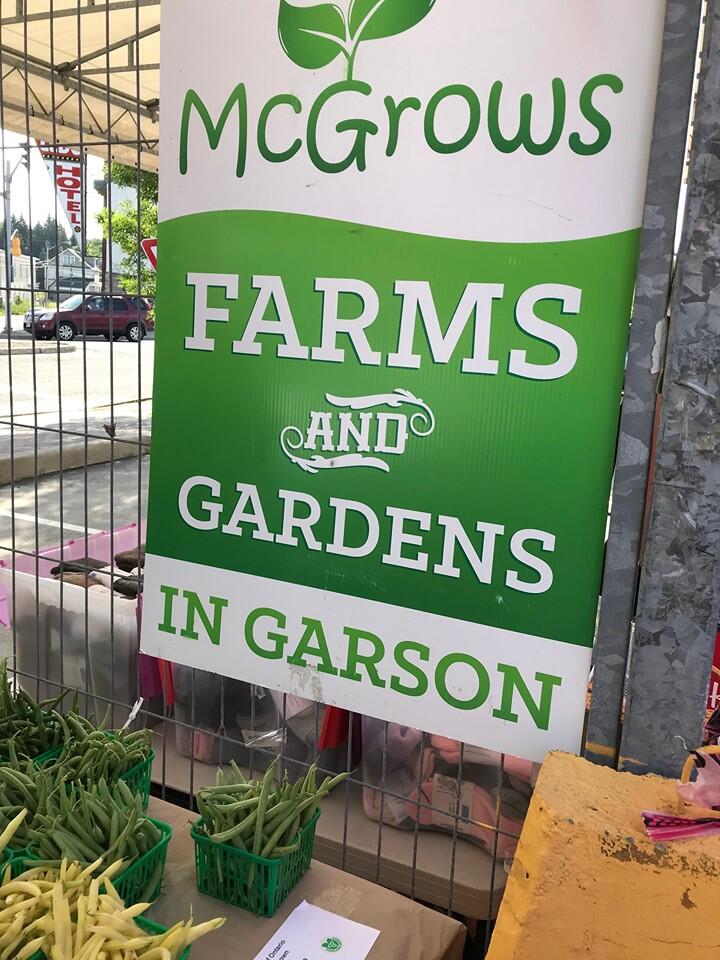 McGrows Farms and Gardens is the one-stop vendor for all your local food needs! From produce to eggs and honey, owner Stewart McCall has it all. Established in 1999, McGrows Farms has been located in Garson for 20 years, selling fresh produce like peppers, lettuce, seasonal squashes and roots, vegetable and flower starts, eggs, honey, and St. Joseph's Island's maple syrup, sugar and candies. Although the produce at the farm is seasonal, McGrows Farm sells eggs, honey and syrup year-round, boasting an impressive and tasty variety of products like maple butter, cinnamon spread and creamed and liquid honey. The newest addition to the farm is their Ameraucana chickens which produce beautiful green and blue eggs that are higher in protein and omega 3 than traditional eggs. McGrows Farms is at the market every Saturday and Thursday, but also does farm-gate sales on-site.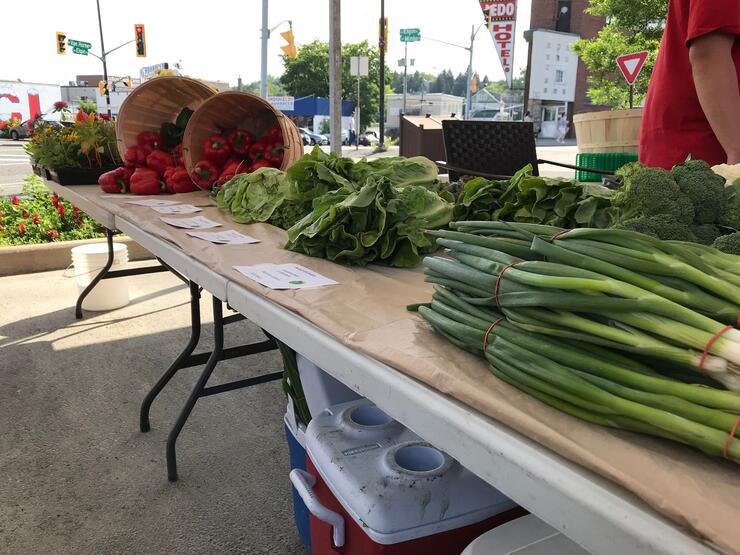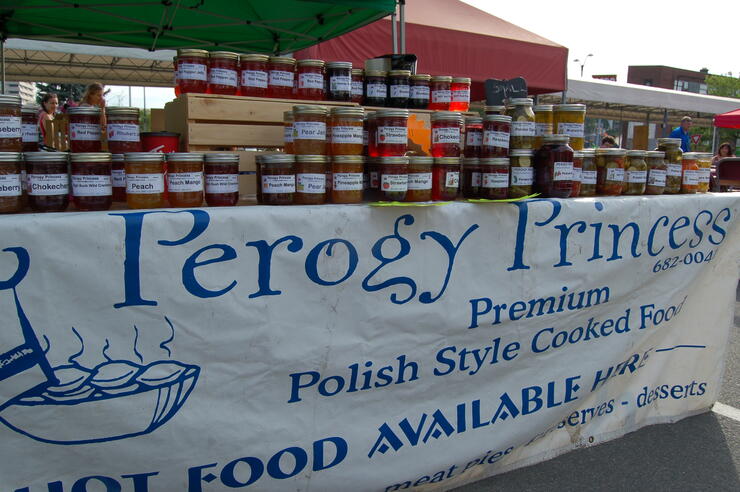 Perogy Princess specializes in catering comfort food and preparing homemade preserves for Sudbury foodies. Established in 2000, Perogy Princess's owner, Mary Bedkowski, cooks all her products herself in her licensed kitchen at home in Copper Cliff. Jams, jellies, pickled vegetables, cabbage rolls, meat pies and of course, perogies, are some of the few delicious foods available through event catering. Perogy Princess's most popular product is the potato and cheese perogy, but her delicious Haskap jam takes a close second. Browse select items from her tasty menu at the Saturday markets or at Tarini Bros. and the Marche Azilda Market.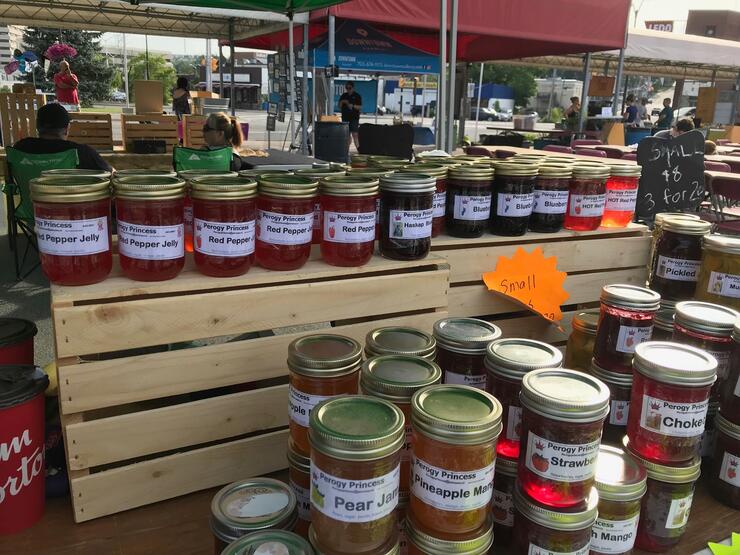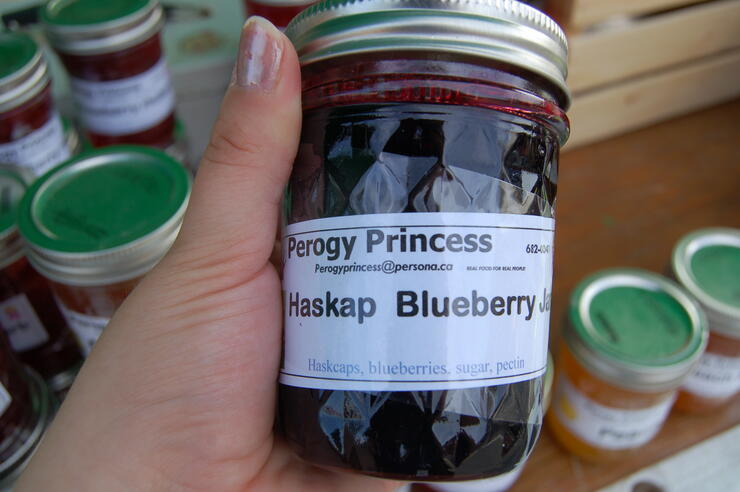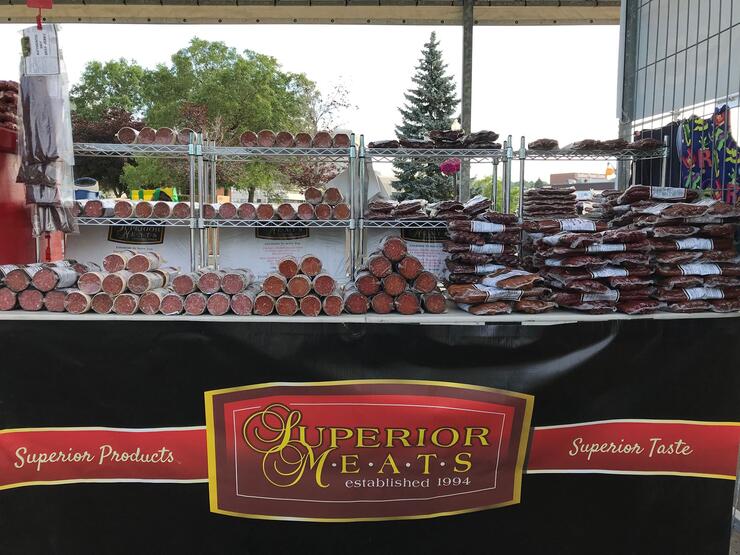 Superior Meats is a family run business operating out of Barrie, Ontario, with shops in Northern and Southern Ontario, including Sudbury. They specialize in Artisanal meats and specialty cheeses including cured, European-style meats including German, Hungarian and Italian Salamis and imported cheeses from Spain, Italy and more! Superior Meat's best selling product, the Ukrainian Garlic Salami, seems to be a favourite for Sudburians as they shop the numerous deli products that line the vendor stand. Don't forget to pick up a big soup bone for your furry friend while you're there! In addition to the Thursday and Saturday Market, Superior Meats products can be purchased year-round at their permanent kiosk in the New Sudbury Shopping Centre.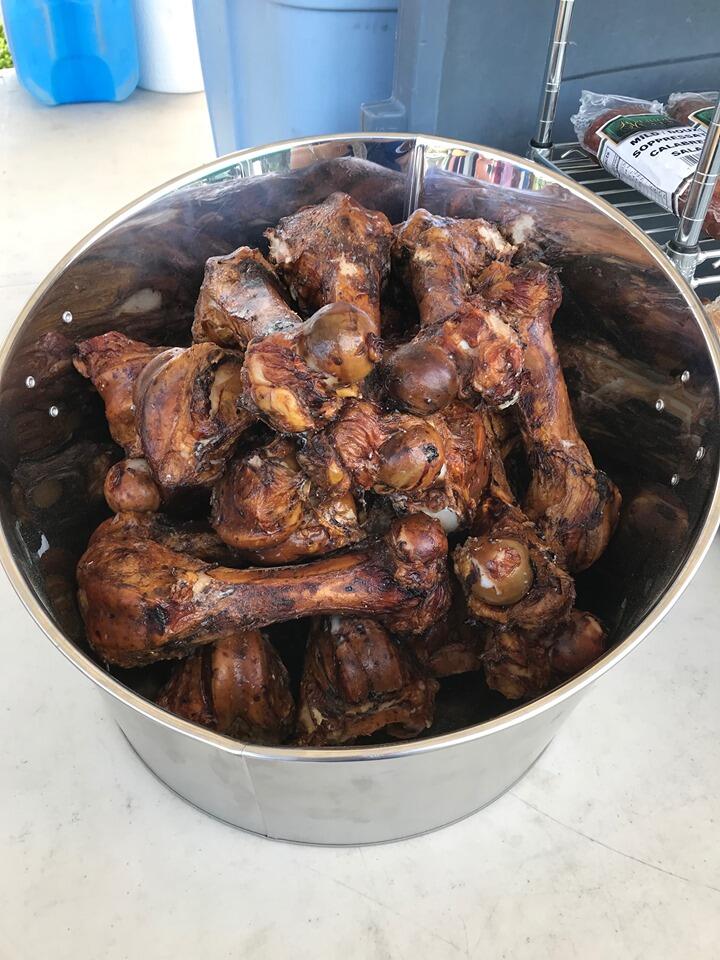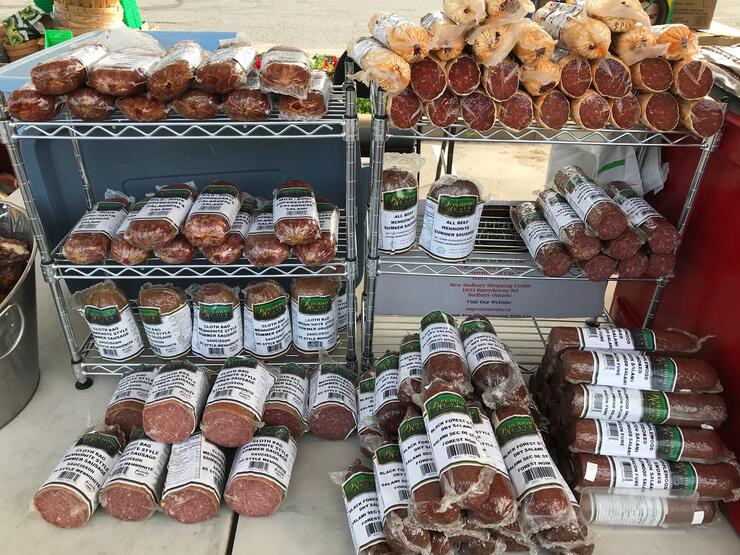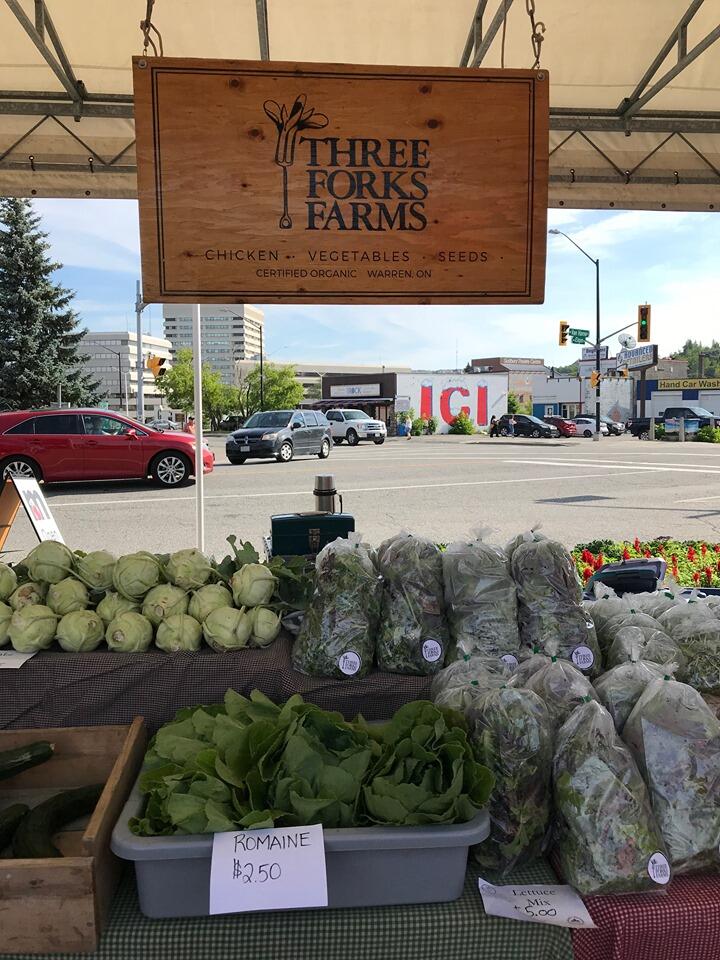 One of the newest produce vendors at the Sudbury market is Three Forks Farms. Established in 2014 and based out of Warren, Ontario, Three Forks Farms is certified organic and the only organic chicken farm in Northern Ontario. This family-run farm grows all kinds of produce including seeds, herbs, sprouts, greens, kohlrabi, carrots and more; they also raise and harvest approximately 1,400 organic chickens each year! In addition to selling organic produce and chicken, Three Forks Farms sells reusable produce bags made for sprouts and greens –they're a hit with eco-friendly Sudburians. Come fall and winter, Three Forks Farms will switch gears and sell seasonal squashes and greens and sprouts grown indoors. Catch owners Eric and Peggy at the Thursday and Saturday markets!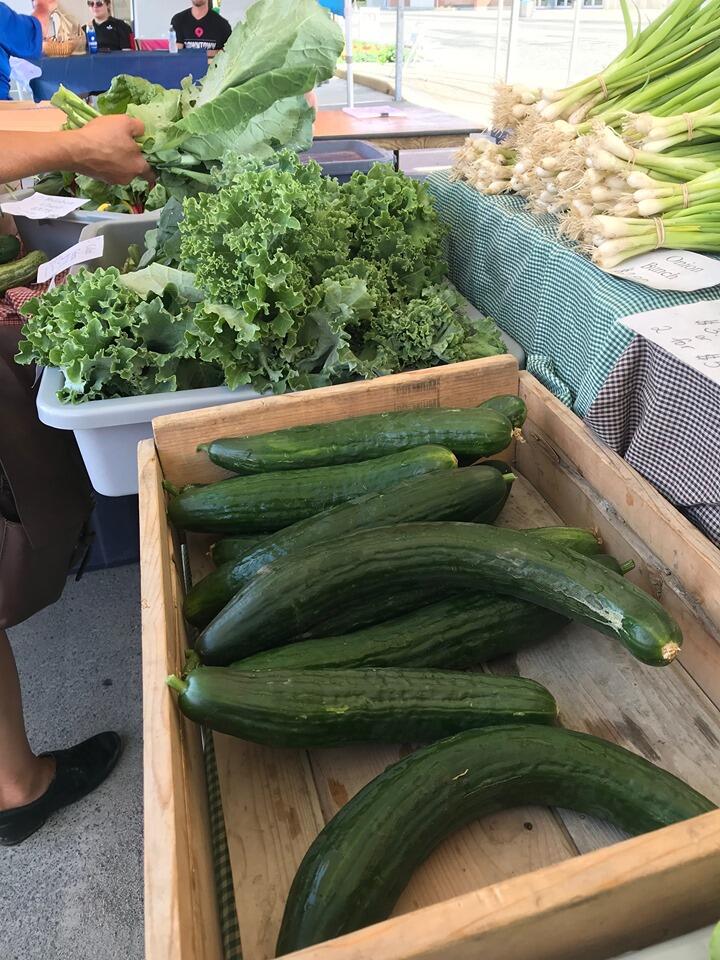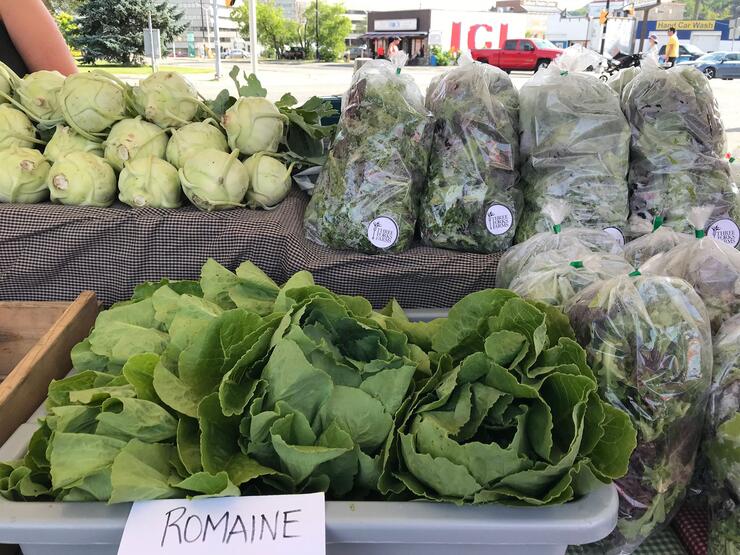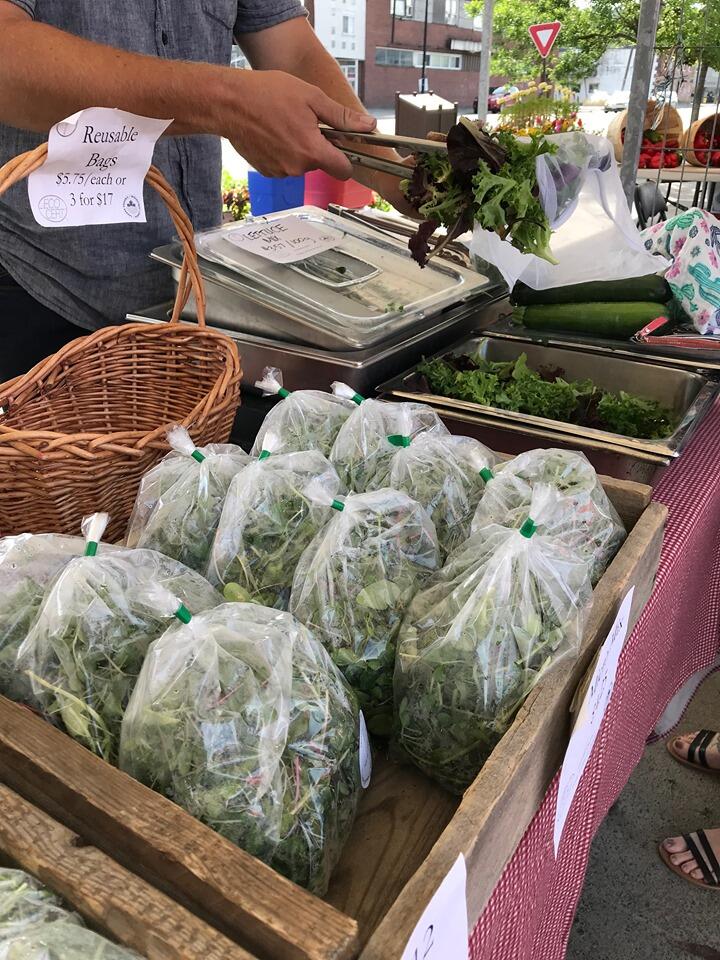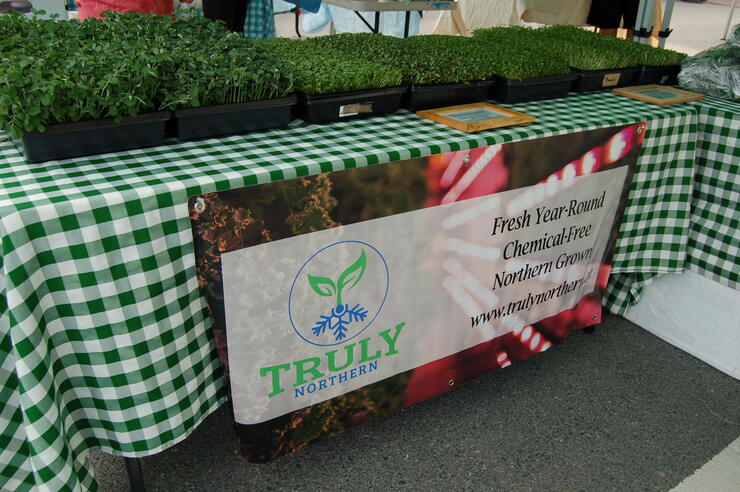 Truly Northern Farms is one of Sudbury's hydroponic farms, growing their micro greens indoors in water, rather than soil. This family-run farm produces micro greens such as broccoli, radish, baby kale and mustard sprouts as well as full sized kale. Truly Northern is currently located in the Valley, but is working towards expansion. Owners Stéphane and Erin are planning on opening a new location in Kapuskasing, Ontario to better serve Northerners; they're predicting that, between the two locations, Truly Northern will sell over 20,000 plants a week! Because everything is grown indoors, the farm is open year-round, selling fresh, local micro greens at the Thursday and Saturday markets as well as on-site in the Valley.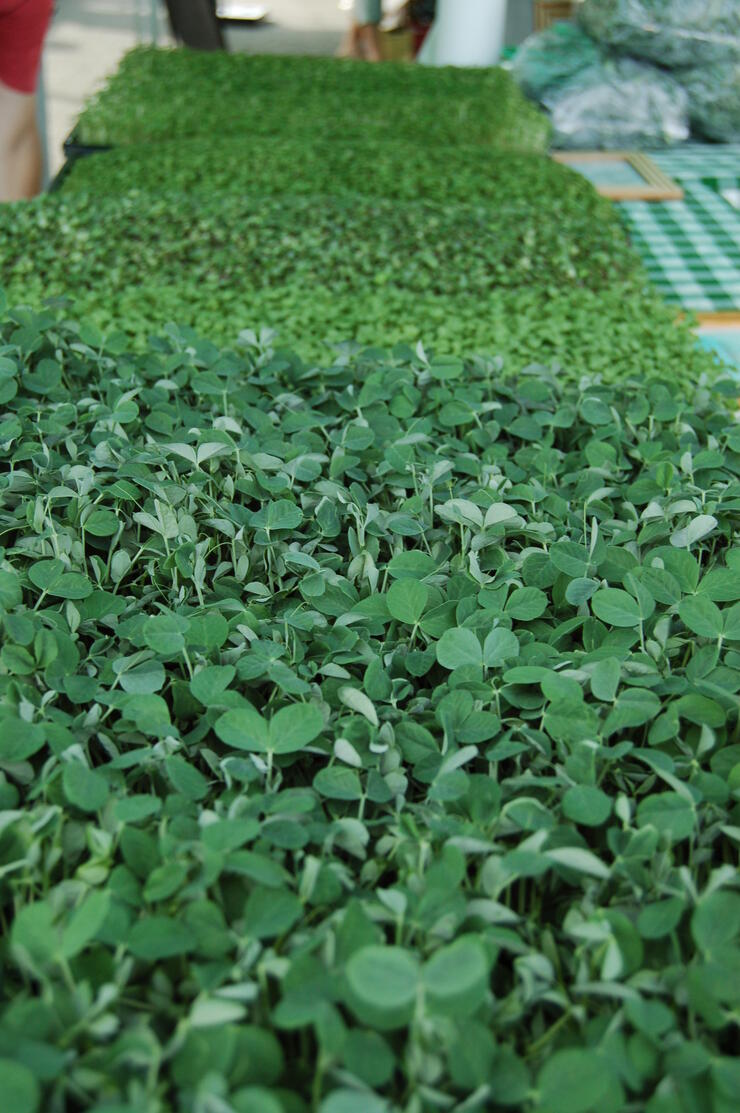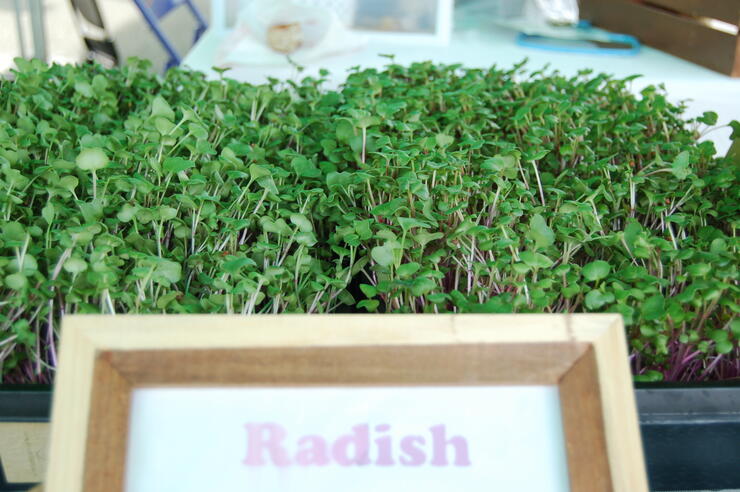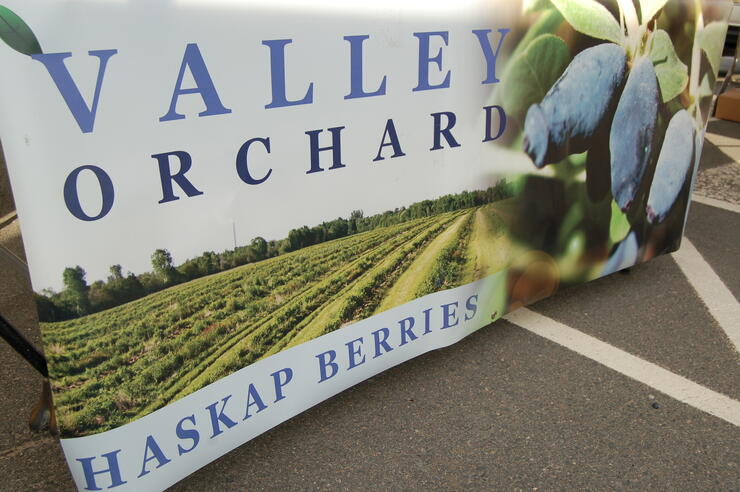 Valley Orchard is a 30-acre, family-run farm located between Blezard Valley and Chelmsford, Ontario. The farm, which originally started as Valley Nursery Sod, has expanded, growing both sod and one of Sudbury's hidden gems, Haskap berries! Haskaps are an oval, deep-blue coloured berry similar to a blueberry, but have a more tart taste and are much higher in anti-oxidants, potassium, and calcium. Haskaps have been found in the wild in every province except British Columbia and grow for 3-4 weeks starting at the beginning of July. Sample these delicious berries at the Sudbury Market on Thursday and Saturday market. Can't make it to the market? Stop by Valley Orchard and pick some berries yourself!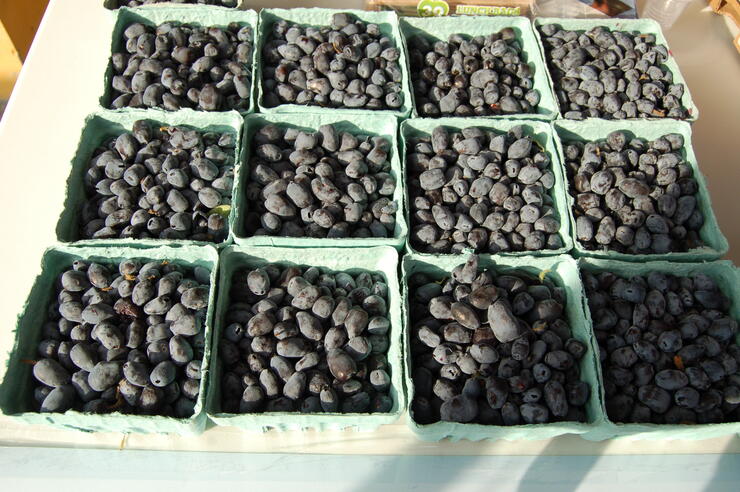 These are only 10 of the 30+ vendors that have attended the Sudbury Market. Make sure to check out the Sudbury Market for yourself and shop all of the great local vendors - Rain or shine, the Market is always open every Thursday from 2PM - 7PM across from Bell Park and every Saturday from 8AM – 2PM at the VIA Rail Station!
For more great #ThingsToDoinSudbury, visit discoversudbury.ca
*These vendors are not guaranteed to be at the Sudbury Market.  Please check the list of current vendors on the Sudbury Market Facebook page