10 Reasons You Can't Wait to Get Back To Sunset Country
The fish, the lakes, the sunsets, and summer bonfires are just some of the things you're missing. Plan your return with this list!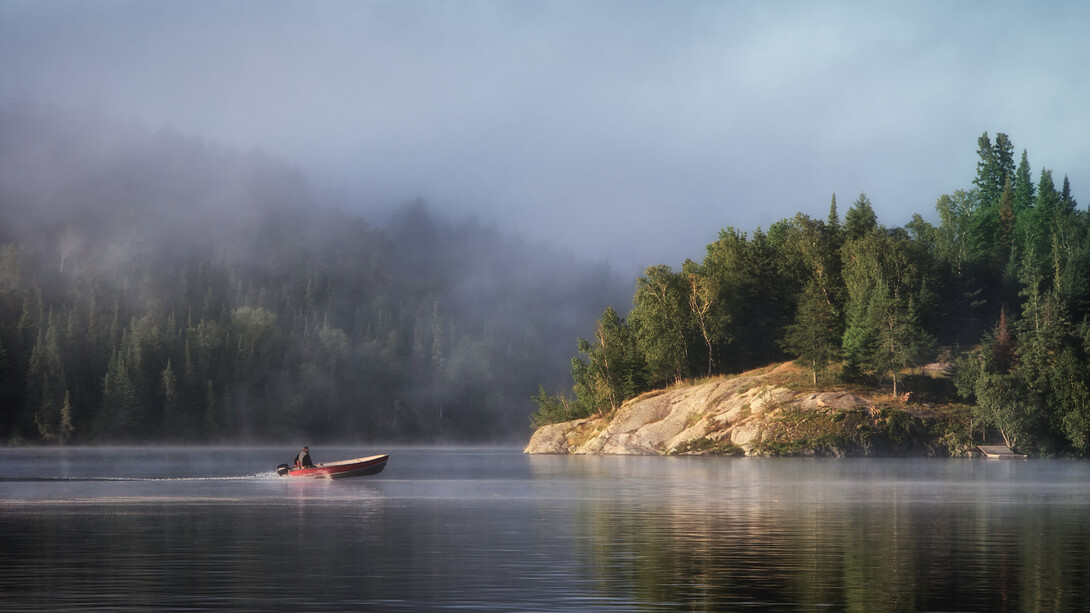 This article is part of our #DreamON series. We asked each of our writers to compose a love letter to their Northern Ontario community. During these difficult times spent in isolation, our writer in Sunset Country listens to what visitors are looking forward to when they return. 
The last few months have been a real struggle for many. Tourism in Ontario came to an abrupt halt, making both tourists and operators sad and frustrated. We have been fielding many calls and emails at the Ontario's Sunset Country Travel Association office about people who are wondering when or if they are going to be able to come up to Canada fishing again. And while travel within Ontario is now open, the U.S. Canada border remains closed to tourism, for now. 
As I was communicating with anglers, family vacationers and road trippers, one thing was clear. They would be truly heartbroken if they couldn't make the annual trip to Sunset Country. In our conversations, we talked about the many things they loved about their trip up north. 
Here are the things they couldn't wait to do or see again. Looking at the list, I've realized that most of the things we're missing are just what we all need right now: solitude, social distancing in the wilderness, and just getting away from it all.
The Lakes
The number one reason many choose Ontario's Sunset Country is the beautiful Canadian lakes surrounding by the Boreal forest and the Canadian Shield. We have 70,000 lakes and rivers in Sunset Country so it's easy to naturally self distance!
The Solitude
Imagine heading out on the lake and simply seeing water, trees, maybe a sand beach and a loon call out in the distance. That describes almost all of our lakes. Sometimes you are even the only one on the lake! Other times, you might see a handful of boats that give you the boater's wave as you go by. It's peaceful. It's serene. It's quiet. 
The People
Virtually all of the lodges and outposts in the area are small, family-run businesses. You are greeted with a smile and treated like family at the resort. It's just one of the reasons some vacationers have been visiting the area each year. Some people have been going to the same resort for over 40 years! You are family when you visit these lodges.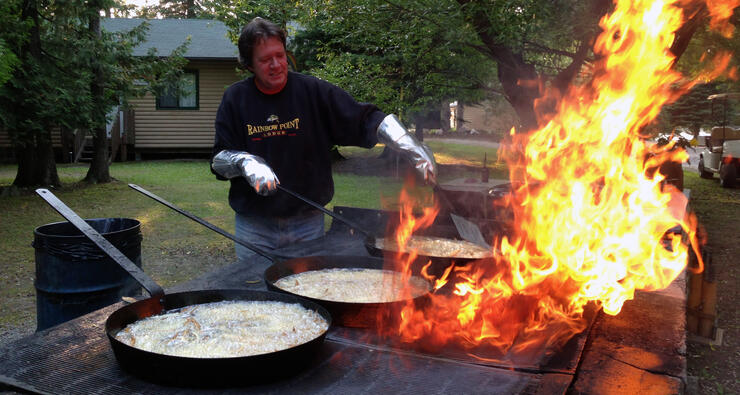 Bob Extence enjoying cooking the weekly fish fry at Rainbow Point Lodge
The Wildlife
Many people mentioned being astonished at how often amazing wildlife crossed their path. It really is a photographer's dream. Whether it's a moose on the shoreline, a stealth lynx peering out from the bush, a huge black bear, a whitetail deer roaming about, a wolf dart across the road, or a beaver in their dam, to see any of these creatures in their natural habitat is amazing. Watch for the beautiful sounding loon, a bald eagle soaring above, a Great Blue Heron along the shore, a pelican with its huge beak and many other birds and waterfowl.
The Trophy Fish
Of course, the great fishing is also something you're missing. A lot. Not only can you catch a lot of fish in Sunset Country, but you can some GIANT fish. Try for a 50"+ muskie, a 40"+ northern pike or a 30"+ walleye! Get a lunker trout, a big bass or jumbo perch! Releasing these big fish has made it so someone else can have the thrill of catching it too and giving you the chance to catch it again next year! The bigger fish you catch, the more your goals increase. Last year I caught my first muskie, a 48"er and I can't wait to try and catch a bigger one! Beating your personal best is a goal of many.
The Shore Lunches 
It turns out, many anglers can't get enough of their shore lunches! Most of the land surrounding our lakes is Crown Land, meaning it's not privately owned. So after a morning of fishing for walleyes, pull up to the shore and enjoy a famous shore lunch of freshly caught fish, potatoes, come beans and all the fixings. Sit down and enjoy your lunch while listening to the waves lap against the shore, reminisce about the fish you caught or the big one that got away and simply enjoy the wilderness that surrounds you. 
The Sunsets
It's what we're known for. There's nothing like watching the sun go down over the water. The reflection on the water with whispy or fuffy clouds looks surreal or even like a painting. As you head back to the cabin at sunset, a feeling of happiness overcomes you as you take in the glorious, red, pink, orange, and purple skies above. Check out our top 23 sunset photos here. 
The Variety of Fish Species
Another thing about fishing that is often mentioned is that our area has many fish species that you can target. Most lakes have walleye and northern pike. You can also fish for smallmouth and largemouth bass and lake trout on many lakes. Muskies can be found on big lakes like Eagle Lake, Lake of the Woods Lac Seul and a host of others. On many lakes, you can also fish for jumbo perch and black crappie. Brook trout can even be found on some river systems. Targeting different species can be such fun! Each fish species is fun and a different experience to catch. 
The Clear Night Skies
Often people visiting Sunset Country come from the city where you can't see many stars. They certainly appreciate our evening skies. There's no pollution, no city lights hiding the stars. Up here, head outside your cabin, and look up. You'll see millions of stars dotting the sky. Time it right and you'll also be abble to see the spectacular Northern Lights dancing in the sky. Check out our top three places to spot the Northern Lights in Sunset Country. 
Stories Around the Campfire
After the sun goes down, the campfire burns bright. Sit around, enjoy the day's stories, have a beverage, and just take it all in. The crackle of the fire along with the flickering flames can have such a calming effect after an eventful day. 
So far the summer of 2020 hasn't quite been what we expected. But we look forward to seeing our regular visitors soon. 
Update: ALL border restrictions related to covid-19 have ended - see you soon!