Catching 7 Species of Fish on One Lake
Imagine catching 7 species of fish in one day? It can be done on many lakes in Sunset Country.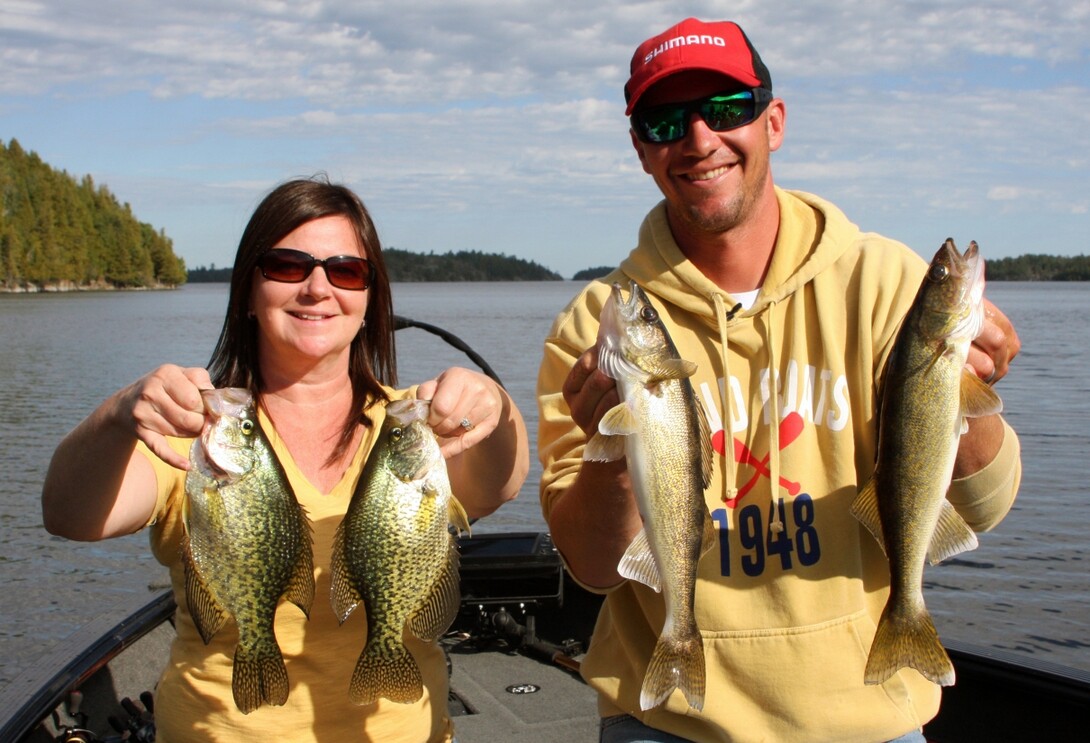 One beautiful fall morning my boss got a call from pro-angler Jeff Gustafson asking him if he wanted to join him in filming a TV episode for a show he had called Fishing With Gussy. Gerry was unfortunately too busy to go and asked me if I wanted to go fishing with Jeff for the day. Of course, I said yes! An opportunity to go fishing with one of the best anglers in Ontario? Yes, please!
What Gerry failed to mention to me was that they would be filming for an upcoming episode of Fishing With Gussy. Now, anyone who knows me will tell you that I am always the one behind the camera lens because I hate getting my picture taken and I definitely don't like to be on video, lol. However, anyone who knows me also knows that I love to fish and wouldn't pass up an opportunity to go fishing.
It was an exceptionally warm day for late September, around 25C (77F). I met Jeff and Shelley (the videographer/director) at a boat launch on Clearwater Bay on Lake of the Woods. As we were loading up, it became apparent to me that I would definitely be on camera. Eek! As soon as we headed out on the water though, my apprehension eased somewhat.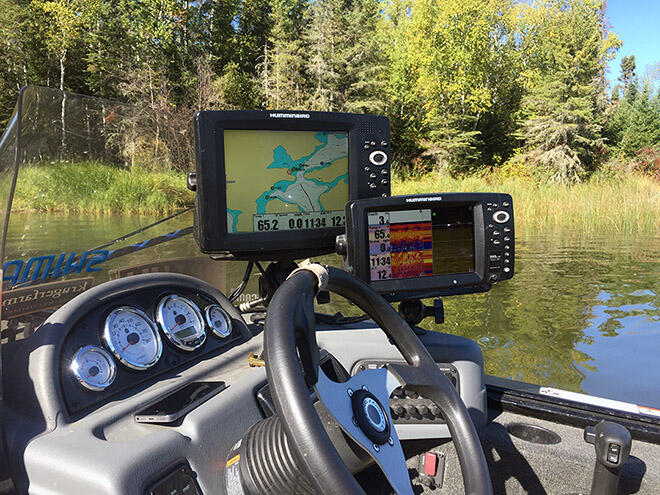 Every fisherman's dream!!
The topic of this episode was trying to catch as many different species of fish in one day on Lake of the Woods. Being mostly a walleye angler with a minnow and jig, I was stoked to be able to see how Jeff fished for so many species. What a fabulous learning opportunity! We started out fishing for smallmouth bass right near the boat launch. It didn't take long to check smallmouth off the list. Smallies are so fun to catch, even though they were on the smaller size, they were definitely a treat to reel in.
Next, we targeted largemouth bass, managing to land one and a pike in the same area. A 20-minute boat ride took us to a spot Jeff had taken some anglers on a guided fishing trip a few days before. They had caught many walleye, crappie, and jumbo perch all in the same spot. Upon getting there, there happened to be another boat in the "sweet spot".
Rather than crowding their space, we fished in the same bay, but farther down. Which wasn't such a bad thing as we found a crappie hole and we were able to quickly add crappie to the list. We were also able to get some walleyes, all beautiful eaters. This was the only time we used live bait. Jeff graciously baited my minnow and while I am capable of hooking a minnow (no leeches though), I let the master do it. I did learn a tip that the minnow should be put on so that minnow is very straight. There's less tangling of the line and I'm thinking it probably looks better to the fish.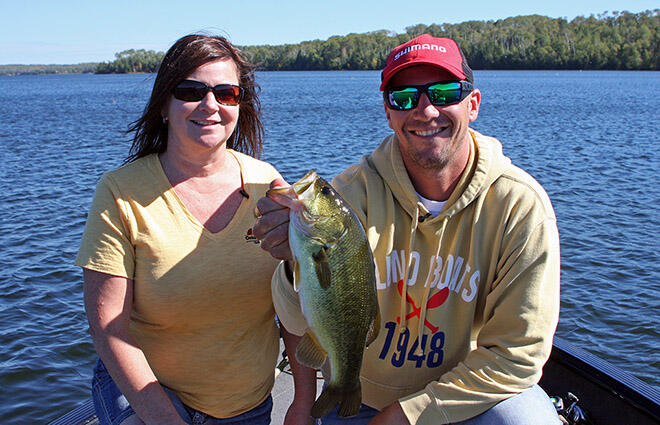 Jeff's largemouth bass caught on Lake of the Woods
Unlike the other day, the perch failed to show up to the party at that hole. With the very warm and unusual weather for a September day, the fish weren't in their normal spots. This made for slightly more challenging conditions. Especially when fishing for a big pike. We ended up getting a few smaller northern pike, but not the BIG one I was hoping for. By this time, I was slightly more comfortable with the camera filming. Well, actually not, but I was having so much fun fishing for all these fish species that I sort of forgot about the camera.
At some point, Jeff also caught a sauger and small perch. On the way home, we stopped at another spot for a quick cast. Within a few minutes, I got another (and a bit bigger) smallmouth. Then on our last cast, Jeff and I had a doubleheader, myself with a pike, and Jeff with a walleye. What a fabulous day!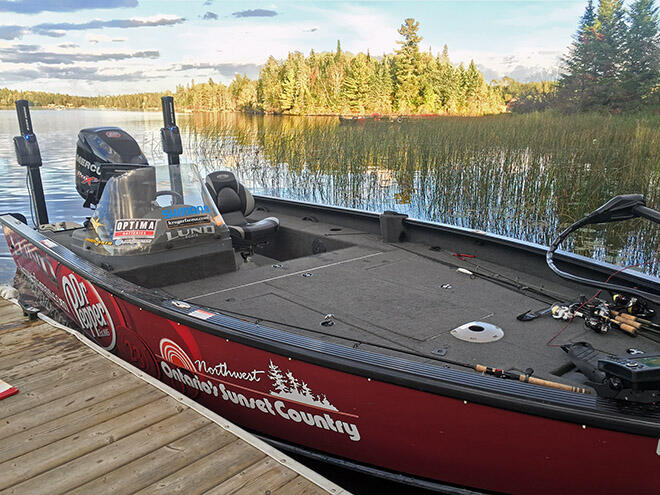 The end to a great day on the lake!
So while the day produced smaller fish than we expected, we managed to land seven species of fish: smallmouth bass, largemouth bass, northern pike, crappie, perch, sauger, and of course, walleye. Missing that day were lake trout, muskie, and whitefish. I'm not sure how many other lakes than those in Northwest Ontario have the opportunity to fish for so many species in one lake, probably not many. 
Lake of the Woods, like many lakes in Ontario's Sunset Country, has such a diversity of fish you can catch. It's truly amazing what's available in our neck of the woods! 
If you ever want to hire Jeff as a guide, I would highly recommend him. He knows the lake like the back of his hand, is extremely knowledgeable and will put you on the fish!
For more information:
You can also order a free Travel Guide & Map of Ontario's Sunset Country, find a fishing resort in Ontario, or follow Sunset Country on Facebook.