Persians with a twist
Discover these treats inspired by Thunder Bay's most famous food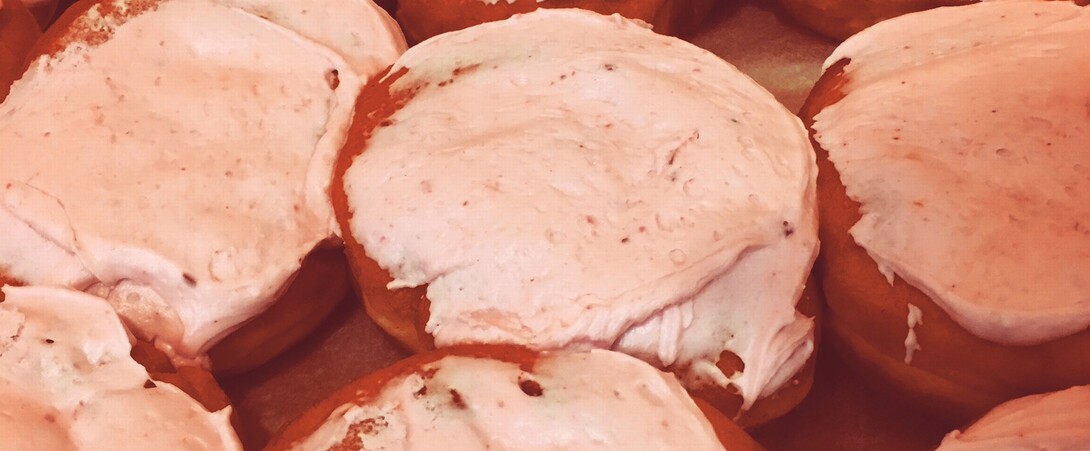 The Persian is, hands down, Thunder Bay's most famous food. The pink icing-topped cinnamon bun is a staple for locals, visitors, and ex-pats (Persians are shipped around the world regularly) and no visit to Thunder Bay is complete without one.
Pro-tip: try it grilled. Cut the Persian in half length-wise and flip the icing to the middle. Butter and fry like a grilled cheese sandwich. Stop drooling and do it.
Various local bakeries (including Holland Bakery, Current River Bakery and many others) make their own version of the classic treat originated by still-going-strong Persian Man.
Beyond that, many local establishments have incorporated Persians and classic Persian flavours into their own offerings.
Here's a list of five of the best Persian-inspired items you can find in the city.
Blue Door Bistro
Breakfast is the most important meal of the day and in Thunder Bay, it's encouraged to start your day with a Persian. At the Blue Door Bistro, you can enjoy a Savoury Persian—a breakfast sandwich on a Persian instead of an English Muffin. Sweet and savoury, the way breakfast was meant to be.
Merla Mae
Another Thunder Bay institution, Merla Mae, has been a summer favourite for over 50 years. The local ice cream shop offers dozens of flavours, including Persian!
Milk and Water Baking Co.
Located in the heart of the Waterfront District, Milk and Water Baking Co. creates cupcakes: PERSIAN CUPCAKES!
Upshot Coffeehouse
If you prefer your Persians liquid and caffeinated, Upshot Coffeehouse can help you get your fix. A sweet, spiced latte with Persian-flavoured whipped cream!
Lot 66
Lot 66, one of Thunder Bay's many fantastic restaurants has been known to whip up a Persian cheesecake or two.