R & R & R—Rest, Relaxation, and Riding
A guided ATV tour can be the ideal way to ease out of the rush of non-stop summer activity. Head north and let Mukwa Adventures take care of the rest.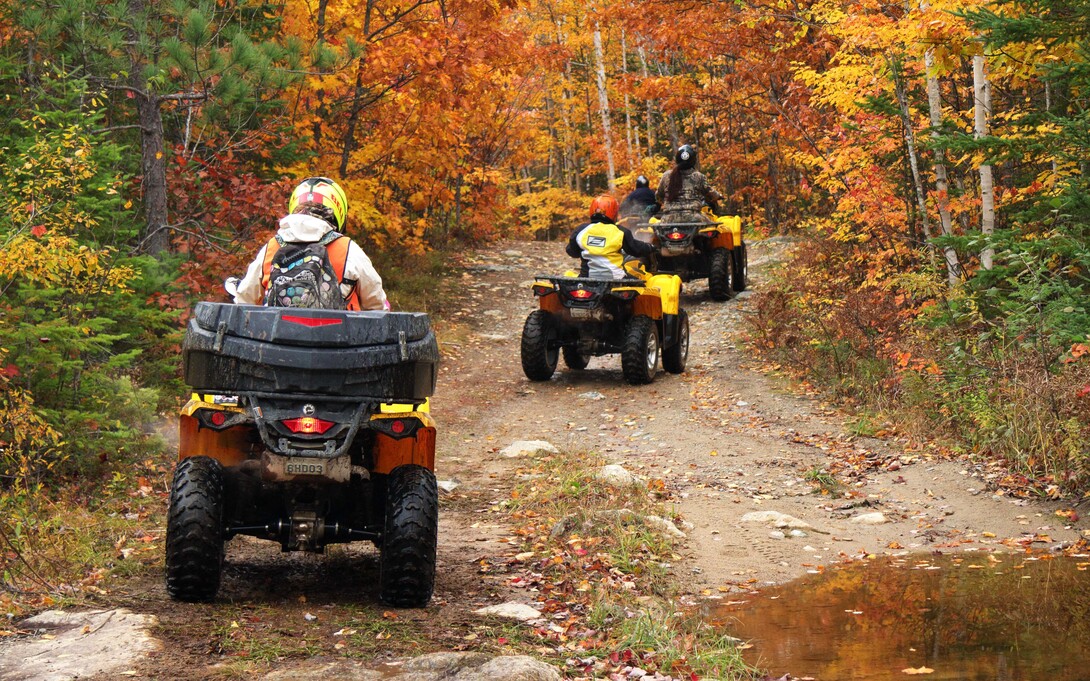 As soon as the snow melts I head for the outdoors full-steam ahead, jumping back into all the activities I dreamt about while the winter months held me in their cold embrace. Warm sandy beaches, ATV trips, camping, gardening, boating—eat, sleep, and then repeat! I mean, there's only so much good warm weather available before the inevitable return of Old Man Winter, and you don't want to waste a single second, right?!
Well, sometimes too much of a good thing isn't so good and, if you're anything like me, it's easy to go overboard and burn out a little. So how's a motorsports fanatic like me supposed to come down from a summer like that?
Enter the season of slowing down
At the end of last summer, I received a message from my good friends Art and Amanda, owners and operators of Mukwa Adventures, telling me about their Fall Women's ATV Retreat Weekend hosted at Dunlop Lake Lodge, just a short drive from Elliot Lake, Ontario. As an avid SxS fan, I was a bit skeptical to participate in another ATV weekend, but Amanda convinced my wife and me that it would be relaxing, and that we could just kick back and regenerate a bit from a crazy summer of activities.
"The colours are in full swing, the air is crisp, the bugs are gone, all the meals are taken care of, the hot tub is steamy, and the venue is top notch. Grab your camera gear and come on up!" It wasn't that hard to convince me. I always love a chance to do some off-roading in Ontario's Algoma Country.
After a bit of arm-bending from my wife (who was keen on a kid-free ladies' getaway weekend), I loaded up the truck with her Polaris ACE and all my camera equipment, jumped on highway 17 and made the trek to beautiful Dunlop Lake Lodge.
Dunlop Lake Lodge
We arrived late Friday night. Tricia MacDonald, owner of Dunlop Lake Lodge, greeted us with a friendly smile and even went out of her way to bring out some trays of food. After chit-chatting with Art and Amanda, we threw on our bathing suits and hit the hot tub. What a perfect way to start the weekend!
Our night was spent in a cozy cabin with a wood stove keeping us warm throughout it. It was a cold Saturday morning when we awoke, possible rain with a chance of sunny periods in the afternoon, with an expected high of only +4° Celsius.
We made our way down to the restaurant in the lodge and enjoyed a hearty breakfast consisting of bacon, eggs, hash browns, toast, and coffee. The staff at the lodge was exactly what you'd expect from a northern community—very kind, friendly, and eager to make you feel at home.
Time to Ride
It was time to roll out and I was excited to see what the trails around Elliot Lake had to offer. I read about the Elliot Lake ATV club a few years back and had been eager to ride on their trail system for some time. We would be riding on the EL1 - May Lake Loop trail, an easy-going ride perfect for beginners at approximately 65 kilometres in length.
After Art performed his safety briefing and operational instructions for the CAN-AM Outlander SST G2 450 quads, we fired up the machines and headed out for an adventure!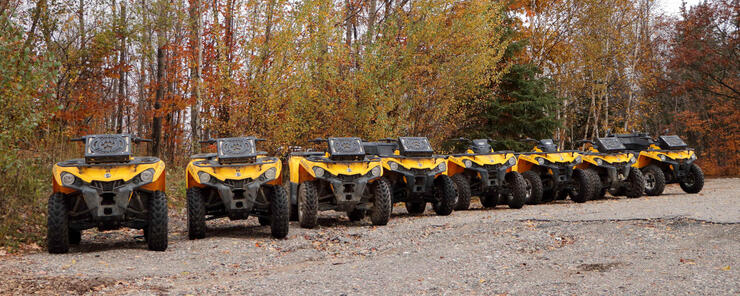 The air was cool and crisp as we made our way down the trail. The fallen leaves had formed a thin blanket over the terrain, hiding all the rough features and giving the illusion of a plush surface. It was calm and peaceful as we rode our machines through the bush, as if the noise of the busy summer had finally been laid to rest. The brightly coloured orange, red, and yellow leaves danced all around us, and you could smell their aroma as the leaves were stirred up with excitement from our ATVs. Fall was exactly what I needed.
We stopped for a trailside lunch on the rocky shores of Lake Crotch, and a more picturesque location could not have been found! Art had a small fire going in no time while the ladies unloaded all the food. On the menu there was roasted sausages, potato salad, and squares for dessert. We huddled close to the fire, soaking in as much heat as we could to warm our cold hands.
Back on the quads with full bellies, we headed toward the small City of Elliot Lake. With a population of nearly 11,000, Elliot Lake is large enough to attract most of the amenities you find in a larger city but small enough to have that "small town" feeling to it. Elliot Lake burst onto the map in 1955 with the discovery of uranium and at one point was dubbed the "uranium capital of the world." We entered Elliot Lake through a trail that led us directly into the back of a Tim Horton's parking lot—time for a coffee to warm up!
Much to our surprise, the clouds cleared up and the warm rays of sun lit up the afternoon sky. Back onto the machines, we turned north and made our way back to the lodge for the final stretch of our ATV. The bright colours of the leaves radiated against the deep blue sky. Riding an ATV offers much more freedom compared to a SxS and I was enjoying being able to stand up and move around on the machine. I must admit I felt a bit naked without my five-point harness and roll cage, but riding a quad felt much more freeing and offered more of a connection with my surroundings. 
Rest & Relaxation
We rolled back into Dunlop Lake Lodge just in time to head down to the water and take in a beautiful sunset. After snapping a few photos, we went inside for our supper.
I ended up ordering the fish and chips and let me tell you... easily the best I've ever had! Hand battered and deep fried fish along with handmade French fries. And then to top things off, out came all the homemade desserts—simply amazing!
After we finished supper, the ladies headed back to the cabin for some well-deserved pampering. Massages and pedicures were on the agenda for the night, along with some snacks and a calming fire in the wood stove. Art and I stayed back in the lodge, chit chatting about the great ATV ride and looking over the pictures and videos we captured from the day.
To me, fall has always represented a season of slowing down, reflection, and a chance to get out into nature to enjoy the beauty. It was nice to have a getaway weekend with a slower pace than the usual hustle and bustle of the busy summer months. Our huge thanks go out to Mukwa Adventures and Dunlop Lake Lodge for a fantastic fall weekend!