How the Other Half Lives
Born and bred Muskoka rider Shelby Mahon crosses through Algonquin Park and heads to the Madawaska Valley to find out why everyone's talking about ATVing in Ontario's Highlands.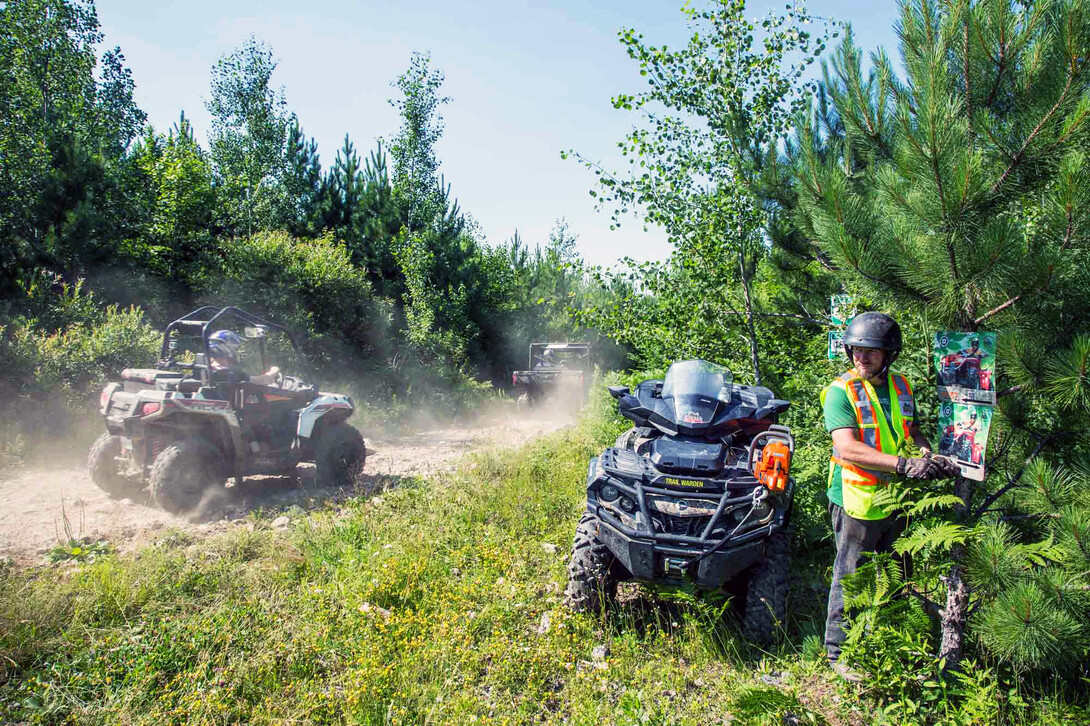 The invite to ride the Madawaska Valley couldn't have come at a better time. Stress from work and house-hunting had been weighing me down—and I was ready to put on my boots and take a bit of time off to recuperate and enjoy myself. To me, nothing says "time to myself" like an ATV adventure in my beautiful home province of Ontario!
On Wednesday afternoon I made the short drive to my local CFMOTO dealership, Rosseau Road Powersports & Marine Ltd., to pick up the CFMOTO CForce 400LX they were lending me for my trip. As it's only 82" long, I was able to load this perfect little machine into the back of my truck and close the tailgate! No joke, I've never had a trip start so smoothly.
Once I loaded up, I began the stunning drive from Parry Sound to Barry's Bay. I always look forward to driving through Algonquin Park and although the animals managed to evade my camera this time, it was still a beautiful trip with lots to see. One of my favourite stops in Algonquin Park is definitely the Lookout Trail and the view over Lake of Two Rivers. Don't forget to stop at the little stores along the route to grab some of Ontario's best snacks: Kawartha Dairy Ice Cream and Beaver Tail Desserts!
As I drove into Barry's Bay, I realized that I had been through this cute little town several other times over the years. I had stopped at the Pizza Pizza and the now-gone Quizno's Subs that was once on main street, and swung by the Beer Store on previous trips to go white water rafting on the Ottawa River. This time, I discovered that always passing through but never staying had been a huge mistake!
When I arrived at the Pinewood Inn I was greeted by one of the nicest, most caring owners I've ever met! Yvette was so hospitable and happy to have us that I found myself feeling not only welcome, but lucky to be staying there. Once I got to my room, the first thing I noticed was a special towel just for the bikes! This was a huge bonus, as the CForce happened to be a little dirty, so I whipped out a can of polish and got right to work tidying up my ride.
Soon after that, we headed down for dinner at the Ash Grove Inn & Restaurant with the folks from Renfrew County ATV Club. Teresa Gamble, Stephen Hebb, Randy Dunlop, and the crew are an awesome bunch to hang out with—I don't know what I enjoyed more, the amazing food or the company! After laying out the next day's ride, it was all laughter and stories from previous adventures. Once dinner was over, I couldn't wait to get back to my room so I could close my eyes and dream of the adventures to come in the Madawaska Valley.
I wasn't sure what to expect for my very first ATV adventure in Ontario's Highlands. Would it be like the backcountry trails I grew up on in Muskoka's cottage country? Would it be more similar to the smooth snowmobile trails in Northern Ontario? Luckily for me, it was a beautiful combination of all my favourite things, including rocky Canadian outcroppings, exciting obstacles, and—of course—gorgeous trails that meander through beautiful wilderness! And thanks to the dedicated Renfrew County ATV Club, the trails had been meticulously cut and maintained through the gorgeous landscape.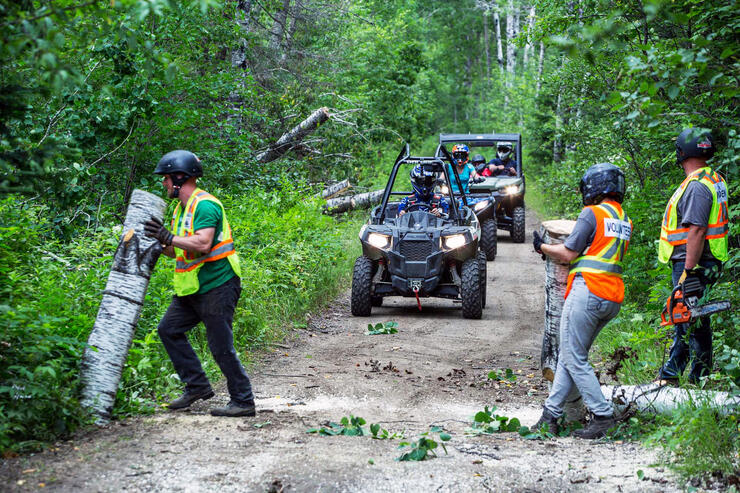 We started the morning by checking out the Old Mill site, just off Aylen Lake Rd. After a quick history lesson, we headed down the trail to the local lookout—and talk about a view! Usually, you can see some sort of human-made buildings, or cell towers at the very least, from lookouts—but out in this remote area of the Madawaska Valley, we could see nothing but trees for miles! Teresa mentioned that they host a Fall Colours ATV Ride in October and that the view of the leaves there rivals the best lookouts in Algonquin Park. I don't doubt that for a minute, and I bet the adventure getting there at that time of year is as good, if not better!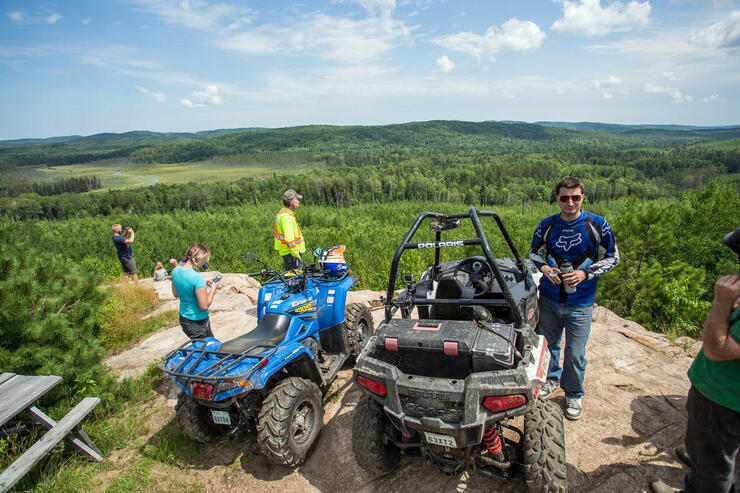 For lunch, we swung into the ATV-friendly Spectacle Lake Lodge and chowed down on some of the best burgers I've ever had. With their own smoker on site, it was no wonder I ate every bite of my smoky BBQ burger! The fries and coleslaw were not to be forgotten either!
After grabbing some gas at the lodge, we were back on the trails and headed to one of the coolest (pun intended) water crossings I've ever seen. I was a bit nervous, since I was only riding a little 400 and the water looked pretty deep! As we got near the other side of the crossing, my fears were realized, as the CForce 400LX began to bob in the water! Once across, it was time to empty out my rubber boots to the cheers and laughter of the group—all in good fun, of course. I was totally laughing along with them. After a day of riding under the sun, I took the opportunity to cool off while I watched the rest of the group make the trek across!
My first ATV exploration into the gorgeous Madawaska Valley was a good one, and one I'm sure I won't ever forget! There were the views, the adventures, the food—but, to be honest: the hospitality and great company played a big part in making this trip one to repeat again in the future.