Can ATVs and Jeeps Get Along?
Report from the KATVA/OF4WD Joint Ride
Editor's Note: Graham Adams has been touring all of the ATV clubs in Ontario this summer, and his coverage has been nothing short of epic. If you needed anything to convince you that Ontario is home to some of the best trails this side of the Mason-Dixon (or the Hatfield-McCoy trails), look no further. And there's plenty of riding season left. Check out his YouTube channel for a complete list of the trail videos!
It was a damp and rainy mid-September day, when I headed into Ontario's Kawarthas region to meet the Kawartha ATV Association. As I got into Fenelon Falls, the rain went from consistent to very heavy, and I knew I was going to see a lot of water and mud holes on the trails ahead. I got to home base, located on Bass Lake road, just North of Bobcaygeon, to find a new Can-am Outlander 500 which would be my cool ride for the day. Thanks to the KATVA Club for allowing me to use their machine to get my equipment into the trails! 
As I got my equipment together, I realized there were jeeps, trucks and other off-road machines pulling up to the starting point of the ride. I thought this was really cool—I don't think I've ever rode alongside jeeps on an ATV ride before. KATVA and the Ontario Federation of 4-Wheel Drive Recreationists put the ride on to help raise money for the Kinsmen Toy Drive. This was a unique way to raise money for a great cause and to get some mud on the tires. Once I met the crew that I would be heading off with for the day they informed me that we would be riding the 5 Points Trail System. I was told to be ready for some mud and some good hill climbs.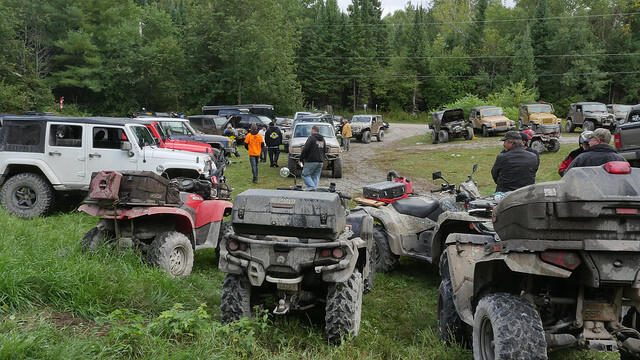 As we started to head down the trails, I realized they were very well maintained with a very nice hardwood bush canopy. There were a lot of puddles to play in because of the heavy rain that had started the night before and continued throughout the day. It made the trails very wet and slick. Our first challenging part was a hill climb. The trail number was 92 (Forest MTN), which I had a blast on. It was very rocky and steep, which combined with the rain made for a heart pounding moment. Unfortunately only three of us made it to the top, so we decided to go find some other cool spots to ride. After traveling a few kilometres, we caught up to the jeeps and rode alongside them for a while as they were riding in some mud and climbing some pretty cool rock climbs. It was a neat experience to watch.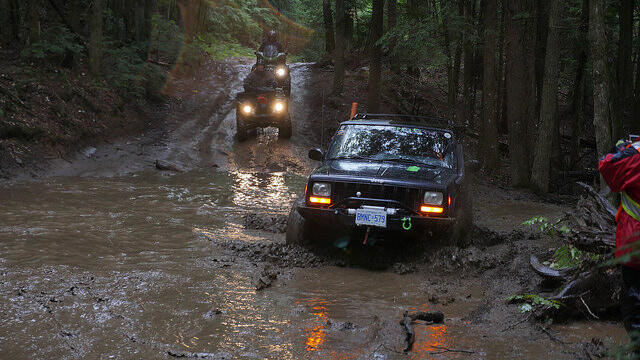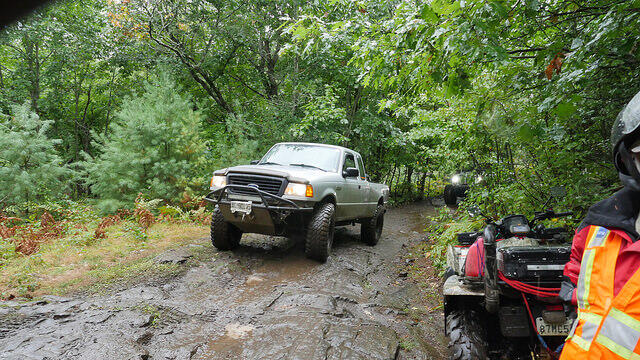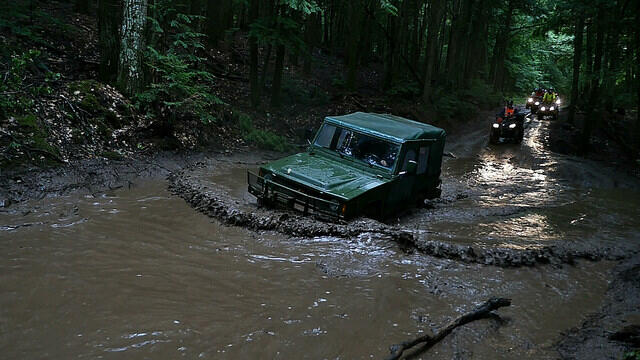 After that the club took me on a trail designed for ATVs only. Trail number 49 (Sawstuck) is only wide enough to ride ATVs or small SXS down. This trail was beautiful—it felt like you were driving through a tunnel with the thick tree canopy overhanging— and it made for a unique change from the wider trails we had been riding previously.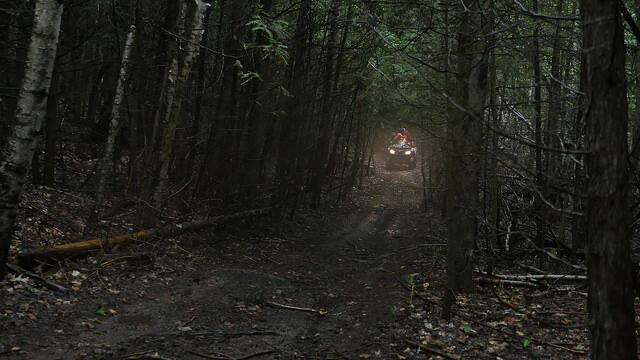 The next trail was a lot more challenging—very rocky and very muddy. This one I was waiting for all day. They kept telling me about it and called it the Concession Lake Trail or Number 91, so I wanted to see what the fuss was about. Once I got on the trail, I realized why. It had endless mud holes, but with an awesome hard bottom. It seemed like if you weren't in mud, you were climbing rocks and picking your lines through rough terrain.
There was never a dull moment. I was actually getting so caught up in the action that I forgot to take out my camera in some spots. I was having so much fun I didn't want to get off the bike. It was also very scenic with the rain and wet conditions—the rocks had a very cool metallic shine as the water ran down them—it was a very neat thing to see. As we rode through the windy trail we came to a very nice lake along the way and took a break. We then continued to ride the rest of this awesome trail. I was getting a kick out of how much water was on the trails with all the rain; it seemed to not want to stop, and made conditions even better for our ride. I wore full chest waders, which were a life saver or else I would have been soaked from head to toe.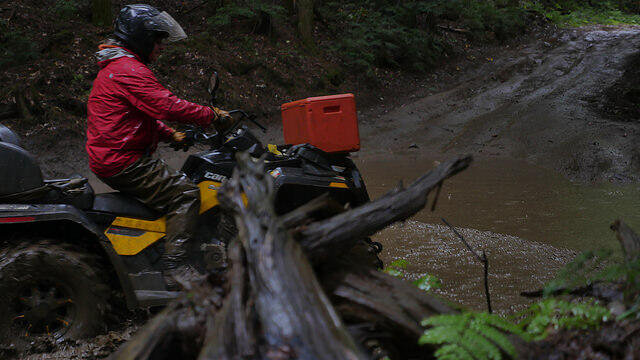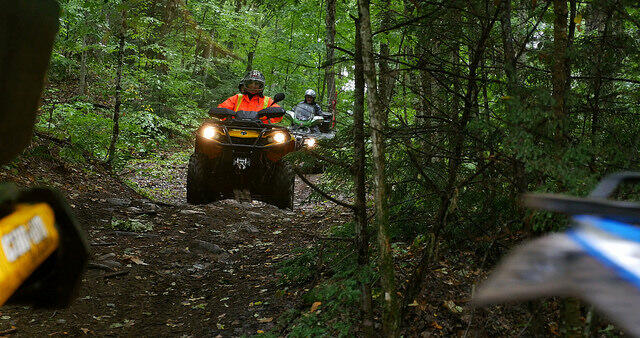 We finally made our way back to home base, where everybody was having lunch. The KATVA club and Ontario 4-Wheel Drive Club had an awesome spread of hamburgers, sausages and lots of snacks. After a good ride, this was a treat. The members of both clubs were very friendly, and the event was very well organized. As we ate everybody got talking about their experiences on the trails and the stories started flowing. They raised $970 for the Kawartha Youth Program and Christmas toy drive, which was very awesome news to end a day of riding.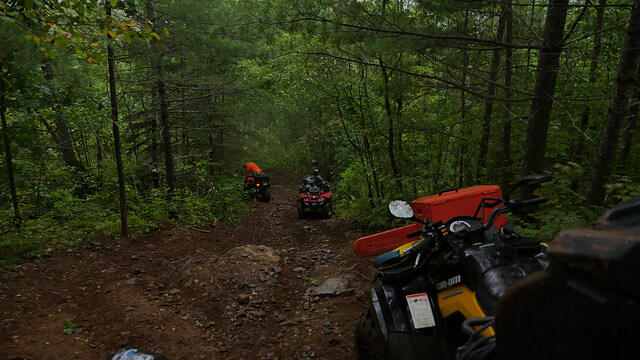 The trails really surprised me; they had a little bit of everything for every kind of rider. If you like a good challenge, you'll definitely get it with the hill climbs and mud holes. They also have a lot of places to stay for riders that want to ride and stay the night. Log Chateau Park, just north of Fenelon Falls, is an awesome example, located right on the trail, with cottages and camping,to make your experience on the trails that much better.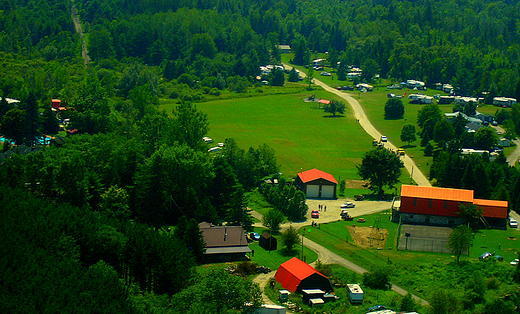 There is also road allowance in Fenelon Falls, so you can leave right from the cottage or camp site and head directly to these awesome ATV playgrounds.
For more information visit http://katva.ca, like them on Facebook or Twitter.
For more information on more places to stay you can check out the http://www.explorekawarthalakes.com/en/index.asp.