How To Get A Motorcycle License in Ontario
Have you been longing to ride a motorcycle? Are you tired of paying too much at the gas pumps? Do you yearn for the thrill and the feeling of freedom?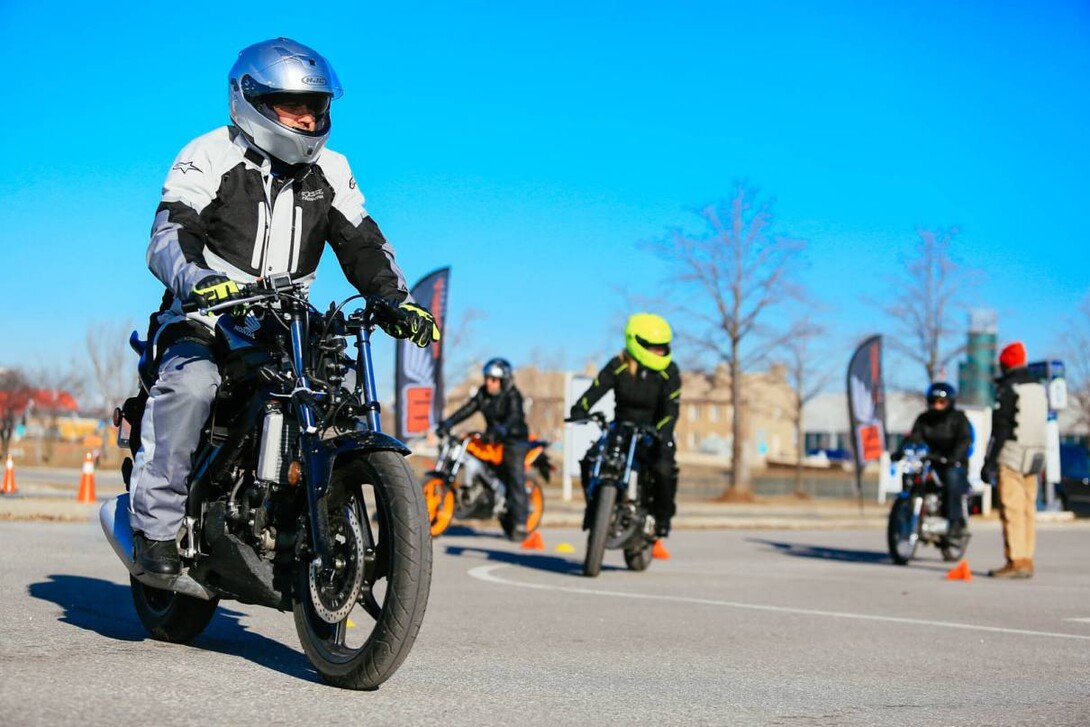 Ontario motorcyclists belong to a community of riders who care about their environment and value the freedom their bike gives them. But owning and riding a motorcycle means responsibility and a knowledge of the skills involved to become a safe and confident rider. If you've never ridden a motorcycle before, you should take one of the Ministry of Transportation's approved courses either through a local college or at a non-profit school. It will cost $400 to $500 for the course but believe me, it will be worth every loonie! In Ontario, since 1994, learners have been able to earn their licences in stages – M1, M2 and M – allowing new riders to gain skills and experience gradually. 
Here's how to get your motorcycle license. 
Step One—M1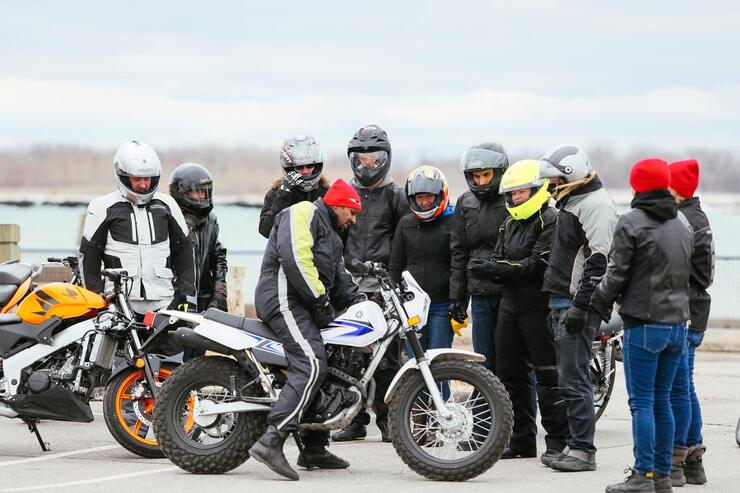 Start by picking up a copy of the motorcycle handbook and studying it thoroughly. Then take the M1 knowledge test (multiple choice) at any drive test location. You have to wait 60 days before you can upgrade to an M2 Licence. If you're smart, you'll plan ahead and write your M1 test 60 days before you take your course. But remember—the M1 permit expires in 90 days!
This M1 Learner's Permit allows you to ride your motorcycle under four conditions:
1) You must only ride during daylight hours
2) You must not ride on any 400-series highway
3) You must have a blood-alcohol content of zero
4) You may not take a passenger on your bike.
Step Two—M2
For the M2 Licence, you could go to a Ministry office and do your test there. However, you have to bring your own bike, and you will not have had the coaching and valuable instruction an approved school offers. In addition, if you graduate from an approved school, you will get a certificate that will lower your insurance rate.
The M2 licensing course at an approved school involves an in-class session prior to a two-day practical course, which is often on a weekend. You must bring your M1 licence to the course, along with basic safety gear which includes a helmet, a jacket, gloves that cover your wrists, and boots that cover your ankles. The school supplies the bikes!
Saturday is a full day of basics, learning the fundamentals of motorcycle operation with lots of practice time. Individual instruction is available if needed. Sunday, also a full day, is spent honing the skills learned the previous day—and finally the M2 test.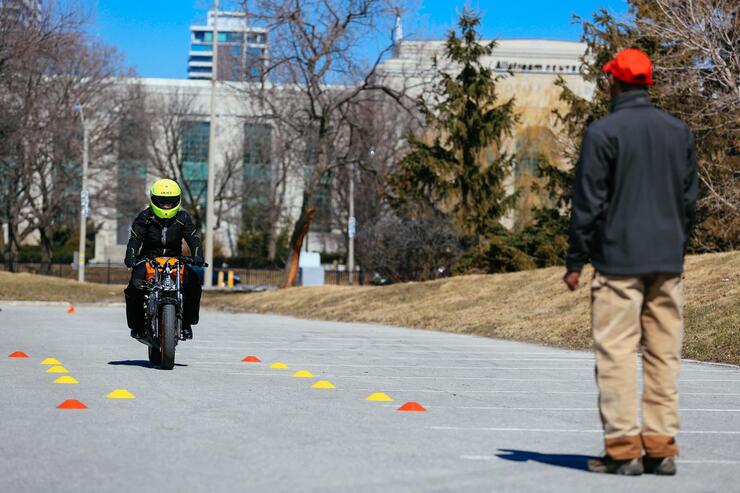 Once you pass the test, you will be given a sealed envelope with your licence upgrade paperwork. You must take that to the Drive Test location where you will be given a temporary M2 licence. The permanent licence will follow in the mail.
With your M2 upgrade, all the riding conditions are lifted—except for the zero blood-alcohol content, which should be adhered to when driving any vehicle, especially a motorcycle.
Step Three—M
To obtain your M Licence, you can go to a Ministry office with your own motorcycle for the test, or you can enroll in the school again for the full course. I personally recommend the latter, because you are thoroughly coached for the M Licence test, resulting in a high success rate. However, more importantly, you will learn crucial tips for safe riding in traffic environments.
With your M Licence, you are a fully licensed rider. However, like most things, it is always advisable to take additional courses to improve your riding skills further. At Motorsoul, we stress the importance of responsible, predictable riding. Emphasis is on such things as cornering, where many riders falter, lane positioning, spacing, and simple tips, like flashing your brake lights as a signal to others.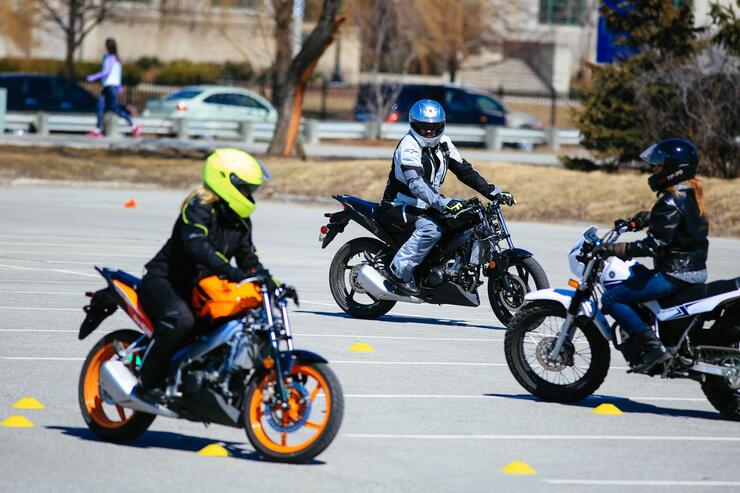 Riding a motorcycle is more complex than driving a car. However, with the proper training, it is a wonderful and enjoyable experience that more and more people of all ages are discovering. To view a complete list of all riding schools in Ontario, click here. 
If you want to get a taste of what it's like to go from complete newbie to a confident rider, check out KIMbits and KATtales and Trial by Tyre or check out The Planet D's epic transformation from inexperienced to full touring riders.
Motorsoul is a Ministry of Transportation-approved motorcycle training school in Toronto. It is a not-for-profit organization that educates and licences motorcycle riders using a program approved by the Ministry of Transportation, with an emphasis on safety (and I happen to run this school – full disclosure).