What Happens When A New Rider Ventures Past The End of Their Own Street?
"Don't neglect the gold in your own back yard."  Ben Okri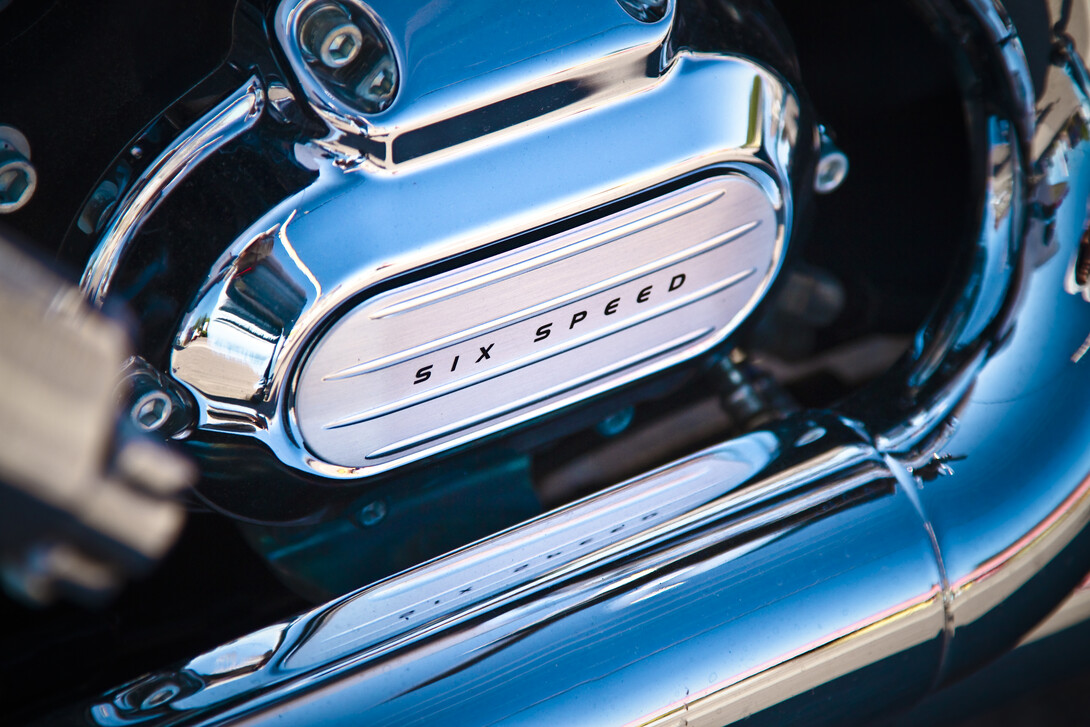 Wanderlust.
A noun.
Defined as a great desire to travel and rove about.
I am possessed by a wanderlust that seems insatiable at times.
I think motorcycle riders receive a special kind of calling; we are not driven to get to a certain place as much as we are called to simply 'go'.
To point the bike in a direction and head 'that way'.
To explore the 'great unknown'.
Or, in my case, the just-as-great 'known'.
It has been just over seven weeks since my heart attack, and two weeks since I was cleared by my cardiologist to drive. I had to do an extra little bit of smooth-talking to convince him that I was well enough to hop onto Ruby again, but once he relented, I was one happy KAT.
I may have even purred.
Just a little.
Appearing full of bravado and feeling full of bravado are two very different things. I was more than  ready to go riding again, but just a little bit unsure of exactly how much I was prepared to stretch my boundaries – physically and geographically – so soon after such a major health scare.
I thought about all of the plans I had for the summer that had been put on hold.
I thought about all of the roads I wanted to ride and the places I wanted to explore.
And that's when it hit me: There are other riders all over this great province of ours who are just as anxious to come 'here' just as much as I am to go 'there'. 
And so, my friends, I went riding.
I travelled along many of the country roads and secondary highways that I ride almost every week.
I approached local landmarks with a different perspective.
I saw familiar sights with 'new eyes'. 
I rediscovered things that I had come to take for granted.
Sometimes we have to go back to the beginning in order to truly appreciate all of the unique things we have in our own back yards.
Get to Know the Grand
For those of you who have made the trek to Friday the Thirteenth festivities in Port Dover or have simply enjoyed a leisurely ride along the banks of the Grand River in Central Southwestern Ontario, some of the places I am going to mention may have you scratching your head and wondering 'why'. But, as Moscow-born writer Vera Nazarian once said: "Whenever you go on a trip to visit foreign lands or distant places, remember that they are all someone's home and backyard." You might be all too familiar with some of the places I am going to point out this month, but a second (or even a third) look could very well find you delighting in aspects of the unknown.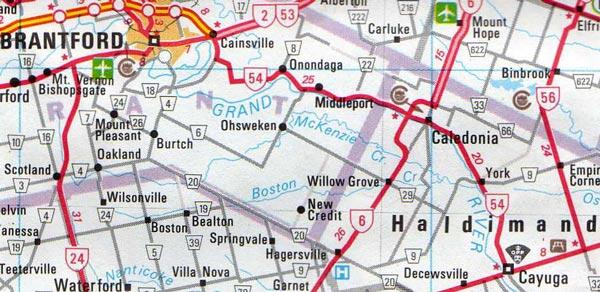 Fuel Up 
KT Gas & Convenience is a big log cabin and is one of the area's best little secrets. It's located halfway between Brantford and Ohsweken on Highway 54, and it's a great place to fill up the bike, grab some snacks in the convenience store, help yourself to a Country Style coffee, or browse through some wonderfully unique craft items in 'the loft'.
'The Loft in the Cabin' is a great source for authentic native crafts, lovingly made by and purchased from local and international artisans. Moccasins, beaded medallions, dream catchers, stained glass pieces, artwork, sculptures and more!  Apparently, they also have custom order options as well. Yes, maybe I am partial to this place because of its name, but this KAT tries to make this place a regular stop during my wanderings in the region.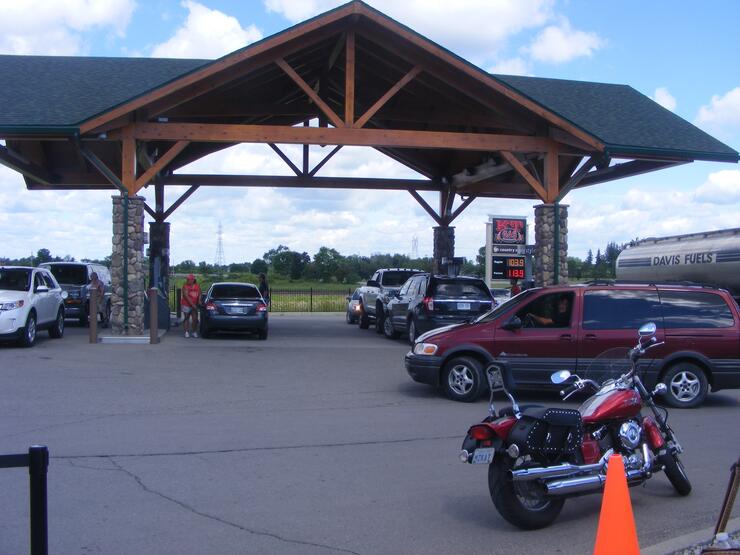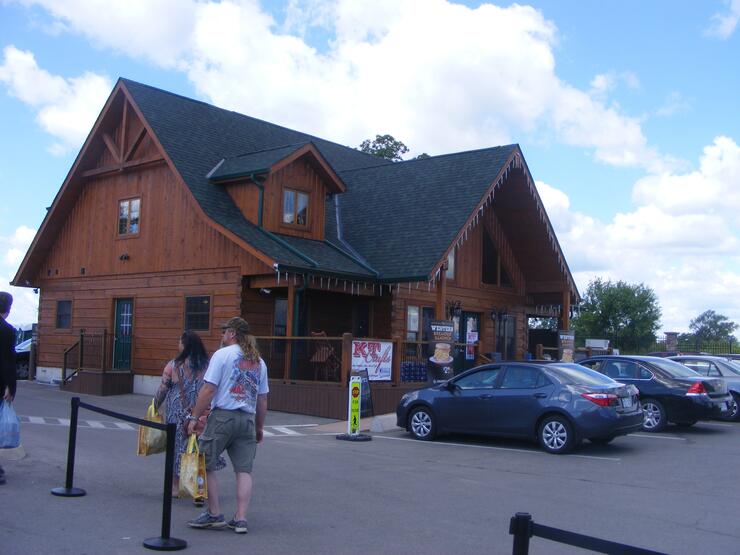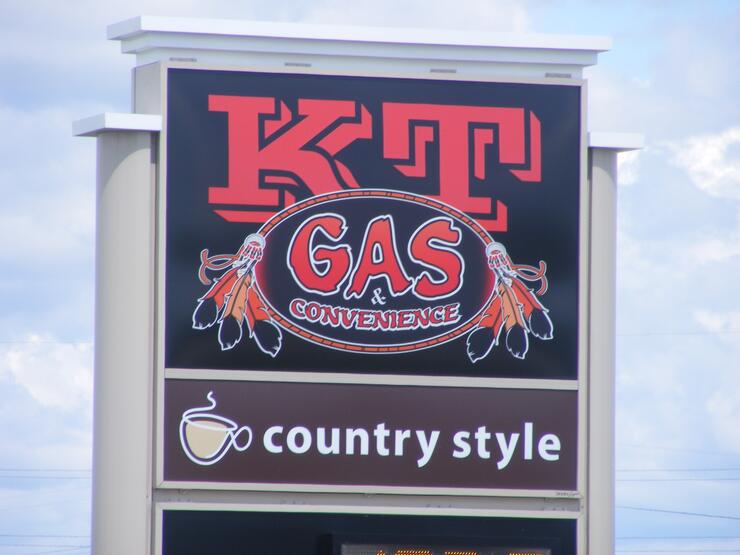 Six Nations Tourism
If you are interested in Six Nations culture or exploring the area along the Grand River, a great place to start is the Six Nations Tourism Centre. Located at the intersection of Highway 54 and Chiefswood Road, the Centre is a great source for everything from maps and brochures to informative displays and cultural history. The Centre's website (www.sixnationstourism.ca) highlights attractions & accommodations, events, shops & galleries, maps, and also provides a brief history of the Six Nations of the Grand River, the Grand River Territory, and even profiles several Six Nations celebrities.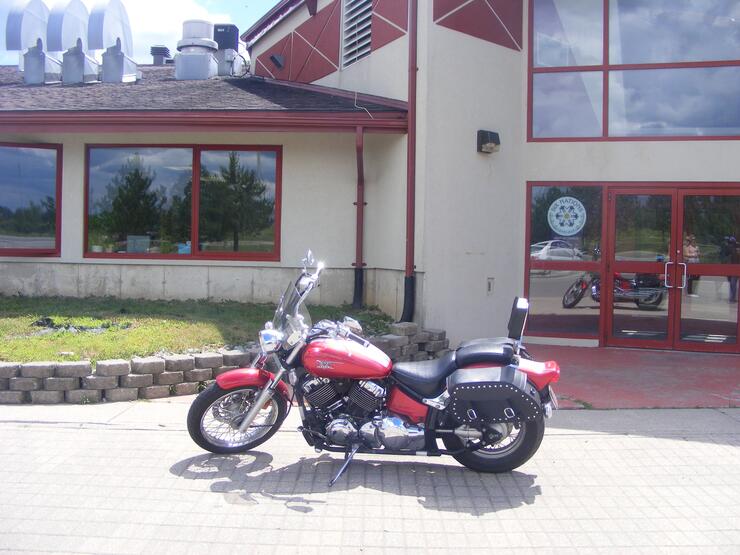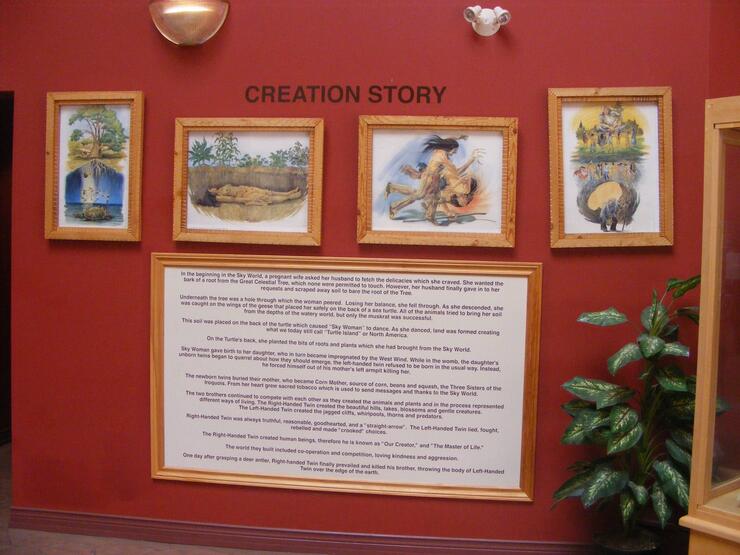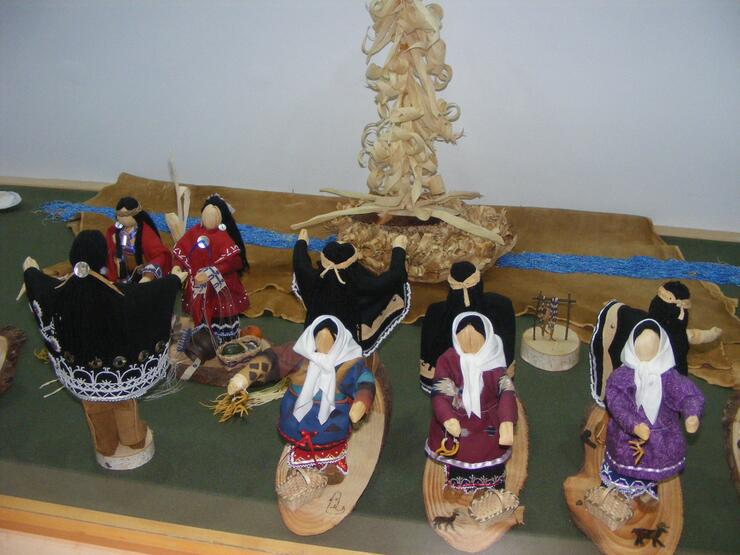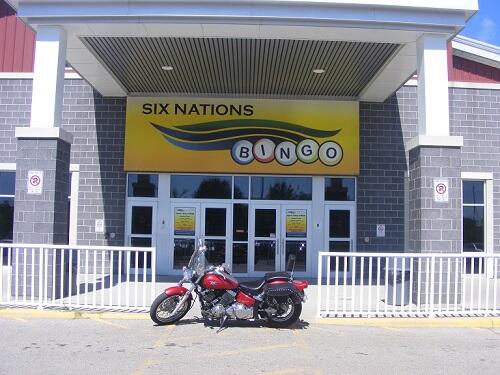 Six Nations Bingo. If you're looking for a pleasant diversion and a short break from riding, a quick session of bingo might be just what the road doctor ordered. Open seven days a week, and featuring Matinee, Twilight, Evening and Late Night sessions (see their website for a full explanation of hours, days, features, and special jackpots), you'll also find extra-spacious smoking and non-smoking play areas and an exceptional snack bar with a full range of food and snack items. 
E. Pauline Johnson
Chiefswood National Historic Site is where you'll find the home of Pauline Johnson, daughter of a Mohawk chief and poetess. According to the website, designated a National Historic Site in 1992, the story of Chiefswood actually began in the 1850's with Chief George H.M. Johnson, and his English bride Emily Howells. 

Six Nations Confederacy Council.  For most of his life, he straddled both worlds and worked to create understanding between them.
It was while working as an interpreter for the Tuscarora Parsonage that he met, and fell in love with Emily. They became engaged, but kept it a secret for five years before announcing their intent to marry. The news came as a shock to their families and communities, as society was not yet accustomed to the idea of interracial marriages. They wed in a private ceremony on August 27, 1853, and continued to live at the Tuscarora Parsonage while their new home was being constructed.
George and Emily moved into Chiefswood National Historic with their two children, Henry Beverly Johnson and Helen Charlotte Eliza Johnson, in December of 1856. The home, beautifully constructed and crafted, was a wedding gift to George's beloved bride. It was important to them to have a home that represented both of their cultures, and special care was taken not only in the architecture, but the furnishings as well.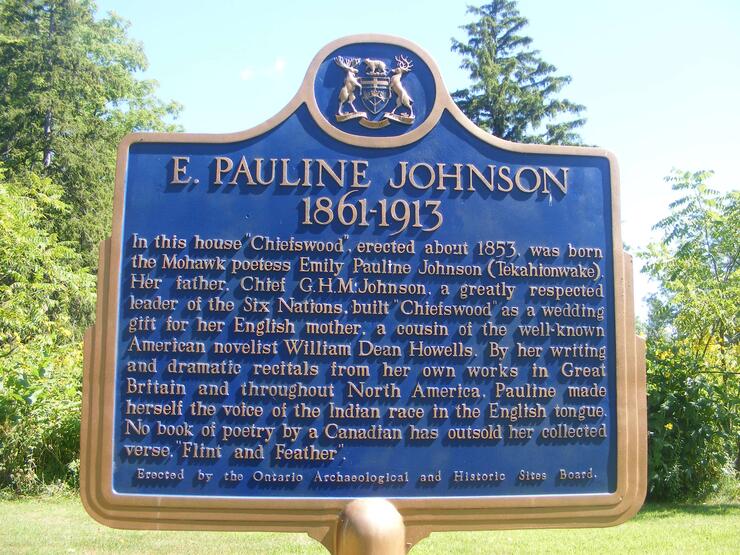 The house was constructed with two front doors, which referenced Chiefswood's function as a meeting place between two cultures. As an interpreter, George and Emily often hosted meetings and dinner parties for key members of both communities, including Chiefs, Government Officials, and even acclaimed inventor, Alexander Graham Bell. Furnishings, though Victorian in nature, were also carved with Iroquoian designs to showcase their "dual cultures". Examples of this can be found throughout the restored home, including the Drawing Room.
The Johnson family would grow to include two more children, Allen Wawanosh Johnson, and famed poetess E. Pauline Johnson also known as Tekahionwake. They would stay at Chiefswood until George H.M. Johnson's passing in 1884. After Johnson was buried at Mohawk Chapel, the family moved to nearby Brantford, Ontario into smaller quarters.
Though the Johnson family moved on, Chiefswood, the oldest surviving pre-confederate Native Mansion in Ontario, remains as a testament to their culture, heritage, and influence with the community.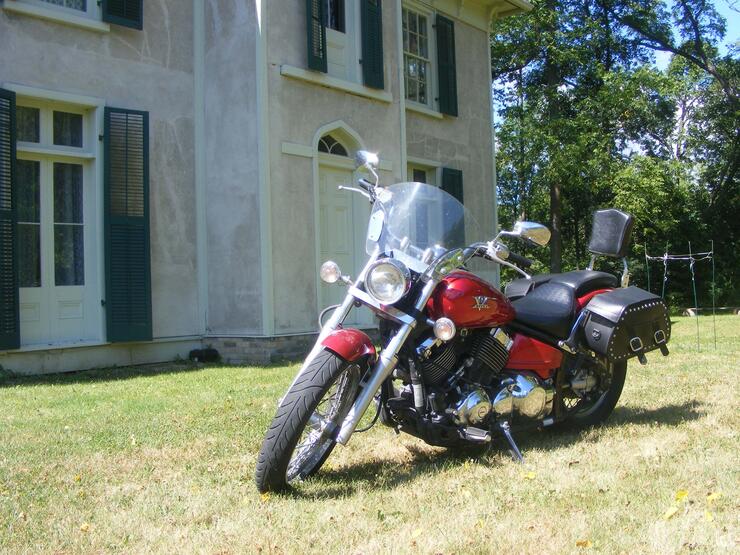 The Ohsweken Speedway
Further down Chiefswood Road and closer to the village of Ohsweken is where you'll find Ohsweken Speedway, Canada's home for Sprint Car racing action. The Ohsweken Speedway is a 3/8 mile dirt track built by sprint car driver Glenn Styres on 80 acres of Styres family-owned land, and has expanded over the years to include seating for well over 8,000 fans. Ohsweken's weekly Friday night racing program runs from May to September each year, featuring Sprint Cars, Thunder Stocks, Mini Stocks, and Bombers, while the season finishes each year with the annual Canadian Sprint Car Nationals. Ohsweken Speedway also hosts weekly Micro Sprint racing on Thursday nights, and has been a yearly stop on the World of Outlaws Sprint Car Series schedule since 2007.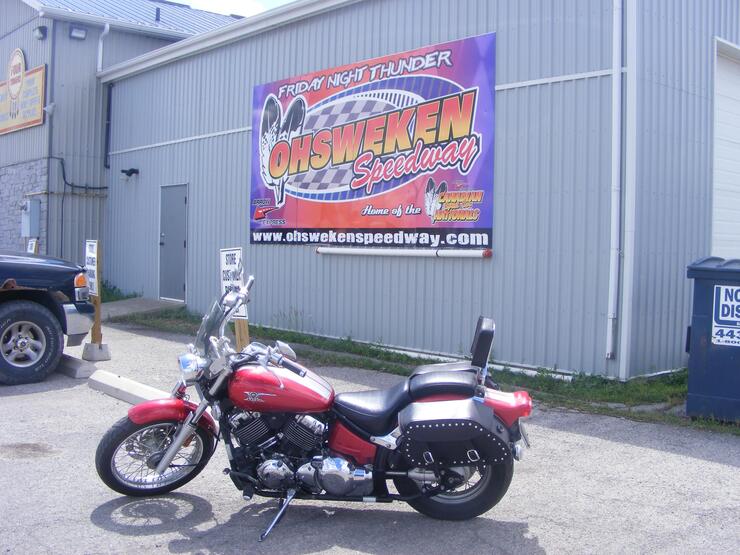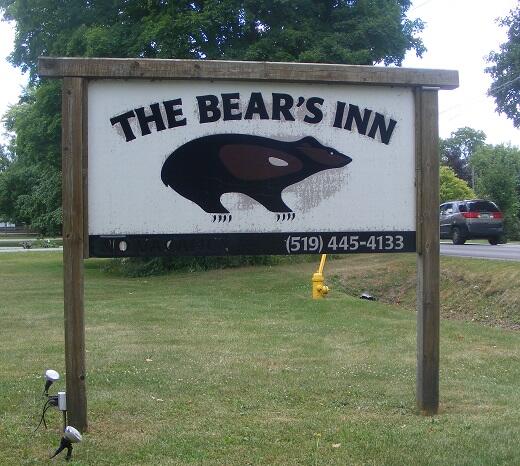 The Bear's Inn
Looking for a unique place to stay while travelling the area? You might want to consider The Bear's Inn. A Visit to The Bear's Inn is like traveling into the heart of Six Nations history and culture. Each of the 14 rooms and private cabin has a different story to tell. Built in the same spirit and with the same natural materials as many of the original community dwellings, the Inn blends warm country hospitality with Six Nations' history. The Inn is within walking distance to Six Nations village life, its growing business district, sports complex, restaurants and shops.
Each of the Inn's rooms and private cabin are distinctly appointed to provide visitors with an appreciation of Six Nations' heritage. Easy to find no matter where you are riding from, The Bear's Inn is a unique alternative to the hotels / motels in nearby Brantford and other large cities like Hamilton and Simcoe.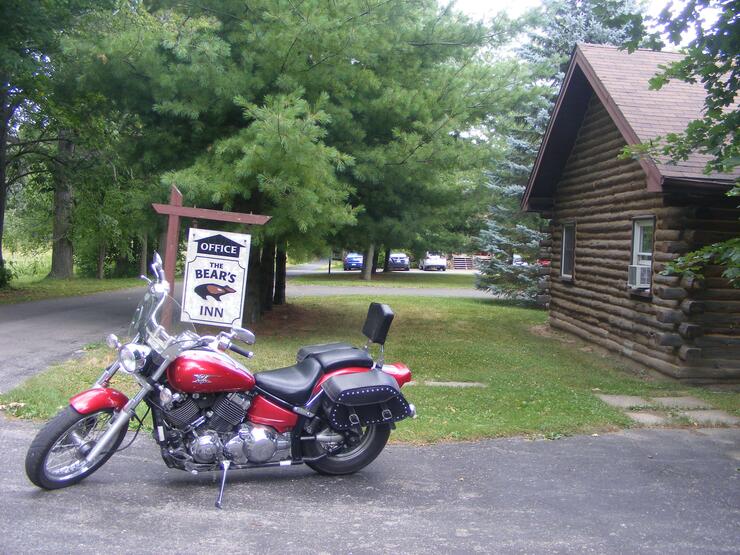 Burger Barn
According to a certain television program… You Gotta Eat Here! The Burger Barn is an easy 20 minutes away from both Brantford and Hamilton, and boasts fresh ground prime burgers with names & toppings as unique as the 'Mushroom Bacon Brie', 'Mac and Cheeseburger', 'Luau Burger', and the ever popular 'Bread and Cheeseburger' (Forget the bun! It's a patty nestled between two grilled cheese sandwiches!). Soups & Sandwiches, a great selection of tasty appetizers, breakfast dishes that you can order all day long, and specialty desserts like Barnyard Sundaes and Deep-fried PB&J will have you returning again and again.  A great stop after a long day on the road, with a menu is that is served with a unique twist in a comfortable, environment.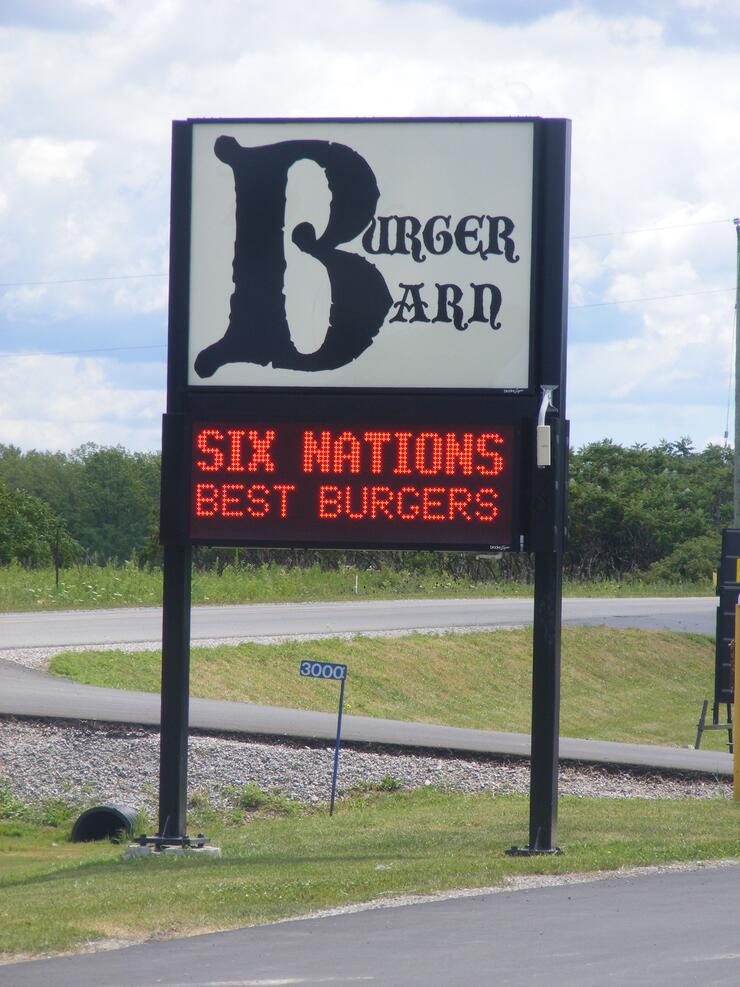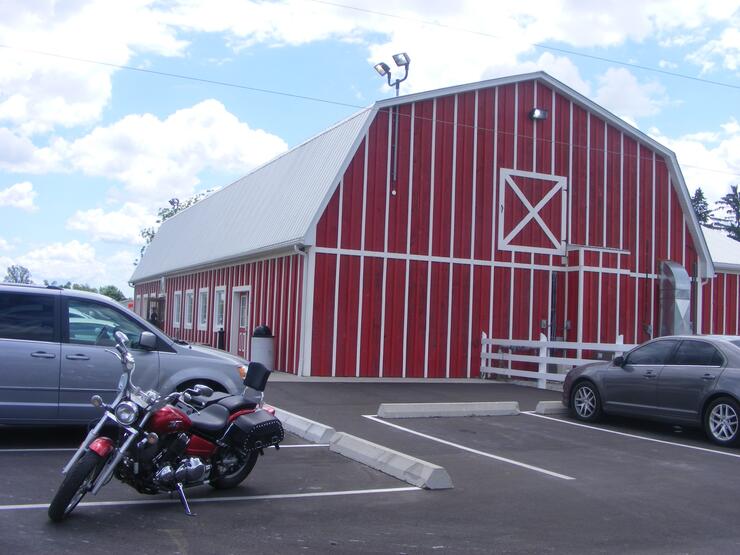 Chapel of the Mohawks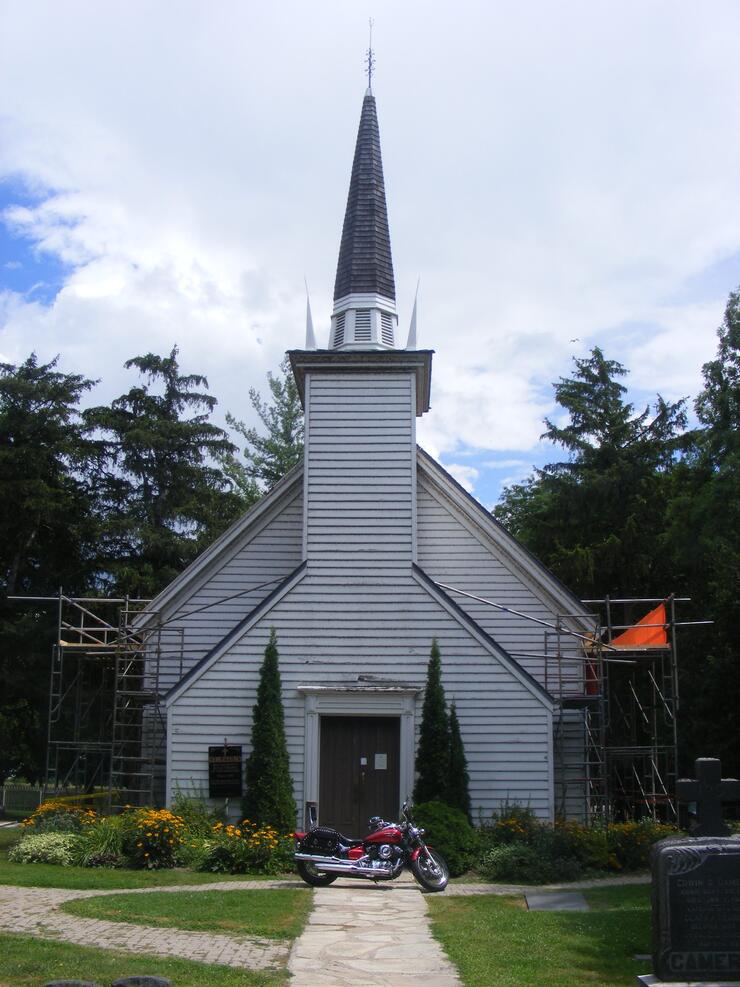 Looking for some great stops that combine both cultural experiences and historical significance? Check out these places of interest and events.
Her Royal Majesty's Chapel of the Mohawks: Originally called St Paul's, this chapel was the first Protestant church in Upper Canada and is now the oldest surviving church in Ontario. It is one of two Royal Chapels in North America but the only one located on a First Nation Territory.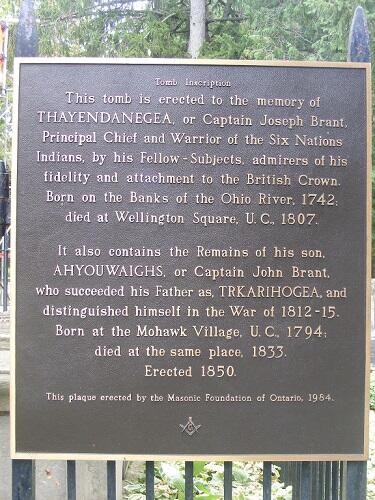 In 1850, the remains of Captain Joseph Brant were moved from the original burial site in Burlington to a tomb situated beside the Mohawk Chapel. The remains of Brant's son, John Brant, also rest in the tomb. 
Woodland Cultural Centre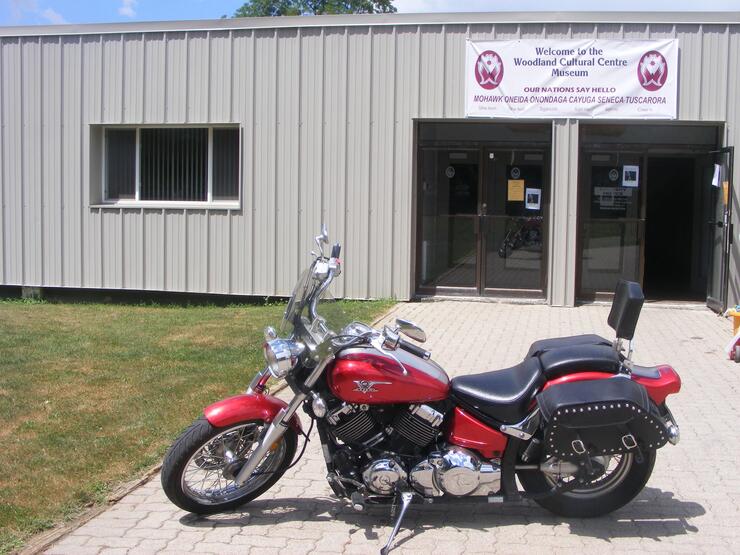 The Woodland Cultural Centre was established in October 1972 under the direction of the Association of Iroquois and Allied Indians upon the closure of the Mohawk Institute Residential School. The Centre originally began its focus on collecting research and artifacts to develop its library and museum collections. Over the years, the programming and support communities have changed in large part due to the social-political climate of the times. Originally there were approximately 9 member communities and now there are currently 3. This is in response in large part to the geographic distances and the need from some of the communities to develop their own cultural centres to ensure the survival of their distinctive languages.
Today, the artistic staff is responding to the needs and diversity of First Nations artists. The Centre's collection has developed throughout the years with much of the art being acquired through gallery visits, First Nations Art submissions, and purchasing art displayed from their own exhibitions.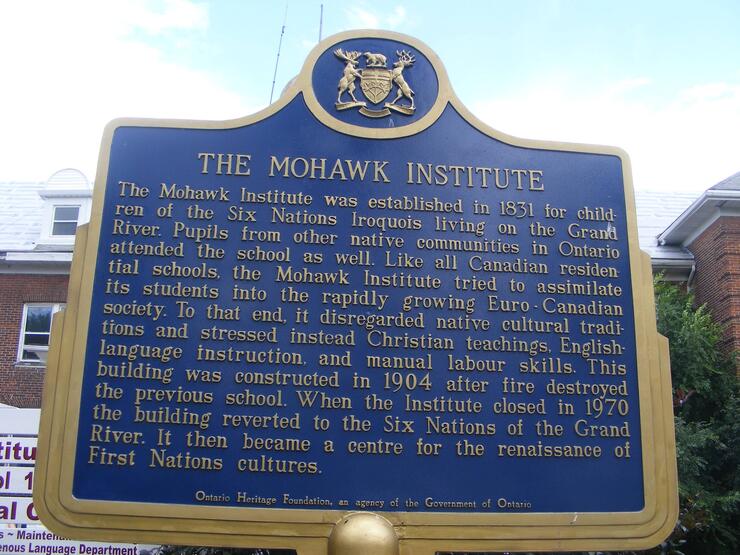 The Mohawk Institute
Mohawk Institute Residential School: The Mohawk Institute was the oldest continuously operated Anglican residential school in Canada. It was established in 1828 as the Mechanics' Institute, a day school for native boys from the Six Nations Reserve at present day Brantford, Ontario. Three years later, the school took in boarders and girls were later admitted in 1834—this date usually taken as the founding of the residential school. In later years, pupils were drawn from other reserves, such as neighbouring New Credit and more distant Moraviantown, Sarnia, Walpole Island, Muncey, Scugog, Stoney Point, Saugeen, Bay of Quinte and Caughnawaga. In the twentieth century, increasing numbers of orphaned and destitute children were also enrolled.
Click here for a great article on former residents looking back on the "Mush Hole".
The Grand River Champion of Champions Pow Wow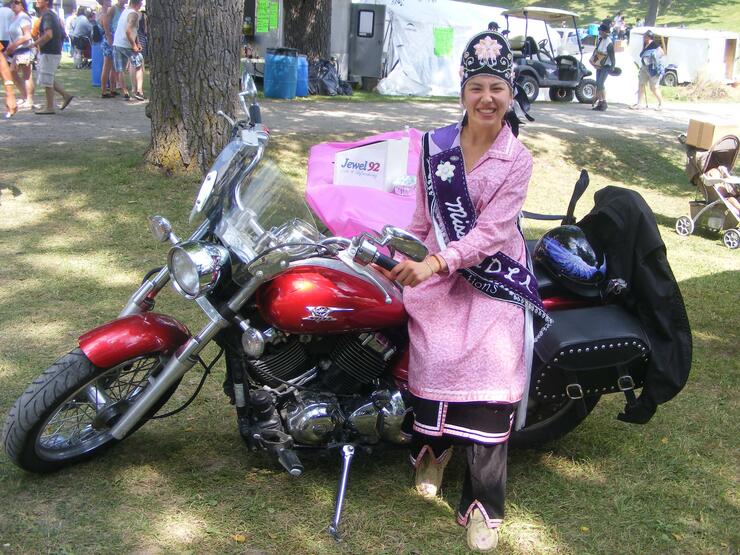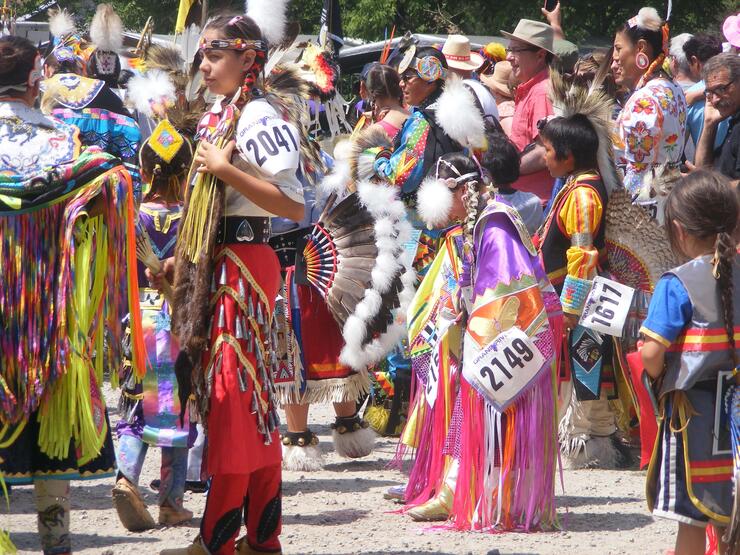 The Grand River Champion of Champions Pow Wow:  The Grand River 'Champion of Champions' Pow Wow happens every year during the 4th weekend in July. An aboriginal multicultural event held at Chiefswood Tent and Trailer Park, the Pow Wow promotes the Six Nations rich arts heritage by showcasing its 'pride' in music, dance, arts and crafts.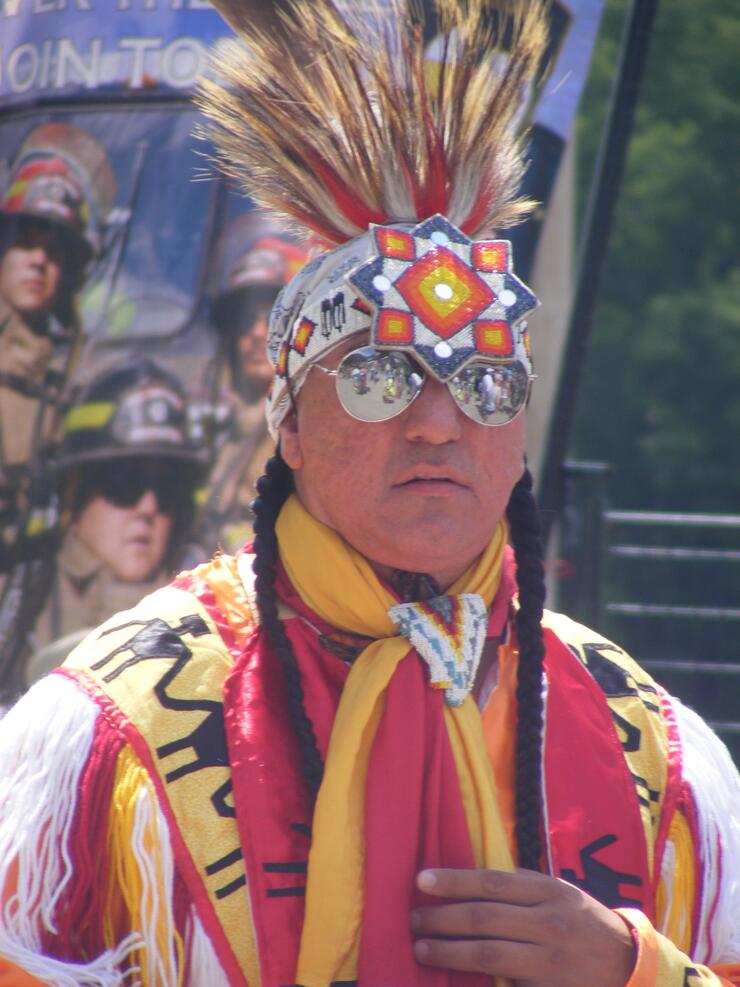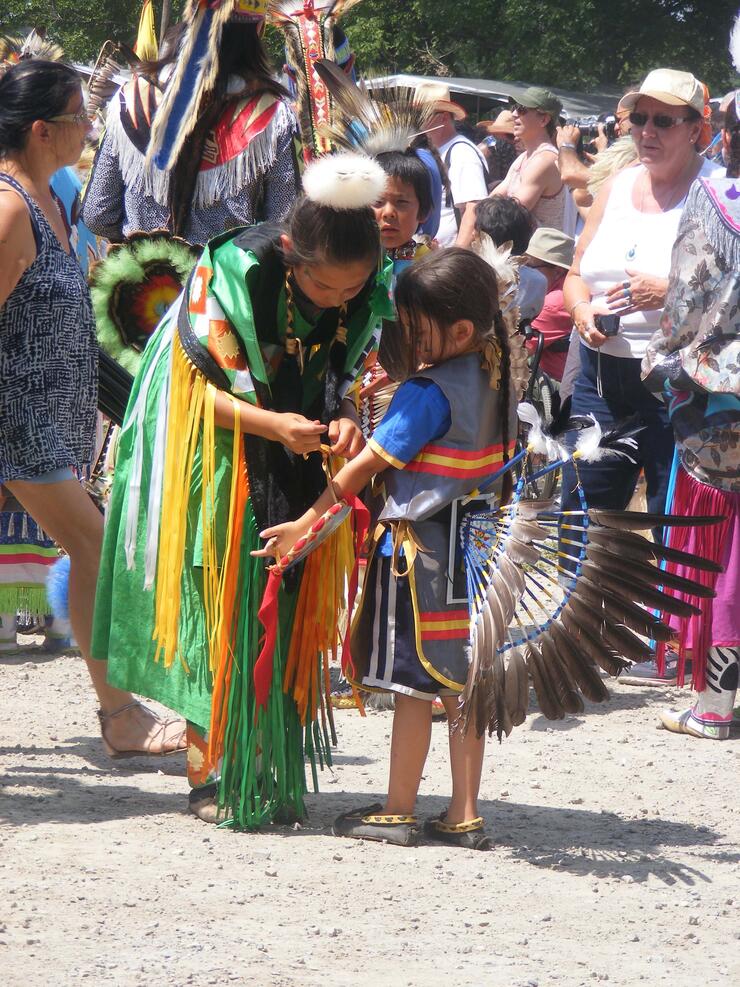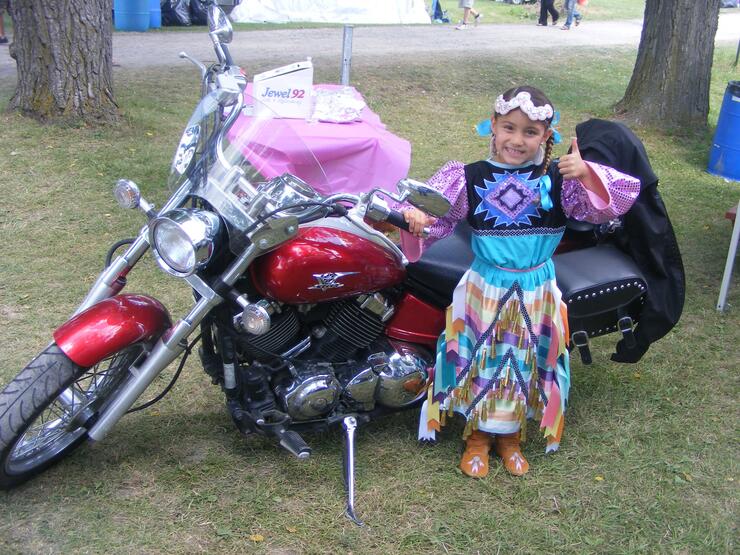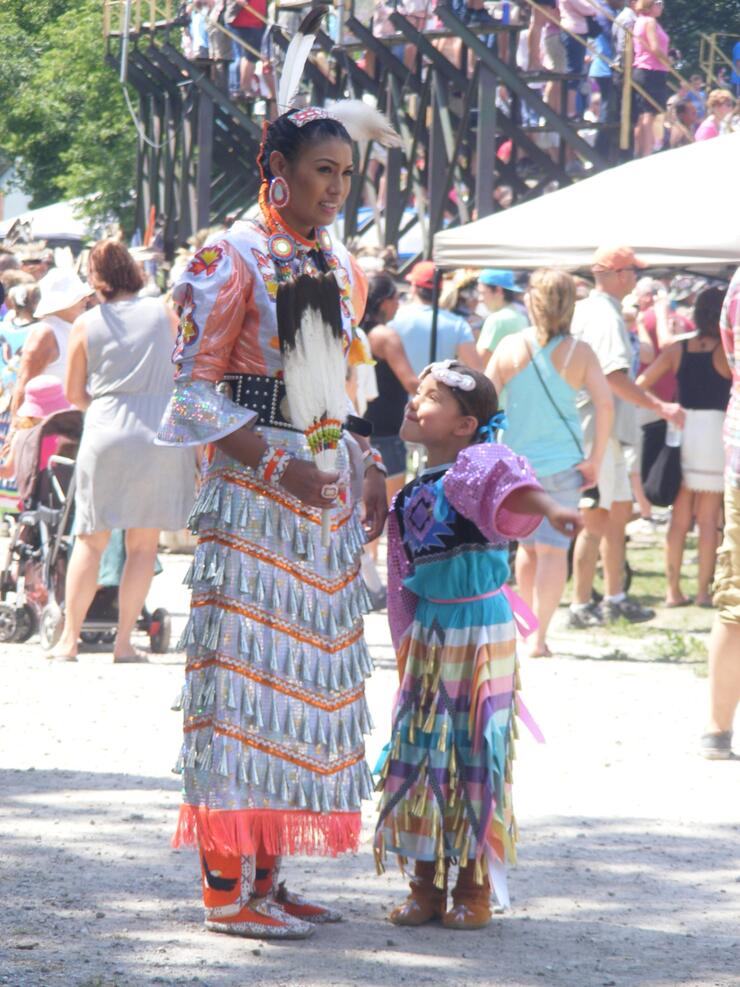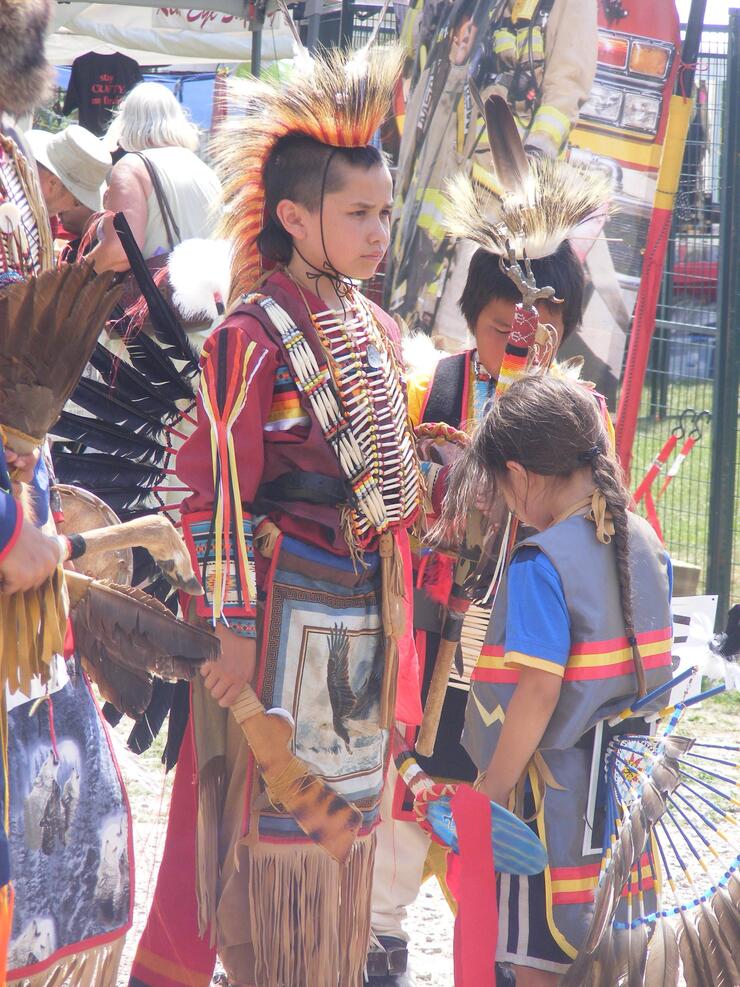 Three Fires Homecoming Pow Wow and Gathering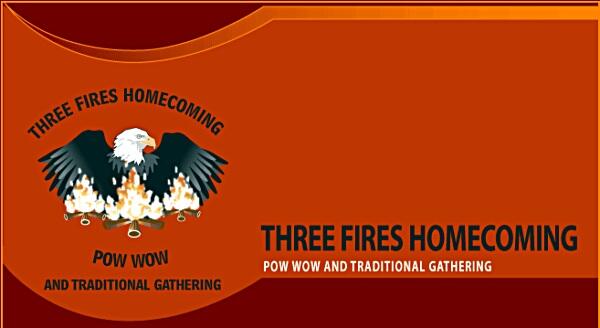 Mississaugas of the New Credit First Nation 'Three Fires Homecoming Traditional Pow Wow and Traditional Gathering. 
Their very first Pow Wow was held in 1987, since then, the event has grown in numbers and support. 
The Pow Wow is a way for First Nations people to share their unique customs and cultural identity through the heartbeat of the drum, song and way of life. The Traditional Pow Wow was (and still is) a way of life for many Ojibway. The Mississaugas of the New Credit First Nations are a group of Ojibway (Anishinabe) belonging to the Algonquian linguistic group. The three fires are symbolic of the Mississaugas traditional and political alliance with the other Ojibway, Odawa, and Potowatomi Nations. 
Veteran's Memorial Site
While at the Three Fires Homecoming Pow Wow and Traditional Gathering, or any time you are travelling down the First Line (Hagersville), take a moment and visit the Veteran's Memorial Site.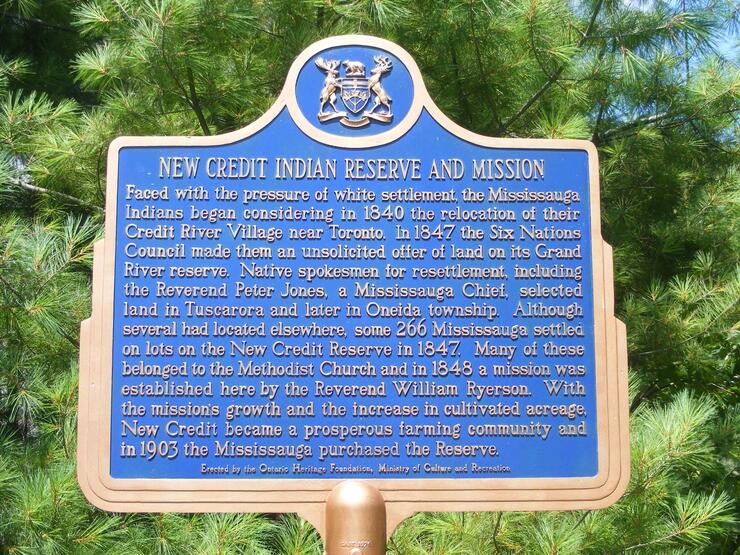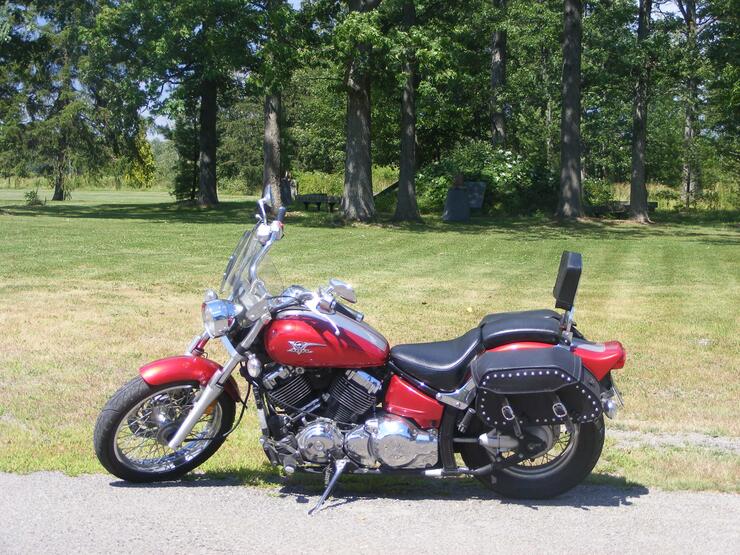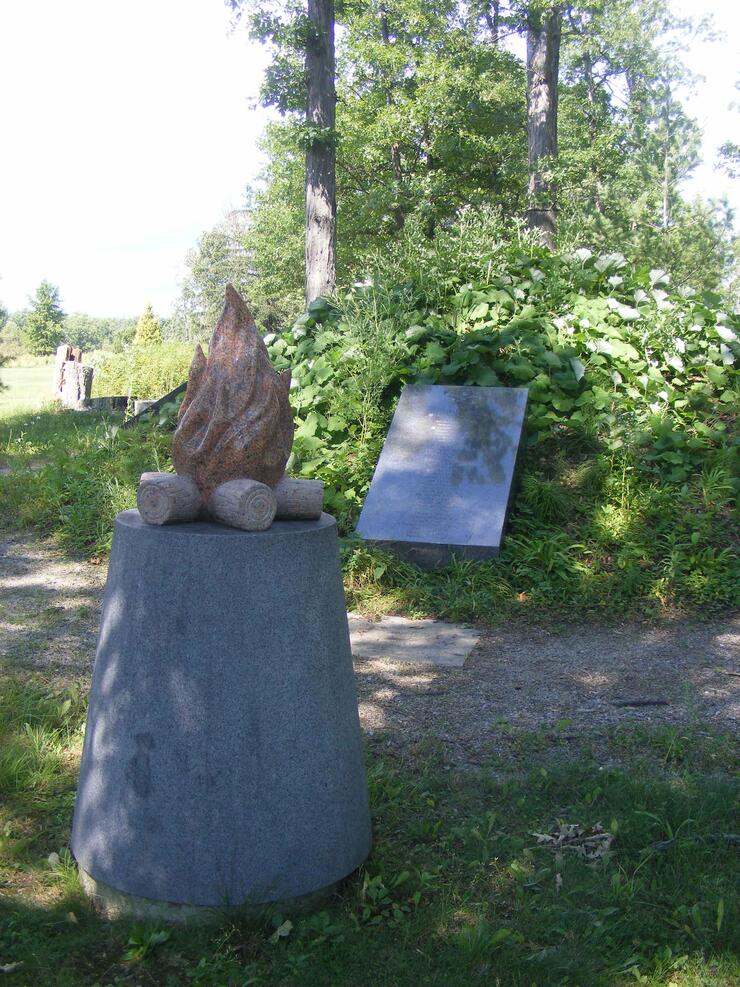 The Veterans Memorial Site is located in a stand of trees behind the New Credit Library in the area where the Three Fires Pow Wow is traditionally held. The Veteran's Monument is unique in that at its centre is a symbolic burial mound, and there are native plants and vegetation planted on the mound. 
The mound has four granite monuments placed on the sides in the four directions; three of the granite monuments have the veterans names and the war in which they served, and the fourth monument has a poem written by a Mississaugas of the New Credit First Nation member that demonstrates the respect and admiration the Mississaugas of the New Credit First Nation have for its veterans and their contributions to our continued existence. 
Surrounding the mound is a stone walk path with stone benches, then surrounding the path are three further granite monuments in the shape of fire paying homage to the traditional and political Three Fires alliance of the Ojibway, Odawa, and Potawatomi Nations.   
Additional links of interest:
http://www.sixnationstourism.ca/data/uploads/events/1.jpg
http://www.sixnationstourism.ca/data/uploads/events/5.jpg
http://www.sixnationstourism.ca/index.php?id=shops-and-galleries
http://www.grandriver.ca/index/document.cfm?Sec=12&Sub1=55&sub2=24