From Contemporary Fare to Granny Squares
Killarney Mountain Lodge is a culinary getaway on Georgian Bay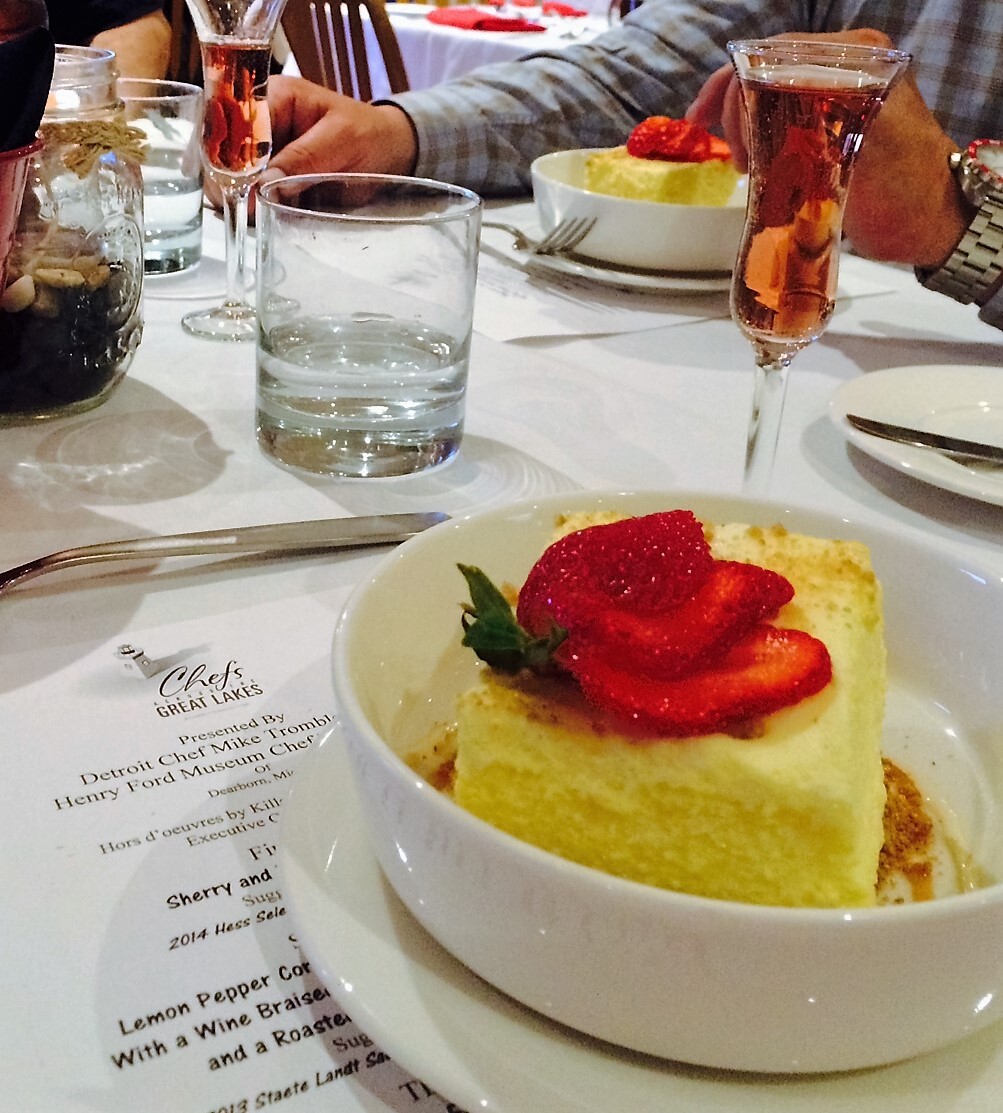 I've caught Killarney Mountain Lodge (KML) Fever and if it's possible to go wild with grace and simplicity, it's happening to me! So fitting that this is also their motto. On this gastronomical mission, I set out with hubby in tow (his arm needing no twisting) from our Toronto residence – a quick four-hour trek to Northeastern Ontario into a new world of culinary escapes and outdoor adventure. Arriving at the lodge mid-afternoon, we settled into our cozy abode, and then explored in the crisp, fresh air under sunny skies. We wandered the natural gardens and vistas, and reveled in the rustic architecture of the charcoal black pine cabins with Canadiana red windowpanes. 
Our first discovery is at the KML marina, where we find a café and bakery called Curds & Whey. It's one of the newly built Muskoka-style cabins, fully equipped to cater to boaters, sailors and Great Lakes waterway explorers. Inside we met a lovely barista who prepared a delicious hot cappuccino for our afternoon fix. And this is where the love story with KML was born.
Curds & Whey is home to a baker who has perfected an old-school recipe, something your grandma probably used to make: the classic "Granny Cake." It was incredibly moist and gooey with just the right amount of sweetness.  Sold by the square, the pieces were 4x4 slabs of decadence! We bought one to eat right away, and one for later.
You could easily enjoy a panini and Pellegrino on the patio overlooking the marina, and leave with your cooler stocked with pies, cinnamon rolls, fresh bread and traditional Hawberry jam, indigenous to Manitoulin island.  This would have you ready for being out and about with plenty to fuel you.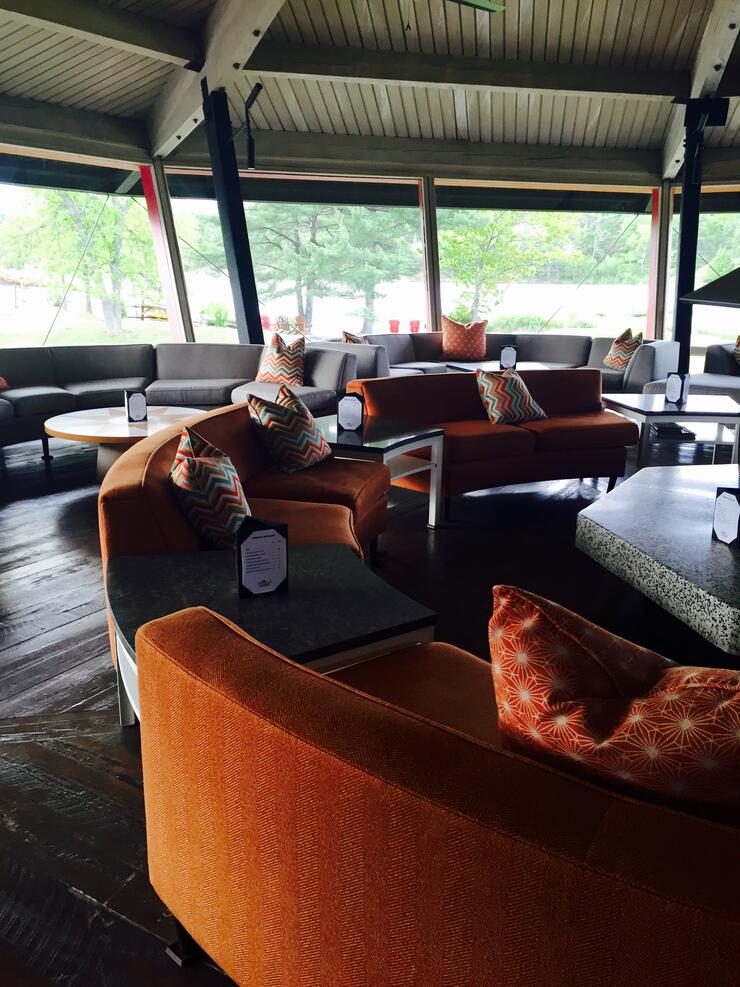 After quick hike and a stop to our waterfront cabin, I hear the dinner bell beckoning. Or maybe it's the chime of clinging stemware coming from the Carousel Lounge. We joined our fellow culinary crusaders for pre-dinner happy hour and hors d'ouevres prepared by KML's Executive Chef, Guy Bedard. The savoury canapes of beef carpaccio hit the spot.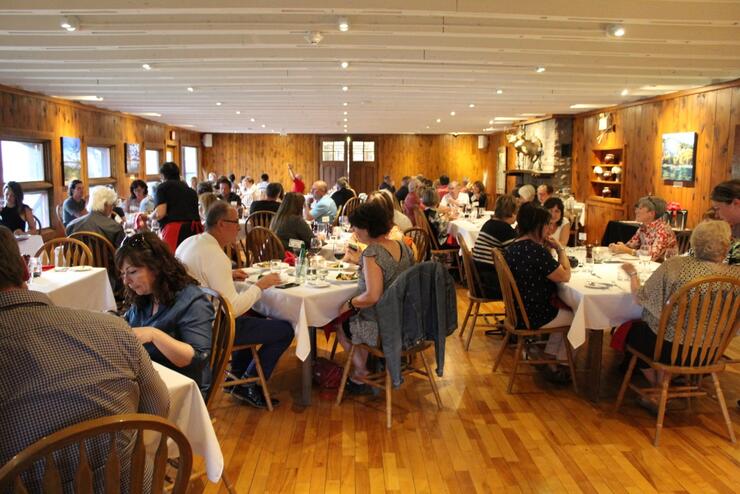 We settled in the dining hall amid a gastronomic social, surrounded by nature-scape art, whimsy woodland wares and tables adorned with crisp linens. This was a four-course dinner, each paired with a vintners treasure, found in their amply stocked wine room. 
This big taste assignment witnessed a display of flavours, techniques and talents. KML takes part in the Chefs Across the Great Lakes exchange program. Select top-notch chefs are invited to travel across the pond to share and showcase their craft. This initiative has fostered friendships and created memorable dining experiences for all involved. The evening affair featured Chef Michael Trombley and Sous Chef Tony Murad, two of Michigan's best chefs and both from the Henry Ford Museum.
Let the first course begin!  Really, Chef Bedard? How'd you know this French girl has a deeply rooted passion for Soupe aux Champignons?  It was earthy, buttery and soulfully paired with a slightly toasty oak and apple flavoured 2014 Hass Select Chardonnay from Monterey, California.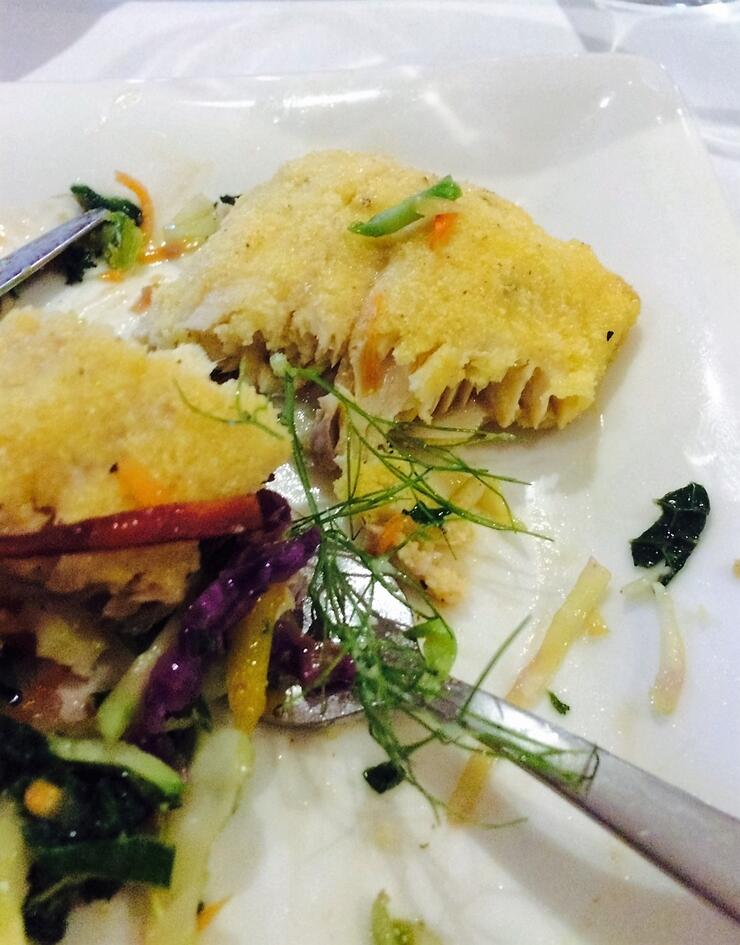 Our second course was a showstopper, capturing the essence of a fresh catch. The lemon pepper cornmeal crusted Georgian Bay trout, with a wine-braised kale blend, was neatly stacked on tri-colour baby carrots with shrimp brown butter sauce.  And here's the chef's secret: a dash of fresh nutmeg to the brown butter elevated this from traditional to contemporary fare.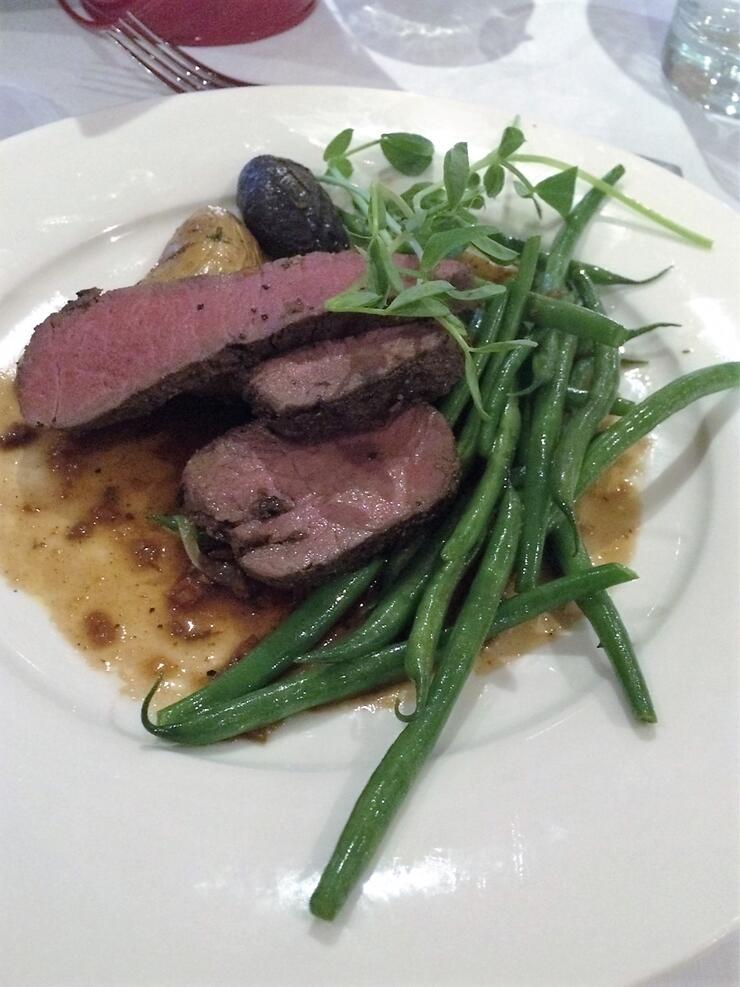 This four-course dinner hit a home run Bautista- style with the venison loin Matignon. The fingerling potatoes were good but it was the al dente green beans that I had to eat with my fingers! Sorry, it was just that kind of "gone wild" primitive moment.  Maybe the 2011 Firestone Merlot-Santa Ynez Valley, California was the culprit?  Who cares—we all had a great feast and no one slapped my hands. 
Between each course, Chef Mike Trombley escaped the heat of the kitchen to join us and share his savoir faire for each dish. Everyone listened attentively and applauded with appreciation. Here's a toast to the chefs and the young serving staff who delivered exceptional table side etiquette.
The sweet ending was a lovely light lemon curd bisque cake—an absolute dream paired with a VQA from Peninsula Ridge—a Cabernet Rose. This Ontario Rose is a real beauty. 
Guests need not experience a four-course dinner in order to appreciate the food at KML.
Veteran guests were quick to share that "their" chefs have perfected the art of blending fine Canadian comfort food with contemporary recipes. Each meal is handmade from scratch using only the freshest ingredients. Whether it's a hot bowl from the daily kettle, or topping off a salad with poached white fish, the luncheon fare hits all hunger levels, vegetarians and flexitarians too.  Don't miss an outdoor meal at the waterside BBQ, or a packed lunch on a guided adventure in the wilderness. I hear waterside pig roasts are planned for the majestic outdoor stone fireplace.
The culinary delights are only part of the experience at KML. The hammers are a-clamber, as construction on site is steady for making the finishing touches on the first phase of the $14 million enhancement. The plan includes an extended kitchen facility, with additional dining and sunset views. Go ahead and imagine yourself sitting on the patio, sinking your chops into a house-made bison burger with sautéed forest mushrooms, while you sip a pint of your choice.  There's no shortage of variety offered on the lunch and dinner fare. Exceptional fish dishes are what you can expect.  Hungry hikers revel in the Georgian Bay draft battered pickerel, the smoked portabello vegan tian or maybe it's the Smoked trout tower. And don't miss the grilled fare featuring AAA Beef Tenderloin.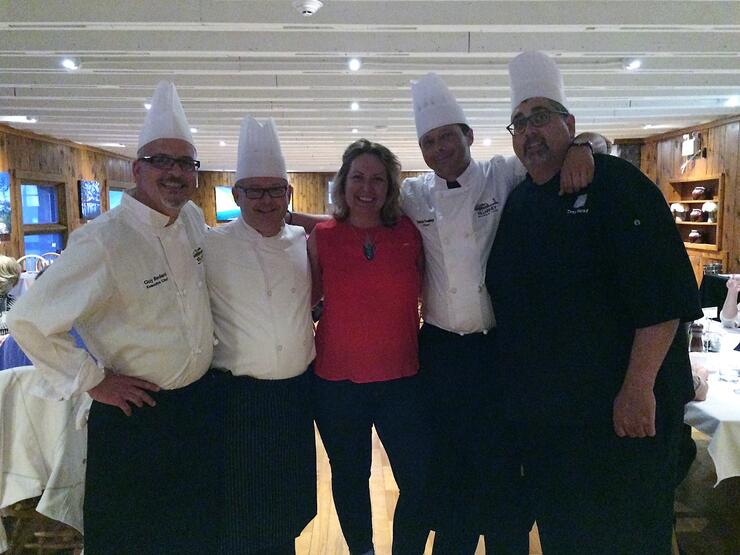 The entire food experience at KML was more than I expected. This locavore and wine snob gives it an A+!  This middle-aged gal who loves the outdoors by day and a dining hall by night looks forward to many, many more KML wild retreats.