This Story is Archived
Please note this page may no longer be up to date. For new stories about Northern Ontario visit us here.
This Summer's Best Festival is Not Where You Think
This Northeastern Ontario city has managed to book some of the best performers around for an epic eight-day music festival. All that, and fireworks too!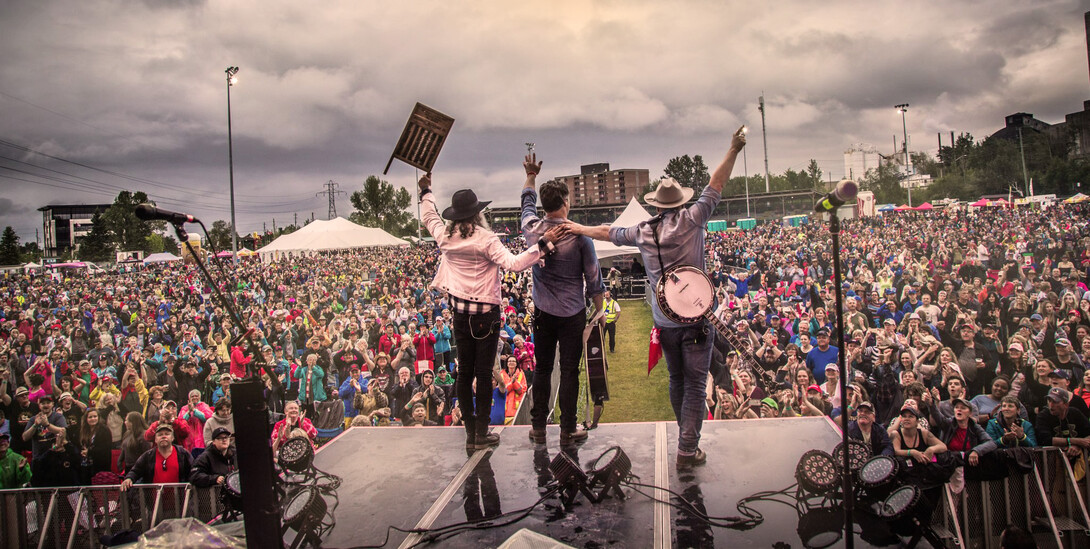 Imagine being tasked with assembling the perfect Canadian music festival. You would want a bunch of popular national acts, both classic and current. Some rock n' roll, some country, and some pop. Maybe throw in a famous international act or two for good measure. 
Let's think big. What about The Beach Boys? Bryan Adams on Canada Day? For the Francophone community, how does Éric Lapointe and Roch Voisine co-headlining St-Jean Baptiste Day sound? And if we're going big: how about a massive fireworks competition with entries from all over the world?
Well, that's no fantasy: it's this summer's lineup for Stars and Thunder in Timmins, Ontario.
If you're not familiar with its charms, Timmins is a Northeastern Ontario city nestled on the banks of the beautiful Mattagami River. Rooted in European and Indigenous cultures, the city is deeply connected to the untamed wilderness that surrounds it.  Encompassed by rich and beautiful forests, there are a multitude of outdoor activities offered in the region year-round. Summers offer exceptional camping, golfing, and fishing experiences. 
The gold rush of 1909 earned Timmins the nickname of the "City with the Heart of Gold." Though Timmins is an important landmark in the history of mining, the city also has a cosmopolitan flair. Timmins is very proud of its top-rated symphony orchestra, choirs, theater groups, an ultra-modern public library, and the Timmins Museum National Exhibition Centre.
A seven-hour drive from Toronto, it's off the beaten path for sure—but that just makes this epic eight-day celebration all the more exclusive.
Wondering how this small city landed such a huge event? "In the fall of 2016," recalls Timmins Mayor Steven Black, "Timmins was approached by a major fireworks company to see if we would be interested in hosting an international competition. During our discussions, we came up with an idea: what if we added live music?" Major country star Keith Urban was soon added as the headliner for the inaugural edition in 2017. "It was the largest event the city had ever put on," says Mayor Black, "and we feel a lot of community pride. It brought people from nine provinces and territories, and a few US states as well!" Though it's a truly Canadian festival, American visitors are welcome too; you'll get a taste of local hospitality and a chance to experience the Canadian wilderness all around you.
Stars and Thunder is the largest festival of its kind in Northern Ontario, and thanks to generous support from the local municipality, event tickets are offered at a remarkably affordable rate. An eight-day general admission pass is only $300. If you'd rather take a smaller dose of festival fun, early bird day tickets start at $80/day. General Admission passes for children 10 and under are just $100 for the 8 days, or $25 per day to allow families more opportunity to enjoy the festival together. (Children must be accompanied by an adult who also has a valid general admission pass.) With prices like that, festival passes are within reach for many music lovers.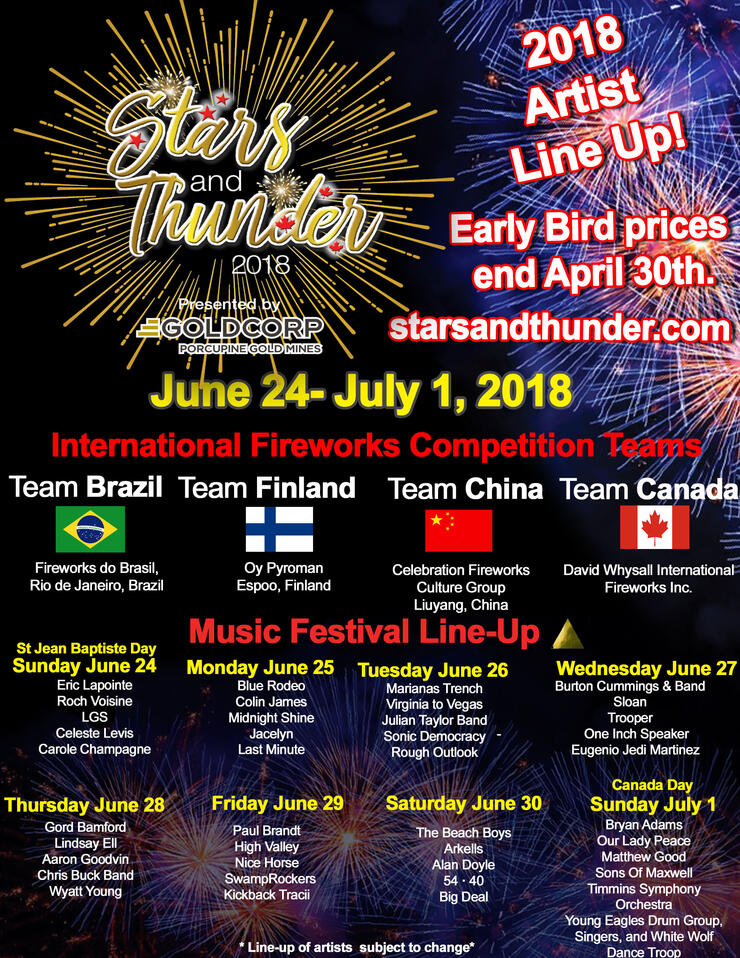 The event is held at Fred Salvador Field in Hollinger Park, a municipal park in Timmins located at the southeast corner of Algonquin Blvd. and Brunette Road. The park is named after Benny Hollinger, a mining prospector whose major 1909 gold discovery helped to launch the Porcupine Camp's early gold rush. The city park is a beautiful town landmark that featuresa small children's water park, playground, and picnic tables. There is a mini-putt range and batting cages on-site.
The outdoor summer festival is open to all ages, and during this year's event Hollinger Park will be licensed. Festival-goers can enjoy tent or RV accomodations near the festival grounds and get free shuttle service, if needed. For other accommodation options, see a list of Timmins hotels or cottages, campsites and RV parks in the area.
Timmins has small-town charm, but it's assembled a festival worthy of any big city, with major names and a little something for just about every taste. Do you dig classic Canadian rock? Blue Rodeo, Burton Cummings, Trooper, and Colin James will all be there. More into the alternative rock sound? Check out Sloan, 54-40, Our Lady Peace, and Matthew Good. If you prefer current pop hits, Stars and Thunder has you covered with Marianas Trench and Virginia to Vegas; fans of contemporary Canadian singer-songwriters will love the sounds of Alan Doyle, Julian Taylor Band, Jacelyn, and Sons of Maxwell. In addition, there are a plethora of up and coming local and regional acts including Midnight Shine, Rough Outlook, One Inch Speaker, and many more—be among the first out-of-towners to be in the know about what's next!
The Franco-Ontarian crowd will be out in full swing when the fest kicks off on June 24, St-Jean Baptiste Day, with a stellar lineup including Éric Lapointe, Roch Voisine, LGS - Le Groupe Swing, local heroine Celeste Levis, and bilingual Kapuskasing-by-way-of-Nashville singer Carole Champagne.
If your tastes run more to the country side, come to the two-day extravaganza on June 28 and 29 with Paul Brandt, Gord Bamford, High Valley, Lindsay Ell, Aaron Goodvin, Chris Buck Band, and Calgary's all-female country band Nice Horse.
On June 30, things ramp up with some big-name performers, Canadian rockers Arkells and none other than the Beach Boys. On July 1, Bryan Adams headlines a Canada Day spectacular.
fire in the sky
An epic musical lineup is not the only thing drawing visitors to the Timmins festival this summer. Stars and Thunder also features a brilliant international fireworks competition. Four teams from across the globe will attempt to outshine one another and take home top fireworks industry honours. This year Brazil, China, Finland, and Canada will dazzle the judges—and festival crowds—with astonishing displays of glittering pyrotechnics. Showcased throughout the eight-day festival, these fireworks shows have been known to last upwards of  20 minutes each. On Canada Day, expect to see a special patriotic fireworks extravaganza like no other. Can't wait till July 1 for see the fireworks competition? Get a sneak peek of each team's entries on the Stars and Thunder website.
Keep the party going
Stars and Thunder isn't the only amazing festival happening in Timmins this year. From spring through fall, the city is absolutely buzzing with music, culture, and sporting events for locals and tourists. Timmins Comicon (April 21-22) showcases over 40 exhibitors and programming dedicated to sci-fi and pop culture. Rock on the River (July 27-28) is a music festival held on the shores of the mighty Mattagami River. The Great Canadian Kayak Challenge & Festival (August 24-26)  includes a showcase of kayak and stand-up paddleboard challenges, seminars, and workshops, arts and culture exhibitors and vendors, live performances, an interactive Indigenous village, fireworks, and children's activities. And the Timmins Fall Fair (September 8-9) celebrates the end of the Timmins summer in a family-friendly setting.