Your Guide to Crown Land Camping In Ontario
Discover what crown land is, where you can camp and what to expect.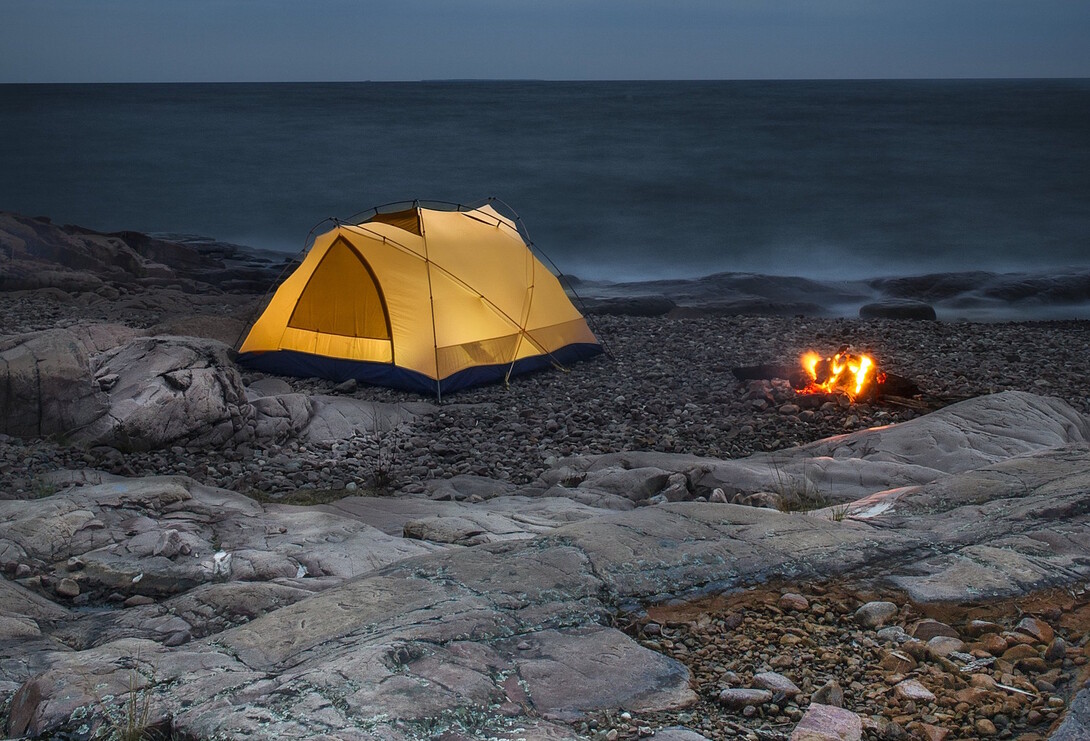 Crown land refers to land, lakes and rivers that are managed by the Ontario government through the Ministry of Natural Resources and Forestry. Crown land is managed under either the Public Lands Act or under the Provincial Parks and Conservation Reserves Act (managed by Ontario Parks). 
Camping is permitted in some areas but not others. In certain regions like the Temagami area, a backcountry canoe camping trip will take you through Ontario Parks, conservation reserves and general use crown land. As some of these areas require permits to camp and other areas don't allow camping at all, planning a backcountry trip to this region and many others can be quite confusing. 
This article will answer a few questions about what is crown land and where you can go crown land camping in Ontario.
Where Can I Go Crown Land Camping in Ontario? 
There are many crown land camping locations in Ontario. It's not surprising that some of the best best crown land camping in Ontario, car and backcountry camping spots, are in Ontario Parks.   
Ontario Parks operates 335 regulated provincial parks (113 operating parks, 222 non-operating parks) and 295 regulated conservation reserves.
While there is a fee and permit required to camp in Ontario Parks operating parks, it is free for Canadians to camp (where permitted) in Ontario Parks non-operating parks and conservation reserves. You can also camp (where permitted) for free on crown land that is managed under the Public Lands Act.  
Leave No Trace 
No matter what type of camping you do, you will have an impact on the natural area you are visiting. You can lessen your impact by practicing the seven principles of Leave No Trace. Find out more. 
Plan ahead and prepare
Travel and camp on durable surfaces
Dispose of waste properly
Leave what you find
Minimize campfire impacts
Respect wildlife
Be considerate of other visitors
Car Camping In Ontario Parks (Operating Parks) 
Car camping is one of the great family and friends summer traditions in Ontario. Ontario has over 100 provincial parks that offer exceptional car camping (sometimes referred to as frontcountry camping). These parks offer great value for the camping fee.
Car camping allows you to drive right up to your campsite, which is located within a managed campground. Your campsite will have a picnic table and a firepit with a grate. There will be a level area for your tent or trailer camping equipment. Some campsites have electrical service. 
Each park has something special to offer. Most have hiking trails, beaches, paddling opportunities and more. The campgrounds have water taps, washrooms and a garbage disposal station. Most have firewood and ice available for sale. Some parks have full park stores offering groceries, camping supplies, equipment rentals such as canoes, bicycles or paddleboats. Many parks offer free-to-borrow fishing equipment and personal floatation devices. Most parks offer excellent natural heritage programs. Find the right park for you.
There are four levels of fees for car camping. Each fee level reflects the popularity of a campsite and the availability of facilities. Fees for a campsite with electrical service range from $43.79 to $59.33 per night. Fees for a non-electrical campsite range from $38.70 to $52.55 per night. Additional fees (e.g. $9.73 reservation fee) may apply. Discounts for seniors and persons with disabilities are available. Most parks are open from late spring until autumn. Some parks offer year-round car camping.
Ontario Parks offers a seasonal campsite program that allows campers to reserve one campsite for the whole operating season. Rates vary from $1,313 to $3,019 per season. Reservations must be made between October 1 and March 31. Find out more here.
You can reserve a campsite online or by phone at 1-888-668-7275. 
Backcountry Camping in Ontario Parks (Operating Parks) 
There are 31 Ontario Parks that offer exceptional backcountry camping. These wilderness campsites are only accessible by paddling or backpacking. This means you need to transport all your food and gear with you. You will need additional skills of route planning, paddling and portaging, meal planning and cooking, map reading, packing, equipment setup, wilderness first aid and more.
There are four different types of campsite bookings available. The type will depend on which Park you are visiting.  
Specific campsites to be reserved for each night of your trip
Pre-defined lake or zone to camp in each night of your trip. Within your lake or zone, campsites are available on a first-come, first-served basis.   
First-Come-First Served – all campsites are first-come, first-served.
Entry Quota (Quetico only) – You reserve the access point where you will start your journey then find available sites first-come, first-served.
You need a permit or reservation for backcountry camping. Discover which parks have backcountry paddling campsites or backcountry hiking campsites and how to book them. Fees range from $10.17 per person per night to $21.47 per person per night. Some parks have fees for campsites ranging from $36.73 per campsite to $46.05 per campsite. Additional fees (e.g. $9.73 reservation fee) may apply. Discounts for seniors and persons with disabilities are available. Find out more here.
Free Camping in Ontario Parks (Non-Operating Parks and Conservation Reserves) 
Non-Operating Parks offer limited recreational experiences, fewer or no facilities, and generally no dedicated staff or fee collection. Many were created to protect recreational waterways and nature reserves protect rare flora, fauna and geological landscapes.
You can search the non-operating Parks list  and the Conservation Reserves list to find out which ones allow backcountry camping and other recreation uses. You can then find out more general information in the Crown Land Use Policy Atlas. Once you have decided upon an area to visit, you will need to contact Ontario Parks to confirm the rules and regulations about camping in these areas.   
What You Need to Know about Using Crown Land (excluding Ontario Parks and Conservation Reserves) 
More than 95% of Northern Ontario is crown land. There is little crown land in Southern Ontario, outside of provincial parks and conservation reserves.
If you want to go camping or enjoy other recreational activities on crown land (excluding Ontario Parks and conservation reserves), you need to research and understand what is permitted for the area you would like to visit.
Before setting up camp in a crown land area, you need to ensure camping is permitted. If you camp in an area where camping is prohibited, you could be fined. Get more details here. It's important to follow the Ontario crown land camping rules.
ontario Crown Land Camping Rules (excluding Ontario Parks and Conservation Reserves) 
how long can you camp on crown land in Ontario?
Canadian residents are permitted to camp for free in Ontario up to 21 days on any one site in a calendar year. You must follow rules or restrictions posted on signs.
can I camp on crown land in Ontario if i am not a resident?
Non-residents, 18 years and up need a non-resident camping permit to camp on crown land north of the French and Mattawa rivers. Get more details here.
What Can I Do On Crown Land? 
You can fish while camping on crown land as long as you follow the provincial regulations (e.g. respect catch and possession limits and all fishing rules, and have a fishing licence).
You can have a campfire as long as local fire restrictions allow it. In some cases, campfires may be prohibited altogether due to seasonal conditions.
You can usually use crown land for other recreational activities such as hiking, biking, boating, canoeing, kayaking, swimming, bird watching and more. Use of motorized vehicles (e.g. snowmobiles and ATVs) may be restricted.
You will need to contact the Ministry of Natural Resources and Forestry district office to find out if local restrictions apply to the area you are travelling to. Find the list of MNRF district offices.
Protect the Natural Environment 
Crown land is generally unmaintained, remote and should be used at your own risk. You need to act responsibly to help protect the natural environment.
Do not harm, kill, take or collect plants, trees, habitat or other wildlife that is protected under provincial law
Pick up and pack out litter
Never leave a campfire unattended and make sure campfires are completely extinguished
Respect other users of crown land
Stay on existing trails
how to find crown land camping in Ontario
The Crown Land Use Policy Atlas contains information on permitted activities for land use in areas in the province, excluding Southern Ontario.
You can use the Atlas as a crown land camping in Ontario map to find crown land camping locations by clicking on an area and accessing the reports found in the Crown Land Use Policy Atlas. Within these reports, the section titled Recreation Activities and Facilities outline what is allowed in each area and who to contact to find out more information.
Best Crown Land Camping Spots in Ontario 
As mentioned previously, most of Ontario's crown land is in Northern Ontario. In the Crown Land Use Policy Atlas, you will find many results for crown land camping Thunder Bay, crown land camping Sudbury and crown land camping French River. 
You will find minimal results for crown land camping Muskoka, crown land camping near Toronto or crown land camping near Ottawa. These areas have excellent Ontario Parks to camp in.
The Torrance Barrens is a popular conservation area and dark sky reserve in Muskoka. Although many search 'Torrance Barren for crown land camping,' this area has banned all camping and fire-making activities. This ban includes RV/car camping, tent camping, making campfires and setting off fireworks. Ontario Parks is actively enforcing this camping ban with 200 m on each side of the Southwood Road.
Issues With Unregulated Camping on Crown Land 
While camping for free on crown land sounds attractive to some, there are many issues associated with unregulated camping, especially unregulated car camping. As there is no staff or infrastructure to manage human impacts, many crown land car camping areas are littered with garbage and human waste. There is often loud noise and alcohol abuse. There are no washroom facilities, no drinking water, and no organized activities or trail systems.
Choose Your Camping Destination Wisely 
The overall camping experience that you will have in an operating Ontario Park versus in an unregulated camping spot on crown land will be very different.
Ontario Parks offers high-quality, easy-to-book car camping and backcountry camping trips. The staff, infrastructure, trails, programs and facilities make camping enjoyable and safe. The parks are designed for tent and trailer camping and offer many features and amenities for a small fee. Ontario Parks' backcountry paddling or hiking camping adventures are renowned throughout the world. 
Camping on crown land in Ontario (not managed by Ontario Parks) requires a lot of research and planning so you understand the rules and regulations of the area. There are no facilities, staff or infrastructure to assist you. Often these areas are abused by visitors and have garbage and noise issues.
Camping is a fun way to enjoy Ontario's great outdoors. Be sure to practice Leave No Trace principles and choose your camping destination wisely.