7 Videos That Prove RVing in Ontario Is the Best
Check out these videos and discover where Ontario's RVers can find fun in 2023!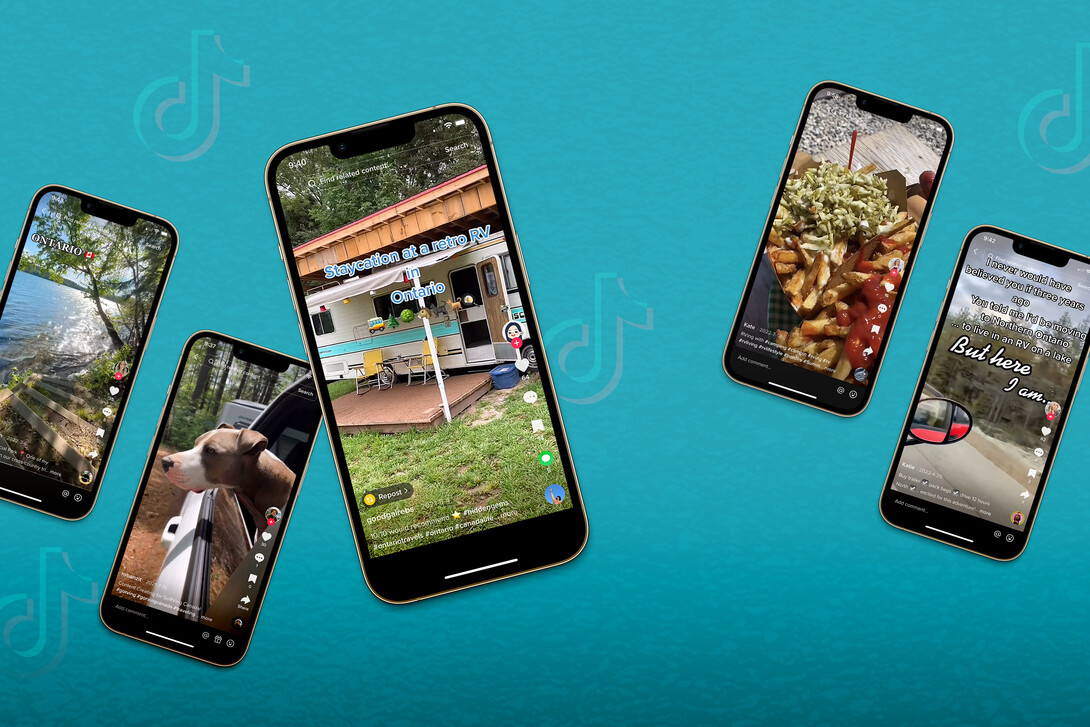 With the RV, camping, and road trip season just a few months away I scoured Tik Tok in hopes of finding quintessential RV videos to showcase why Ontario should be on everyone's list to explore in 2023. I stuck to a handful of popular hashtags and did my best to focus on regular people instead of viral videos from large 'pro' accounts. 
Here are 7 RV videos to get you excited about RV life this summer. 
1. The Bon echo vacation
Shot in North Eastern Ontario's Bon Echo Provincial Park, the first video comes courtesy of Go RVing Canada—I didn't even notice it was from a corporate account, so they deserve a mention for authenticity.
2. the retro RV rental 
For those wanting to experience the RV lifestyle for a night or two, Fina Vista Farms in Stirling, Ontario, offers this retro RV for nightly rentals. A healthy dose of animals, S'mores around a campfire and just the right amount of quick cuts make this a textbook RV Tik Tok post. Sometimes simplicity works best.
3. The s'mores and dill pickle fries adventure
The fact that it's currently -15 outside my window, may be causing a nostalgia bias to creep into this review but @flightattendantkatie does an admirable job of capturing the true essence of summer in this twenty-second post. Set to the thumping techno beats of Calvin Harris's "Summer", delicious looking food cooking over a campfire. A visit to the food trucks like the Chip Ship in Rowan, Ontario, and a solid lake shot or two is enough to get you yearning for the warm months ahead. 
4. the puppies and paddleboarding vacation
Back to regularly scheduled programming after the previous video but hey If you've ever wondered what the formula is to produce a trendy RV Life Tik Tok, take note; a camper, can of cider, the dogs, a campfire and some pretty lake sunsets backed by a trendy tune is a recipe for success.
5. the lakeside spot at Fairbank Provincial Park
Brilliant in its simplicity, this entire post is filmed in one continuous clip showcasing a POV view of what it's like to wake up to a waterfront view at Fairbank Provincial Park. This one checks all the boxes for those summer feels.
6. The autumn road trip 
These LGBTQ+ travellers (and their pet doggo) share clips of a scenic road trip around Northern Ontario in the fall. (Excellent music choice to boot.)
7. the epic road trip to thunder bay
We close out what appears to be a young family or group of friends traveling to Thunder Bay and stopping at one of the most iconic Northern Ontario regions, Lake Superior Provincial Park. While it's no surprise to see the classic sunset/road trip/hiking scenes, their stop at the amethyst mine was what caught my attention.
Rving in Ontario 
Northern Ontario offers so many scenic attractions along with historical and cultural spots to explore offered beyond the mainstream activities and what makes Ontario a world-class RV and camping destination.